Albies powering up for G-Braves
Top prospect homers off Giolito, continues hot stretch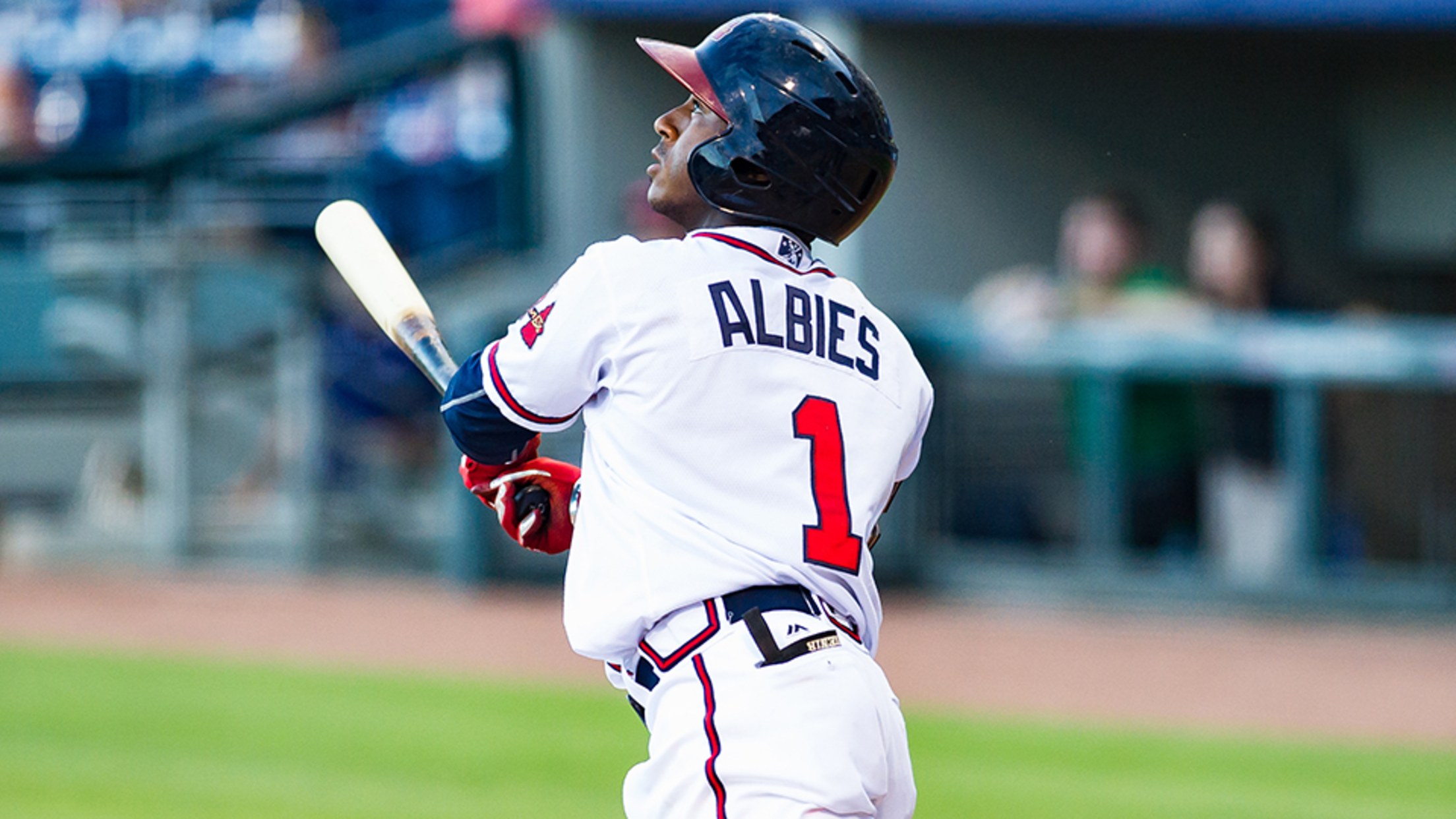 Ozzie Albies ranks second in the International League with 20 steals and is tied for third with 88 hits. (Will Fagan/Gwinnett Braves)
An up-and-down start to the season meant a trip back to the drawing board was in order for Ozzie Albies.It's clearly paying dividends.
An up-and-down start to the season meant a trip back to the drawing board was in order for Ozzie Albies.
It's clearly paying dividends.
The Braves' top prospect went 3-for-4 with a homer and two runs scored Sunday to lead Triple-A Gwinnett past Charlotte, 7-0, in the second game of a doubleheader. Since the beginning of June, Albies is hitting .323 with five homers, four triples, three doubles and 18 RBIs in 23 games.
Gameday box score
"His on-base percentage and his average are rising, and slowly but surely he's starting to get hot," Gwinnett hitting coach John Moses said. "We made some adjustments a while back to try to get him more on-balance so he can use his hands to stay through the baseball. He was developing a habit of rolling and falling off-balance."
For the switch-hitting Albies, most of his struggles have come from the left side. The Curacao native sports a .256 average against right-handed pitchers, compared to a .360 mark against lefties.
"After he would make contact, we were wondering why he wasn't beating a lot of ground balls out," Moses said. "It was because when he was coming across his body to swing he was almost going a couple of feet out of the line and then having to come back into the line to get lined up to run down to first base. We've remedied that, and since we've made these adjustments with his front foot and getting his hands back so he's in a better position to hit, he's come around."
Albies led off the game with a single to center field and stole second. A moment later, Charlotte starter and No. 4 White Sox prospect Giolito caught the 20-year-old leaning and picked him off. Even with that rare miscue, MLB.com's No. 7 overall prospect has stolen 20 bases in 22 tries.
"He's pretty much on his own when he gets on," Moses said. "The percentage he's carried thus far has been outstanding. He did get picked off, but that's going to happen. We want him to stay aggressive and learn along the way -- and that's how you learn. You just hope it doesn't become a habit, but he's a good enough athlete where that probably won't happen."
In the third, Albies jumped on Giolito's 1-0 offering and sent it over the fence in right for a solo homer. He added a single to center in the fourth to complete his sixth three-hit game of the season.
In 73 games, Albies has a .285/.330/.447 slash line with seven homers and 34 RBIs.
"He's put it all together and has been working hard in the cages," Moses said. "He's starting to come around and is swinging the bat well. Every time he stays through the baseball it gives him a really good chance to allow those adjustments to work."
After making his first professional appearance at third base for Gwinnett during Saturday's suspended game, rehabbing Braves All-Star Freddie Freeman got Sunday off. He is expected to return to the hot corner on Monday.
"He only had one ball hit to him and I think everybody probably already saw it on YouTube," Moses said with a laugh. "But he's willing to give it a shot over there and see what happens. He's been taking ground balls early with us and will be back in the lineup tomorrow."
Albies' big game came in support of Matt Wisler (4-5), who tossed a three-hitter for his second career shutout and first since a six-inning gem for Class A Fort Wayne in the Padres system on July 1, 2012.
Charlotte finished off the win in the opener, 8-3.
Michael Leboff is a contributor to MiLB.com.