Braves' Moore soars off the diamond
Right-hander has traded his spikes for the chance to be a Navy pilot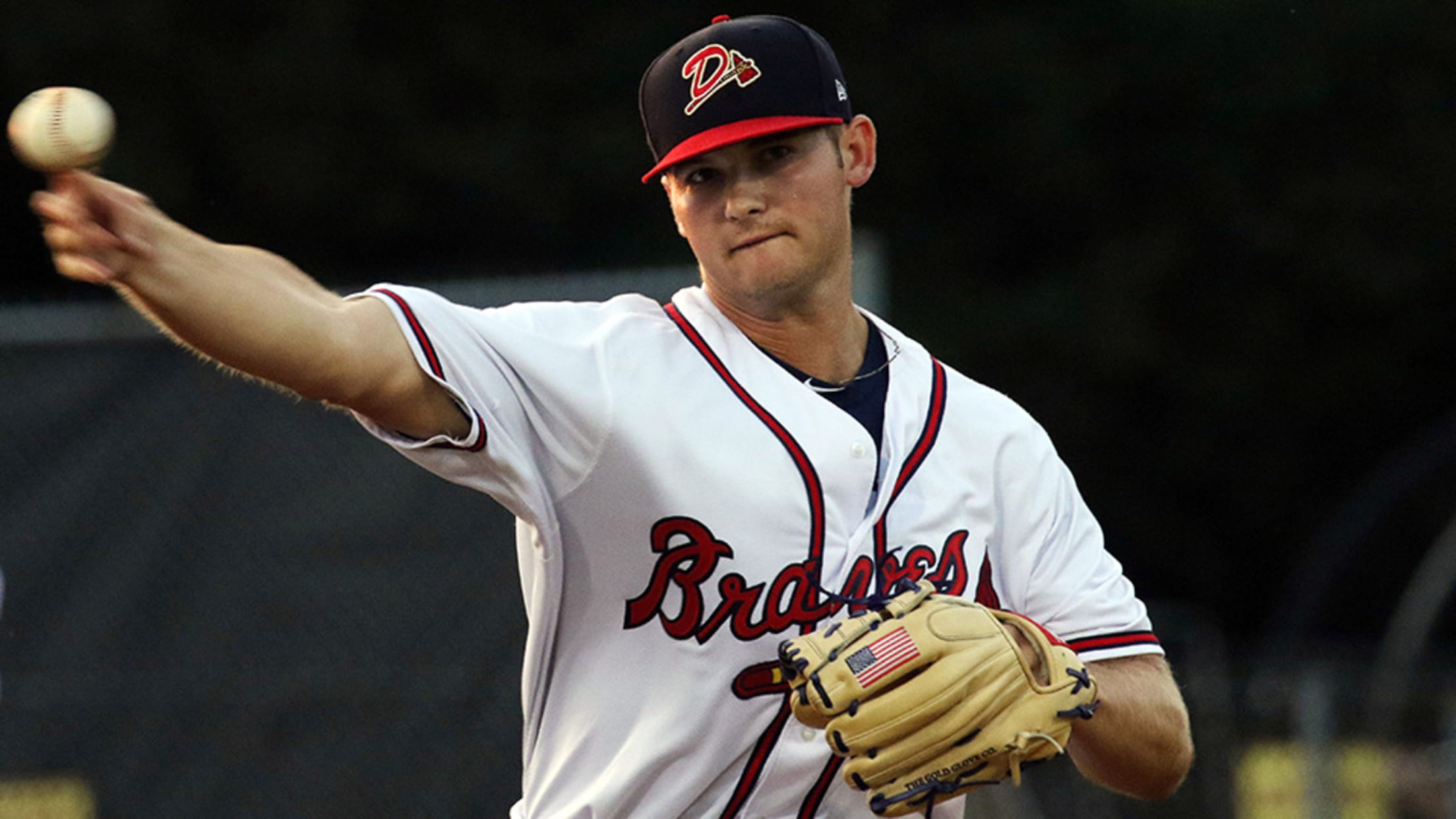 Braves hurler Stephen Moore has put his baseball career on hold until his military requirements are met. (Karl Cline/MiLB.com)
You won't find Stephen Moore on a list of baseball's best young prospects. You won't find him throwing off a mound at the Braves' Spring Training facility in Kissimmee, Florida, either.To find Moore, you'll need to travel up the East Coast to Naval Air Station Oceana, a sprawling military base
You won't find Stephen Moore on a list of baseball's best young prospects. You won't find him throwing off a mound at the Braves' Spring Training facility in Kissimmee, Florida, either.
To find Moore, you'll need to travel up the East Coast to Naval Air Station Oceana, a sprawling military base located in Virginia Beach. If you look quickly, you'll spot the 24-year-old in the cockpit of a F/A-18F Super Hornet, one of the world's most sophisticated fighter jets.
Braves hurler Stephen Moore will soon be Lieutenant (junior grade) Stephen Moore, naval flight officer. And he wouldn't want it any other way.
***
Moore's journey from the mound to the sky ironically stemmed from his desire to pursue a career as a professional baseball player. Growing up in the Atlanta suburb of Marietta during the 1990s and early 2000s, Moore was a Braves fan during their years as a perennial World Series contender. As a baseball lover from the time he was a toddler, it wasn't hard for Moore to decide what he wanted to be when he grew up.
"I loved baseball," he said. "I was always practicing and playing in the yard. From a very early age, it was really the only thing I knew and could wrap my head around. I was a huge Braves fan and still am to this day, one of the biggest around. A lot of my friends wanted to be like Chipper Jones, but I pretended to be Greg Maddux."
Although Moore enjoyed a standout high school career at the Walker School, which included winning the Georgia 5A regional championship, he wasn't drafted, and offers from Division I schools were few and far between, with one exception.
"The [United States] Naval Academy was the only school to offer me a scholarship," he said. "I had looked at other colleges and was recruited to some smaller schools, but Navy gave me the best opportunity. It's funny that baseball is what led me to Annapolis. Without my success in baseball, I would never have considered going to the Naval Academy."
Moore may have been at Annapolis because of his baseball talent, but he also needed to find a niche within the Navy.
"I started asking a lot of the officers what particular naval communities they enjoyed the most," he said. "Of everyone I spoke with, I felt that I fit in most with the aviators, particularly jet pilots. It didn't take me long to realize that I wanted to fly. I didn't want to run things on a ship or be in a submarine."
Moore still had the opportunity to escape his military obligations. Students attending U.S. military academies can avoid fulfilling the mandatory commitment if they continue their education elsewhere prior to starting their junior year. However, doing that wasn't part of his thought process.
"I'm happy with the decision I made," he said. "I have an urge to fulfill my commitment to the Navy. It was a pretty easy choice for me. I received a fantastic education, trained to become an aviator and will now have a career few have the opportunity to experience."
On the diamond, Moore posted a 2.90 ERA and struck out 199 batters against only 50 walks in 269 2/3 innings during his collegiate career with the Midshipmen. His walk rate of 1.67 per nine innings is the second-lowest in the program's 124-year history.
His hometown Braves called his name in the 10th round of the 2015 Draft. Moore was the 300th player selected, the highest ever for a Midshipmen baseball player.
"It was a phenomenal day, not just for me but for my family and friends," Moore recalled. "The Braves told me in advance to expect it, but about 10 minutes prior to being picked, [special assistant to the general manager] Roy Clark called me and said to turn on the television because they were about to call my name."
The Navy gave him permission to begin his professional career that summer. Moore reported to Rookie-level Danville in the Appalachian League, where he posted a 1.64 ERA in nine appearances. When the season was over, it was off to Naval Air Station Pensacola to begin training as a naval flight officer.
***
Although professional baseball is on the back-burner for at least the next several years, Moore won't let his baseball talent erode just because he's in the military. He still trains and keeps his arm in shape, even finding some fellow ballplayers to help him along.
"The good thing about baseball is it doesn't skip states," Moore said. "Wherever you are, you'll find a passion for the game. One of my friends during my time [in Pensacola] was a catcher in college. I'll throw to him and keep my arm in the best shape I can. I don't want to put myself in a position where, if I wanted to come back down the line, I couldn't because I didn't take care of myself."
Drafted by Altanta in 2015, Stephen Moore will fly F/A-18F Super Hornets for the Navy. (Barrett McClean/Pensacola Blue Wahoos)
That passion for baseball still burns for Moore, so when Double-A Mississippi played in Pensacola last season, he received permission to be in uniform and in the dugout during their games.
"It was great to be back in uniform again and a great experience to be in the dugout with those guys," he said. "At the same time, you realize what you're not doing. You miss it and look at the other guys and realize where you could be. We talked about baseball and my life as a pilot, so it was great on both ends. It was just a nice experience and got those competitive juices flowing for me again."
Moore has an open invitation from the Braves to return to baseball when and if he wants to, but that isn't something he even contemplates right now.
"I stay in contact with the Braves," Moore said. "They told me if I'm willing and able, I'd get a shot, but even then, there are no guarantees after that, which I completely understand. We'll see what happens down the line.
"I would love to come back to baseball. I think anyone in my position would say that. But I want to serve my country first and foremost as a naval aviator. Growing up, I never would have expected to play professional baseball and be a Navy pilot. Maybe you can say it's possible to do one, but not both. I feel very accomplished, very privileged and humbled to have had these experiences."
Moore has no regrets about the path he's taken, although this time of year brings back the love of the game in a rush of emotion and competitiveness. Baseball was his life for 20 years. It's in his blood and always will be. But for now, he settles for playing catch and watching games on television.
"I could sit there and become envious," Moore said. "I could watch games on television and say, 'Yeah, I could strike him out or I could do this or do that,' but that's not really who I am. I wouldn't trade my life right now for anything. I'm doing something very few people are able to do. I'm honored to be able to fly for the United States Navy. I'm happy doing what I'm doing and even happier to say that I'm serving my country."