Baseball journey brings Mientkiewicz home
Triple-A Toledo manager is at helm in birthplace city with Tigers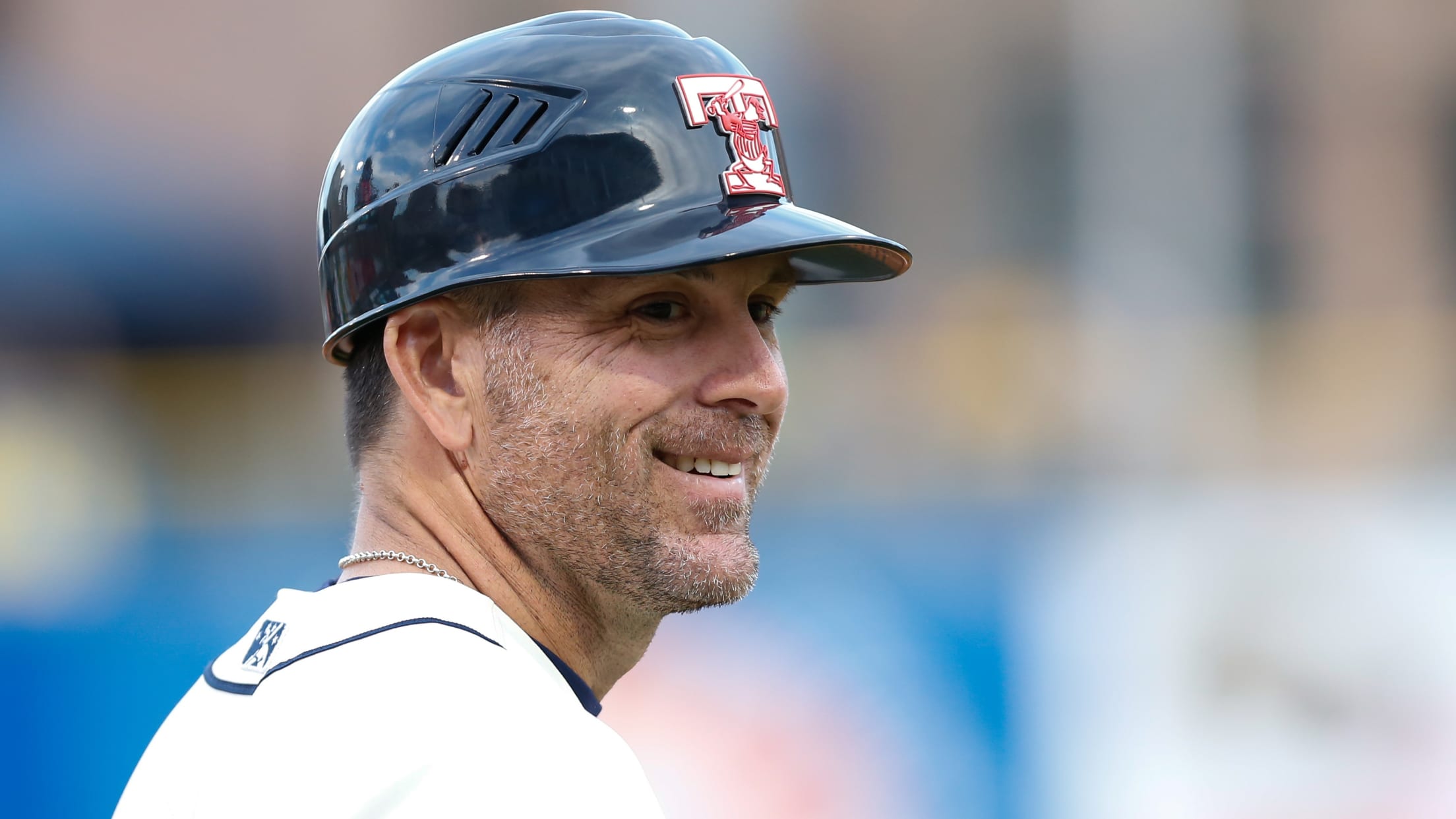 Doug Mientkiewicz has the Mud Hens in first place in his first season at the Triple-A level. (Scott W. Grau/Toledo Mud Hens)
Baseball has taken Doug Mientkiewicz everywhere. This season, it's brought him back to the city of his birth as he takes the helm of the Tigers' Triple-A affiliate in Toledo, Ohio."Obviously, you can see friends and family that you haven't seen in forever," he said. "My parents were born and
Baseball has taken Doug Mientkiewicz everywhere. This season, it's brought him back to the city of his birth as he takes the helm of the Tigers' Triple-A affiliate in Toledo, Ohio.
"Obviously, you can see friends and family that you haven't seen in forever," he said. "My parents were born and raised here. They've been up here a ton, seeing their longtime high school friends, so it's been cool. To see how much has changed, you realize there's managing in certain places and then there's managing the Mud Hens."
His family moved to Miami when Mientkiewicz was a boy, and he doesn't remember much about his childhood in Northern Ohio. What he does remember is that his first baseball experience was a Mud Hens game. He also recalls lots of walleye fishing and outings to see the now-defunct International Hockey League's Toledo Goaldiggers.
But it was through baseball that he became high school teammates with Alex Rodriguez, won a gold medal at the Olympics in Sydney, squeezed the final out of the 2004 World Series and parlayed a 12-season playing career in the Majors into a burgeoning career as a manager that's already taken him across three organizations and four levels.
Managing in the Tigers organization has given Mientkiewicz a chance to relive a couple of his Major League "firsts," even though he never played for Detroit. His first game and hit came at the old Tiger Stadium, as did his first Opening Day.
He's also managing at the Triple-A level for the first time.

Rising to the challenge
As a player, Mientkiewicz suited up for Minnesota for parts of seven seasons, won a Gold Glove as a first baseman in 2001 and was a key cog in the Boston World Series Championship that ended an 86-year drought. He also played for the Mets, Royals, Yankees, Pirates and Dodgers, posting a lifetime on-base percentage of .360. His last game in the Majors was in 2009.
Three years later, he took a job in the Dodgers organization, serving as hitting coach for the Ogden Raptors in the Rookie-level Pioneer League. That offseason, the Twins hired him to manage its Class A Advanced team in Fort Myers, where he made his pro debut after Minnesota took him in the fifth round of the 1995 Draft.
In late 2014, after two seasons at the helm of the Miracle, he interviewed for the Twins managerial opening, a job that ultimately went to Paul Molitor. Mientkiewicz instead managed Double-A Chattanooga from 2015-2016, and was back with Fort Myers in 2017. Last September, the Twins announced they would not retain him for 2018, surprising many around baseball.
"I had other offers," he said. "I wanted to go somewhere where there was familiarity, whether it was managing in their Minor League system already, or familiar faces."
Tigers executive director of player development Dave Littlefield had tracked Mientkiewicz's fledgling managing career. When news of Minnesota's decision broke, Detroit saw an opportunity to pounce, even if it meant giving Mientkiewicz a promotion to managing at a level where he'd had no experience.
"We had been looking and talking to people about Doug the last couple of years, knowing he's an energetic, hard-working baseball guy with a lot of experience," Littlefield said. "It just kind of worked out. I know some people over with the Twins and they gave some real positive information with the work he's done. Then we hired [Ron Gardenhire to manage the Tigers] and he had good feelings about him. We just felt like it was a good opportunity … and he's done a great job."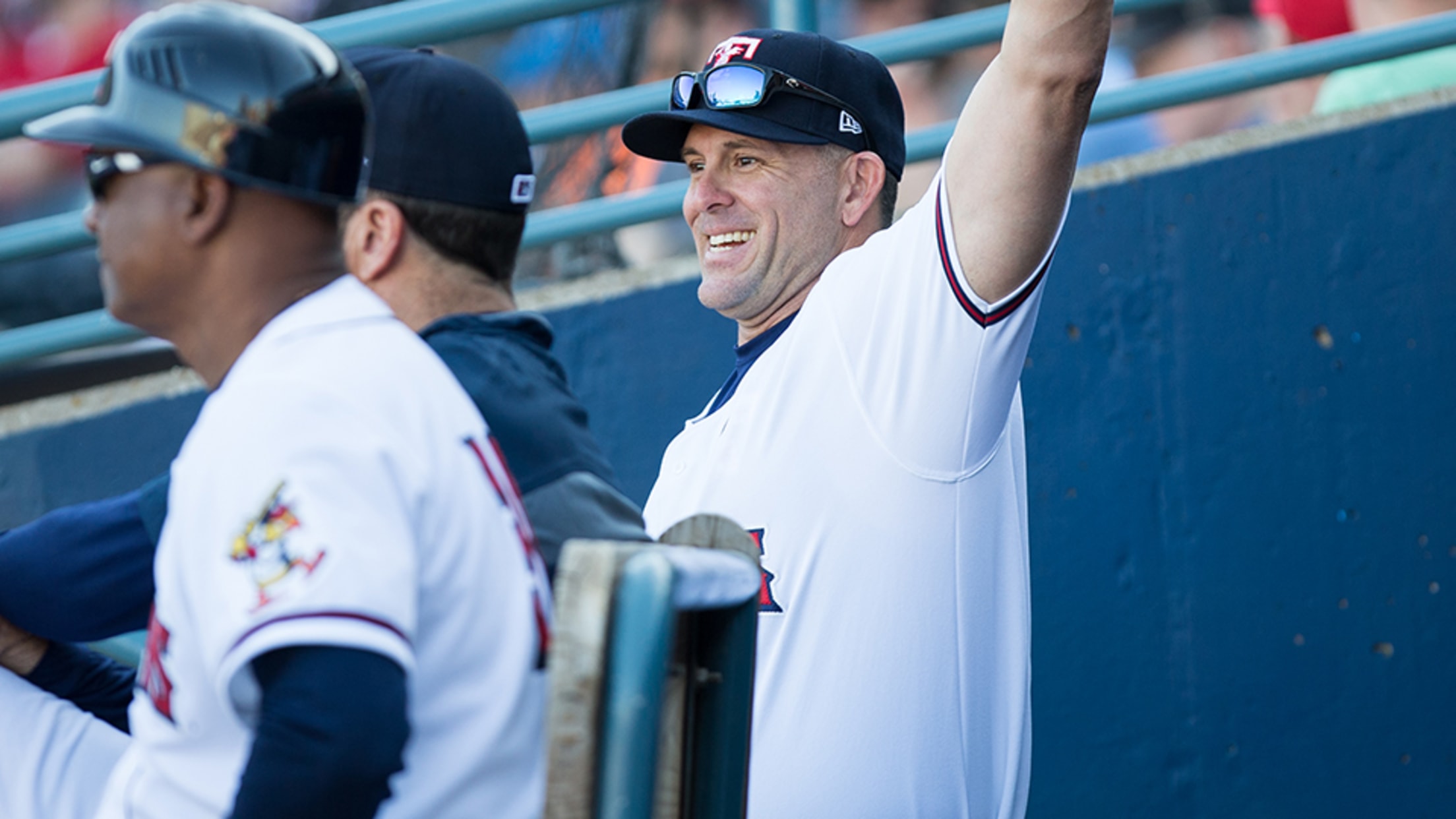 Doug Mientkiewicz is in his sixth season as a Minor League manager. (Scott W. Grau)
Mientkiewicz has relished the challenge of managing at Triple-A, where frequent roster changes and edicts from the big league club can factor into daily decisions.
"We're trying to change the mindset here," the former Florida State standout said. "We're trying to change it and get it back to, 'Winning is important and it's expected.' Not to say they didn't do that before Gardy got here, but each manager that's hired, each guy that takes over has a way of how he wants it done. … We're just kind of adding a little Gardy flavor to it and making sure that we're all pulling the same rope. That's the one great thing about this place. We all want the same thing."

Match made in Minnesota
Aside from returning to his birthplace, Mientkiewicz was also drawn to the idea of managing in the same system as his former skipper with the Twins.
"Having Gardy and his staff here has made my transition pretty easy," he said. "There's a lot of good baseball people here. It's been a pleasure to work here so far. Being at Triple-A, knowing exactly how the big league manager wants it to look, it's been very easy."
Littlefield was aware that Gardenhire's presence -- along with other changes the Tigers were making -- was a draw for the younger manager.
"We were in kind of a transition," the player development executive said. "We've been trimming back some payroll and made some trades and really put forth a lot of resources to player development and scouting. I think [Mientkiewicz] saw it as an opportunity to come into a place that's making some change for the positive."
It's paying off on the field, at least at the Triple-A level. Through July 5, Toledo sat atop the International League West Division standings with a 47-38 record.
"The Mud Hens fans, they expect to win," Mientkiewicz said, acknowledging that player development is the main part of his job. "Sometimes, we have to do things from an organizational standpoint. We have parameters at times. We do have things we have to follow from the people above us. The Major League team is the priority and everybody understands that. We do the best we can to appease the people here and obviously doing our jobs and making sure Gardy has what he needs.".
The 44-year-old imparts wisdom to his players regarding everything from big picture philosophies of the game to minute details that are important to Gardenhire.
"He wants to be aggressive on the bases, make the routine plays, stuff like that," the Mud Hens skipper said. "The mentality that he has -- Gardy is definitely an attention-to-detail guy. Letting my players know that when guys go up there … the attention to detail that he expects and demands is a little different than most."
The Major League skipper's personality also inspires Mientkiewicz to give his players a final piece of advice when they get called to The Show.
"To watch your back," he said. "[Gardenhire is] a practical joker."

Big league dreams, again
Littlefield has no doubt that Mientkiewicz can be a quality Major League manager. There's a reason why he was a candidate for the Twins job in 2014.
"He's got that overall package and the things that people are looking for [in] big league coaches," Littlefield said, noting that Mientkiewicz is strong in both hitting and defense and has an appreciation for analytics.
Major League managerial positions are not easy to come by -- after all, only 30 exist. But, as Littlefield pointed out, a hard-working leader who is committed to the game, studies it extensively and thinks about it intelligently will make his way onto teams' radars.
"I definitely would love to manage in the big leagues," Mientkiewicz said. "There's other aspects, too, that I keep open, whether it's [a coordinator job] or something like that, whatever it is.
"I just want to stay in the game, because I thoroughly enjoy working with young players and all that goes into it. I always say, 'Someday, somebody is going to give me the keys and we'll see what happens.'"
For now, he has the keys to the Mud Hens. When he gets a big league set, Mientkiewicz will have to say goodbye to Toledo. It won't be the first time.
Chris Bumbaca is a contributor for MiLB.com based in New York. Follow him on Twitter @BOOMbaca.