Williams, Padres gave San Diego thrill in '30s
When PCL came to town, 17-year-old was ready to compete with pros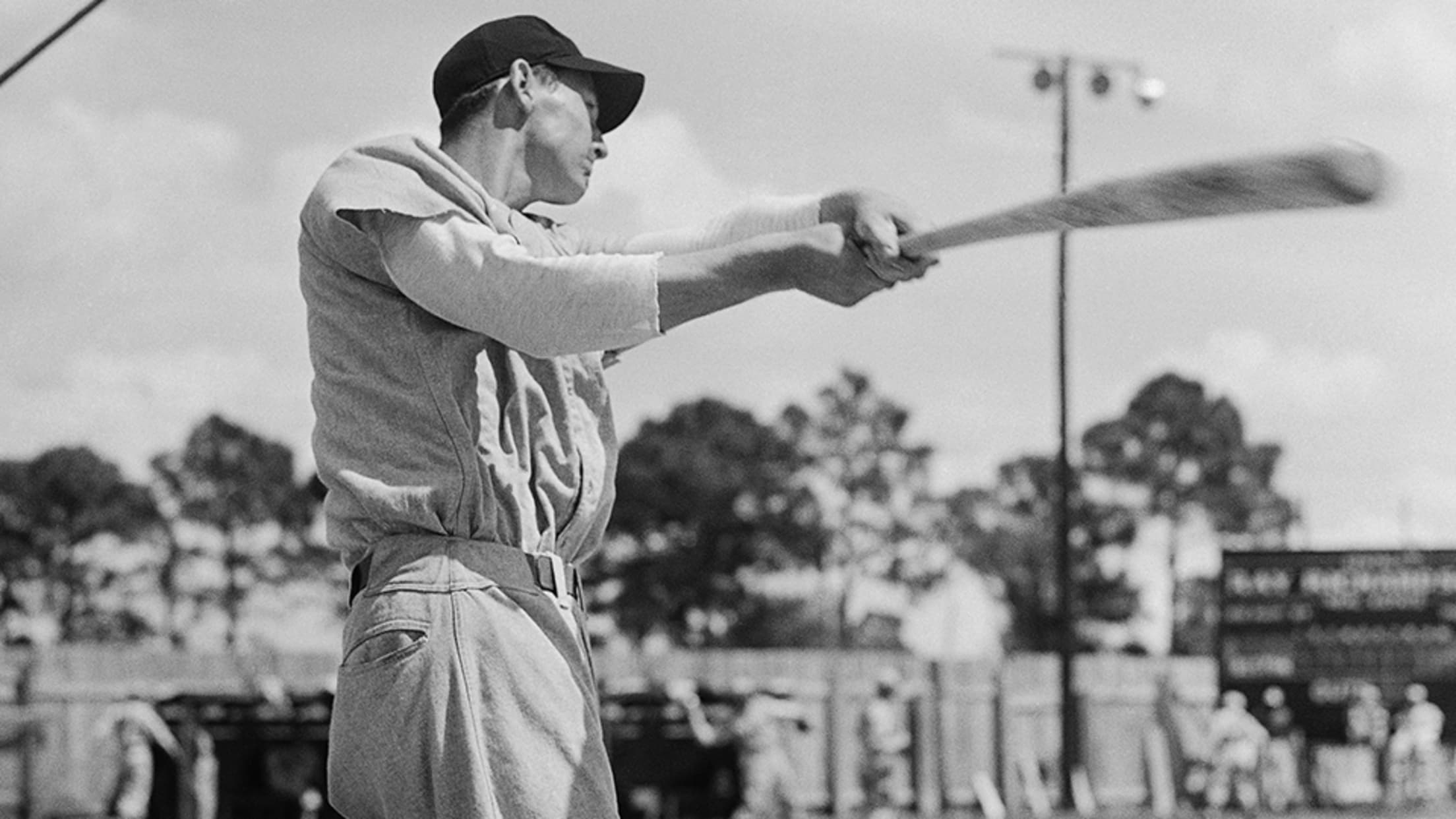 Ted Williams came into professional baseball as a rail-thin teenager with a powerful left-handed swing. (AP Photo)
Before San Diego had professional baseball, it had Ted Williams. And before he had Fenway Park, Williams had the sandlots and playgrounds of his North Park neighborhood. In 1936, the Pacific Coast League came to town, just in time for a 17-year-old Williams to join the first Padres team.
Before San Diego had professional baseball, it had Ted Williams. And before he had Fenway Park, Williams had the sandlots and playgrounds of his North Park neighborhood. In 1936, the Pacific Coast League came to town, just in time for a 17-year-old Williams to join the first Padres team.
Turning pro
Some 120 miles up the coast, the PCL's Los Angeles Angels and Hollywood Stars had shared a park called Wrigley Field for more than a decade, but facing a 100 percent rent increase, Stars owner Bill Lane sought other options. News of the franchise's relocation broke in January and, three months later -- thanks to labor and draftsmen from the Works Progress Administration -- San Diego's Lane Field was ready for baseball.
In the meantime, Williams was enjoying a brilliant career at Hoover High School. He was among the best players on the local amateur circuit, not only as a hitter but especially as a pitcher.
The Kid: Ted Williams in San Diego
, edited by former Society for Baseball Research vice president Bill Nowlin, details an April 24 performance in which he struck out 21 against Redondo Beach and notes that two days later the
San Diego Union
reported that both the St. Louis Cardinals and New York Yankees were interested in Williams, despite the youngster being in only his third year at Hoover.
<jsp:include page="/milb/include/minoringinhistory.html">
"School authorities have kept him from becoming embroiled in eligibility difficulties," the newspaper said. "They hope to keep him clear until his graduation."
They got their wish, but only technically. Williams wasn't signed by the Cardinals or Yankees before he graduated; he was signed by another pro team: Lane's Padres. In addition to the "school authorities" the newspaper mentioned, there was another party who wanted to keep Williams close to home.
May Williams has become a notorious figure in the public imagination, a mother so devoted to her work with the Salvation Army that she was absent from her son's life. But when Williams' future was being determined, she made sure he didn't get in over his head too early. Because he was a minor, any contract needed parental endorsement. According to Leigh Montville's
Ted Williams: The Biography of an American Hero
, his father was negotiating one with the Yankees when Lane and Williams' mother struck a different deal.
• On the blog: Six surprising facts about Ted Williams' San Diego days
"It made sense for May that her son would play baseball close to home," Montville wrote. " ... She extracted a promise from Lane that Ted would not be farmed out in the next two years and also extracted a small bonus."
Lane sweetened his proposal by bringing outfielder Cedric Durst, who'd played in the Majors and would later manage the Padres, and promising Mrs. Williams that Durst would look after her son.
"He was a veteran and a really grounded, stable personality," said Bill Swank, the author of several books on San Diego and baseball history. "He was on the Hollywood Stars when they moved down to San Diego. Ted was getting interest from the start from these Major Leagues teams, but his mother did not want him to play baseball for a living. Baseball players were bums. Baseball players drank. Bill Lane took Cedric Durst out to her home and he said, 'This will be Ted's mentor.' It was because of Durst, and the fact that the Padres were in San Diego, that Ted was allowed to sign."
'The Kid' being the kid
On June 27, the
San Diego Evening Tribune
reported, "Lane, in announcing the signing, said Williams would be put to work immediately and would not be used on the mound staff because of his heavy hitting."
How could it be that a kid not yet out of high school could be "put to work immediately" in one of the most competitive Minor League circuits of the period? Williams was young, to be sure, but he'd spent a significant amount of time playing baseball.
"He was just compulsive with his love for baseball," Swank said. "He was [on a field] all the time. He always wanted to hit."
Tom Larwin, who wrote sections of
The Kid: Ted Williams in San Diego
and is the secretary of the San Diego chapter of SABR named for Williams, pointed out that the Splendid Splinter's adolescent years were filled not only with competitive play for Hoover High, but also for American Legion, semipro and not-quite-semipro teams like Cramer's Bakery and the North Park Merchants. And before he was old enough to play at that level, he was having a blast developing the skills that would get him there
"Baseball had a big bearing on his early life. He was in a neighborhood with other boys his age," Larwin said. "He didn't have the big parks; usually, they were playgrounds at a grade school. They had a lot of those places within walking distance, and they had a bat and a ball. Two guys could hit the ball to one other. If they got another few guys, they could play Piggy Move Up -- they did all that kind of stuff."
Suiting up with the Padres, the teenager held his own. As it happened, his first professional hit came as a pinch-hitter for a pitcher in the top of the seventh inning against the Angels on July 3. Despite Lane's proclamation that Williams wouldn't be used as a hurler, up against a 12-8 deficit and a doubleheader on each of the next two days, manager Frank Shellenback sent The Kid to the hill for the bottom of the frame.
"Ted went in to pitch the seventh inning ... and retired the side in order," Bill Bradlee Jr. wrote in
The Kid: The Immortal Life of Ted Williams.
" ... Williams got up again in the top of the eighth and hit another single to right, but when he went back out to pitch the bottom of the eighth, he gave up two screaming home runs."
Williams later admitted he learned that day that he wasn't cut out to be a pitcher, but it didn't take him long to show real promise at the dish.
"Ted joined our club in the middle of the year when his school got out. ... You could just see he was going to be something special," pitcher Manuel Salvo told Swank in the book
Echoes from Lane Field
. "He sure could hit! He hit some balls with our club that I still remember."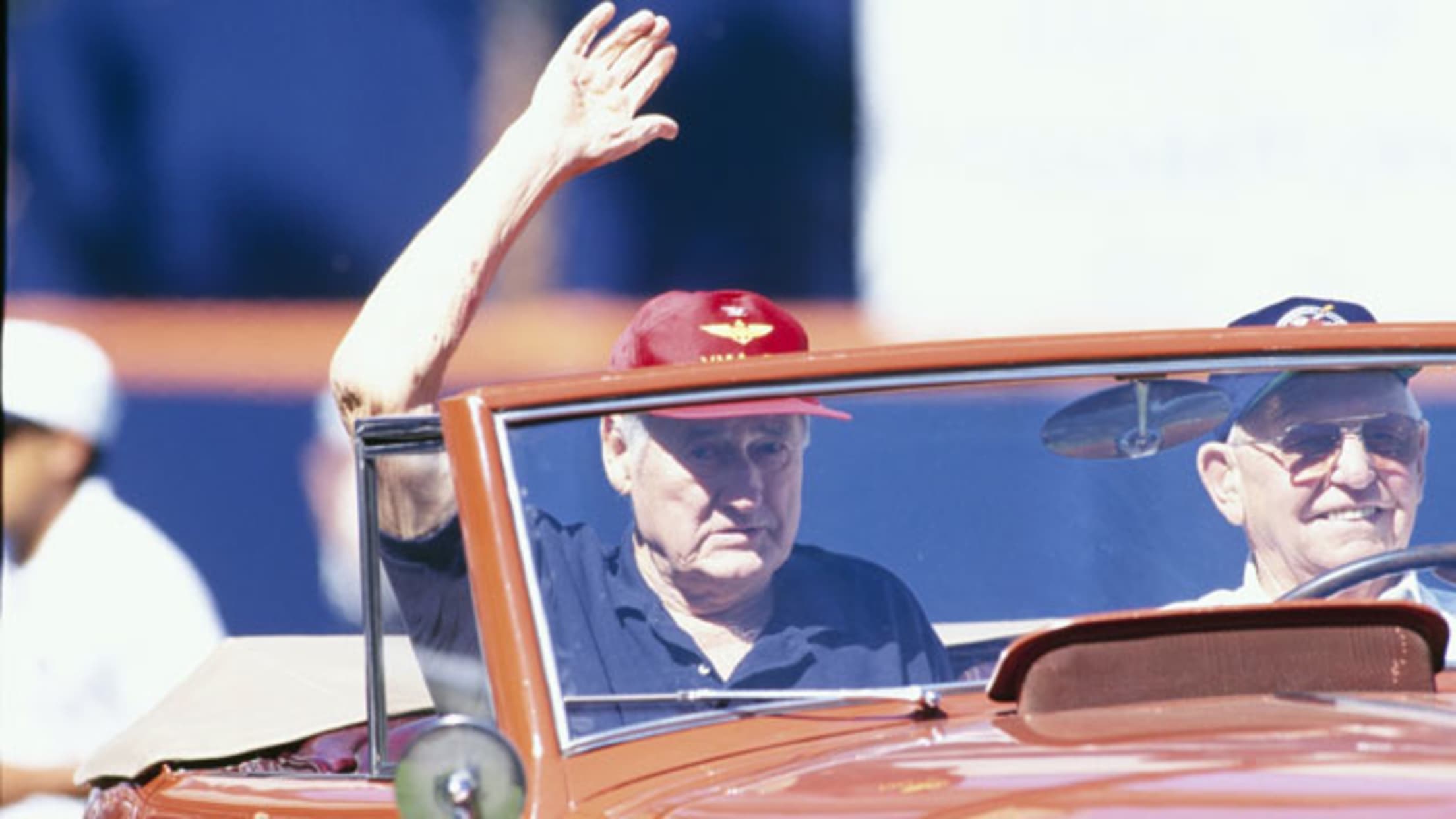 Williams, at Jack Murphy Stadium in 1996, was inducted into the Padres Hall of Fame last year. (Getty Images)
He finished the season with a .271 average, eight doubles and a pair of triples. Production aside, it was hard for his teammates to forget he was just a teenager.
"Ted Williams was one of baseball's greatest players, but none of his San Diego Padres teammates wanted to go to the movies with him," Anne Krueger wrote in a Sept. 13, 2003 San Diego Union-Tribune story about Ralph Thompson, who served as the Padres' unofficial bat boy and mascot during Ted's time with the team. Evidently, only Thompson could tolerate the rookie's childish behavior at the cinema. "So Williams frequently paid for Thompson's movie ticket."
Swank, who's quoted in Krueger's story, still remembers hearing from Williams' teammates about how exhausting it could be to spend time with him.
"I heard these stores from the ballplayers, 'Oh, no, you'd never want to go to the movies with him. He yells at the screen, hooting and hollering. He loves the westerns.' But Ralph said, 'He was just like another kid! It was great!'" Swank recalled. "There were times where Ted was jumping on the bed pretending to swing a bat and saying things like, 'Ced, isn't it great to be young?' and Durst would say, 'Ted, it's 6 o'clock in the morning. Go back to bed.' That exuberance, people accepted it because he had that enthusiasm."
It didn't hurt that Williams showed so much potential. Even though he never hit a ball out of the yard in his first half-season with the Padres, it was clear to those who'd seen him play that the pop was there. Not only was that power evident in the swing of the skinny kid Bradlee Jr. described as "tall and reed-thin, a Huck Finn-Li'l Abner amalgam who was the rawest looking rookie imaginable," but fans, players and reporters had seen it generate long drives that were awe-inducing despite staying in some of the cavernous PCL parks of the time.
"If you want to make a little extra money to put in the old sock," sportswriter Earl Keller advised in the Jan. 7, 1937 edition of the San Diego Evening Tribune, "bet it on young Teddy Williams to be taken as the outstanding Major League prospect after this year's Pacific Coast League baseball race is finished."
The column contended, "Williams will be heavier and in better condition than ever when the 1937 season rolls around. From his mother, we learn he has put on more than five pounds since the 1936 season ended. 'Teddy is drinking more milk and putting on weight steadily,' said Mrs. Williams.

Hometown boy makes good
Anybody who heeded Keller's advice made out well. Williams graduated high school in January and started the following season mostly on the bench. On June 22, he smacked the difference-making homer -- an inside-the-parker to Lane Field's enormous center field -- in the Padres' 3-2 win over Portland. From that point on, San Diegans enjoyed their Williams mashing for the hometown team.
"That was very important to fans," Swank said. "They knew who he was. I wouldn't go that far [as to say he was a local celebrity]. He was still a raw kid, but the fans here knew who he was."
By the end of the year, baseball people all over did. Williams hit .291 and was third in the PCL with 23 homers. He also clubbed 24 doubles and a pair of triples, helping the Padres cruise through the playoffs with eight straight wins to earn the league title.
One newspaper account claimed Williams was the only left-handed hitter to homer over every one of the league's right field fences, which also would make him the only hitter to do so, period. Even writers in other cities were thrilled by his accomplishments. In the "Sports X-Ray" column in the
Los Angeles Times
that offseason, Bob Ray called him "one of the most feared hitters in the league" in '37, writing, "Maybe the Pacific Coast League won't
produce another Joe DiMaggio
this year, but it will have a Ted Williams, who is destined to be the circuit's sensation during the 1938 campaign."
Boston calling
In that, Ray was mistaken. Lane's promise to May Williams -- that he wouldn't sell her son to a big league club for two years -- was fulfilled. The Red Sox scored Williams in an acquisition reported by the
San Diego Evening Tribune
on Dec. 8, 1937. Apparently, reporter Paul Mickelson was the one to inform the slugger of the deal.
"'Go on, you're kidding me,' Williams told
The Tribune
yesterday after he had been informed that the Red Sox had bought him," Mickelson wrote. "'Boy, this is the happiest day of my life. If the Red Sox give me a chance, I'll make good. I'm going to keep myself in fine shape this winter so I will be able to impress my new bosses in spring training.'"
It wasn't exactly clear sailing, however. Williams was still the same hyper youngster he'd been in San Diego, with Montville emphasizing that Williams didn't handle that spring camp in Sarasota as maturely as he might have. For one thing, a flood in California delayed his arrival -- not a great first impression. He didn't tuck his jersey in properly, struck others as cocky. The final straw came when he didn't dress for a bus ride to Bradenton on March 20, simply because nobody from Red Sox management had specifically informed him he'd be making the trip.
"The Red Sox and manager Joe Cronin wanted Williams to improve his head," Montville wrote. "They decided very fast that he was too young, too immature, too ... wacky. Had anyone ever talked his way out of the big leagues? His first experience with his new employers was just a mess."
So Williams spent one more season in the Minors, with the Red Sox shipping him to the Minneapolis Millers of the American Association. However his personal growth was coming along, as a baseball player he was clearly developed enough to compete at a higher level. He hit for the Triple Crown, batting .366 with 46 homers and 142 RBIs. He also led the loop with 370 total bases and 130 runs scored. But did he mature?
"At least a little," Bradlee wrote. And considering the way he hit, a little was enough. In 1939, he was on the Red Sox for the start of a 19-season Major League career that secured him a spot in the Hall of Fame. Interviewed after he retired by James D. Smith in Swank's Echoes from Lane Field, he looked back on his time with the Padres.
"There was no particular pressure on me playing in San Diego. I didn't know what pressure was," Williams said. "I was nervous -- not because I was born there but because it was a whole new experience playing before crowds, professional baseball. San Diego was the nicest little town in the world. How the hell was I to know it was the nicest town in the world? I'd never been anyplace."

Further reading:
The Kid: The Immortal Life of Ted Williams
by Ben Bradlee, Jr.
The Grand Minor League: An Oral History of the Old Pacific Coast League
by Dick Dobbins
Ted Williams: The Biography of an American Hero
by Leigh Montville
The Kid: Ted Williams in San Diego
ed. by Bill Nowlin
The Greatest Minor League, a History of the Pacific Coast League 1903-1957
by Dennis Snelling
Baseball in San Diego
by Bill Swank
Echoes from Lane Field
by Bill Swank
Tom Larwin and The Sullivan Family Baseball Research Center, the product of a partnership between the Ted Williams Chapter of SABR and the San Diego Public Library provided research resources and assistance for this story. The Baseball Research Center can be visited on the eighth floor of San Diego's Central Library.
Josh Jackson is a contributor to MiLB.com. Follow and interact with him on Twitter, @JoshJacksonMiLB.