Anderson powers an improving Marlins system
Third baseman's breakout season ended with a trip to the Majors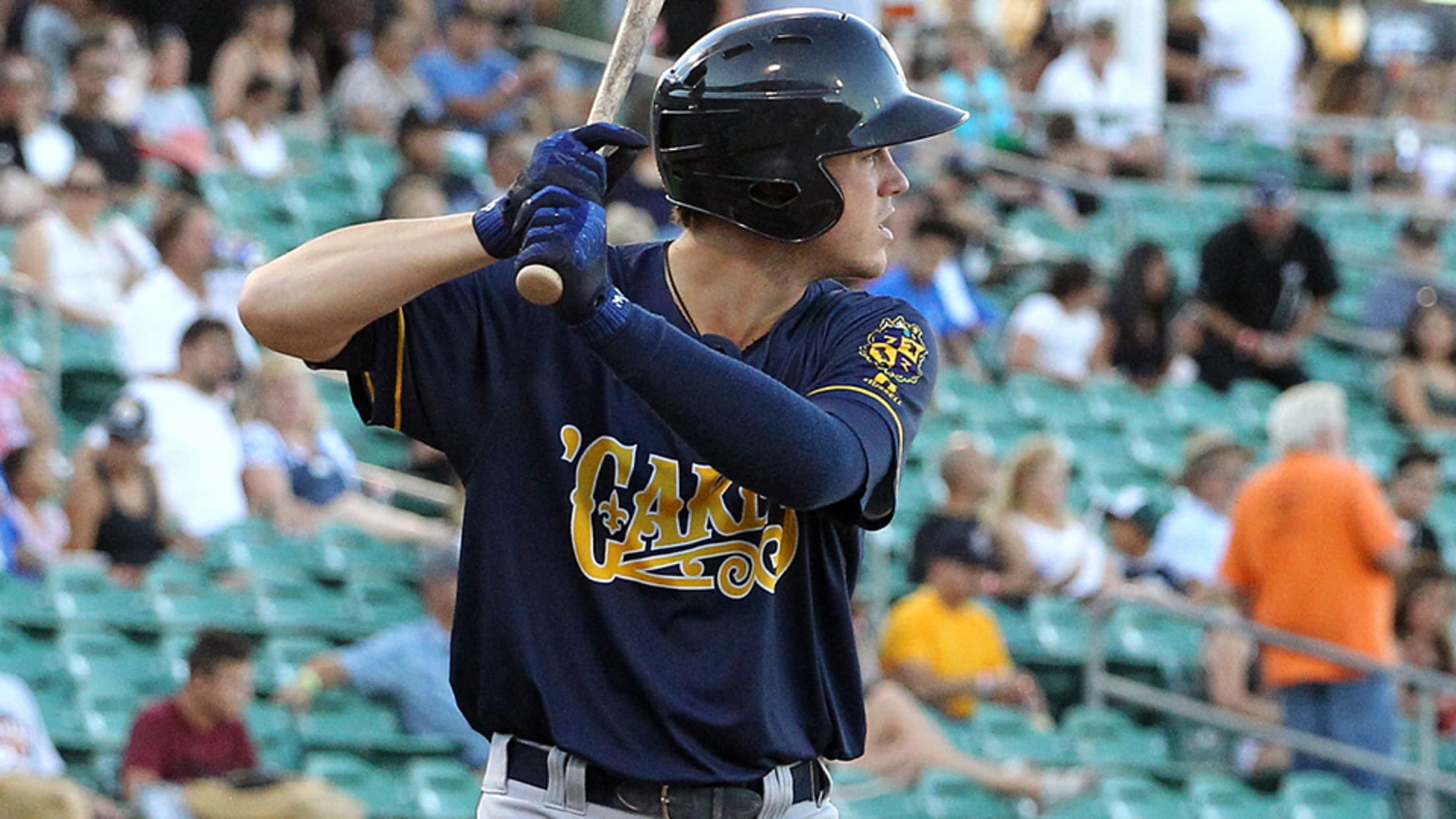 Brian Anderson's career-high 22 homers and 81 RBIs propelled him to his first trip to the Majors in 2017. (Ben Sandstrom/MiLB.com)
This offseason, MiLB.com is taking a look at the most outstanding campaigns by players in each system across Minor League Baseball and honoring the players -- regardless of age or prospect status -- who had the best seasons in their organization.At first glance, the Marlins' Minor League pipeline may not
This offseason, MiLB.com is taking a look at the most outstanding campaigns by players in each system across Minor League Baseball and honoring the players -- regardless of age or prospect status -- who had the best seasons in their organization.
At first glance, the Marlins' Minor League pipeline may not jump off the page like some other organizations, but don't mistake that for a lack of talent. Miami has made a habit of turning veteran assets into youthful potential -- a July trade with the Mets for right-hander Merandy Gonzalez is the most recent example. While 2017 was largely a year of baby steps for the franchise, several players listed below emerged as bona fide prospects.
Although many of these rising young stars reside in the lower levels of the system, their success should provide some hope in South Florida for a franchise that has not finished with a winning record since 2009.
Marlins Organization All-Stars
Catcher --
Tomás Telis
,
New Orleans (73 games), Miami (48 games):
A
Marlins Organization All-Star for the second straight year
, Telis has proven himself to be a solid Minor League hitter since making his pro debut in 2008. The Venezuela native owns a .292/.330/.402 slash line in more than 800 games, including five seasons in which he's hit .300 or better. During his 73 contests with Triple-A New Orleans, the 26-year-old batted .279/.326/.396 and threw out a career-high 44.4 percent of runners attempting to steal. Telis appeared in 48 big league games this past season and hit .240 in 104 at-bats.
First baseman --
Colby Lusignan
,
Greensboro (80 games), Jupiter (46 games):
The 24-year-old took a large step forward in just his second year as a pro and his first full-season campaign. Selected in the 28th round of the 2016 Draft, Lusignan turned in a productive first half with Class A Greensboro before hitting his stride with Class A Advanced Jupiter to close out 2017. The Florida native hit a combined .259/.327/.429 with 49 extra-base hits -- including 15 home runs -- and 74 RBIs in 126 games. His 15 roundtrippers represented the third-highest total among Marlins Minor Leaguers.
Second baseman -- David Vidal, Jacksonville (107 games), New Orleans (24 games): Vidal returned to the Minors following a two-year stint with the Somerset Patriots in the independent Atlantic League and provided a solid bat and steady defense in his first season with the Marlins. The 28-year-old hit .269 with 40 extra-base hits and 52 RBIs in 131 games between Double-A Jacksonville and New Orleans this past season.
Third baseman -- Brian Anderson, Jacksonville (87 games), New Orleans (33 games), Miami (25 games): Anderson has been a fixture on Miami's top prospect list since he was drafted in the third round out of the University of Arkansas in 2014. The 24-year-old produced solid campaigns in his first three pro seasons before cementing his status as Miami's third baseman of the future with a breakout 2017. Anderson led all Marlins farmhands with 22 homers and 81 RBIs while batting .275/.361/.492 in 120 games between Jacksonville and New Orleans. The No. 3 Marlins prospect made his big league debut in September and hit .262 over 25 games.
"We're excited about having a guy like Brian who can slide into such an important position," Marlins assistant director of player development Brett West said. "He's a key piece of our future core and someone we hope will grow with the organization. He was a second baseman in college but with his arm strength, size and ability, we felt a move to third would work well and it has. His power really came through this past season, which we always anticipated would be a part of his game. This was a big year for him both on and off the field developmentally, and we're excited to see what's next."
Shortstop -- Luis Pintor, Greensboro (119 games): After shuffling around the infield during his pro debut in 2016, Pintor found a home at shortstop with Class A Greensboro this season. The 22-year-old started 111 of his 119 games at shortstop and committed 17 errors over nearly 1,000 innings, a solid ratio for a young middle infielder. While his bat didn't quite measure up to his strong defense, Pintor managed 43 RBIs, 60 runs scored and nine stolen bases in his first full-season campaign.
Outfielders -- John Norwood, Jacksonville (135 games): Yet another Marlins prospect who took a giant leap forward in 2017, Norwood set career highs across the board offensively in his first Double-A campaign. The Marlins No. 25 prospect amassed 40 extra-base hits -- including 19 home runs -- and 62 RBIs while batting .285/.367/.459 in 135 games for Jacksonville. Known for slugging a go-ahead homer in Vanderbilt's decisive win in the 2014 College World Series, Norwood was bypassed completely in the Draft a few weeks later and signed with the Marlins as a free agent.
"John's another guy that we have really high hopes for and are excited about," West said. "Even going undrafted, that homer he hit for Vanderbilt really put him on the map, and we were more than happy to sign him. [2017] was a big, big year in terms of development for John. He profiles as a strong corner outfielder with power from the right side, which is something we don't have a lot of in our system. He really grew this year, and we're excited to see his development continue. It's not a stretch to think that we'll see him contributing in the Majors in the near future."
Brian Miller, Greensboro (57 games): Miller hit the ground running in his professional debut with Greensboro in 2017. The 36th overall player selected in this year's Draft, Miller produced a .322/.384/.416 slash line in the South Atlantic League. The No. 7 Marlins prospect added 17 doubles, scored 42 runs and swiped 21 bases in 57 games from the leadoff spot for the Grasshoppers.
"Miller was one of those guys we felt would move quickly once he got started," West said. "He slid right into center field in the second half and was a key contributor to Greensboro making the playoffs. Brian's got an above-average bat, great on-base skills and speed. We feel that he'll stick out in there in center and that he has the makeup and professionalism we're looking for as a keystone in the future of the Marlins."
Moisés Sierra, New Orleans (123 games): Although he last played in the Majors in 2014, Sierra continues to show he has mastered the art of hitting as a Minor Leaguer. In his second year in the Marlins' organization, the 29-year-old hit .291/.361/.438 with 11 homers while setting career highs with 68 RBIs and 18 stolen bases in 123 games with New Orleans. Over his last three seasons, Sierra has batted .305 in nearly 1,000 Minor League at-bats, including a personal-best .336 in 2016.
Designated hitter/Utility -- James Nelson, Greensboro (102 games): Just 20 years old, Nelson zoomed up Miami's prospect list with a strong season in 2017. The No. 9 Marlins prospect and Greensboro's starting third baseman recorded a .309/.354/.456 slash line while sprinkling in 31 doubles among his 41 extra-base hits. Nelson appeared in 43 games for the Marlins' Rookie-level Gulf Coast League club in 2016, and he opened this past season in extended spring training before his promotion to the South Atlantic League on April 21. The Georgia native rewarded Miami's faith in his abilities by earning midseason and postseason All-Star honors.
"James was our organization's player of the year for a reason," West said. "He really busted out this year. He's a player who stood out to us in the Draft thanks to above-average bat speed and strong instincts. James has made a smooth transition from shortstop to third and we think he has all the ingredients on both sides of the ball to stick at that position."


Right-handed starting pitcher -- Trevor Richards, Jacksonville (14 starts), Jupiter (13 games, 11 starts): Like Norwood, Richards appears to be another undrafted gem unearthed by the Marlins. Following a collegiate career at Drury University, the right-hander pitched in the independent Frontier League before signing with the Marlins in July 2016. Unranked coming into 2017, Norwood sits as the Marlins 18th-ranked prospect after winning 12 games to go along with a 2.53 ERA and an organization-high 158 strikeouts over 146 innings with Jupiter and Jacksonville.
"Trevor was selected as our organization's pitcher of the year and with good reason," West said. "He's moved quickly since he joined us and he's got a true starter profile. His velocity has ticked upward as he's added strength and his command is there. The breaking ball is coming along well, but his changeup is his bread-and-butter pitch. It's a double-plus offering and is the one he goes to for the strikeouts."
Left-handed starting pitcher -- Dillon Peters, Jacksonville (nine starts), Jupiter (two starts), GCL Marlins (two starts), Miami (six starts): The Marlins' fourth-ranked prospect broke his left thumb in his third start of the season and didn't return until July 5, but he still produced sterling results when he was on the mound. Peters posted a 1.57 ERA in 13 starts across three levels while holding opposing batters to a .183 average, which contributed to his promotion to the Majors late in the year. The southpaw tossed seven scoreless innings and struck out eight during a no-decision against the Phillies in his Major League debut on Sept. 1.
Relief pitcher -- Marcus Crescentini, Greensboro (26 games), Jupiter (13 games): A 26th-round pick by the Dodgers in 2015, Crescentini turned the corner this season in Class A and Class A Advanced. The 24-year-old made 39 appearances, posting a 1.40 ERA and striking out 68 in 51 1/3 innings. In 103 career outings -- all in relief -- Crescentini has held opposing hitters to a .208 average while averaging 12.9 strikeouts per nine.