Brushback pitch turned into tragedy
Fastball that ultimately ended Johnson's life stayed with Clifton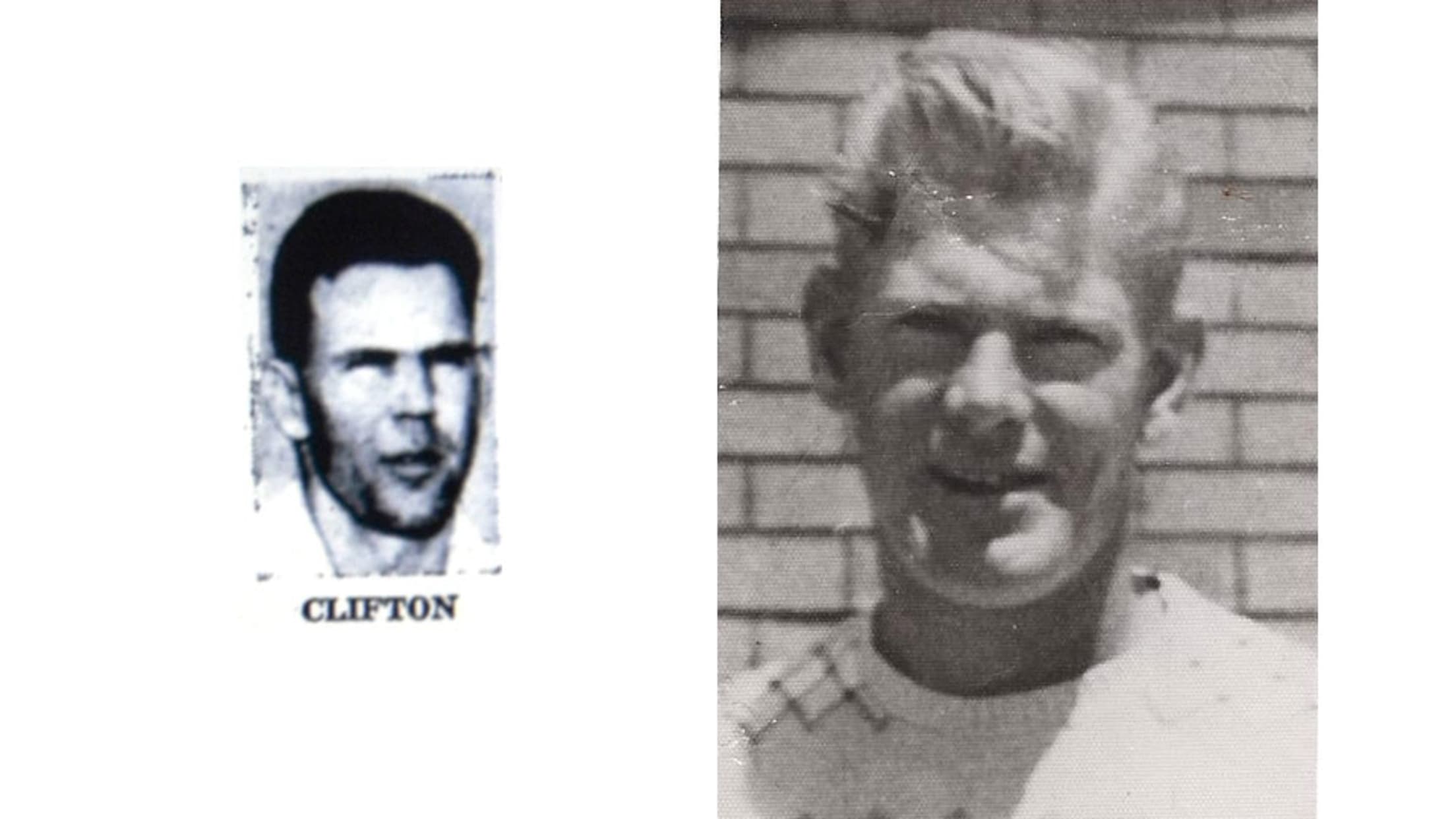 Jack Clifton remained in touch with Ottis Johnson's family after the tragedy.
Minor League Baseball is known for its rich history dating back more than 100 years. While much has been written about the best teams and top players who have graced the Minors, there remain many stories either untold or largely forgotten. Each week, MiLB.com will attempt to fill that gap
Minor League Baseball is known for its rich history dating back more than 100 years. While much has been written about the best teams and top players who have graced the Minors, there remain many stories either untold or largely forgotten. Each week, MiLB.com will attempt to fill that gap and explore these historical oddities in our new feature, "Cracked Bats."
Jack Clifton threw high and tight to Ottis Johnson with regularity. He had faced him enough to know what kind of damage the slugging outfielder could do at the plate. He was also aware that Johnson wasn't afraid to lean into a fastball from time to time in order to get on base.
So, when Clifton uncorked yet another fastball designed to back Johnson off the plate on the night of June 2, 1951, neither he nor any of the several hundred fans in attendance at Peanut Stadium could have imagined that the heater would ultimately end up taking one life while changing another forever.
Haunted may be too strong a word to describe what Clifton feels about Ottis (pronounced Awtis) Johnson these days. But 55 years after participating in one of the Alabama-Florida League's darkest moments, the 88-year-old Clifton admits that his life hasn't been the same since that fateful evening in Headlands, Ala.
"It's been trouble to me all my life," Clifton said. "It will always stay with me. It's one of those moments that just don't leave. Yeah, it troubles me. I try to keep it out of my mind. But I can't all the time. People have been good to me about it, though.
"Occasionally, once or twice a year, someone will call and want to talk about it. I have no objections to discussing it. I'm at ease with his family, but I regret it very much. I certainly wish it hadn't happened."
The Alabama-Florida League was a six-team Class D league in 1951. During its 23-year existence it would see more than 120 alumni reach the Major Leagues. But Clifton would not be one of those who would move up. A powerful man on the mound, Clifton was fast and efficient, leading the league in wins (22), strikeouts (245) and winning percentage (.786, 22-6) while guiding Headland to a first-place finish and the playoffs in '51.
But he essentially walked away from professional baseball following that season. At 33, there wasn't much hope that he would get the call from a Major League club. And after what happened with Johnson, Clifton admits he wasn't all that anxious to stay on the mound anyway.
"It was because of that I stopped pitching," he said. "I played semi-pro for a year or two after that in Alabama, but I didn't pitch very much after that year."
There were no radar guns in 1951, but Clifton believes his fastball would rifle across home plate at speeds in excess of 95 miles an hour. And he used it effectively, hitting his fair share of batters in an attempt to intimidate.
But the 6-foot-3 Johnson, who was hitting .393 and leading the league with 10 home runs at the time of the injury, wasn't about to be brushed back. He got hit often, knowing how to take a pitch if need be. But on that night, the lighting at Peanut Stadium, Clifton's fastball and Johnson's reaction time comprised a deadly mix.
Clifton said he's not sure in which inning the beaning occurred, adding it was most likely the third or fourth, as he had already faced Johnson once that evening.
"He was tall and a free swinger, and he had long arms," said Clifton, whose other claim to fame was striking out Charlie Gehringer three times during a wartime service league game. "He swung hard and would swing at anything, even if it got up shoulder high or way above his waist. So I pitched him high and tight regular and never had a problem.
"And that pitch, I expect I had thrown that pitch to him 50 times. I don't know whether the lights got in his eyes or he just didn't react. The lights were old, and they weren't very high. A lot of people had trouble with balls in the lights."
Leon Hilyer, a former teammate of Johnson's at Troy State, played shortstop for the Headlands Dixie Runners and saw the Dothan outfielder go down. He said the impact of the ball striking Johnson's head resounded through the stadium.
"It really popped when it hit him," Hilyer said. "It hit him right in the temple. Ottis got hit a lot. And he did freeze up sometimes when the ball came at him. He just froze on that occasion. Everyone pitched inside in those days, and he probably led the league in getting hit.
"He was unconscious. They had to call an ambulance to come and get him. That was the first time I had seen anyone get hit [and then] lay there unconscious. There was no question about it, though, when he got hit. It just popped."
Clifton had fractured Johnson's skull. The 24-year-old husband and father would lie in a hospital for eight days after undergoing surgery, briefly regaining consciousness before dying on June 10.
Edsel Johnson, who was almost three years younger than Ottis Johnson, was on his way to the ballpark that evening to watch his brother play when the incident took place. Edsel Johnson, who played for Brewton in the AFL during the late 1940s, had been in Dothan, along with his father, to pick up Ottis' wife and baby when they heard the news.
"It was dumbfounding," Edsel Johnson, 81, said. "His being hit by a pitched ball was nothing unusual. They had pitched him inside all the time, and he was a tough old boy. He didn't care about getting out of the way.
"We all headed for the hospital, but we didn't know how serious it was until we got there and the doctors were through examining him. His dying wasn't even a consideration, though. He regained consciousness at one point, and I don't remember if it was momentary or for any length of time. But when he did, I know we talked, and he said he was looking forward to going back and playing some more that year."
Clifton went to the hospital the following day to see Johnson, but he wasn't conscious. He spoke with Johnson's wife and brother and it was clear there were no hard feelings toward Clifton. He even went out and pitched a no-hitter in his next outing, a June 7 affair against Panama City.
But the fallout from the beaning would begin shortly after Johnson died. After Johnson's funeral, Dothan forfeited a game to Headland when it was learned that Clifton would be pitching. While several teams in the league wanted to ban Clifton -- who was also an outfielder batting .300 -- from pitching, Hilyer said that Headlands manager Bubba Ball would not relent, standing by his starter.
Clifton still lives in Blakely, Ga., the town he resided in five decades ago. He went on to work as an office manager after finishing his playing career, only occasionally taking the field for a semi-pro team in the ensuing years.
He shared in a day honoring Johnson shortly after he passed away, and still maintains a relationship with his family.
"We have not blamed anything on Jack," Edsel Johnson said. "We knew it wasn't on purpose. We don't hold a grudge. We still love Jack and talk to him."
While time has eased some of Clifton's burden, that day will always remain with him.
"He was a good boy," Clifton said. "Don't misunderstand that. I liked that boy. It was really a burden and it still is. I think about it quite often."
Fatalities on the field in 1951
June 1951 proved to be a devastating month for professional baseball, with three players dying as a result of injuries sustained on the field. Ottis Johnson became the first player in four years to pass away as a result of an on-field injury.
Six days after Johnson died, Andy Strong was struck and killed by a bolt of lightning while playing for Crowley in an Evangeline League game at Alexandria, La. The 23-year-old was in center field in the bottom of the sixth inning when the bolt struck, killing him on the spot. No other players were injured.
Dick Conway became the third casualty of the month on June 29. The 19-year-old Twin Falls catcher was warming up prior to a Pioneer League contest in Ogden, Utah, when he was struck just above his heart by a ball. Attempts to save him failed, and he died on the field.
Records indicate that the next death occurred on the field in 1964, when Gerald Highfill, a bat boy in the Northern League, died as a result of injuries sustained after he was hit by a line drive during batting practice.
Kevin Czerwinski is a reporter for MLB.com.