Copper Kings delivered unmatched clout
All nine in starting lineup went yard in 1958 rout of Dorados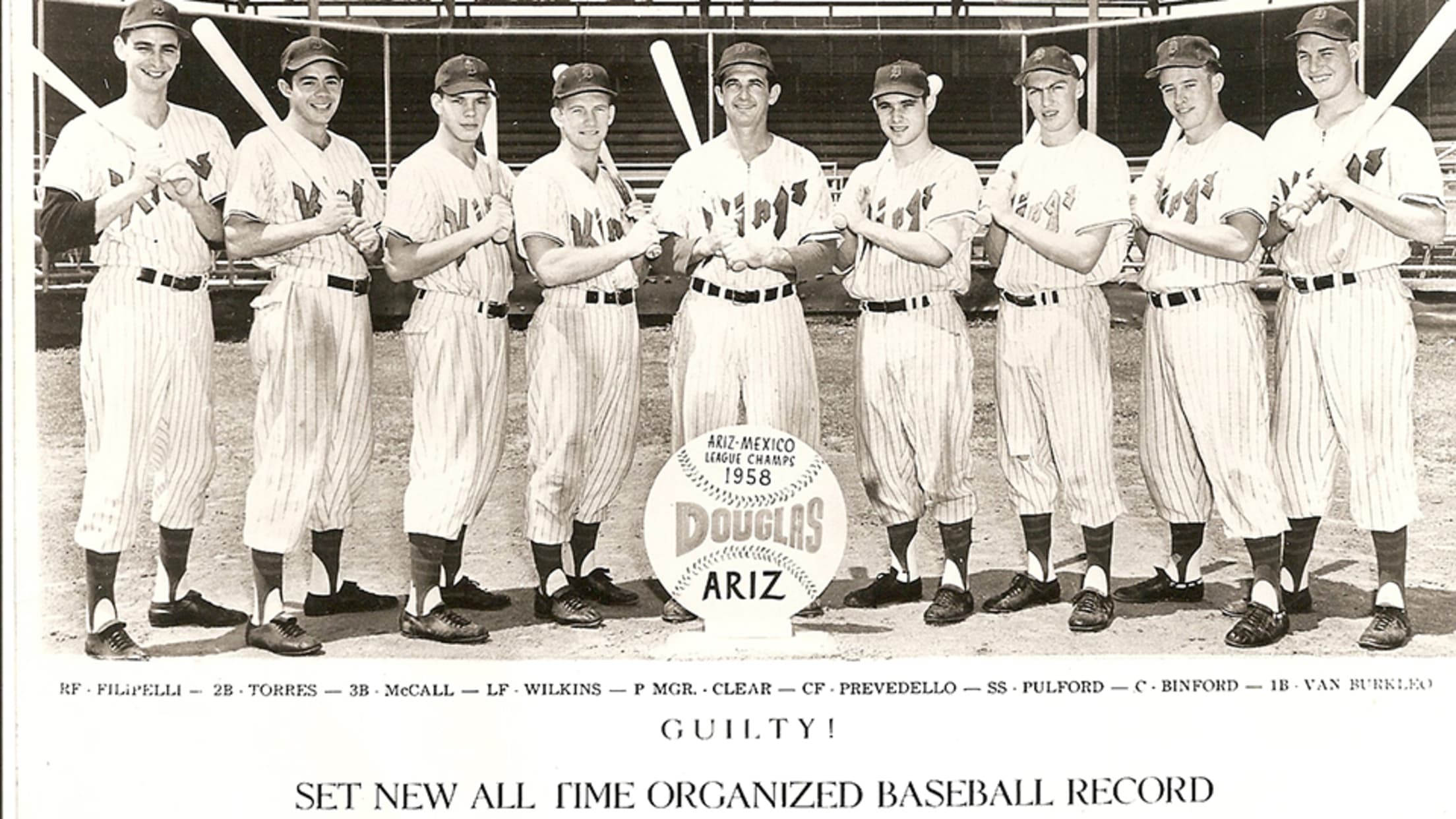 The Copper Kings are believed to be the only team in affiliated baseball history to get homers from everyone in the starting lineup. (Don Pulford)
Minor League Baseball is known for its rich history, dating back more than 100 years. While much has been written about the best teams and top players who have graced the Minors, there remain many stories either untold or largely forgotten. Each week, MiLB.com will attempt to fill that gap
Minor League Baseball is known for its rich history, dating back more than 100 years. While much has been written about the best teams and top players who have graced the Minors, there remain many stories either untold or largely forgotten. Each week, MiLB.com will attempt to fill that gap and explore these historical oddities in our "Cracked Bats" feature.
One by one, the Douglas Copper Kings went deep.
One by one, they sent the baseball over the fence into the steamy summer heat in Chihuahua, Mexico.
One by one, they helped lay claim to a piece of baseball history.
No one at the game between the Chihuahua Dorados and the Douglas Copper Kings could have imagined what they would see that afternoon on Aug. 19, 1958. The Copper Kings were not a classic power-hitting club, despite the fact that they went on to finish in first place that season in the Class C Arizona-Mexico League.
Yet Douglas exploded into baseball's record books that afternoon, collecting nine home runs during the eight-inning affair. The Copper Kings scored in all but one inning, and when the barrage had finally ended, each of the nine players in Douglas' starting lineup had homered. It was part of a 23-hit outburst, yet the 22-8 victory would likely have been forgotten had the Copper Kings not gone homer-happy.
It marked the first, and what is believed to be the only, time in baseball history that this feat has been accomplished. The Major League record, according to the Elias Sports Bureau, for most players on one team to homer in the same game is eight, set by Cincinnati on Sept. 4, 1999, in a 22-3 victory at Philadelphia. But only six of the eight players who homered in that game were in the starting lineup.
The local press was the only outlet that gave the "Douglas Nine" any real media attention for the feat. A few days after the Copper Kings returned to the United States, there was a cartoon proclaiming "The Case of the Murdered Horsehide" atop a photo of the nine players who'd hit the home runs. It made hometown heroes of the group, helping them carve out their own little space with the rest of baseball's immortals.
The Copper Kings, who were affiliated with the Pirates, hit 131 home runs as a team that year, with Fred Filipelli's 23 leading the way. His going deep in Chihuahua or anywhere else wasn't that uncommon, but the stars had to align perfectly for that day to be record-setting. Left fielder Ron Wilkins, who went 6-for-6 in the game, hit only three homers that season, one of them coming Aug. 19. Manager and pitcher Bob Clear also wasn't skilled in the art of the long ball, hitting only four that year, yet he also contributed. And center fielder Andy Prevedello had only seven homers that season and 10 in his career, but he went deep in the seventh to keep things going.
"We didn't know what was going on at first," Prevedello said. "Then it was like, 'Hey, gosh, I haven't had one yet.' We knew we had all done something kind of special. We all tried to get number two. It just clicked. It was unbelievable. There were no short fences, either. It was a regular park."
By the time shortstop Don Pulford (12 homers) was ready to step into the batter's box in the eighth inning, darkness was beginning to cover the field. Clear, who was coaching third base, called time and waved Pulford over, giving him simple instructions.
"He said, 'I'd like you to try and hit a home run,'" Pulford recalled. "Then he asked me if I wanted to use his bat. I told him I would try, but that I would use my own bat. Anyhow, it happened. The count was 2-1, and I hit a fastball over the left-field fence. I didn't even know I hit it.
"I wasn't a power hitter, and I stopped at second base because I thought someone caught the ball. But the ump made the sign for me to go around the bases. I said, 'Did it go out?' We didn't get a lot of publicity for it, though. Someone came down and interviewed us and took some pictures. It was pretty astounding that it happened. What people don't remember is that our next trip down there, they no-hit us."
Others to hit homers in that game included first baseman Dutch Van Burkleo (19 homers that season), second baseman Luis Torres (12 homers), third baseman Darrel McCall (16 homers) and catcher Rich Binford (20 homers).
"It was your typical Mexican park," Van Burkleo said. "There was no grass on the infield or the outfield. And the fences were adobe or brick walls. They were three feet thick and eight or nine feet high. When they made the walls, they broke beer bottles and glass and embedded them in the top of the walls so people couldn't climb over them and get into the park for free.
"Someone told us Life Magazine was going to come down and do a story on us, but they never did. The old Arizona-Mexico League didn't have a lot of people who were into it. It was just amazing, though."
None of the Douglas Nine would reach the Majors, and all but Clear were done playing by 1960. Clear, who went 18-8 and led the league with a .692 winning percentage in '58, played on and off until 1967 and continued managing for a few years following that, moving from the Pirates to the Angels in the process. He would later become a scout for the Angels, and would also serve as a coach with the Major League club from 1976-87. His nephew is former big-leaguer Mark Clear.
Van Burkleo, meanwhile, also has some Major League ties. His son, Ty, is the hitting coach for the Oakland A's.
Still, as a group, they have their own place in baseball history.
"It was one of those times where everything just happened right," Prevedello said. "We knew we had done something kind of special. We didn't realize it wasn't something that had been done before."
Kevin Czerwinski is a reporter for MiLB.com.