Former phenom dominated in pro debut
Joyce struck out 17 in first Northwest League start for Broncs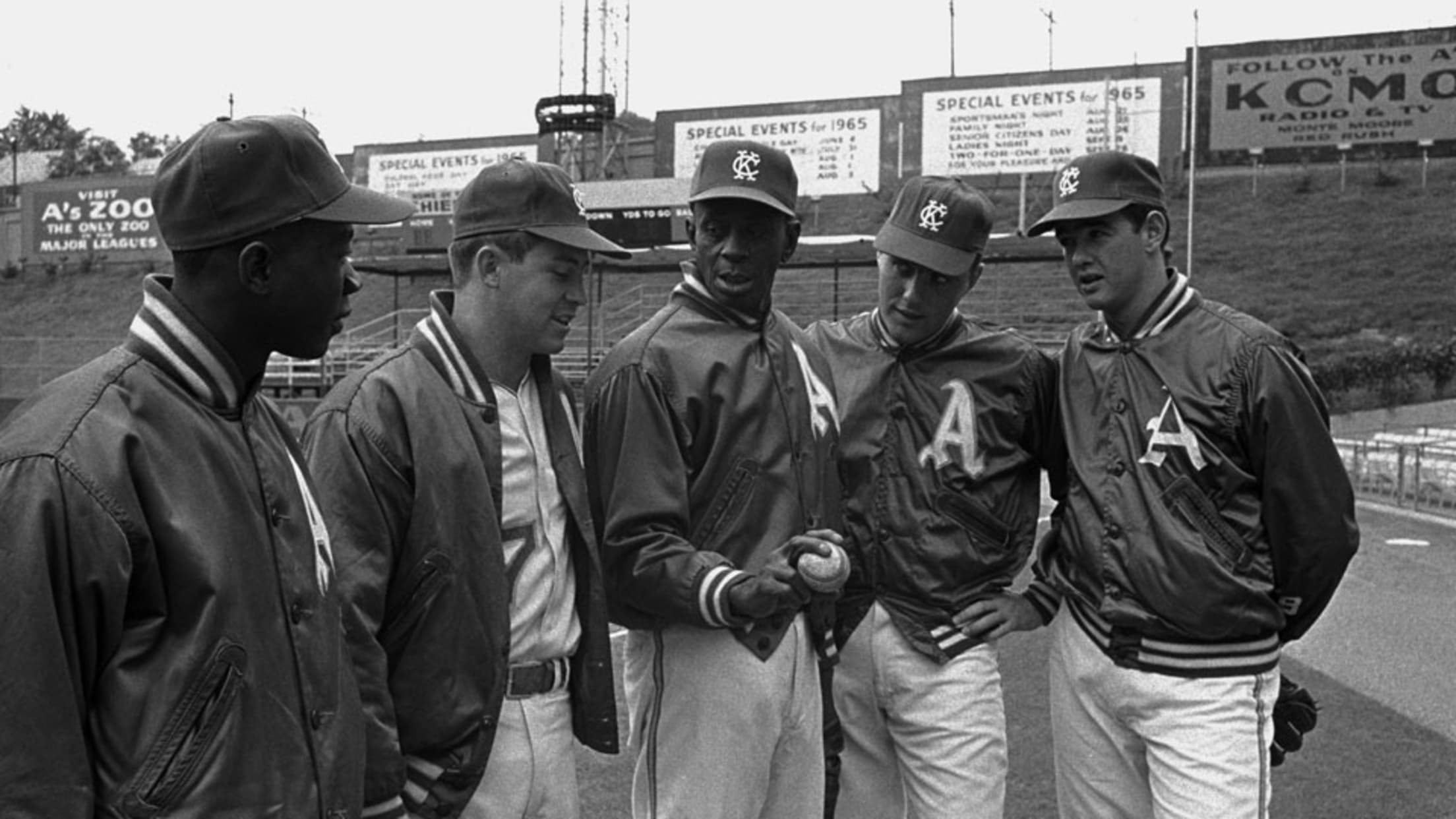 Legendary Satchel Paige (center) instructs A's prospects John Odom, Jim Hunter, Dick Joyce and Ron Tompkins on Sept. 24, 1965. (AP)
Minor League Baseball is known for its rich history dating back more than 100 years. While much has been written about the best teams and top players who have graced the Minors, there remain many stories either untold or largely forgotten. Each week, MiLB.com will attempt to fill that gap
Minor League Baseball is known for its rich history dating back more than 100 years. While much has been written about the best teams and top players who have graced the Minors, there remain many stories either untold or largely forgotten. Each week, MiLB.com will attempt to fill that gap and explore these historical oddities in our feature, "Cracked Bats."
Dick Joyce didn't have lightning in his left arm. His fastball likely never reached triple digits, having spent more time in a neighborhood that ran about 10 miles an hour slower.
But in a decade that was all about pitching, Joyce clearly was on the verge of fitting in. The '60s featured the likes of Koufax and Drysdale, Gibson and Marichal, Palmer and Seaver. And for a few brief, shining moments, it certainly appeared as if Joyce was destined to join that elite group.
The 6-foot-5 southpaw was one of the most sought-after hurlers as the decade unfolded, using phenomenal control and a devastating curve to work wonders on the mound. He was a dominant high school and college star in New England, garnering a great deal of attention from several clubs in the years immediately preceding the birth of the amateur Draft.
Joyce was featured in Time as a prep star in 1961 and went on to star for Holy Cross prior to embarking on an all-too-brief professional career. His rise bordered on meteoric; his fall was nearly as quick. Destiny, however, robbed Joyce of his shot at fame and fortune. But for a few months in 1965, beginning with one special night in Lewiston, Idaho, he was on top of the baseball world.
Joyce dominated the Northwest and Southern Leagues during the spring and summer of 1965, finally earning a spot in Kansas City in September. But just as his career seemed to be blossoming, it was over, ended by a shoulder injury that kept him from joining a staff that later included Catfish Hunter, Vida Blue and Blue Moon Odom on the great Oakland teams of the early '70s.
"I don't think I ever felt cheated," Joyce said. "I think that every player pitches with some amount of pain. Now, they're just better at managing the pain after the game so that it doesn't get out of control. I do wish that people back then knew about arthroscopic surgery to fix shoulders. Zip, zip, zip, put a Band-Aid over it and three weeks later you're doing therapy.
"And when I think about it, I know I could have been a big help to the team that won three championships in a row. I was certainly being considered when I was perfectly healthy. At the time, I felt a little bitterness but never at the team or about how I was treated."
Joyce's journey began at Bishop Cheverus High School in Maine, where his curve -- which some scouts went so far to call Koufaxian -- caught the attention of several front-office types. His success as a high school star carried over to the American Legion season, earning him a tryout at Fenway Park, where, unfazed by his surroundings, Joyce threw a nearly flawless session for the Boston brass.
The Red Sox were so impressed that they offered him a $100,000 bonus, the same deal that Carl Yastrzemski had signed for just a few seasons earlier. But Joyce turned them down and headed to Holy Cross, prompting the folks at Time to write a story about the kid who chose an education over cash.
Joyce's time at Holy Cross certainly proved beneficial on the mound and in the classroom. His performance -- he was 4-0 with a 0.44 ERA as a freshman and posted a 0.94 ERA as a sophomore -- only served to enhance his reputation as one of the game's most coveted young pitchers. He went 7-2 with a 2.28 ERA as a junior and went on to pitch for the United States Baseball Federation during the Olympic Games in Tokyo that summer.
The A's signed Joyce that December, just months before the amateur Draft became a reality. Rick Monday was taken with the first overall pick in the first-ever Draft and played on the same Lewiston team as Joyce in 1965.
"I was told that I was in the running to be a first-round pick had I stayed in school," Joyce said. "But I left Holy Cross after my junior year. There was some concentrated scouting done on the guys that might have been first-round choices and teams wanted to pick those guys off before the first Draft happened, getting players cheaper than if they had to bid for them on the scale that was set at the time."
The A's gave Joyce a $40,000 bonus and agreed to pay for his final year at Holy Cross should he not make it in baseball. But such a thought never entered Joyce's mind. And four months later, on the night of April 24, Joyce made his professional debut for the Lewiston Broncs. He turned in one of the most astonishing performances in the Minor Leagues that season, setting the Northwest League abuzz.
Joyce struck out the first nine batters he faced, ultimately fanning 17 Salem Dodgers at Bengal Field. He struck out two in the fourth inning and had 15 strikeouts heading into the eighth, when he added two more to set the team mark formerly held by one-time Major Leaguer Fred Norman. He fanned Danny Marquardt for the fourth time to tie the mark before setting the record by punching out Barry Erdos.
Though the strikeouts kept coming, it was a play in the fourth that has stuck with Joyce all these years.
"I used to fall off the mound to the right side," he said. "And I remember that game in Lewiston, to start the fourth inning after I got the ninth strikeout, a ball was hit to my left as I fell off to my right side. I caught myself on the grass and dove back. I had one of those six-finger gloves. I got the ball, flipped it to first and got the guy. They gave me a little standing ovation."
Joyce's performance set the stage for what would become a remarkable yet ultimately tragic season for a man seemingly robbed of his place in one of baseball's most colorful dynasties.
"There was no question, there was a lot of adrenaline running that day," Joyce said. "After the game I couldn't sleep at all and got up early the next morning to go to (Massachusetts). It wasn't until deep into Sunday afternoon that I got tired. The adrenaline was racking my body. It was a whole new experience.
"I had never been through that before. I don't think my adrenaline was more heightened than it was that particular day, even pitching in the big leagues after that. It was an unusual event to feel that much adrenaline."
Joyce went 8-3 with a 2.59 ERA in 15 starts for Lewiston, striking out 143 in 118 innings. He earned a promotion to Double-A Birmingham and, after handling the Southern League with as much ease as he did the Northwest League, was called up to the Major Leagues. He made his debut on Sept. 3 against the Angels at Dodger Stadium, scattering five hits and without allowing an earned run in 4 2/3 innings.
"The last pitcher to stand on that mound before I walked out there was Sandy Koufax," Joyce said. "The hairs stood up on the back of my neck. He was one of my favorites. In the first inning, I picked off Ed Kirkpatrick. I did real well. I didn't get the win, but I didn't allow an earned run,\ either."
Joyce spent time that month in the Kansas City bullpen with Hall of Famer Satchel Paige, whom Finley signed earlier that season, and soaked up everything around him. He appeared in four more games, making the start in the season finale at Fenway Park before family and friends from Holy Cross.
It turned out to be one of his worst games of the season. He retired just one batter and suffered the shoulder injury that ultimately ended his career. Joyce was 0-1 with a 2.77 ERA in 13 innings.
"I remember something popping in the front part of my shoulder," Joyce said. "I knew I had the whole winter to rest up, but what I didn't realize is that I probably popped a growth plate. I was in the Army Reserve the following spring and when I got out, I was hustling a little more than I should have been to catch up and I felt it pop again.
"I went up to Vancouver to start the season and I felt it pop again and after that I was really off the wall with my loss of control and there was much more pain. They gave some cortisone shots and eventually assigned me to Mobile, where I played with Reggie Jackson and Rollie Fingers. I just tried to be as good as I could be and manage the pain. When I went to the warmer weather in Mobile it was a little better, but I was on and off after that."
Joyce last pitched in 1967, splitting time between Double-A Mobile and Triple-A Norfolk before calling it a career. He went on to work at IBM, where he was a high-ranking executive for 30 years. Now 63, Joyce recently underwent a number of surgeries, including several on his heart and another to have a leg amputated following complications from diabetes.
"I was a very good pitcher," Joyce said. "My career lasted a flick of an eye, but a lot of things happened. It would have been nice to have been part of those (World Series) teams, but as it turns out, all I have is two or three yearbooks signed by all the members of those teams."
Joyce also has the memories of that special season and one really special night in Lewiston.
Kevin Czerwinski is a reporter for MLB.com.