McLain was masterful in Appy League
Two-time Cy Young winner pitched no-hitter in first pro start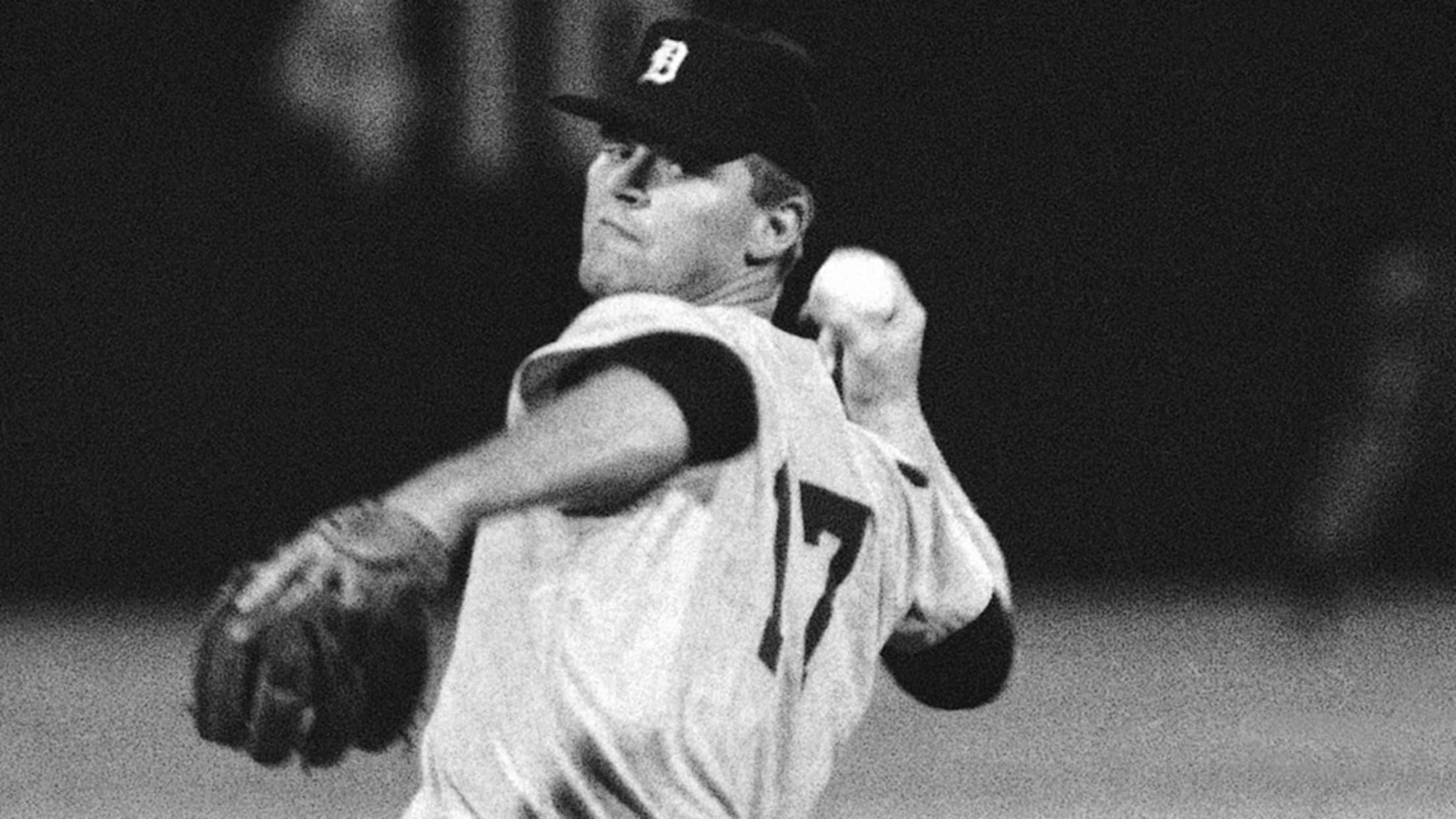 Denny McLain recorded 32 strikeouts over 18 innings in two Appalachian League starts in 1962. (Sal Veder/AP)
Minor League Baseball is known for its rich history, dating back more than 100 years. While much has been written about the best teams and top players who have graced the Minors, there remain many stories either untold or largely forgotten. Each week, MiLB.com will attempt to fill that gap
Minor League Baseball is known for its rich history, dating back more than 100 years. While much has been written about the best teams and top players who have graced the Minors, there remain many stories either untold or largely forgotten. Each week, MiLB.com will attempt to fill that gap and explore these historical oddities in our "Cracked Bats" feature. Know of any stories to be considered for this feature in the future? Send an email and let us know.
Denny McLain's star shone brightly through the mid- and late-1960s, overshadowing almost everyone who took the mound during an era in which pitching dominated. But the right-hander, who eventually flamed out in a fashion nearly as spectacular as he rose, was masterful on the mound long before he became one of baseball's most overpowering pitchers in Detroit.
McLain, a national prep star in Chicago in the early part of the decade, made a splash worthy of his yet-to-be-earned reputation when he broke into professional baseball on June 28, 1962, with the Harlan Smokies of the Class-D Appalachian League. All of 18 years old and just days out of Mount Carmel High School, he gave his fellow teenagers in the Appy League a glimpse of the pitcher American League hitters would come to fear in a few short years.
At the time, McLain was still property of his hometown White Sox, who had outfoxed the Yankees and signed him days earlier for the tidy sum of $10,000. So when the front-office folks in Chicago sent the city boy to the backwoods of Kentucky they did so knowing they had something special but still not quite sure what that was. It didn't take long for him to show them what he was all about.
McLain tossed a no-hitter that first night for Harlan, blanking Salem, 3-0, while striking out 16. He struck out 16 in his next start and, though he lost, he didn't allow an earned run in 18 innings. McLain got bumped up to the Midwest League after his second pro start and, after a bad gamble by the White Sox, landed in the Major Leagues the following summer with Detroit.
While McLain's exploits on the mound -- he's the last pitcher to win 30 games in a season -- have been chronicled as much as the trouble he's gotten into off the field, few stories have delved into his spectacular start as a professional pitcher. But the short time he spent in Harlan served as a precursor for what his life would be, on and off the field, for the decade to come.
Actually getting to Harlan and pitching as well as he did is only part of McLain's early story. The tale surrounding his signing with the White Sox and the hours that led up to his leaving for Harlan is just as entertaining.
Notre Dame had offered McLain a scholarship, the first time the storied university had ever offered one to a baseball player. The folks at Mount Carmel had worked on McLain's behalf to procure the offer, but the scholarship paled in comparison to the offers the Yankees and Sox were presenting.
"Before I could decide if the scholarship was even an option, I signed the contract," McLain said. "Once the Yankees and White Sox each offered 10 grand, well that was like a million dollars in 1962. Though it never came to it, I got a terrific written offer from Notre Dame and they were all just waiting on me, but the scouts walk in and say, 'Here's $10,000 with the possibility to make $17,500.'"
As it turns out, McLain walked away from two fabled institutions: Notre Dame and the Yankees. The Bombers were still on top of the baseball world in 1962 and had yet to begin their decade-long decline. An offer from New York certainly would be enticing but fate -- and a hole -- intervened.
"My mother wouldn't let me sign with the Yankees because the scout had a hole in the bottom of his shoe," McLain said. "She said that if they couldn't afford to get him new shoes then they wouldn't be able to afford to pay me. The bottom line is that, with my mother, if you had anything that wasn't quite kosher, then you were not going to get called back.
"When [the scout] bent his leg over and she saw that hole in his shoe, she said, 'We'll call you.' The check was sitting there, but she scooted him out the door and we were all wondering what happened. The Sox scout walked in 30 minutes later, had no holes, a nice suit and a nice car, so off I went to Harlan. I graduated from high school on a Saturday at 1 p.m., signed the contract that afternoon and they put me on a plane Sunday at noon."
The flight was just one of many firsts surrounding McLain's time in Harlan. It was his first time on a plane, his first time in the Deep South and the first time truly on his own. He left his family and girlfriend in Chicago, landing in Knoxville, Tennessee, before busing 69 miles to Harlan. The Windy City, it was not.
"It was a coal mining town, and that's all they did," said McLain, who began touring Minor League ballparks on the East Coast this week to promote his new book, "I Told You I Wasn't Perfect." "The hotel had no elevator and it was four or five floors high. In the shade, it was about 190 degrees, and air conditioning was not even a thought. There were 30 rooms and only one shower and I remember all the girls in Harlan were all looking to get married and move out. I can't blame them.
"I was scared to death. I had never been out of Chicago, on a plane or on a big bus. Here I am in a foreign part of the world with a couple of bucks in my pocket and a roll of quarters to make a call in case of an emergency. In those days, you had to go through multiple operators just to make a call. All I kept thinking was that maybe this wasn't the best thing for me or in my best interest. I certainly wanted to pitch but not in Harlan, Kentucky."
But McLain wasted little time proving he was too big for the Appy League. He dispatched Salem as easily as he handled the high school competition back in Chicago. Though he had a few rough patches that night at Browning Park, after nine innings and three hours, he had his first professional victory and his first no-hitter.
McLain walked four Rebels and a fifth reached base on a fielder's choice. Though he may have been winded, it didn't stop him from striking out the side in the ninth. Adding to the whole experience was the next day's edition of The Daily Enterprise, the local paper in Harlan. The headline across the top of the front page of the sports section read "McLean tosses No-Hitter as Smokies Whip Salem 9-0." They had spelled his name wrong in the headline and throughout the story. In addition, the writer of the story, whose name didn't appear on the page, seemed just as excited about Nanci Bowling -- Miss Kentucky 1962 -- being in attendance as he did about witnessing a no-hitter in the Smokies' home opener, mentioning her in the same sentence at the top of the story.
McLain's effort wasn't all that surprising, in retrospect. Most of the players in the Appy League at the time were right out of high school or just out of college. Their resumes weren't much deeper than McLain's, and his overwhelming talent was just too great for their inexperience at the plate.
"I think I was in trouble every inning, and I was out there for three hours," McLain recalled. "If that was today, I would have only pitched three innings. It was hot as hell and it was the first time I had ever gone nine innings. I remember being totally drained afterward."
Not so drained, however, that he didn't go AWOL the following morning. McLain borrowed a teammate's car and drove back to Chicago. He had a girlfriend at the time, "a dynamite redhead named Karen," whom he desperately wanted to see.
"I had discovered the warmth of a woman, and nothing was more important at that point in life than a good fastball and that," McLain said with a laugh. "So I headed back to Chicago without permission, and I got in all kinds of trouble. The Sox told me that if I weren't back in Harlan in 12 hours I would never see the inside of a park for the rest of my life. They scared the bejeezus out of me.
"And I didn't marry that girl, either. Her father hated me. He thought I should go to college and be something. He was right about one thing -- we didn't make a lot of money then. He thought baseball players were a trip to the moon. No one ever got to the Major Leagues, especially out of Illinois, so she went to college and I went into pro ball."
Fate intervened once again after McLain was bumped up to Clinton of the Midwest League. The Tigers were scouting Iowa at the time, looking for players to pluck off waivers and, fortunately for McLain, one scout wound up in Clinton. McLain said the scout literally came to a fork in the road and flipped a coin to decide which direction to take, Clinton or Burlington.
The flip pointed the scout toward Clinton, where he saw McLain pitch and reported that if the youngster was ever left unprotected, the Tigers should grab him. The Sox left McLain unprotected that winter, opting instead to protect the $75,000 investment they had made in a young right-hander named Dave DeBusschere.
Well, DeBusschere went on to reach the Hall of Fame, but it was the Naismith Memorial Basketball Hall of Fame in Springfield, Massachusetts, not the baseball shrine in Cooperstown. He left the White Sox after the 1963 season -- DeBusschere went 3-4 with a 2.90 ERA in 36 appearances -- to play for the New York Knicks, with whom he won a pair of NBA titles. McLain, meanwhile, went on to glory with the Tigers, winning 30 games and a World Series in 1968. He also earned a pair of Cy Young Awards and an MVP with Detroit before injuries and off-the-field problems began to take their toll.
"Everything happens for a reason," said McLain, who posted a 131-91 record during a 10-year career. "I never would have won that many games in Chicago. I don't think about that game in Harlan, a lot, though. I was there a very short period of time, but a lot happened there."
Kevin Czerwinski is a reporter for MiLB.com.