Hader, JetHawks toss no-no against Blaze
Trio combines on feat, a year and a day after Lancaster's last gem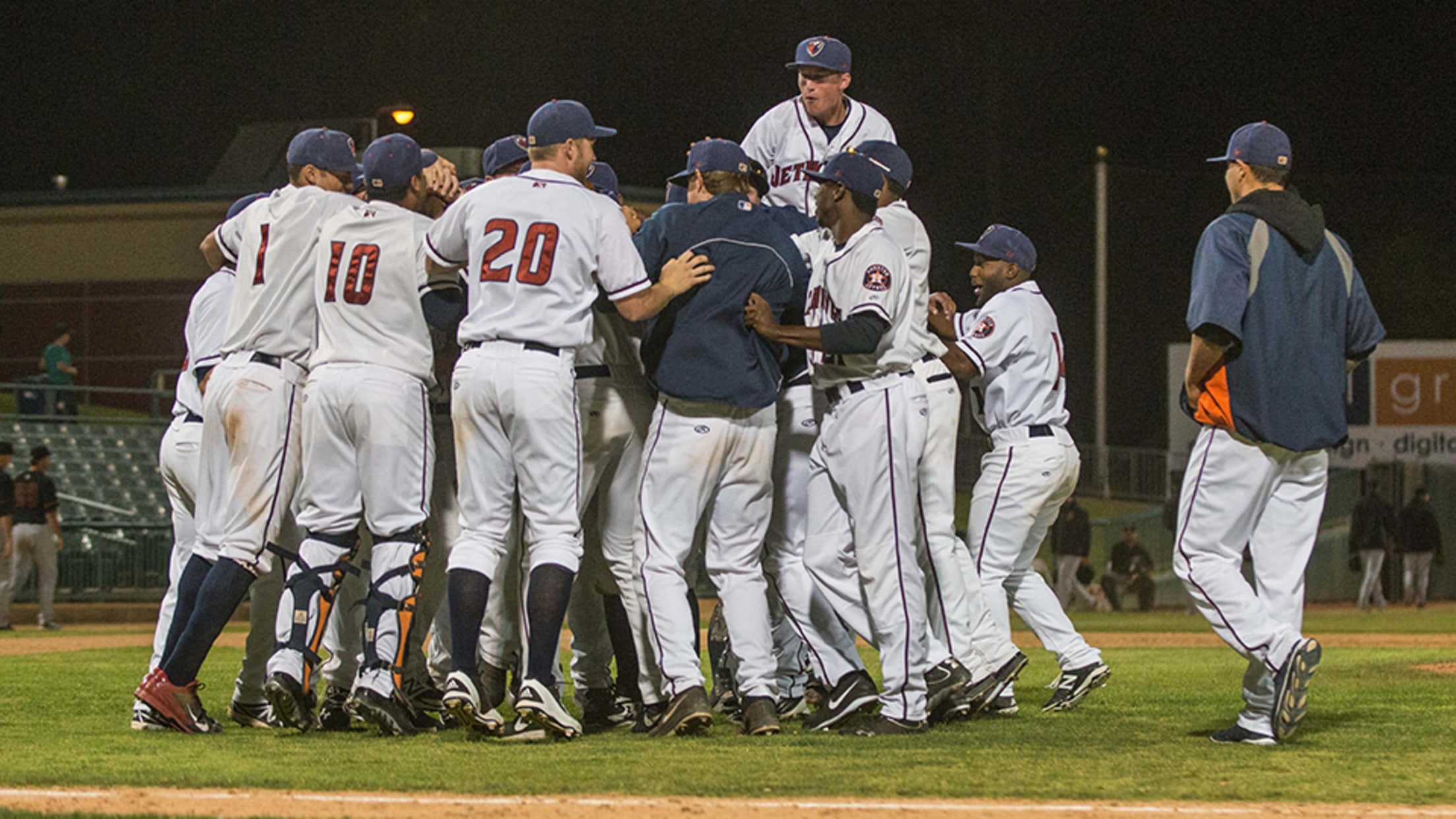 The JetHawks celebrate after Daniel Minor recorded the final out in the third no-hitter in team history. (K. Ross Way/Lancaster JetHawks)
Everything seemed to break in the direction of Lancaster's Josh Hader on Tuesday night. The result was a no-hitter that took place a year and a day after the team's last one. "I think that's pretty weird," the Astros' 15th-ranked prospect said. "To have a no-hitter right around the same
Everything seemed to break in the direction of Lancaster's Josh Hader on Tuesday night. The result was a no-hitter that took place a year and a day after the team's last one.
"I think that's pretty weird," the Astros' 15th-ranked prospect said. "To have a no-hitter right around the same day, the baseball gods were looking over us and helped us keep it going."
Hader combined with J.D. Osborne and Daniel Minor to frustrate Bakersfield in the JetHawks' 1-0 win. Hader went six innings, striking out six batters and walking four.
"Obviously, a combined no-hitter is really exciting," said Hader (3-0), who ranks fourth in the California League with a 2.56 ERA. "It's the first time I've been a part of something like this as a pro. Words can't really describe the feeling."
The no-hitter was the third in JetHawks' history, with the first coming on Aug. 26, 2010 and the second on May 12, 2013.
The 366 days later oddity was hardly Tuesday's only noteworthy coincidence. As it happens, the three pitchers involved are roommates. Turning the game over to Osborne -- who went walked one and fanned one in two innings -- and Minor -- struck out two in a perfect ninth for his first Cal League save -- meant a little extra.
"That was nice. Obviously, when you come out of the game, you know you have a good bullpen to finish it. I had faith," Hader said. "I kind of missed J.D. because I was working out, but when I came [back to the dugout] I saw we still had the no-hitter. I saw Minor and was pumped at the end of the game."
Hader admitted to anticipating an energetic atmosphere in the apartment after the game.
"We'll probably hang out a little bit," he said. "I mean, a no-hitter ... we might pump it up."
The 20-year-old left-hander ran into his only trouble early, with three of his four walks coming in the top of the second. He issued back-to-back free passes to Kyle Waldrop and Seth Mejias-Brean, then walked John Tolisano to load the bases one out later.
"I was speeding up my delivery and rushing a little bit," Hader said. "I stepped off the mound, taking a couple deep breaths. It's not good to get the first couple guys on, to walk them. Starting with guys on first and second, then having the bases loaded, you don't want to give those runs up."
He ended the frame by retiring Zach Vincej on another ground ball.
"After I got out of that, I said, 'Hey, you're rushing a little. Slow down, throw strikes and get outs,'" Hader explained. "My slider came in big at times when I needed it and I threw my changeup early in counts and got swings and misses and a couple strike calls. Basically, everything was working for me."
Hader said he began to think of a no-hitter early in the game.
"I saw that in the third inning. I tried not to let that get into my head because a lot of times if you see you have a no-hitter, you try to be too perfect," he said. "You start thinking you've got to nibble around the plate and try to be too fine. So I thought I just needed to throw strikes and let them put the ball in play."
Aside from a leadoff walk in his final inning of work and a runner who reached on an error in the fourth, Hader stayed out of trouble.
"There were a few fly balls, but I knew my outfielders would get to them. We have a great outfield, fast guys. There was one really deep fly ball to center and Teo [Hernandez] ran it down," he said. "We played the shift, and there were a few balls hit up the middle to the infielders where that really helped me out."
Hader's start came against Cal League ERA leader Ben Lively, who fell to 6-1 after yielding a run on four hits and two walks while striking out seven.
"Coming into the game, I knew he's been dealing. Obviously, his ERA shows it," Hader said. "It was a tough game, to face him. We had a clutch hit by [Scott] to get a run, and I just tried to throw strikes and get outs."
The JetHawks scored the game's only run in the second as Astros No. 20 prospect Danry Vasquez doubled with two outs and, after back-to-back walks, trotted home on Jordan Scott's base hit.
Houston acquired Hader with outfielder L.J. Hoes from the Orioles last July 31 for right-hander Bud Norris. The Maryland native is thriving in his first full season in the Astros system, having allowed one run or fewer in six of eight outings. On April 30, he pitched the first four innings of a one-hitter against High Desert.
Josh Jackson is a contributor to MiLB.com.