Heslet stepped away after record season
Slugger collected 51 homers, 172 RBIs for Visalia in 1956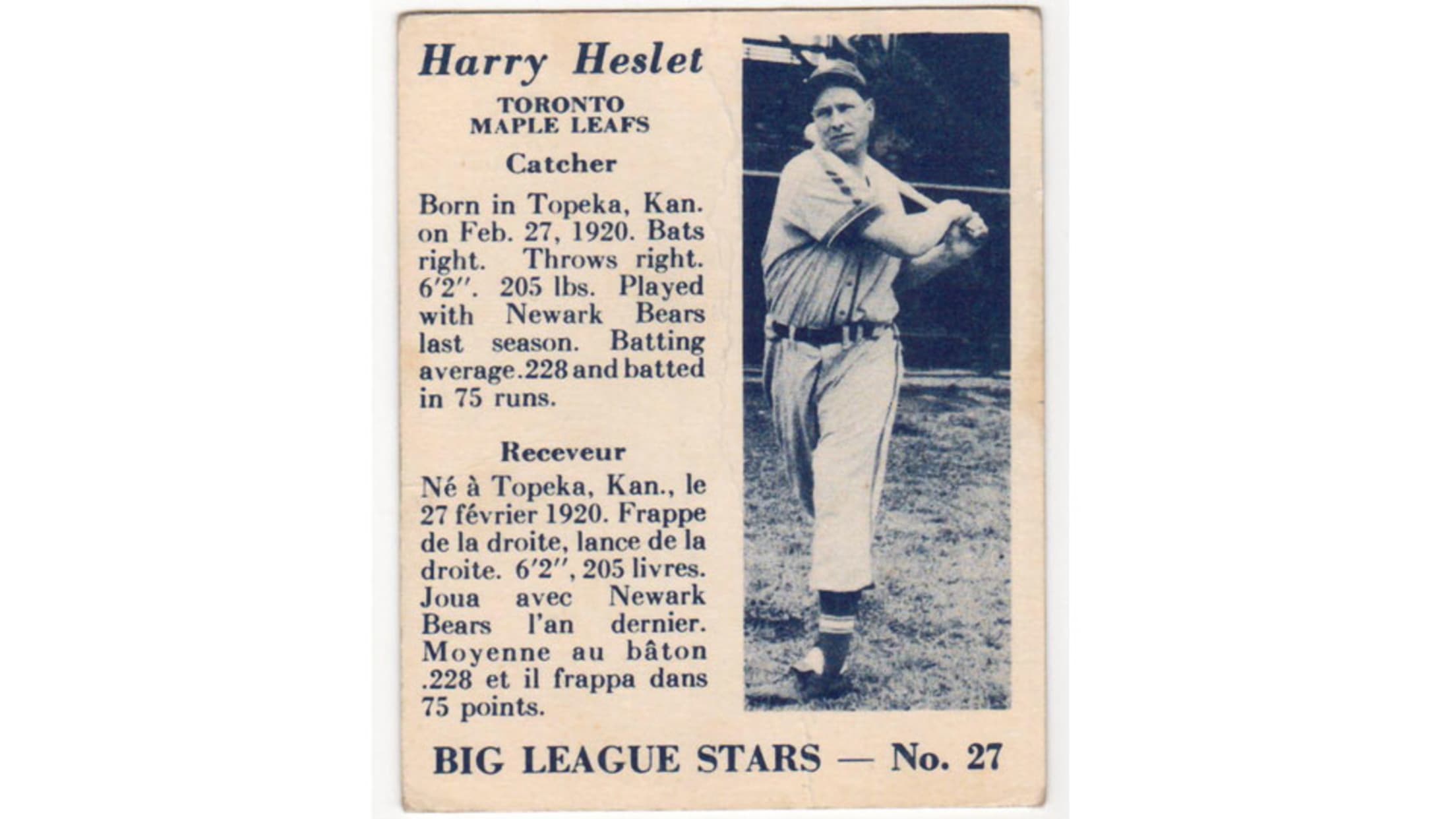 Minor League Baseball is known for its rich history, dating back more than 100 years. While much has been written about the best teams and top players who have graced the Minors, there remain many stories either untold or largely forgotten. Each week, MiLB.com will attempt to fill that gap
Minor League Baseball is known for its rich history, dating back more than 100 years. While much has been written about the best teams and top players who have graced the Minors, there remain many stories either untold or largely forgotten. Each week, MiLB.com will attempt to fill that gap and explore these historical oddities in our "Cracked Bats" feature.
There are few people who would argue that 1956 was the most prolific home run season in Minor League history. Six players reached the 50-homer plateau, and three of them notched 60 roundtrippers.
Many of those who made their mark with the long ball that summer were certainly colorful characters: Lincoln's Dick "Dr. Strange-glove" Stuart, who paced the Western League with 66 homers; Shreveport's Ken Guettler, who topped the Texas League with 62; Plainview's Frosty Kennedy, who led the Southwestern League with 60; Steve Bilko of Los Angeles, who had 55 in the Pacific Coast League; and Leon "Daddy Wags" Wagner, whose 51 bombs left their mark on the Carolina League.
ll these sluggers had some wonderful stories to tell, but the most unassuming man to crack the 50-homer barrier that season was probably Harry "Bud" Heslet, who still holds California League records with 51 homers and 172 RBIs. He set those marks in '56 while playing for the Visalia Cubs, but what makes Heslet's story so compelling is the fact that after his record-setting season, he simply retired and walked away from baseball, never to look back.
The closest anyone has come to challenging the slugger's supremacy were Reno's Jose Vidal (162 RBIs in 1963) and Modesto's Dave Duncan (46 homers in 1966). Even in a notoriously hitter-friendly league, it's been more than four decades since anyone has made a serious run at Heslet's records. And because he retired so abruptly, what he accomplished that season on the then-Class C circuit remains a mostly unknown tale.
But the 88-year-old Heslet was more than willing to share his story recently with MiLB.com, shedding some light on why he walked away from the game when he was still one of its marquee players.
"The main reason I retired was that I had a boy [Joseph] who was two and a half years old, and I wanted to get him settled," said Heslet from his Northern California residence. "The only way to do that was to give up baseball, stay home and be a dad. So I retired, joined the Visalia fire department and worked there for 19 years.
"I never regretted it. I thought it was time that I did something else and pay attention to my family. Baseball takes away a lot from your family. I made the decision, and I thought it was the right one at the time. It's better to quit while you're ahead, instead of when you're behind. I had a great year, and I probably wouldn't have had a year like that again."
Heslet did have some fine years prior to 1956, after starting out as a Yankees farmhand in 1940. He led the Class C Pioneer League with 29 homers in 1946, and the following season he topped the Class A Eastern League with 24 blast, a Binghamton record that would last 10 years. Heslet also led the Texas League with 31 homers in 1952 while playing for San Antonio. He topped the Double-A circuit again the next year with a Shreveport record of 41, a mark that Guettler broke in 1956.
But Heslet couldn't have written a better swan song. He got off to a hot start for Visalia, playing alongside former big leaguer and World Series hero Al Gionfriddo. The ex-Dodger outfielder hit .368 and drove in 96 runs for the Cubs, but he couldn't draw the attention away from Heslet.
Heslet and Modesto's Dick Greco would duel for the home run crown all summer, but by the end of July it was easy to see that Heslet was pulling away. He hit his 34th on July 22, breaking the Visalia team record shared by Dave Cunningham (1952) and Jack O'Keefe (1953). He hit his 36th on July 30 before helping set another franchise mark Aug. 4 against Fresno. Heslet, Gionfriddo, Eddie Bockman and Jack Steinagel homered in the same inning that day, marking the first time a Visalia team had four in one frame.
Finally, on Aug. 8, he connected for his 41st homer against Fresno, breaking the league mark set by Modesto's Dick Wilson in 1951. Wilson, who also set league records with 55 doubles and 384 total bases, was managing Modesto in '56.
"I don't remember the 50th or 51st homer," Heslet said. "I do remember one I hit in Modesto off this big lefty they had. They put him in the game specifically to get me out. The bases were loaded and the second pitch he threw I hit over the center-field fence.
"They gave me a lot of good write-ups that year. They also drew more people in Visalia that year than ever before -- over 100,000. For a Class C club that was pretty good, and a lot of it was because of me. I was hitting a home run every three games. I don't know how to explain it."
Heslet connected for his 50th and 51st homers on Sept. 1 and 2 against Bakersfield. He closed out the season with a remarkable flurry, collecting 32 RBIs over the last 20 days. Heslet finished the year with five grand slams and led the league with 147 runs scored. But it wasn't enough to keep him playing. Several teams wanted him to manage, including Stockton of the California League, but he turned them all down and set about being a family man.
"I just thought I made the right decision about quitting," said Heslet, who finished with 314 homers and a .280 batting average in a 14-year career. "I really enjoyed that year, and I was real popular in Visalia. I was a happy camper, and I could stick my chest out about it. I had a lot of good years.
"Baseball was a happy time in my life. I had a great year in '56. It was the highlight of my career. But after that, I just thought, 'I'm not going anywhere. I got me a boy now, and a steady job,' and everything turned out good."
Kevin Czerwinski is a reporter for MLB.com.