In Clinton, a community with love of Minors
LumberKings remain a hit in Iowa town thanks to volunteer support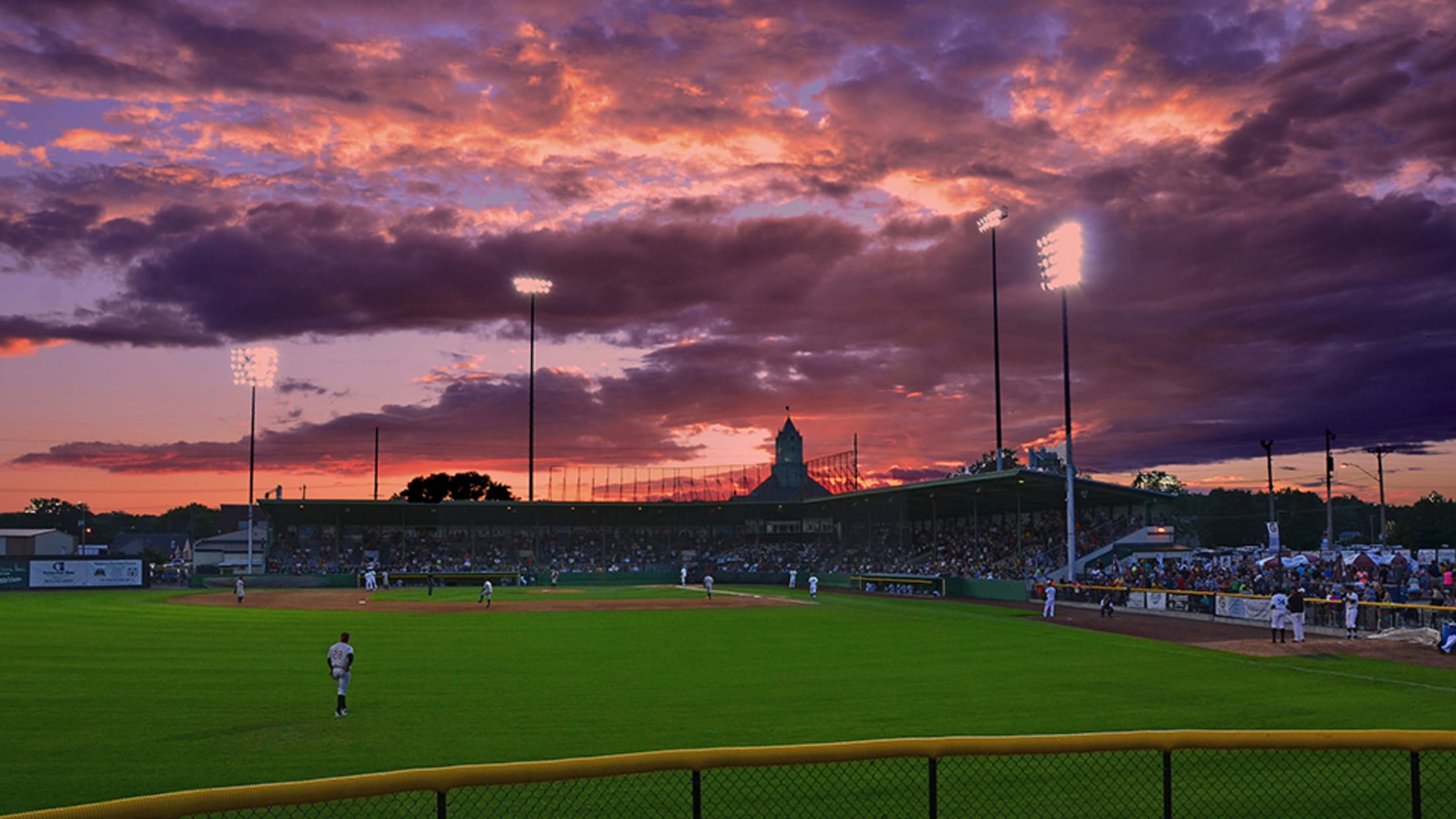 The Clinton, Iowa, community has embraced its picturesque ballpark for decades. (Paul R. Gierhart/MiLB.com)
The Clinton LumberKings are doing just fine. Class A affiliate of the Seattle Mariners, the LumberKings are based in one of Minor League Baseball's smallest markets and play in one of Minor League Baseball's oldest stadiums.
The Clinton LumberKings are doing just fine.
Class A affiliate of the Seattle Mariners, the LumberKings are based in one of Minor League Baseball's smallest markets and play in one of Minor League Baseball's oldest stadiums.
They rank 14th in the Midwest League in attendance, with average crowds that are routinely doubled, tripled or even (in the case of the Dayton Dragons) quintupled by the circuit's larger-market teams.
Once again: the Clinton LumberKings are doing just fine.
"I get calls all the time," said LumberKings general manager Ted Tornow, who has been with the team for the better part of two decades. "Hey, is your club for sale? You guys can't be making any money. Surely you've gotta be ready to sell.'"
Tornow's response is always the same.
"No, thank you, we're doing fine right here. Thanks for calling."
"That's what kills me when I get these calls," he continued. "[They'll say] 'Hey, you guys have got to be ready to sell. You only drew 115,000 fans last year.' So? What's your point? If your point is that you've got to draw 500,000 to be successful -- no. People in this community and the surrounding community are happy, and that's the big difference."
And that, in a nutshell, is why Clinton has been able to support Midwest League baseball since the league's 1954 inception. The community doesn't just support the LumberKings. The community owns them.
The LumberKings, one of five community-owned teams in the Midwest League, are governed by what is currently a 29-member board of directors. Five of these individuals comprise the executive board -- a president, two vice presidents, a secretary and a treasurer -- who are more involved with the day-to-day affairs of the team.
The full board of directors meets once a month, year-round, reviewing the team's finances and making suggestions regarding the day-to-day operations. During the season, each of these 29 members can regularly be found at the LumberKings' city-owned home of Ashford University Field (which opened in 1937 as Riverview Stadium). And they might not just be watching the ballgame -- they very well may be working.
• Read more about Ben Hill's Midwest trip »
I visited Ashford University Field on Memorial Day, when the LumberKings played a doubleheader against fellow small-market stalwarts the Burlington Bees. Throughout the afternoon I spoke with several members of the board of directors, beginning with secretary George Chaney. He was sitting alongside his wife, Ona, in their familiar first-row box seats.
"I was an elementary music teacher, and my principal was on the board," said Chaney, a Clinton resident since 1969. "In the early '80s he asked if I'd like to be on the board. I said, 'Yeah' and I've been on ever since.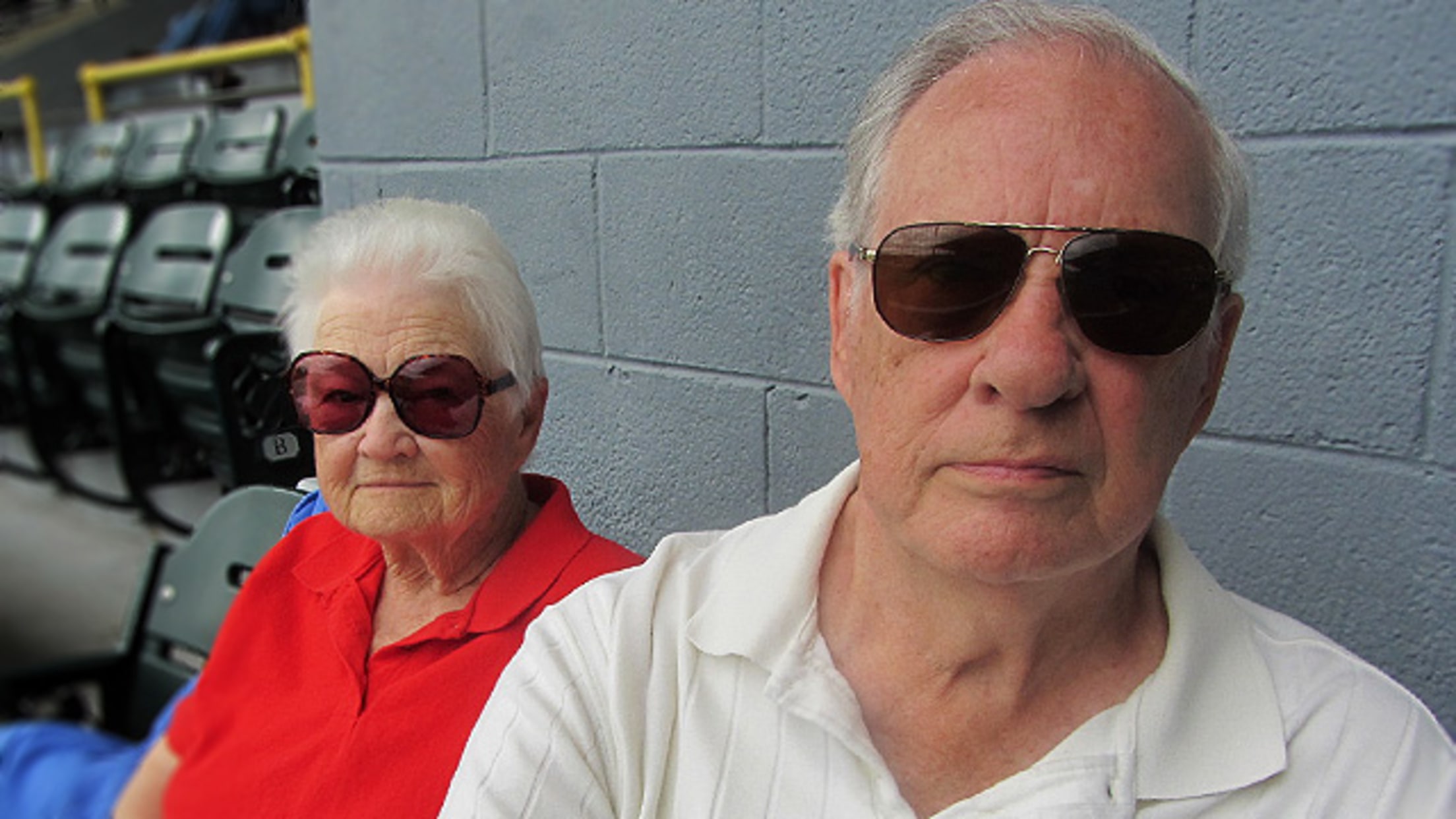 "It's a volunteer board, and we do jobs at the ballpark to cut down on our expenses," he continued. "We have six who take tickets, five who work on the scoreboard and 18 or 19 on the beer committee, just serving the beer. Taking tickets, I'm on the gate 11 or 12 times a summer.… It helps the ballclub. Ted has told us that it saves $15,000 or $20,000 a year or more in overhead."
One of the "beer committee" members on duty that afternoon was Pat Drennen, fifth-year LumberKings board member and CEO of a local credit union. I spoke with Drennen in the stadium grandstand, with Tornow pouring beers in his stead for the length of the interview.
Drennen explained that, once his two sons went off to college, he had some free time during which he could volunteer.
"I've always been a Clinton Giants and then Clinton LumberKings fan," he said. "Knowing that it took a lot of community support to keep the team in town, it was a natural progression to get involved on the inside and see the operations to some degree.
"And you get to know these kids -- four or five years ago they were here and now they're playing for the Mariners," Drennen continued, naming James Paxton, Taijuan Walker and Kyle Seager as examples. "It's fascinating. You don't get that kind of thing in Clinton, Iowa, so you want to keep it in Clinton, Iowa."
At board meetings, Drennen said he "lends his two cents" whenever he can.
"We go over the financials, realizing that if expenditures are pretty much set, then how can we raise revenue? How can we come up with some of those ideas that are outside the box?" he said. "I look for peaks and valleys. Why are we up or down so much from last year? What can we do differently and things of that nature. It's not rocket science, just another set of eyes."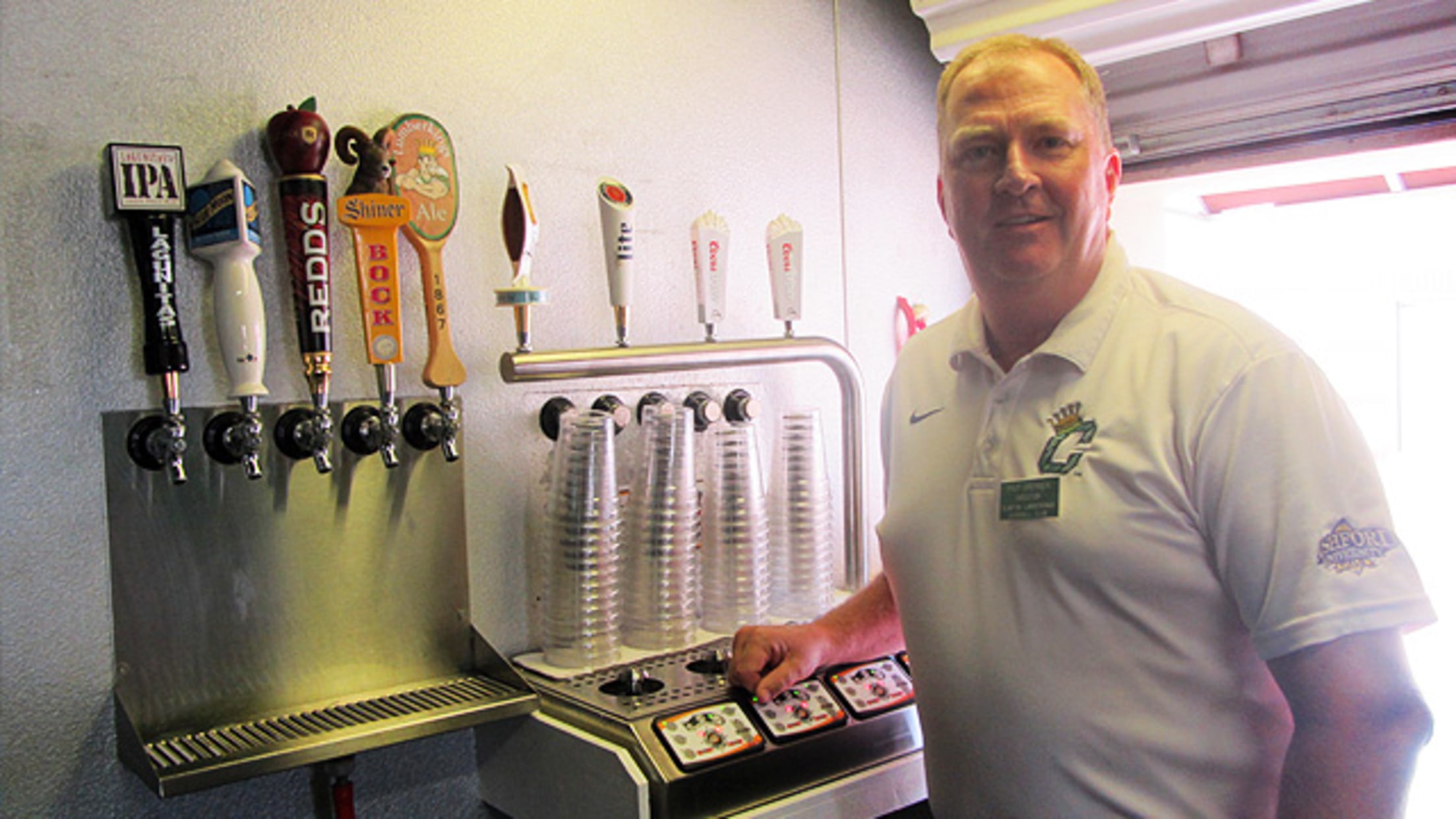 Another "on-duty" board member that afternoon was local attorney Ed Kross. He was operating the scoreboard, but found time to speak with me between games of the doubleheader.
"I love baseball, I love Minor League Baseball and when my kids were younger I brought them here and we spent a lot of good family time at the ballpark," said Kross, who served as board president from 1990-93. "I just think it's important for a small town like Clinton to have this opportunity, so I've done everything I've could to keep that alive in Clinton."
Like Drennen, Kross can apply his "day job" attributes to his volunteer work with the LumberKings.
"Lawyers are taught to think and analyze problems, and I think that's what I bring to the board," he said.
And then there's season-ticket stalwart Lydia Halbach, who brings a wealth of personal experience to the LumberKings board of directors. She has served on the board since the 1962 season -- when the team was affiliated with the White Sox and known as the C-Sox -- and, remarkably, her involvement with Minor League Baseball goes back even further than that.
"When I was 14 years old, I was on the board of directors in my hometown of Keokuk [Iowa], and that was in the Three-I league," she said. "I just loved baseball. I went to all of the games and finally they asked me if I'd like to be on the board and I said, 'Yeah, I would!' There weren't any women. And then when I came here [to Clinton] there weren't any women."
She continued, "In Keokuk we only had a grandstand and folding chairs where the box seats were. So when I came here and saw this stadium, I thought, 'Oh, my!' It's really been fun."
Halbach has done just about everything at the ballpark through the years, from hosting potlucks to painting the walls to cleaning the restrooms. For her, and for everyone I talked to in Clinton, it's a labor of love.
"We're so fortunate to have this," she said. "This is such a gem for a town of this size. It's gorgeous."
Clinton should have its LumberKings for years to come, despite the persistent interest of those who would like to purchase the team and relocate it to a bigger market. Because many people in the community own this team, many people in the community would have to agree to sell it.
"It would be hard for somebody to come and take us over, because we have about 2,000 stockholders," said Chaney. "Most of them have one share of stock. So it would be difficult to come in and convince a majority of those people to sell their stock."
"We used to sell [stock shares], if we needed to," said Halbach. "But once we started getting calls from New York or California we stopped. Now, you can only buy it from someone who owns it and wants to sell it.… If I knew anybody who wanted to sell, I'd say, 'Please don't sell it to a big group. Sell it to a relative or someone who lives around here and would appreciate it."
"I think we're very secure, because none of our shareholders are looking for a dividend," said Kross. "They invested in the team 40, 50, 60 years ago just to have Minor League Baseball here in Clinton. Our operation would be much different if we were looking to have a return on an investment. The return on the investment is the joy of having baseball in a town the size of Clinton.
"It's not a financial investment. It's an investment in baseball."