Ibarra slammed way to switch-hitting stardom
Jacksonville slugger belted slams from both sides in same game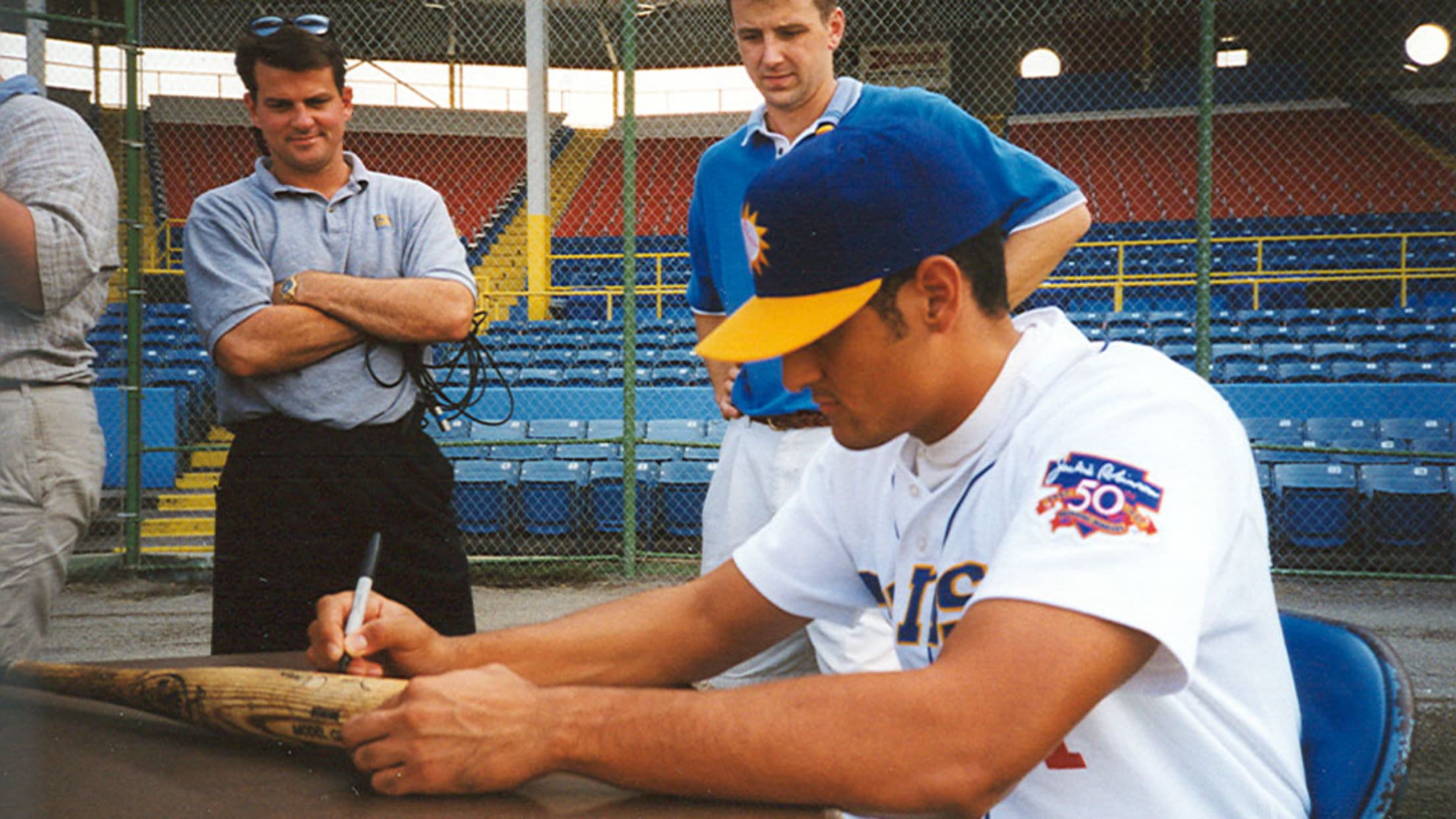 Jesse Ibarra signs the bat he hit the grand slams with for the Hall of Fame in Cooperstown. (Jacksonville Suns)
Minor League Baseball is known for its rich history dating back more than 100 years. While much has been written about the best teams and top players who have graced the Minors, there remain many stories either untold or largely forgotten. Each week, MiLB.com will attempt to fill that gap
Minor League Baseball is known for its rich history dating back more than 100 years. While much has been written about the best teams and top players who have graced the Minors, there remain many stories either untold or largely forgotten. Each week, MiLB.com will attempt to fill that gap and explore these historical oddities in our feature, "Cracked Bats."
Mickey Mantle never did it. Eddie Murray either.
Yet, when discussing baseball's premier switch-hitting sluggers, the Hall of Fame duo sits atop the list, and rightfully so. The pair combined for 1,040 homers, 28 of which were grand slams. But of those blasts they hit with the bases full, never did Mantle or Murray hit one from each side of the plate in the same game.
Jesse Ibarra, however, did.
Ibarra, a sixth-round Draft pick by the Giants in 1994, never reached the Major Leagues, retiring in 2001 after finishing his career in an independent league. But he has a place in Cooperstown alongside Mantle and Murray because of what he did on July 25, 1997. That night in Jacksonville, Ibarra connected for a pair of grand slams against Memphis, one coming from each side of the plate.
In doing so, he became what was believed at the time to be only the second player to hit two grand slams in such a fashion. The first person to allegedly turn the trick was Martinsburg's Lu Blue in a Blue Ridge League game in 1917. Subsequent research by The Society of American Baseball Research failed to confirm Blue's feat, leaving Ibarra as the only player to have definitely done it in a Minor League game.
Boston's Bill Mueller became the only Major Leaguer to hit two grand slams from both sides of the plate in the same game on July 29, 2003 against Texas.
"Though I knew you didn't see it very often, I had no idea how rare it actually was," Ibarra said. "I figured with all the great switch-hitters there have been, it had to have been done at least a handful of times. I knew it was kind of a freak thing, but I had no idea how rare it was until a couple of weeks later someone from the Hall of Fame called and wanted my bat. They said it was only the second time it had been done in history.
"I had switch-hit homers several times, but never grand slams. Since the game's been around, you had to figure that Eddie Murray or Mickey Mantle or someone had to do it. At the time, they said only one other person had done it, so that blew me away. What's really funny is that Bill Mueller did it in the big leagues a few years later. I knew him from when we were both with the Giants and I called him to congratulate him. He had no idea I had done it."
When Ibarra did it, it barely rated a mention around the country. Several newspapers picked up the wire story and the local papers ran staffed stories. But for the most part, what Ibarra did in Jacksonville's 12-9 victory over Memphis went unnoticed by the media.
Ibarra's first slam came in the first inning from the left side of the plate off right-hander Greg Wooten. He then walked twice before cracking his second slam in the fifth against lefty Sean Whiteside. Ibarra came to bat in the sixth with two runners on but struck out.
"I got a hold of a fastball in the first at-bat and hit it over the right-field wall," Ibarra said. "On the second one, the league had gotten savvy to the fact that I was a better hitter from the left side of the plate, at least from a power standpoint. They liked to turn me around to the right side if the game was on the line and they did that by bringing in a lefty with the bases loaded.
"And I remember that at-bat specifically because I used a visualization technique. I remember going through it and seeing the left-hander throwing a fastball up in the zone trying to overpower me. I visualized the spot that I would hit it to and sure enough, the first pitch he gave me was a fastball up in the zone. I leaned into it and hit the ball so hard. I would sit dead-red sometimes and if he just pulled the string a little, I would have swung through it."
While the two grand slams should have given Jacksonville an insurmountable lead, the game was still in doubt after Memphis' left fielder Shane Monahan made some history of his own. He homered with the bases loaded for his fourth time that season after Ibarra's second shot to cut the lead to 10-9. His grand slam set the Southern League record for most slams in a season.
But Jacksonville hung on for the win and Ibarra's place in history was secure. Years later, when Ibarra was playing for Adirondack of the independent Northern League, he and several teammates decided to make the three-hour trip to Cooperstown on an off day. None of Ibarra's friends, however, believed him when he said one of his bats resided in the Hall of Fame.
But once they arrived in Cooperstown and saw the hunk of lumber, they were believers. The folks at the Hall, however, were not so easily convinced as to who was the bat's rightful owner.
"I had signed the bat [when it was donated] and there it was," Ibarra said. "I spoke to an employee there to ask if I could hold it and take a picture, but they didn't believe me. I showed them a baseball card and convinced them who I was and they took it out of the case. They made me put on some white cotton gloves, but I was able to pose with it and they took a picture. And the bat's still in the Hall of Fame."
Ibarra, 34, retired later that season. He went to work as a scout for the Giants in 2002, but later took a job as an executive recruiter for Fortune 500 companies, a position he still holds today. He still has baseball in his blood, though, and admits he wouldn't mind getting back into the game as an executive at the Minor League level.
And every so often he gets a phone call from someone wanting to talk about that night in Jacksonville.
"I hit over 100 homers in the Minor Leagues and was a pretty good player, but the one thing that people want to talk about is what I did in '97," Ibarra said. "That's the one that stuck and got a bit of national attention so it makes sense why. I was pretty much a feast or famine guy and that night I was a feast."
Kevin Czerwinski is a reporter for MLB.com.