Scroggs tossed no-hitter in debut
Experience in amateur, military leagues helped outclass foes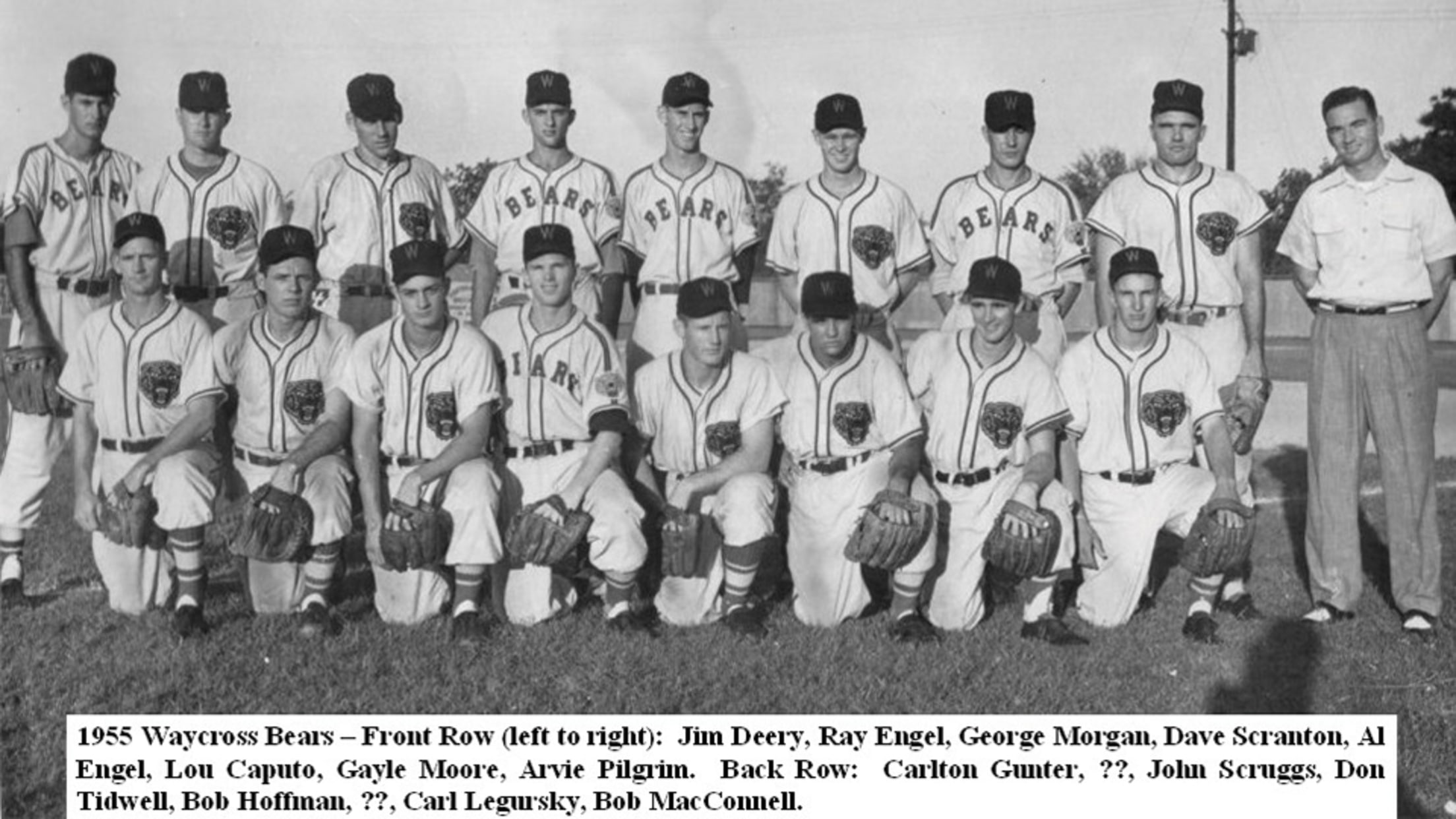 The Waycross Bears went 68-67 in 1954, losing to Brunswick in the Georgia-Florida League semifinals. (John Bell)
Minor League Baseball is known for its rich history, dating back more than 100 years. While much has been written about the best teams and top players who have graced the Minors, there remain many stories either untold or largely forgotten. Each week, MiLB.com will attempt to fill that gap
Minor League Baseball is known for its rich history, dating back more than 100 years. While much has been written about the best teams and top players who have graced the Minors, there remain many stories either untold or largely forgotten. Each week, MiLB.com will attempt to fill that gap and explore these historical oddities in our "Cracked Bats" feature. Know of any stories to be considered for this feature in the future? Send an email and let us know.
The voice on the other end of the line was strong but slow. Johnny Scroggs answered each question in a deliberate manner, partly because at 79, his hearing isn't quite what it used to be.
Mostly, though, Scroggs' answers were measured simply because he was reflecting back on an April day more than a half-century ago. Reaching back in time to April 22, 1954 isn't something Scroggs does with any great regularity. But on this afternoon, it's easy to tell that he's a bit puffed up and more than a little proud to discuss the day he broke into organized baseball.
Scroggs started for Waycross that evening in its Georgia-Florida League home opener against Thomasville. And the gangly right-hander from the Georgia sandlots couldn't have scripted a better debut, no-hitting the Dodgers while starring at the plate and causing quite a buzz on the tiny Class D circuit.
"I don't think too much about it," Scroggs said. "I just got lucky, I reckon. I played 11 years [in amateur and professional baseball] and had a winning year every year. But in that game, I guess a few guys behind me made some nice plays.
"We opened up on the road that year, playing two games, but I don't remember who they were against. They didn't draw too well [at Waycross]. We had a good amount of people there that night, but it wasn't a full stadium. I don't reckon I ever saw it full."
Those who were in attendance, though, got to see Scroggs handcuff the Dodgers en route to a 3-0 victory. He walked six, including two in the ninth inning, and struck out 10, with one batter reaching first on an error. It marked the first of four no-hitters in the Georgia-Florida League that season but none were as splashy as Scroggs' gem. Thomasville, incidentally, returned the favor in 1955 when Bob Spier no-hit Waycross in the Dodgers' home opener.
"I didn't think [professional baseball] was going to be that easy because of that game," Scroggs said. "I did expect it to be harder, though.
"I always had a good fastball, though, and good control. People always told me it was up around 100 mph, but I never did get it timed. I was a power pitcher, and what helped was that I had good control."
Scroggs also accounted for much of his team's offense that night. He connected for a pair of doubles and drove in two runs, a fact that wasn't surprising, considering the Cardinals and Tigers had expressed interest in signing him to play shortstop.
Scroggs' resume included a successful amateur career in the sandlot leagues around suburban Atlanta, both on the mound and in the field. He threw a no-hitter for Acworth of the Atlanta Amateur Association in 1953. Scroggs also pitched for the Army during his time in the service, touring Europe while playing on the military team. With that type of experience, the competition in Class D ball might not have seemed all that tough at first for the then 6-foot-1, 200-pound pitcher. But Scroggs disputed that notion.
"That [debut] kind of pumped me up," Scroggs said. "I thought the competition in the Georgia-Florida League was good. Everyone always said that Class D ball in Georgia was the best at that level."
For a while, Scroggs appeared to be better than that competition. He was 6-0 before Thomasville exacted a bit of revenge by handing him his first loss, a 1-0 decision in late May. From that point on, he was simply a .500 pitcher. Although Scroggs finished with a respectable 3.37 ERA, he went 9-10 after his scintillating start, finishing with 15 wins.
He also wound up being overshadowed by several pitchers in the league that season, including Whammy Douglas, the one-eyed hurler who eventually reached the Major Leagues. Douglas set a circuit record that year by winning 27 games and led the league with 273 strikeouts.
Scroggs pitched three seasons in Waycross, going 35-23 in 101 games. Waycross was an independent franchise when he signed on in 1954 and remained that way until the Milwaukee Braves purchased the club prior to the 1956 season. By that time, Scroggs was 25 and getting a clearer picture of what the future held.
"I thought maybe I might get to Atlanta [the Braves' affiliate in the Southern Association], but after a while, I just quit," he said. "I actually signed with the [Atlanta] Crackers in the Southern Association, but then [owner] Earl Mann sold everything to the Braves. I knew I didn't have a chance when they had guys like Warren Spahn and Joey Jay. So I officially retired in 1957."
Scroggs eventually took a job with General Motors, where he worked for 28 years before retiring in 1991. He didn't play baseball that long and his success was limited, but he'll always have the memories of a spectacular debut.
"I still have the ball from that game," he said. "That, and one from the other no-hitter I threw. The team signed the ball, but you can't hardly tell that anymore. It's sitting here in a drawer and I don't take it out too often."
But when he does, it's easy to hear how proud he is of what he accomplished.