Butera embarks as Minors' youngest skipper
Former Rays prospect takes the helm in Hudson Valley at age 25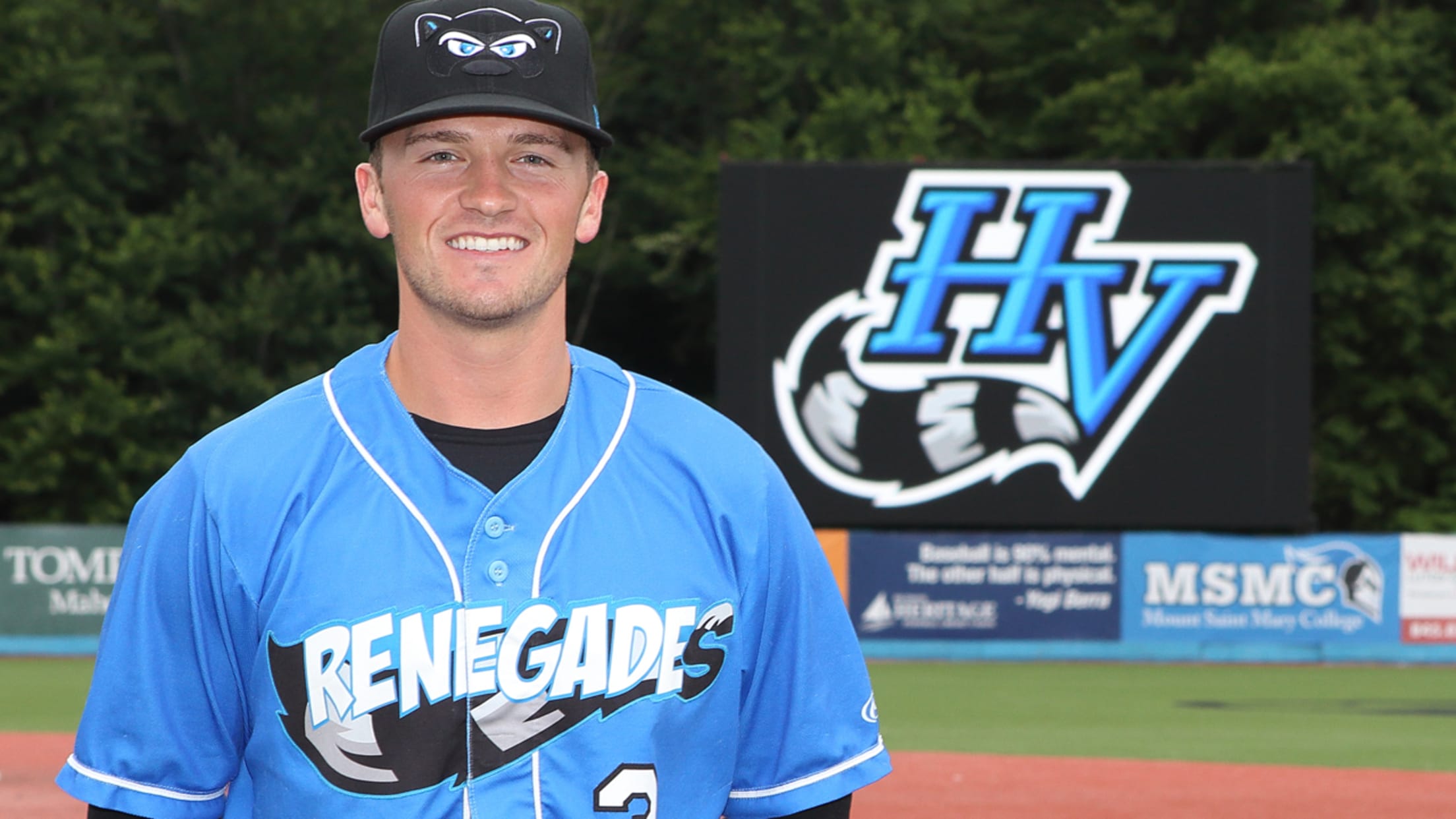 Blake Butera got his first professional coaching experience on the Hudson Valley staff in 2017. (Sandy Tambone/MiLB.com)
At some point Friday, Blake Butera will let the moment wash over him. He is 25 years old, and he will take the reins of a professional baseball team for the first game of what could be thousands to come. He will be the youngest manager in Minor League Baseball.
At some point Friday, Blake Butera will let the moment wash over him. He is 25 years old, and he will take the reins of a professional baseball team for the first game of what could be thousands to come. He will be the youngest manager in Minor League Baseball. He will be piloting a team for whom he donned a uniform as a player just two years ago. At some moment of presence, Blake Butera will realize all of this.
But not yet.
"Actually I just got goosebumps when you asked me that," Butera said Thursday, the final day of four workouts before his Class A Short Season Hudson Valley Renegades open their 2018 campaign.
"I guess I hadn't really thought about it that much yet. I've been more worried about making sure everything's in line and everything's squared away for that Opening Night."
That's the mind-set that got Butera his new job, just 15 months after he was an active player in the Tampa Bay Rays organization. Now he's embarking on a career that could last 50 years.
"Blake just falls right in line with a lot of our staff who are our former players," Rays director of Minor League operations Mitch Lukevics said this week from his team's complex in the Dominican Republic. "It comes down to when you have a player for X amount of years, five, six, seven, you know more about that player, you know what makes him tick, you know the character, you know the work ethic, you know the passion.
"Now, do we fully know teaching ability? No. However, really it's that format of good character, good passion and good work ethic, then we'll worry about the other. I think you really have a chance to become something special when you have those really good intangibles."
The Rays plucked Butera from Boston College with a 35th-round Draft selection in 2015. The senior signee played 80 total games between Rookie-level Princeton and Hudson Valley that season and the next, batting .247/.344/.360. At the end of what turned out to be Butera's final season as a player, his next door opened. Princeton manager Danny Sheaffer called Butera in for a meeting and told him the Rays had been observing other things in his short career. What would his interest be in coaching down the line?
"Just like every player, our ultimate goal is to get to the big leagues, but for me, I kind of saw the light at the end of the tunnel, and I really wanted to coach when I was finished," Butera said. "Leaving the season with that in my mind going into the offseason, it's something that I kept thinking about and something I really wanted to do."
Tampa Bay wanted Butera to come to one more Spring Training as a player, and he did, last year, for the final time.

Learning curve
The official transaction on Butera's player page from March 29, 2017 reads "Princeton Rays released 3B Blake Butera," but where that signifies the end of the road for so many, it was Butera's new beginning. When Rays teams broke for full-season assignments out of the Grapefruit League last year, Butera stuck around for extended spring training, a job as Hudson Valley's first base coach waiting. For two months in Florida, the Metairie, Louisiana, native absorbed everything he could from coaches and coordinators.
"I didn't have a ton of time to learn everything, but I think that also factored into them wanting me to coach, just my knowledge of what we do as an organization, what we stand for, 'The Rays Way,'" he said. "I love the way that we go about our business in this organization, always playing hard, doing things the right way and always being real professional. That's something that I valued extremely. I think that eased the process of being able to teach these younger guys what we stand for, just because I already believed in it and understood it.
"I mean, I only played two years. Usually this happens to guys that played five, seven, 10 years."
Even in his short playing career, Butera's belief in "The Rays Way" was crystal clear to the front office.
"He was a good person who loved to play the game," Lukevics recalled. "He loved to play the game hard. He stood out. He's easy to talk to. He's an intelligent young man, a nice person who enjoys playing the game."
Butera's effusiveness put him in Tampa Bay's minds as a prime candidate to join its unique coaching fraternity. Of big league manager Kevin Cash's entire coaching staff, only bullpen coach Stan Boroski didn't spend time in the Rays system as either a player, coach or both.
"Sure, you earmark certain players," said Lukevics, 64 and a member of the Rays organization since its inception. "We want them all to play in the big leagues, but we know not all can and maybe some can be future coaches, managers, scouts in our game because we always need really good young staff guys. We've got to keep it going."
The Rays have shown a knack for unorthodox thinking in a division that features two of baseball's heavyweights in the Red Sox and Yankees. To compete, Tampa Bay needs to be different. Grooming future coaches in a unique way might be a new way to take advantage of a market inefficiency. In any other organization, Butera may never have been given this look.
"I've thought about that so many times," he said. "I really can't thank the Tampa Bay Rays organization enough for seeing this in me as early as they did and having the amount of trust that they have in me to allow me to have this great opportunity at such a young age, being 25 years old and leading a ballclub and helping these newly signed Draft picks learn how we operate as an organization and help them become a professional and ultimately help our Major League team win."
Getting hooked
Last year, Butera worked on the staff of manager Craig Albernaz, then just 34, who was hitting coach for the 2015 Princeton club with whom Butera debuted.
"Having already enjoyed and valued what he had to say and listening to him, I basically just soaked up information from him last year when I was on his staff," Butera said. "I can't thank him [enough] because he gave me so many responsibilities last year as an assistant coach that kind of helped me prepare for this year. The way he goes about his business, he's a professional. He's extremely positive, energetic and loves the game, and those are all things that I want to possess as well."
Butera's first go-round as a coach hooked him.
This year has been different. Butera came into 2018 knowing a coaching job was his, though it wasn't until he was at Spring Training that he knew he'd be getting a managerial nod. Albernaz was originally ticketed to return to Hudson Valley, but when Jim Morrison was unable to take the reins at Class A Advanced Charlotte due to health issues, everyone moved up a step. Reinaldo Ruiz went from Class A Bowling Green to Port Charlotte. Albernaz went to Bowling Green. That left an opening in Hudson Valley and an easy selection for Lukevics and the Rays.
"He is a leader, and he leads by example," Lukevics said of Butera. "It's the way he goes about his business. He commands respect by who he is. Everybody has to start somewhere in this game, and when we were all young coaches, we all have gone through trials and tribulations, and he will too. But we have the utmost confidence in how he'll handle them."
Butera spent extended spring training this year handling scheduling for practices and games and rotating managerial duties with Princeton's Sheaffer and GCL Rays skipper Tomas Francisco. It was beneficial experience in getting his feet wet, but still: 25 years old. That's the topic everyone wants to discuss. Has the adjustment been weird for Butera or the players -- some just two or three years his junior -- whom he's set to manage?
"I've been fortunate enough to where there haven't been any weird encounters, but you can definitely see some of the newly drafted guys, when they find out I'm the manager, kind of a little taken off-guard," he said. "They haven't said anything, but I can kind of get a sense of surprise just because of how young I look.
"But I was in their shoes just two years ago, so I understand completely what they're going through throughout the season."
A Renegade's road
Nevertheless, a daunting -- and exciting -- challenge lays ahead. Taking over a professional team for the first time at any age is a career-molding moment. Butera won't be without help.
"Jose Gonzalez is a veteran pitching coach there, and that's really important for a young manager, because the hardest thing to do is run a pitching staff," Lukevics said. "[Returning hitting coach] Al Freire was on that staff last year. He used to be our Venezuelan coordinator, a former big leaguer and very steady coach.
"[Butera's] going to have good support with his staff who's been doing it, plus we run in a lot of coordinators - not to second-guess anything, but to help. We like helping, and we like talking baseball, and we like guiding these young up-and-coming staff personnel."
The Rays will rotate some of their most trusted baseball minds through the Renegades' orbit, such as longtime field coordinator Bill Evers. Evers will start the season with Butera's group for roughly 10 games. Still, even with all the support, Butera will be free to chart a personal course.
"He's going to evolve with his own style of managing, that's for sure," Lukevics said. "We have -- and he knows -- different organization policies and procedures that are different at every level.
"Blake will be instrumental with our other coaches on, you know, first-and-second bunt plays, first-and-third rundown situations, cuts and relays. We're teaching that from Day 1, but when we get to the individual, we let them play. We assess after 30 days and make decisions on, in cooperation with the player, how we want to go about helping the player. Even a veteran manager, we don't want to put that predicament to start teaching technique from Day 1. Hell, maybe Wade Boggs wouldn't have been Wade Boggs if someone would've screwed him up early."
The young manager knows the identity he wants for his club, which will feature 15 players he had in extended spring camp mixed with a talented group from Tampa Bay's 2018 Draft class.
"What you're ultimately going to see is a team that plays hard and plays the game the right way and represents this organization in a positive way," Butera said. "They're going to battle. They're going to have good at-bats. We're going to pitch it well. We're going to defend it well, and you're going to see a lot of effort and energy out of these guys this year."
And as for that moment on Friday night, it's coming.
"I think once I walk out there and hand off the lineup card and turn back to walk to the dugout," Butera said, "I'll definitely soak it all in and be pretty thankful and humbled to be where I am."
Tyler Maun is a contributor to MiLB.com. Follow him on Twitter @TylerMaun.