Guettler surprised as home run champion
Career Minor Leaguer broke Texas League dinger mark in 1956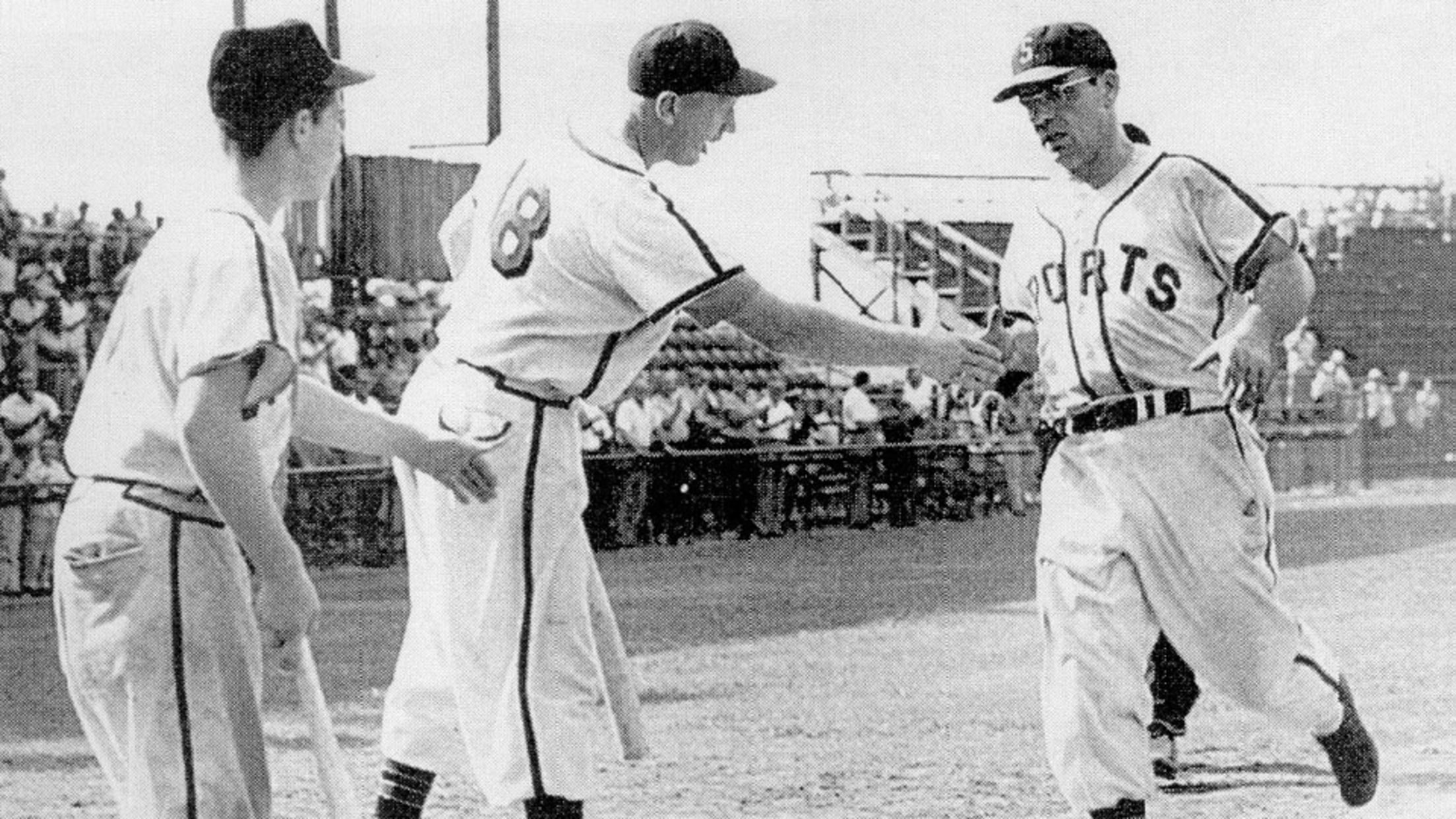 Ken Guettler cracked a Texas League-record 62 long balls while leading the circuit with 143 RBIs and 115 runs. (Texas League)
Minor League Baseball is known for its rich history dating back more than 100 years. While much has been written about the best teams and top players who have graced the Minors, there remain many stories either untold or largely forgotten. Each week, MiLB.com will attempt to fill that gap
Minor League Baseball is known for its rich history dating back more than 100 years. While much has been written about the best teams and top players who have graced the Minors, there remain many stories either untold or largely forgotten. Each week, MiLB.com will attempt to fill that gap and explore these historical oddities in our feature, "Cracked Bats."
Ken Guettler usually doesn't rate much of a mention when it comes to serious discussions about sluggers past or present, whether they played in the Minor or Major Leagues. The legendary Minor League bashers who usually garner the most attention are folks like Joe Bauman and Steve Bilko, who terrorized their respective leagues throughout the 1950s.
Guettler, however, seems to be considered more of a novelty act rather than a legitimate slugger despite the fact that he hit 330 career homers in the Minor Leagues and is the only player to ever lead a league in homers eight different seasons. His crowning achievement came in 1956 when he cracked a Texas League-record 62 long balls while leading the circuit with 143 RBIs and 115 runs scored.
That season proved to be one of the most memorable in all of Minor League history as six players led their respective circuits with 50 or more homers. Three of them, including Guettler, reached the 60-homer plateau. Dick Stuart, in his pre-Dr. Strangeglove days, topped the Western League with 66 while Frosty Kennedy, another underrated slugger of the day, paced the Southwestern League with 60.
Bilko won the Triple Crown that season in the Pacific Coast League, smacking 55 long balls, and Leon "Daddy Wags" Wagner topped the Carolina League with 51. Bud Heslet paced the California League with 51.
Of that group, Guettler certainly seemed the least likely to make such a splash. At 5-foot-11, 190 pounds, he was not imposing. A childhood hockey accident in his native Michigan left him unable to straighten out his left arm, rendering it an inch or two shorter than his right arm. He used a 36-inch bat so he could reach outside pitches with his short arm. And he wore a pair of coke-bottle glasses, giving him a certain nebbish quality that, on first glance, was not very intimidating.
But what he did for Shreveport that season stands out not only as one of the greatest accomplishments in the history of the Texas League, but also all of Minor League ball.
"I think he's probably overlooked by most leagues," said Texas League president and resident historian Tom Kayser. "Mostly because that was really only the higher Minor League level that he made a splash in. He just flamed out after that. He wasn't a one-year wonder because he owned the Piedmont League before that and led the Georgia-Alabama League in homers. But those were all A or B-level leagues and weren't that strong.
"Not to minimize his accomplishment, but it wasn't like Dick Stuart, who went on to accomplish something, or Bauman. I think more of the story is where did this guy come from and especially what happened to him the following year. He hardly did anything at all after that."
Guettler came to the Texas League after dominating in the Class B Piedmont League and leading Portsmouth to the playoffs in six consecutive seasons. He won the league's Triple Crown in 1952 (28 HRs, 104 RBIs, .334 BA) and connected for 41 homers in 1955 while serving as the team's manager. He won home run titles in four of those six seasons after also topping the Class D Appalachian (1945, 13), Class D Georgia-Alabama (1947, 25) and Class B Southeastern Leagues (1948) in homers.
His prowess at the plate was evident upon his arrival in Shreveport when he hit a homer on Opening Day against Houston. Guettler connected for three more in the second game of the season before the series shifted to Houston. Prior to the second game there, though, someone stole his glasses out of the visiting clubhouse.
While some pointed to folks connected with the Houston club as the culprits in the theft, nothing was ever proven and Guettler eventually got a local optometrist to make him a new pair. He missed several games because of the shenanigans but remained hot upon his return, connecting for his second three-homer game of the season. Guettler belted seven dingers in his first 17 games and players and fans around the circuit quickly began calculating his chances of breaking the league record for home runs (55) set by Clarence Kraft in 1924.
"It was amazing because he hit some long home runs," said Shreveport teammate Ev Joyner, who led the Texas League that season with 201 hits. "He wasn't a good outfielder and he couldn't throw because of the short arm, but he could really hit that ball. He had sort of a compact swing and when he hit it, it jumped. He was something to watch.
"He was real stocky I tell you, compact. But when he hit it, it went. He hit some long home runs. That was a special year. He couldn't do anything wrong. He hit everything they threw at him."
Sometimes Guettler didn't even get credit for the ones he hit. While the record book has him at 62 that year, it should read 63. At least that's if you listen to Bill Valentine, currently the executive vice president and general manager of the Arkansas Travelers. Valentine was a young umpire in the Texas League in 1956 and was working a game at Fort Worth against Shreveport.
There were two rows of signs abutting the left-field fence and the upper level was set a few inches back. If a ball hit that group of signs it was a home run. Guettler plunked that group of signs in this particular game but third-base umpire Ken Burkhart ruled the ball had hit the first group of signs and Guettler was awarded a double.
"He had one hell of a year and he hit 63 home runs," Valentine said. "He hit the second deck and the ball came back out onto the field. They argued like the devil but they couldn't get [the call] turned around. He hit 63 but only got credit for 62, and I know because I was there."
Still, Guettler, taking advantage of the short dimensions at Shreveport's Texas League Park, continued on a tear. On Aug. 10, he went yard off Houston's Ted Wieand to equal Kraft's mark. The next night he connected off Billy Muffet for the league record.
Guettler hit his 60th home run on Aug. 26, becoming, at the time, only the ninth player in all of organized ball to reach that coveted mark. He was also named to the Texas League All-Star team that day and the United Press International story that ran the next day told of "the lame-armed, far-sighted slugger who smashed his 60th home run." He would add two more and finish with a .293 batting average, becoming one of only two players in Minor League history -- according to The Baseball Research Journal -- to smack 60 home runs and finish with a sub-.300 batting average. Guettler took home Texas League Rookie and Player of the Year honors, laurels that served as a springboard into the 1957 season.
But the magic Guettler experience had finally run out. He hit .177 with one home run in two games for Triple-A Wichita and .191 with two home runs for Double-A Mobile in 1957.
"It was kind of heartbreaking to see him the next year," Joyner said.
By the end of the 1959 season he was out of baseball, having retired to Florida, where he worked as a postal employee. Guettler, a member of the Texas League Hall of Fame, died at the age of 50 in 1977. His passing was quiet and largely unnoticed at the time by the baseball world, much like the season he fashioned two decades earlier.
Kevin Czerwinski is a reporter for MLB.com.