Kopech goes viral with 110-mph pitch
No. 3 White Sox prospect shows off arm heading into Spring Training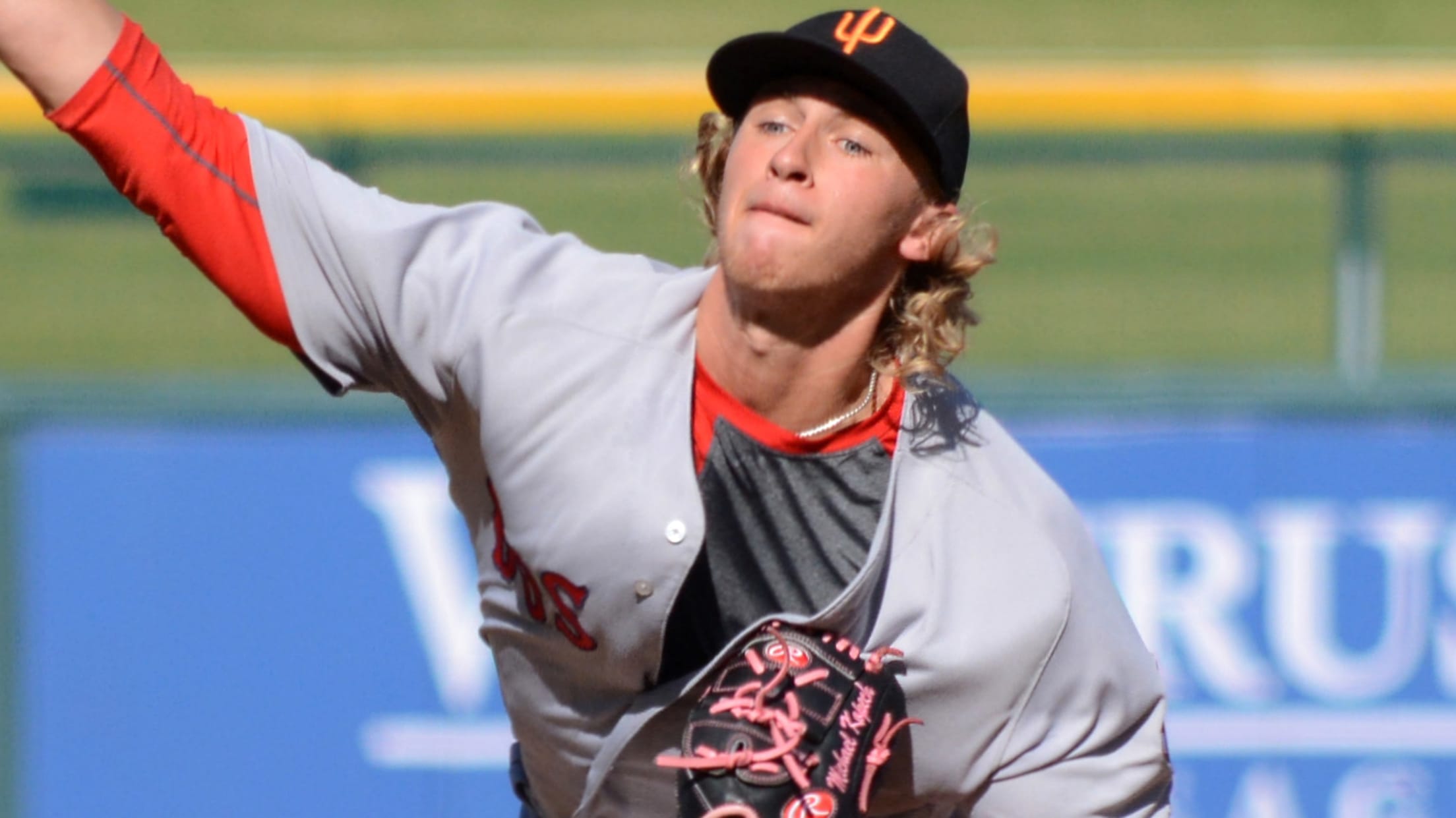 Michael Kopech was 4-1 with a 2.08 ERA and 86 strikeouts in 56 1/3 innings across two levels in 2016. (Buck Davidson/MiLB.com)
When the White Sox acquired Michael Kopech from the Red Sox in December, they knew they were getting one of the Minor Leagues' hardest-throwing pitchers. On Tuesday, he showed just how hard that could be.The 20-year-old right-hander and Chicago's third-ranked prospect was recorded hitting 110 mph on a radar gun
When the White Sox acquired Michael Kopech from the Red Sox in December, they knew they were getting one of the Minor Leagues' hardest-throwing pitchers. On Tuesday, he showed just how hard that could be.
The 20-year-old right-hander and Chicago's third-ranked prospect was recorded hitting 110 mph on a radar gun during a workout at APEC, the facility in Texas where he trains during the offseason.
The workout involved throwing against a screen using three-ounce and four-ounce balls, followed by a regular baseball. Kopech used the three-ounce ball for his eye-popping throw.
"It was an underload ball, so it was only three ounces, which I think a lot of people were overlooking. I guess that's good and bad for my benefit," Kopech said with with a laugh. "It's not like I was throwing a baseball 110, but I'm still moving it a little bit. Most of our guys are throwing it around 105. We have some hard-throwing guys here at APEC."
Before his throw, Kopech said Braves prospect J.B. Moss issued a challenge to reach that velocity.
"Right before I threw it -- I had thrown one that was 106 -- he said, 'You haven't done anything yet unless you throw 110,'" Kopech said. "I didn't even say anything back -- I just stepped up and threw it. They kind of cut the rest of the video, but me and him were talking a little smack and going back and forth."
Heading into his first season with the White Sox since coming over in the Chris Sale trade, Kopech is beginning to intensify his workouts in preparation for Spring Training.
"I was throwing 102, 103 [mph] with the baseball and then 106 with the four-ounce and 110 with the three-ounce. This is my first max-velocity throwing day, so I'm feeling pretty good," the 2014 first-round pick said. "But at the same time, I'm not too worried about it. It's just the program that my trainer has installed for us here at APEC, and it's worked for a lot of our guys. I'm more worried about getting on the mound and actually being able to pitch."
Kopech has reached 105 mph in live-game action, which came on July 13 while with Class A Advanced Salem. MLB Pipeline rates his fastball as a perfect 80 on the 20-80 scouting scale.