Kuehl combined smarts, strong resolve
Lifelong career began as 21-year-old Minor League manager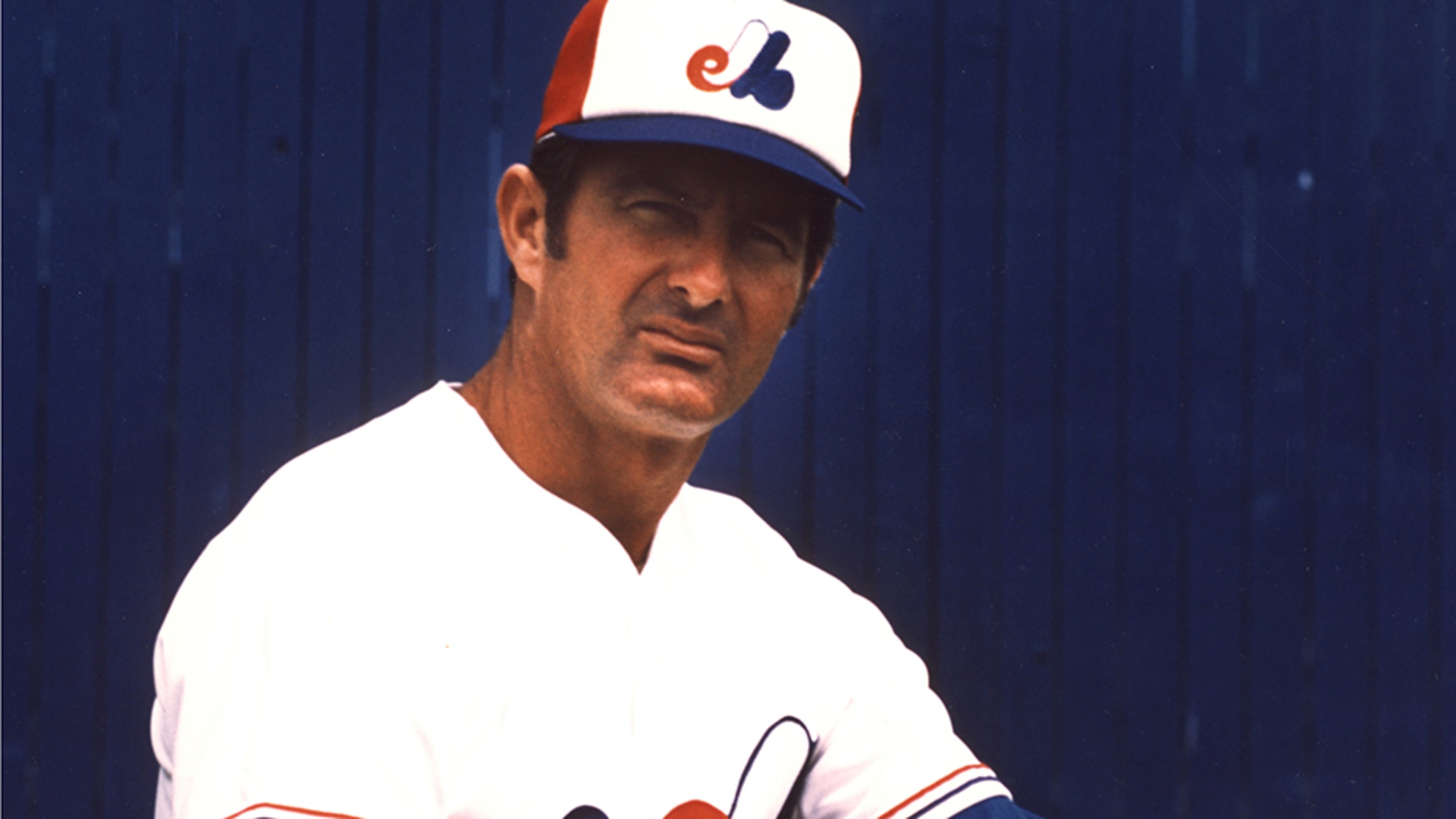 Karl Kuehl managed the Montreal Expos to a 43-85 record before he was let go in early September. (National Baseball Hall of Fame)
Minor League Baseball is known for its rich history, dating back more than 100 years. While much has been written about the best teams and top players who have graced the Minors, there remain many stories either untold or largely forgotten. Each week, MiLB.com will attempt to fill that gap
Minor League Baseball is known for its rich history, dating back more than 100 years. While much has been written about the best teams and top players who have graced the Minors, there remain many stories either untold or largely forgotten. Each week, MiLB.com will attempt to fill that gap and explore these historical oddities in our "Cracked Bats" feature. Know of any stories to be considered for this feature in the future? Send an email and let us know.
Karl Kuehl's claim to baseball fame is mostly as an executive, having served as the farm director who helped build the powerful Oakland A's teams of the late 1980s and early '90s. Yet his name is etched in the Minor League history books because of what he did on the bench in a tiny Pacific Northwest town nearly 50 years ago.
Kuehl, at the age of 21, became the youngest manager in Minor League history in 1959 when he was asked to pilot the Salem Senators of the Northwest League. The move effectively ended his playing career -- one he soon realized wasn't going to flourish anyway -- and set him on a path to becoming one of the most respected front-office men in baseball.
"I hadn't thought about 1959 a lot until I got the Roland Hemond Award [in 2006]," Kuehl said. "I really thought back after that and reflected on my career and the people who were involved. There have been a lot of people involved, and you don't do things on your own. That's what it's amounted to. I look back and appreciate everyone who has mentored me and been involved in my career."
That career took a marked turn in the spring of '59. The Northwest League of the late 1950s was not like the current circuit that bears the same name. It was a full-season Class B league that featured, in addition to Kuehl, several managers of interest. Hub Kittle, a longtime Minor League pitcher, manager and executive, was on the bench for the Yakima Bears, while John McNamara, who went on to manage six teams for nearly two decades in the big leagues, managed Lewiston to a first-place finish. He also was the Northwest League's All-Star catcher that season.
It was Kittle who recommended Kuehl to the folks running the Salem squad. Ownership in Salem saw an opportunity to exploit Kuehl and his relationship with the Reds, so they offered him the job. Kuehl had begun his professional career in 1955, when Cincinnati signed him and sent him to Ogden of the Pioneer League. Kuehl was the starting first baseman at High Point-Thomasville in the Class B Carolina League the following year, and he had a big season there.
Kuehl batted .290 with 178 hits while playing alongside future baseball labor pioneer Curt Flood. The duo helped lead the Hi-Toms to a first-place finish and put Kuehl on a path to history. The Reds moved him up to Salem, where he led the Northwest League with a career-high .347 average and cemented his place as a person of some import on the circuit.
After an undistinguished season in 1958 -- he hit .269 while splitting time among the South Atlantic, Western and Pacific Coast leagues -- the front office in Salem came calling.
"I saw guys playing in the Pacific Coast League and they were hitting the ball as well as I did in Class B," Kuehl said. "And the guys who were playing first base and the outfield in the PCL were all big, strong guys with power. I didn't have any. That winter, I got a call from the owner in Salem asking if I wanted to manage.
"Hub Kittle recommended me for the job. Their thinking was, they were independent and didn't have a working agreement with anyone. They needed some players, and if Hub recommended me, well. ... Their thinking was that if you're interested and you can get us an agreement with the Reds, then we'll give you the job."
Kuehl suspected that once he helped the Senators get a working agreement with Cincinnati, they'd let him go and hire a more experienced manager. Much to ownership's surprise, Kuehl guided Salem to a first-place finish in the first half of the Northwest League season. Overall, the Senators finished in third place, just 1 1/2 games behind McNamara's Lewiston squad. Yakima won the title that season, edging Salem in five games for the championship, but Kuehl had been set firmly on a career path.
He played three more seasons, one in Salem and two with Geneva of the New York-Penn League, where he also managed, before hanging up his glove for good.
"I was the third-youngest guy on the club [in 1959]," Kuehl said. "We had some ex-Major Leaguers on that team and some guys who had played in Triple-A. They really took me to school after every game, asking me questions about what I thought the other manager was thinking, what did I see as options, what could we do in terms of signs, all kinds of stuff.
"That part was a great learning experience for me. But during the game, they let me do my thing. I was the playing manager. No one gave me any trouble. They were great. I guess I was a puppy dog and they were my mentors. We'd sit down after the game and have a beer in the clubhouse. They didn't have any place to go, and in most cases their wives weren't there or they were older guys working their way back from injuries. There was no resentment whatsoever."
Surprisingly, it was not Kuehl's first managerial job. He grew up in Los Angeles, and with the mild Southern California winters, baseball was a year-round sport. He played on a semi-pro team when he was in high school and was the youngest player on the squad, yet he was asked to manage there, as well.
"I had no clue, so I asked why," Kuehl said. "They said it was because you show up every week with the balls and bats."
Although that doesn't speak to Kuehl's managerial skills, perhaps the players on his semi-pro team sensed something in him. He made the most of his opportunities in Salem and Geneva, where he managed future big leaguer Cesar Tovar and future Hall of Famer Tony Perez. While he was enjoying his time with the Reds, the chances of moving up the managerial ladder in the organization were limited.
Dave Bristol was managing the Reds' Triple-A affiliate, so when Houston's expansion franchise called in 1962 and asked if he'd like to be a scout -- it meant more money and an opportunity to sign top-flight talent since there was no draft yet -- Kuehl accepted. He stayed with Houston through the end of the decade, then headed to Seattle to be its Minor League field coordinator during Spring Training and manage its instructional league club.
"When I left Houston and went to Seattle, I had 10 guys on the 40-man roster," Kuehl said. "I was in the right area at the right time. I was with Seattle [which became the Milwaukee Brewers] for three years, and in two of those summers they fired managers, and I went and finished the season in Clinton, Iowa."
Kuehl then went to Montreal, where he got his shot at managing a big league club in 1976 with the Expos. He was fired midway through the season, but rather than doubting himself and his abilities, he used the experience to his advantage and began studying how a person can learn from mistakes to become stronger.
He went on to become an expert in the field, authoring several books and giving countless seminars on mental toughness. He applied that expertise while serving as a Twins coach in the late 1970s and early '80s and during his run as the A's director of player development from 1983-95.
Kuehl eventually moved to the Toronto organization and then Cleveland, the club from which he recently retired. He still does some work, if asked, but is more than content to stay home and reflect on what's been a remarkable career, one that had its roots in Salem at the age of 21.
"[Managing in Salem] helped because I had a lot of early success in scouting," Kuehl said. "I was learning how to evaluate players. The scouts were there all the time helping me, and the older guys on the club let me know things. It was a big part of managing."
Kevin T. Czerwinski is a reporter for MiLB.com.