IronPigs setting trends with Majestic threads
Lehigh Valley provides testing ground for MLB's uniform maker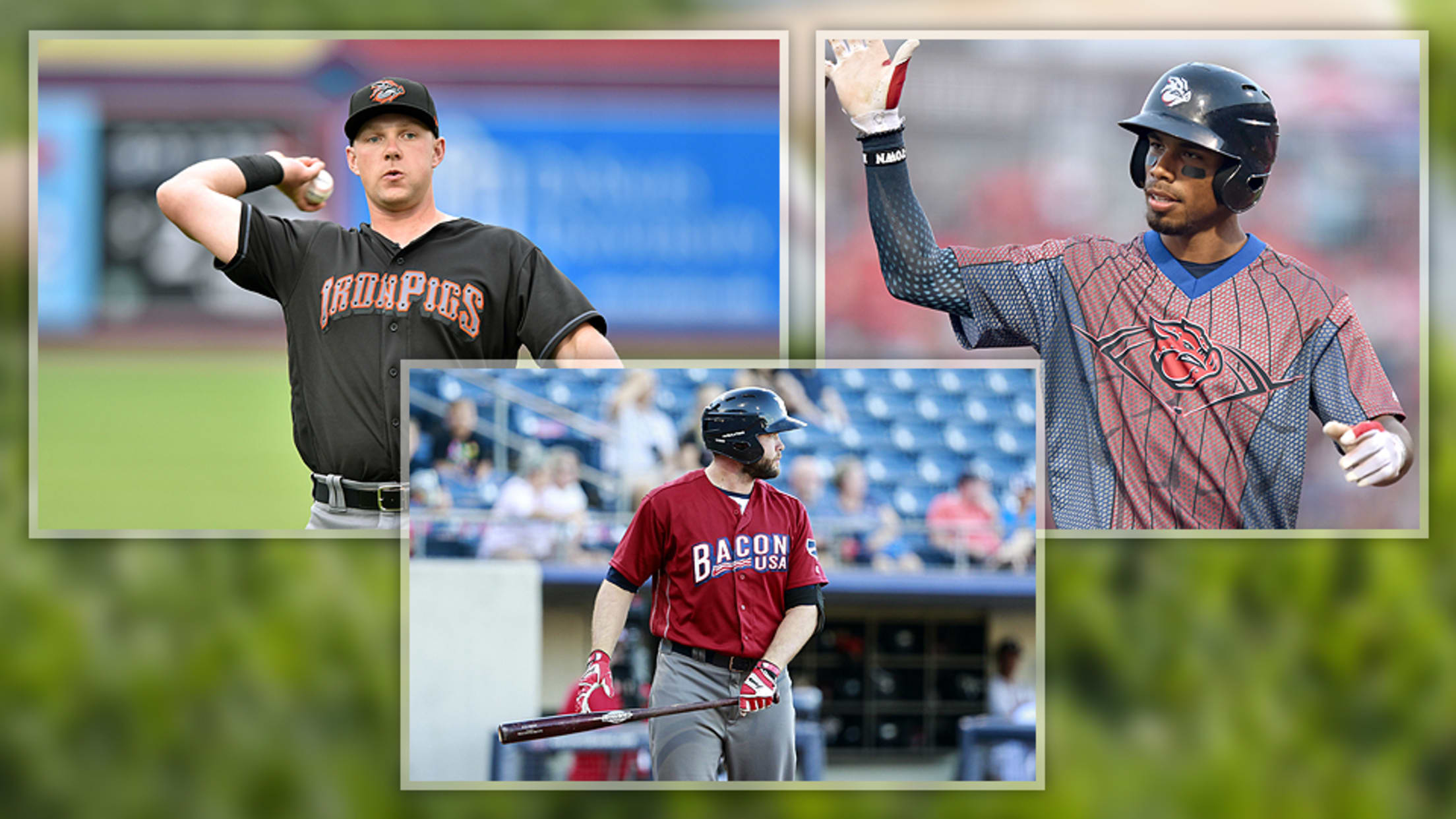 Triple-A Lehigh Valley is located 15 miles from Majestic's manufacturing facility in Easton, Pa. (Ken Inness/MiLB.com)
Officially, there are 30 teams in Major League Baseball. On the uniform landscape over the last couple of seasons, there's been an unofficial 31st.The vast majority of Minor League teams across the country -- 149 of the Minors' 160 non-complex clubs, to be exact -- use either Rawlings, Russell or
Officially, there are 30 teams in Major League Baseball. On the uniform landscape over the last couple of seasons, there's been an unofficial 31st.
The vast majority of Minor League teams across the country -- 149 of the Minors' 160 non-complex clubs, to be exact -- use either Rawlings, Russell or Wilson as the maker and supplier of their on-field threads. Of the remaining 11, three hold exclusive rights to a manufacturer. The Aberdeen IronBirds sport Under Armour uniforms. The Hillsboro Hops rock Nike. And the Lehigh Valley IronPigs sport Majestic, the only team to don unis made by the official maker of the big leagues' supply.
"The reason we did those three is because the worldwide headquarters of those three companies are in the backyards of those three clubs," said Tim Brunswick, Minor League Baseball's vice president of business and baseball operations.
Under Armour's Baltimore offices are about 30 miles from the IronBirds' Ripken Stadium, and Nike's legendary Beaverton, Oregon home is 10 miles from the Hops' Hillsboro Park. Those two international behemoths dwarf Majestic, but the smallest entity of the trio has been carrying the banner of baseball's biggest names for nearly 15 years.
In 1976, Faust Capobianco III founded a small apparel company in eastern Pennsylvania. Within six years, MLB clubs were sporting Majestic-made batting practice jerseys. By 1984, the company had signed a national licensing agreement with MLB, and 20 years later, Majestic took over as the exclusive provider of on-field uniforms for big league teams.
"That's a multigenerational company that had roots in the textile industry that was once prominent here," IronPigs general manager Kurt Landes said. "It was a mom-and-pop company, and then they were able to secure the Major League Baseball license beyond the big boys at the time. They did it because they have such great service, and they're able to turn on a dime. They were focused on Major League Baseball because 90-some percent of their business was Major League Baseball. They still have that focus."
Majestic could've easily focused its efforts on the big leagues alone, but four years after that exclusive contract, the Minor Leagues arrived on its doorstep. In 2008, the IronPigs opened their doors in Lehigh Valley, fresh off a move from Ottawa and into Coca-Cola Park, immediately one of the Minors' crown jewels. Majestic was involved from the start, its name branded on the park's clubhouse store and its apparel gracing IronPigs fans' closets since that inaugural season.
A unique arrangement
Coca-Cola Park is about a 20-minute drive from Majestic's Easton, Pa. manufacturing facility, a building that shares little with the massive overseas factories of other apparel giants. In Easton, local employees -- some of whom have been with Majestic for decades -- help churn out thousands of uniforms that take the field on the backs of big leaguers every year. Until 2016, the same couldn't be said about the Minors, but Majestic and the IronPigs changed that.
"The relationship we had with the IronPigs prior to coming on as an on-field licensee really gave us the platform to go to Minor League Baseball and say, 'We'd like to work with the IronPigs in a larger capacity,'" said Ryan Pugh, whose title is now director of MLB brand for Fanatics/Under Armour Baseball following their recent purchase of Majestic (more on that deal below). "At the time, we were also working with Minor League Baseball to become an official licensee with them for outerwear and fleece. We did both those agreements at the same time."
Minor League Baseball licenses companies for apparel rights in four categories: game uniforms (jerseys, pants, socks, etc.), batting practice tops, outerwear (fleece, jackets, hoodies, etc.) and specialty jerseys. Majestic added its uniform license for the IronPigs only.
The duo hit the ground running, fusing Majestic's manufacturing might with Lehigh Valley's Minor League flair. The IronPigs got the same uniforms as Major Leaguers everywhere, and in exchange, Majestic got a creative outlet and real-world laboratory in its backyard for research, development and testing in full-speed, everyday game use without having to go through the rigors of the MLB approval process.
"We're able to utilize their facilities as well as the on-field opportunities to test things that may be able to come to fruition on the MLB fields in coming years," Pugh said. "Everything is rigorously tested to stand up to everything from sliding abrasions, Velcro testing, even something as simple as the product that you're wearing being able to sit on what are typically wooden benches in the dugout and not have splinters grab the fabric and pull it. We've tested a variety of things to make sure that once we put a fabric or a product onto the field, the pro player is not going to have any of those issues."
Majestic takes input from players on fit and feel of uniforms as well as how certain materials act and perform. From clubhouse personnel, the company gleans information on how products hold up to repeated usage, washing and treatment.
The partnership has also allowed Majestic to loosen its collar and explore its creativity. On the big league side, they've crafted the Yankees' pinstripes and the Giants' cream-colored home threads. In Lehigh Valley, Majestic has sewn bacon-styled stripes on pant legs and stitched dripping yellow goop off a Cheesesteaks' wordmark. The company also provides -- at no cost -- extra sets of special IronPigs promotional jerseys for the team to auction off to benefit organizations like the Miracle League of Lehigh Valley.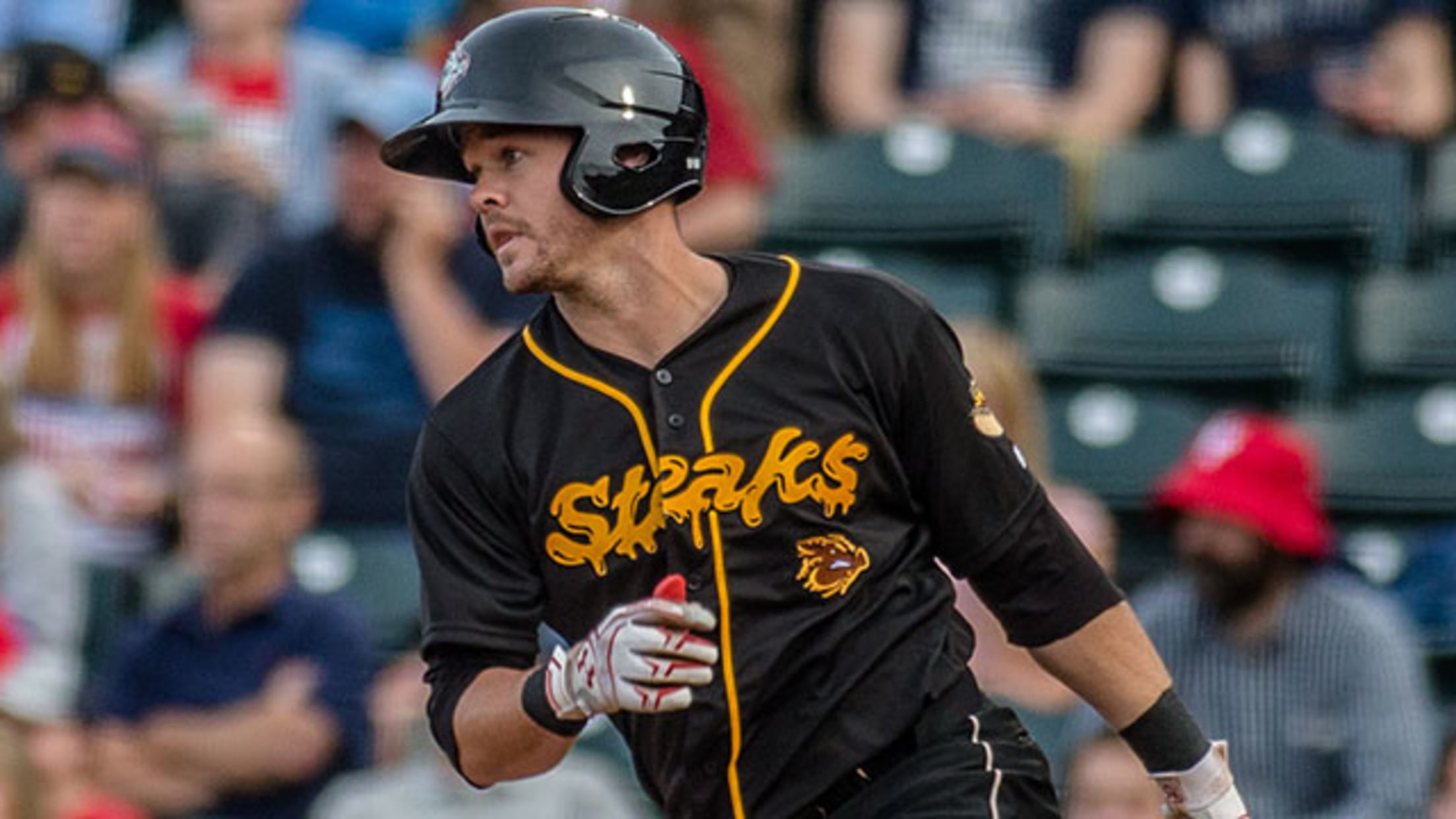 "It's a lot of fun," Pugh said. "The IronPigs pride themselves on their inline uniform packages, which are exactly the same uniforms that the Major League players are wearing, but they have that flair that they want to have that they can portray to their players and fans that they can be outside the box. In the Minor Leagues, you have to be a little bit different. You have to have a niche. What Kurt and the IronPigs have done with the bacon theme over the last three or four years has been absolutely phenomenal. It allows our team to be a little bit more creative. It's really fun to be a part of."
Landes agreed.
"We look forward to getting together with them annually to talk about what materials are new, what their design thoughts are," the GM said. "We always have some out-of-the-box suggestions as a typical Minor League team that likes to do things uniquely and make it entertaining for the crowd but also impactful for the nonprofits that we work with in conjunction with the jersey auctions. Once we were able to do things both in our store and also on-field, it really took the relationship to a different level."
This past summer, the IronPigs celebrated their 10th season in Lehigh Valley, and Majestic designed a reflective jersey twill for the occasion. Cautious of how the product could present issues on the field, the company had a simple luxury at its disposal: testing on-site.
"What we did to get the blessing of Minor League Baseball and what we did to give the IronPigs the confidence that this reflective twill was not going to present a negative to any of the players, umpires or even the fans in the stands, we literally turned the lights on," Pugh said. "We went onto the field with the reflective uniforms. We took lots of pictures. We essentially tested having someone on the mound throwing to someone at home plate, just verifying and vetting that this reflective twill was not going to cause any visual issues. It was a pretty simple process, but it's one of those things where you don't really think about having to do that, but if you don't think about having to do it and a problem arises, then you've got a bigger problem on your hands."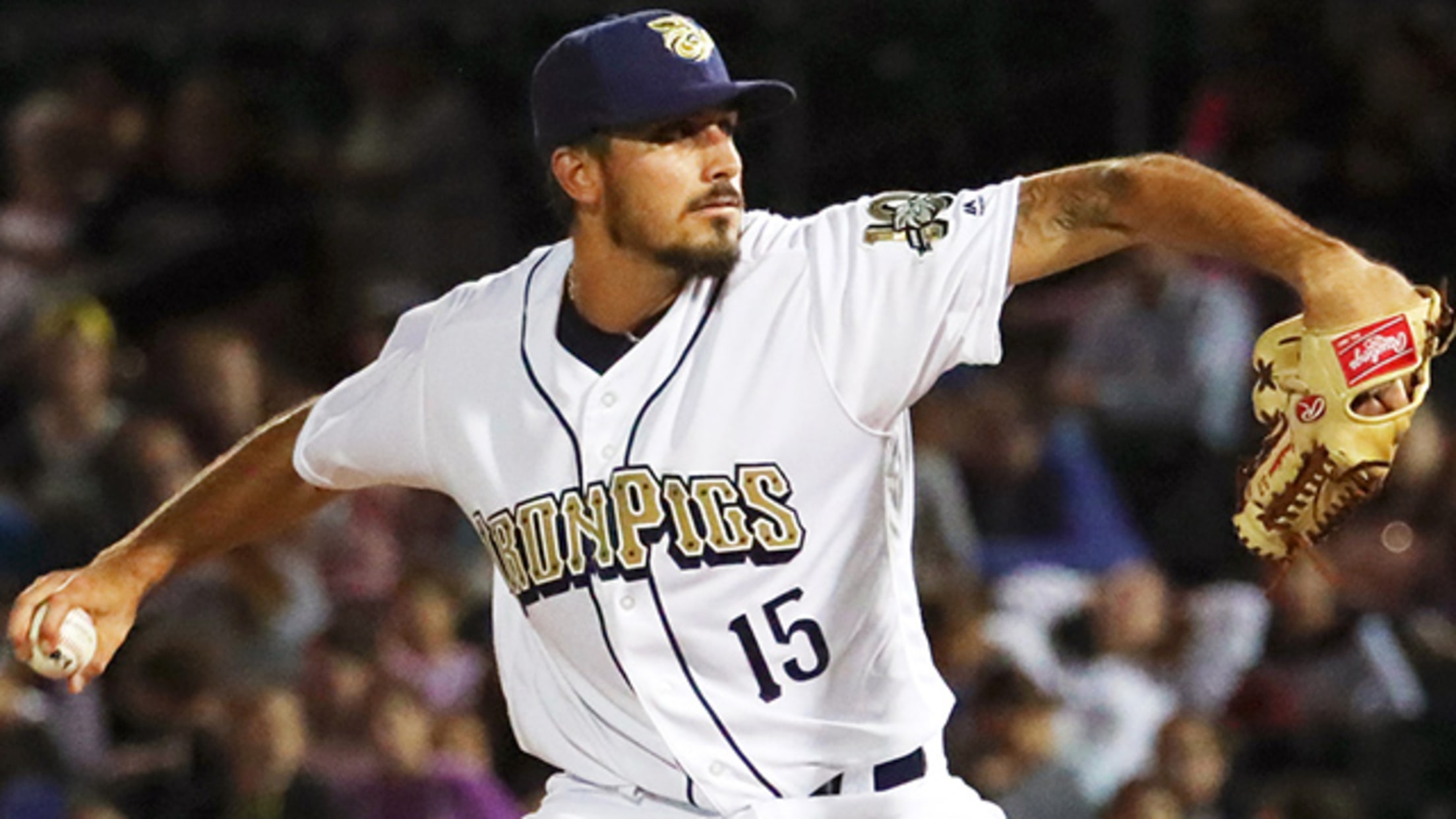 Not all of Majestic's innovations have been quite as superficial.
"They used us in preparing to launch a technology uniform that has motion and biometric functions within the actual uniform," Landes said. "It can measure heartbeat -- almost like a FitBit but a uniform -- it can measure on your sleeve and your shoulder and your hip, how your hip swings when you hit the ball. Those things have been developed, and that's actually been in production and on sale."
Hometown feel
While Majestic made its name with its big league deal in 2004, that chapter is coming to an end. Major League Baseball announced last year that Under Armour will take over as the league's exclusive on-field uniform provider. Initially slated for a 2020 start date, the deal will now begin in 2019. Online retailer Fanatics joined Under Armour in a partnership to execute that operation, and after a brief period of uncertainty, Fanatics and Under Armour purchased Majestic in April, ensuring uniform production -- and the 600 jobs that go with it -- will remain at the Easton plant.
"It means a lot to us locally because I think when news spread that Under Armour and Fanatics were purchasing Majestic, most importantly there's a large factory with a lot of employees here that were concerned if their jobs would move to Baltimore or overseas or wherever," Landes said. "Now that the decision has been made and announced and publicized that they're going to stay here locally, that means a lot to the people who work and live here, buy tickets to IronPigs games."
What the Under Armour/Fanatics venture means for the IronPigs beyond 2018 isn't yet clear, but this season, Lehigh Valley's nine will once more cross the white lines in jerseys and pants made by their neighbors, just 15 miles away.
"From Day 1, Majestic has treated us like we're the 31st Major League team, and that was even before we started using the jerseys on the field," Landes said. "In terms of having access to their design team, as far as creating a retail strategy, we've been doing things as part of a group of 31. They really adopted us."
Tyler Maun is a contributor to MiLB.com. Follow him on Twitter @TylerMaun.