Peters stands up to Bumgarner for MiLBY
Dodgers prospect went yard twice in same frame off Giants ace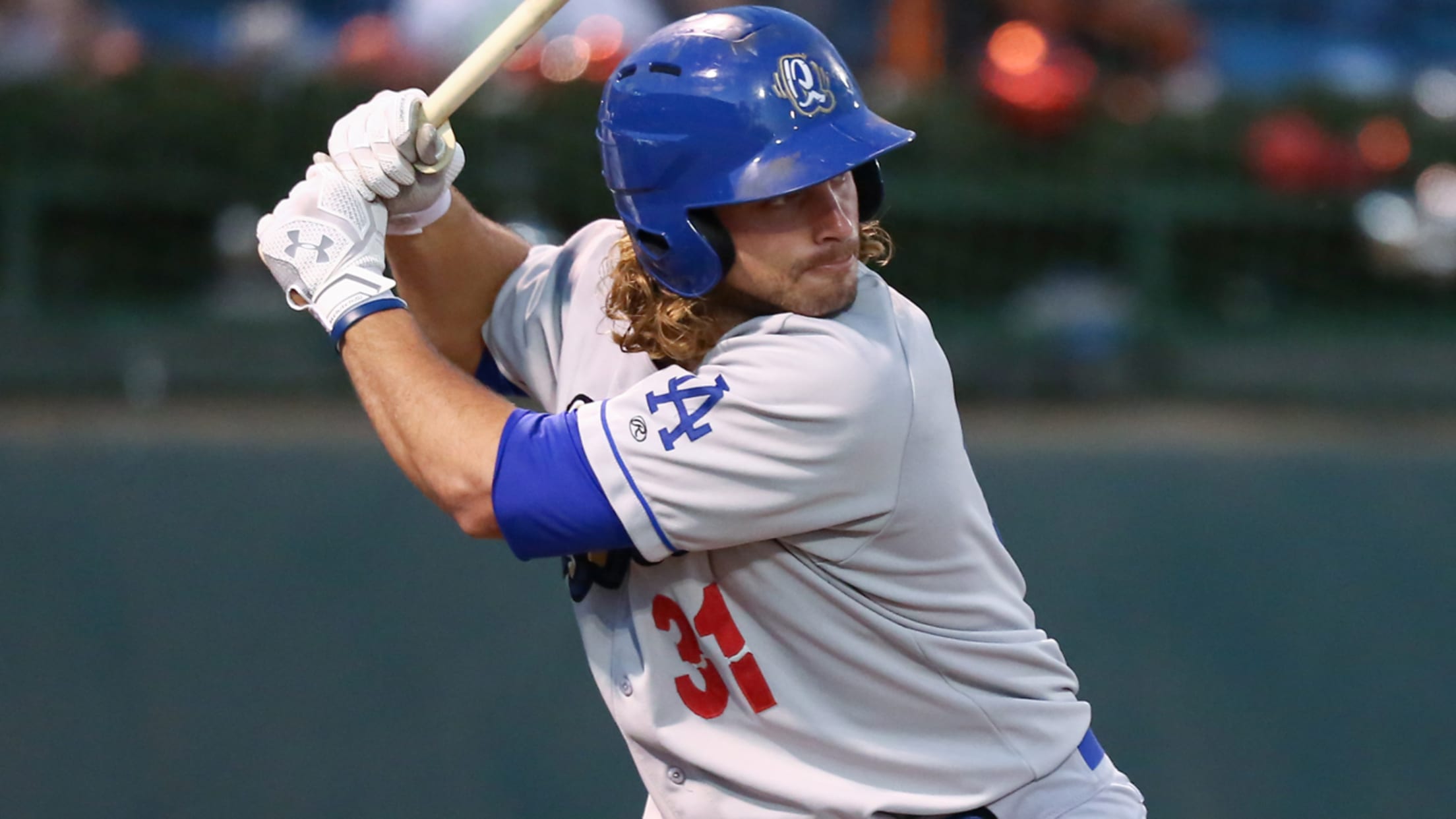 DJ Peters batted .276/.372/.514 in 132 games for Rancho Cucamonga to earn Cal League MVP honors. (Tim Cattera/MiLB.com)
DJ Peters was born into the Dodgers-Giants rivalry.Peters' hometown of Glendora, California is less than 30 miles from Dodger Stadium. Months before he turned 2, San Francisco rallied in a crucial two-game series at home to overtake Los Angeles on the way to its first division title in eight years.
DJ Peters was born into the Dodgers-Giants rivalry.
Peters' hometown of Glendora, California is less than 30 miles from Dodger Stadium. Months before he turned 2, San Francisco rallied in a crucial two-game series at home to overtake Los Angeles on the way to its first division title in eight years. That was four years after the Dodgers eliminated a 103-59 Giants team from playoff contention in 1993 with a 12-1 rout on the last day of the regular season. Peters was 5 when Barry Bonds hammered his record-breaking 71st homer of the 2001 season off the Dodgers' Chan Ho Park. Three years later, Peters watched as Steve Finley's walk-off grand slam against San Francisco lifted Los Angeles to a National League West crown and a playoff berth for the first time since 1996.
The Dodgers No. 17 prospect always dreamed of being part of Dodgers-Giants lore. It just may have come far earlier than he anticipated.
Peters doesn't dwell much on his big July day anymore. His focus has shifted from a strong first full professional season to the Arizona Fall League and his organization's pursuit of its first World Series title since 1988 these days. But the night that put him on the map for many Dodgers fans still comes up.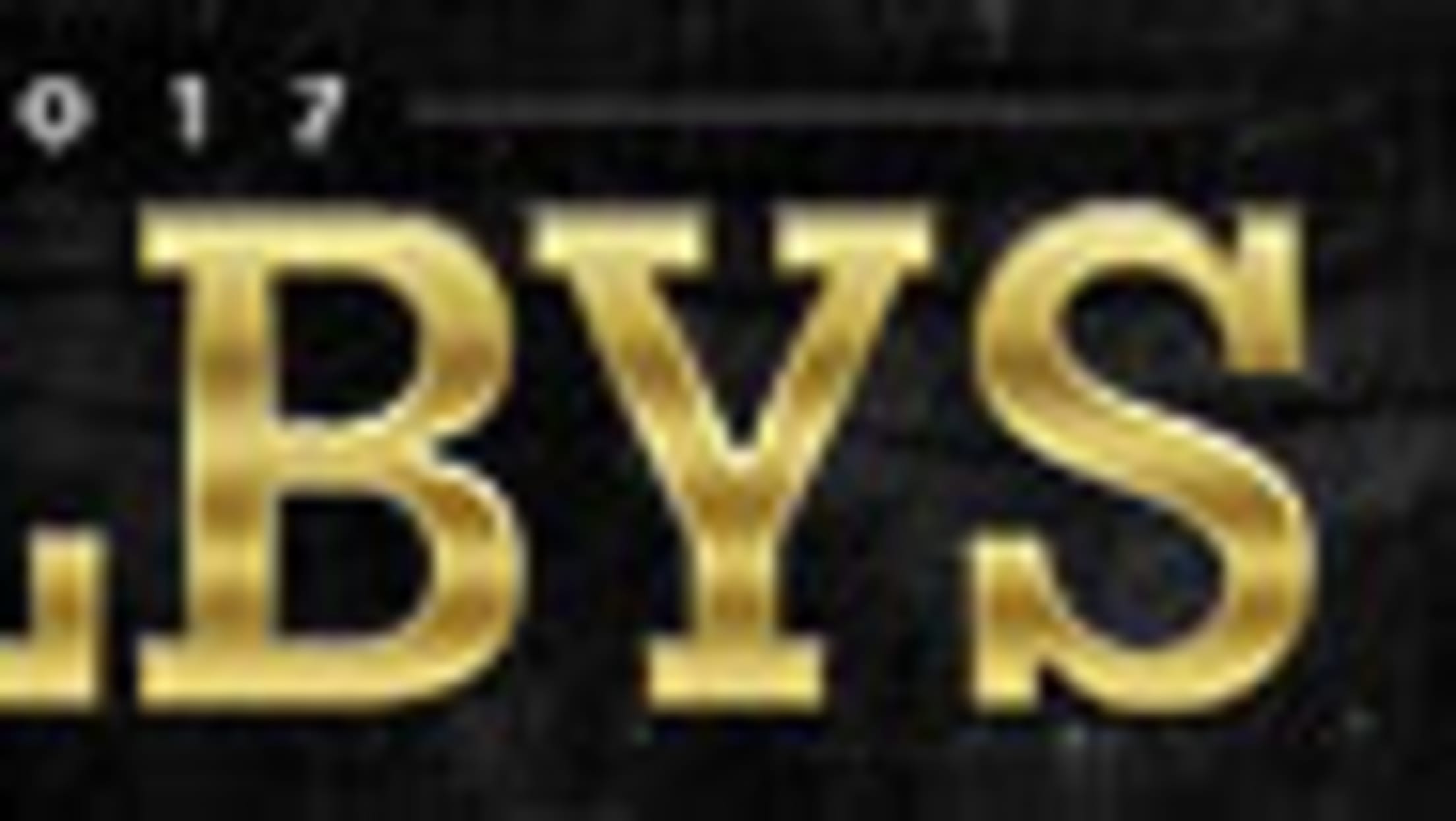 "I hardly ever think about it," Peters said. "It's usually whenever I see it on Twitter or Facebook or Instagram, a picture of Bumgarner or whatever it may be. That night was an absolute blessing."
On July 5 in San Jose, Peters had a performance most players only dream of for Class A Advanced Rancho Cucamonga. Facing three-time World Series champion and 2014 World Series Most Valuable Player Madison Bumgarner, Peters belted a home run. And then another one. Both in the same inning. The feat earned Peters the 2017 MiLBY for Best Performance.
A special face was in the stands for Peters' big night. With some time off for the Fourth of July holiday, the 21-year-old's girlfriend, Shea Noggle, made the trip to San Jose to watch Peters and his Quakes take on the Giants and Bumgarner. The lefty was making his first rehab start since suffering injuries in a dirt-bike accident in April.
That night, Rancho Cucamonga eked out a 2-1 win, and Peters and Noggle watched postgame fireworks together. The next day, Peters provided the fireworks on his own.
"The whole place was packed," he said of the announced attendance of 4,444 on July 5, bigger than the Independence Day crowd the night before. "[My girlfriend] comes walking in, the only one with a Dodger hat on, Dodger shirt. I hit the first one, and of course she was super happy. Even if I get a hit, she's going crazy, let alone a home run off of Madison Bumgarner. I come up again and hit another one, and she said that she just lost it."
Through three innings, Bumgarner had allowed only a solo home run to Rancho Cucamonga's Ibandel Isabel, striking out four with one walk. Peters started the fourth with a bang.
"He fell back 2-0, threw two fastballs kind of low and in," he recalled. "I knew he wanted kind of a get-me-over fastball on 2-0. I didn't know, but that was what I was guessing. I was just sitting on a heater, and I got one right down the middle, just a perfect cookie pitch and did not want to miss that one, that's for sure. I hit it, heard it -- I mean it was loud -- and just put my head down and started running around the bases."
The solo shot -- estimated at 474 feet -- opened the floodgates against Bumgarner. After Johan Mieses flew out to right, Luke Raley tripled to center. Isabel singled him home on a bouncer to left. Omar Estevez's single to center pushed Isabel into scoring position. Then No. 18 Dodgers prospect Drew Jackson homered to left. Brandon Montgomery followed with a single to center ahead of Yusniel Díaz's lineout to center.
"We're just hitting and hitting, and the next thing I know, I'm on deck," said Peters, who watched Will Smith double to left in front of him, driving in Montgomery to give the right fielder another chance. "I get up again, and my confidence was super high at that point. The first pitch, he threw me a curveball, just one of those get-me-over curveballs, and I should've swung at that. It was just right down the middle. Then he threw two balls, threw me a backfoot slider and then I think a heater in that was a ball. It was 2-1, and he threw me that curveball again, just like the first one. I told myself after I didn't swing at the first one, 'If he throws it again, I'm going to hammer it.' I put a good swing on it, hit it hard. I knew I hit it hard. I knew I hit it on a line, so I was hoping it would get over that tall wall they have over there in San Jose, and it did.
"I'm pretty sure I ran faster around the bases the second time than the first time."
The two-homer night came just three days after he smacked three jacks in a game against Lancaster, but this one, quite obviously, was different for Peters. In 1,508 2/3 innings over 234 Major League appearances, Bumgarner had given up two homers to the same hitter only three times in a game, and never in the same inning.
"Watching Madison Bumgarner growing up, just getting to play on the same field as him was something I've always wanted to do as well, just because he's such a good pitcher," Peters said. "To face him is something else, and to actually hit a home run against him, when I was running around the bases was like, 'Wow, is this real?'"
The big night set social media ablaze, but it didn't surprise the 2016 fourth-round pick, who just embraced the opportunity.
"We had a very good scouting report on him," Peters said. "We knew what we were going to get, and we were all super excited. Nobody was nervous. Everybody was pumped. Everybody was like, 'If I go 0-for-3 or if I go 3-for-3, I don't care because it's Madison Bumgarner.' It's like if you're facing Clayton Kershaw. If you're 0-for-3 or 3-for-3, it doesn't matter because you get to face one of the best pitchers in the game. For us, we were just going to enjoy the moment because those were the biggest at-bats for us as baseball players and us as [kids] growing up, when we were 14, 15 years old."
Two homers against a big league rehabber would be a career highlight for any prospect. For a Dodgers' young riser to do it against the Giants ace, it was even more so.
"We hate the Giants, you know what I mean?" Peters laughed. "That's just how it is. During Spring Training, that's all [longtime Dodgers Minor League coach John Shoemaker] talks about, 'Those Giants … we can lose, but we can't lose to those Giants.' Whenever we play the Giants, we have to win. Whenever we play the Giants, the coordinators come to town because they do feel like it's one of those big league rivalries. In two or three or four years, we're going to be playing against some of those guys [in the big leagues]. I mean Carlos Correa's playing against Corey Seager right now [in the World Series], and they both played [in the California League] in 2014. Three or four years down the road, I could be playing with some of those guys over there, and we're going to have that same old rivalry over at the Giants' stadium or Dodger Stadium. It's going to be fun."
Peters' feat made him a household name at the big league level, even if his first Major League game has yet to be played.
"Whenever Bumgarner would pitch against the Dodgers, I'd always get tagged in stuff like, 'Call up @8Peters for this game,'" he said. "I just laugh because it's funny, but at the same time it's like, wow, it was a big deal. People really did see it. But at the same time, that's not the type of person I am. I did hit two home runs off of Madison Bumgarner. It is a great thing, but it's also very, very humbling to me. I don't want to just do it in the Minor Leagues. I want to do it in the big leagues too."
The lifelong Dodgers fan is now watching his team compete for a crown for the first time in his lifetime and preparing himself for a 2018 season he hopes will bring big things. He's already proven he can handle one of the game's best.
"If you feel like you can compete with them, with it being my first full year and I could compete with them then, then what's it going to be like when I've been playing pro ball for eight years and I'm up in the big leagues competing against guys like that?" he said. "It's definitely a very big confidence booster."
Tyler Maun is a contributor to MiLB.com. Follow him on Twitter @TylerMaun.