Chiang twirls Hillcats' third no-no in four years
Indians right-hander faces two over minimum in nine-inning gem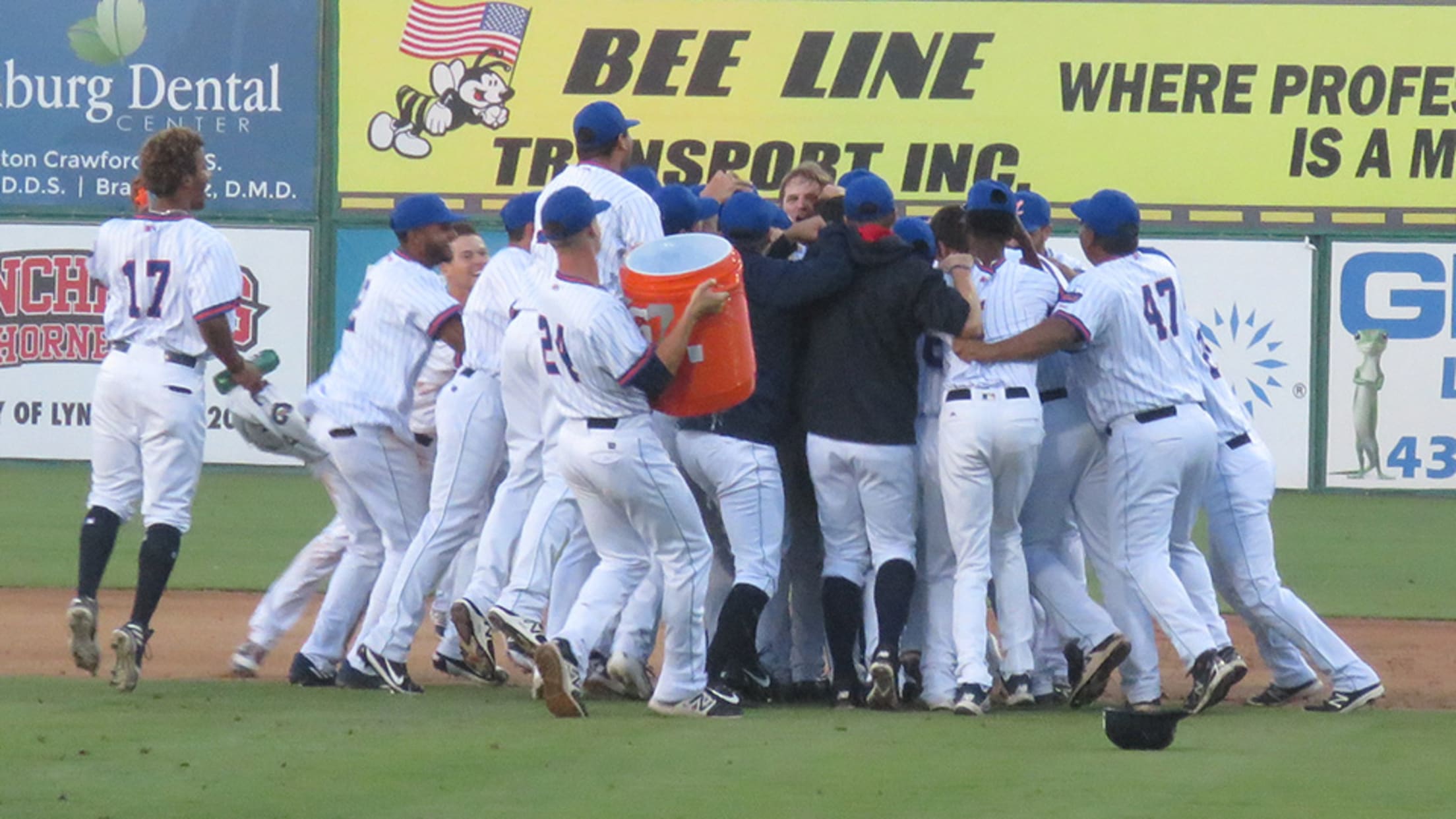 Shao-Ching Chiang is mobbed by his teammates after pitching Lynchburg's first no-hitter since 2014. (Ashley Stephenson/Lynchburg Hillcats)
Even in the split-second it took for Zack Collins' liner to find shortstop Willi Castro's glove, Class A Advanced Lynchburg pitching coach Rigo Beltran feared the worst. But like most of the 26 outs preceding it, the Hillcats' fielders were in the right place at the right time.The leaping grab cemented Shao-Ching
Even in the split-second it took for Zack Collins' liner to find shortstop Willi Castro's glove, Class A Advanced Lynchburg pitching coach Rigo Beltran feared the worst. But like most of the 26 outs preceding it, the Hillcats' fielders were in the right place at the right time.
The leaping grab cemented Shao-Ching Chiang's place in Minor League history with Lynchburg's first nine-inning complete-game no-hitter in more than 25 years as the Hillcats beat Winston-Salem, 3-0, on Saturday night at Calvin Falwell Field.
The 23-year-old walked one and struck out seven in tossing Lynchburg's first nine-inning no-no since Cody Scarpetta and Benino Pruneda blanked Wilmington on June 27, 2014. It was the Hillcats' first solo effort since Tim Van Egmond on June 1, 1992.
Chiang induced 15 ground-ball outs while allowing only two balls to be hit out of the infield. But it was the last out -- a hard line drive by the No. 10 White Sox prospect -- that put a lump in Beltran's throat.
"Man, my heart definitely sank there for a second. [Collins] hit it right where no one usually would be," the pitching coach said. "But we've employed the shift on Collins lately and that was the reason the ball was caught. I thought it was a hit when he connected, but it went straight into the spot where [Indians No. 10 prospect Castro] was. It was very impressive."
Gameday box score
The night began inauspiciously for Chiang (8-8), who was scheduled to start on Friday night before the game was postponed due to rain. A throwing error by first baseman Sicnarf Loopstok allowed Bryant Flete to reach safely to open the first before Chiang induced three straight groundouts. The right-hander worked around a one-out walk to Brady Conlan in the second, ending the frame by picking off Sam Dexter at first.
Conlan was hit by a pitch with one out in the fifth, but Chiang set down the final 14 batters -- the last aided by Castro's quick glove and a team-oriented shift.
"It was just one of those days," Beltran said. "He was prepped and ready to go yesterday before we were rained out, but he was mentally engaged since then. We've been working on a few mechanical adjustments and a few other things. He took those into the game today and did a great job. You could see by the second or third inning that he had good stuff, but it's not until the seventh inning when you can really start thinking about a no-no.
"As a sinkerballer, it's a bit ironic for him to do what he did tonight. During his last start against Potomac [on Sunday], he had his sinker working, but a lot of the balls found holes. That's what can happen with sinkerballers. Today, most of those grounders were right at our fielders, which made a big difference. He pounded the zone and his secondary stuff was working well. Everything clicked today for him."
Chiang won six consecutive starts from April 15-May 18 and entered June with a 7-2 record and 2.70 ERA. However, he had not won since May 28, a span of 10 starts, despite pitching at least six innings seven times in that span. The slump prompted some adjustments from Beltran, who said he's pleased to see the results.
"He started off really well this year," the former Major Leaguer said. "He was a [Carolina League] midseason All-Star and a big innings-eater. He pounds the zone, but we wanted to clean up his delivery a little. We also got him throwing a slider over the last five starts, which has complemented the sinkerball really well. Even though we're in [Class A Advanced], the results still matter, but our ultimate job is to develop these guys and get them ready to help in the Majors."
• Get tickets to a Hillcats game »
Martin Cervenka plated the only run Chiang needed with a sacrifice fly in the fifth. Lynchburg added two runs in the eighth, highlighted by Connor Marabell's Little League home run. The Hillcats designated hitter tripled and raced home on Flete's throwing error.
Dash starter Kelvis Valerio tossed four perfect frames, striking out four. Mike Morrison (1-2) allowed an unearned run and one hit with two walks and three strikeouts in three innings.