From coast to coast, Minors prepare for eclipse
Ballparks within the 'path of totality' provide ideal viewing locales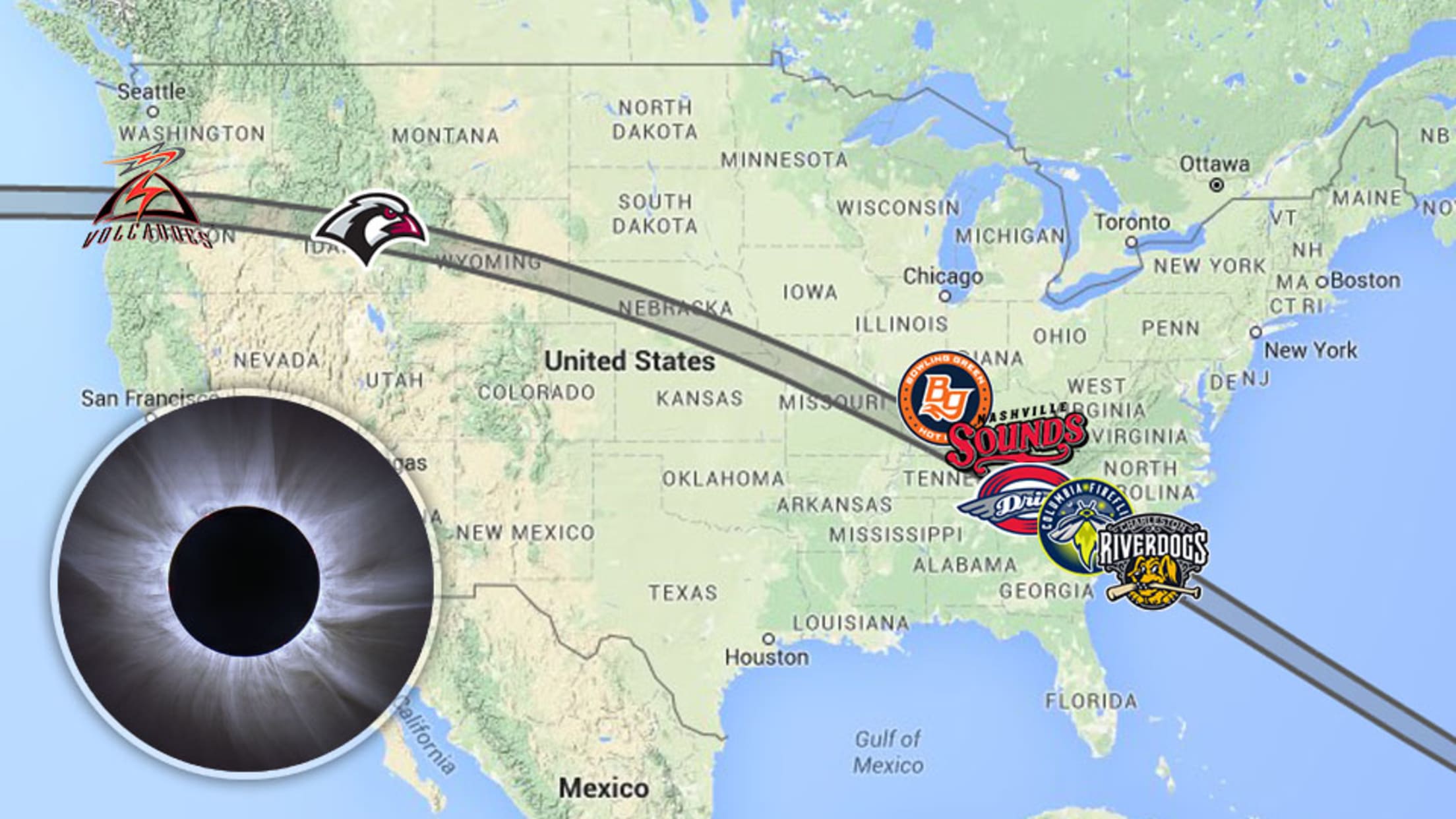 On Monday, all seven teams in the solar eclipse's "path of totality" are hosting ballpark events. (map image courtesy nationaleclipse.com)
On Monday, the United States will experience its first coast-to-coast total solar eclipse in 99 years. The ideal place to watch this phenomenon, in which the moon will obscure the sun and turn day into night, is from within the 67-mile-wide strip of near-total darkness known as the "path of
On Monday, the United States will experience its first coast-to-coast total solar eclipse in 99 years. The ideal place to watch this phenomenon, in which the moon will obscure the sun and turn day into night, is from within the 67-mile-wide strip of near-total darkness known as the "path of totality."
Seven Minor League teams are within the path of totality: the Salem-Keizer Volcanoes, Idaho Falls Chukars, Bowling Green Hot Rods, Nashville Sounds, Greenville Drive, Columbia Fireflies and Charleston RiverDogs. All of these teams are welcoming fans to the ballpark for eclipse-related festivities and, in some cases, prescheduled eclipse game delays. As the eclipse makes its 94-minute, approximately 1,500 mph southeasterly journey across the U.S., these ballparks will be ideal places from which to experience it.
The first Minor League team to fall within the path of totality, the Salem-Keizer Volcanoes, were also the first to announce an eclipse-related promotion. Noah Petro, a NASA research space scientist, will be there. He sees this confluence of baseball and astronomy as an ideal opportunity to educate the public.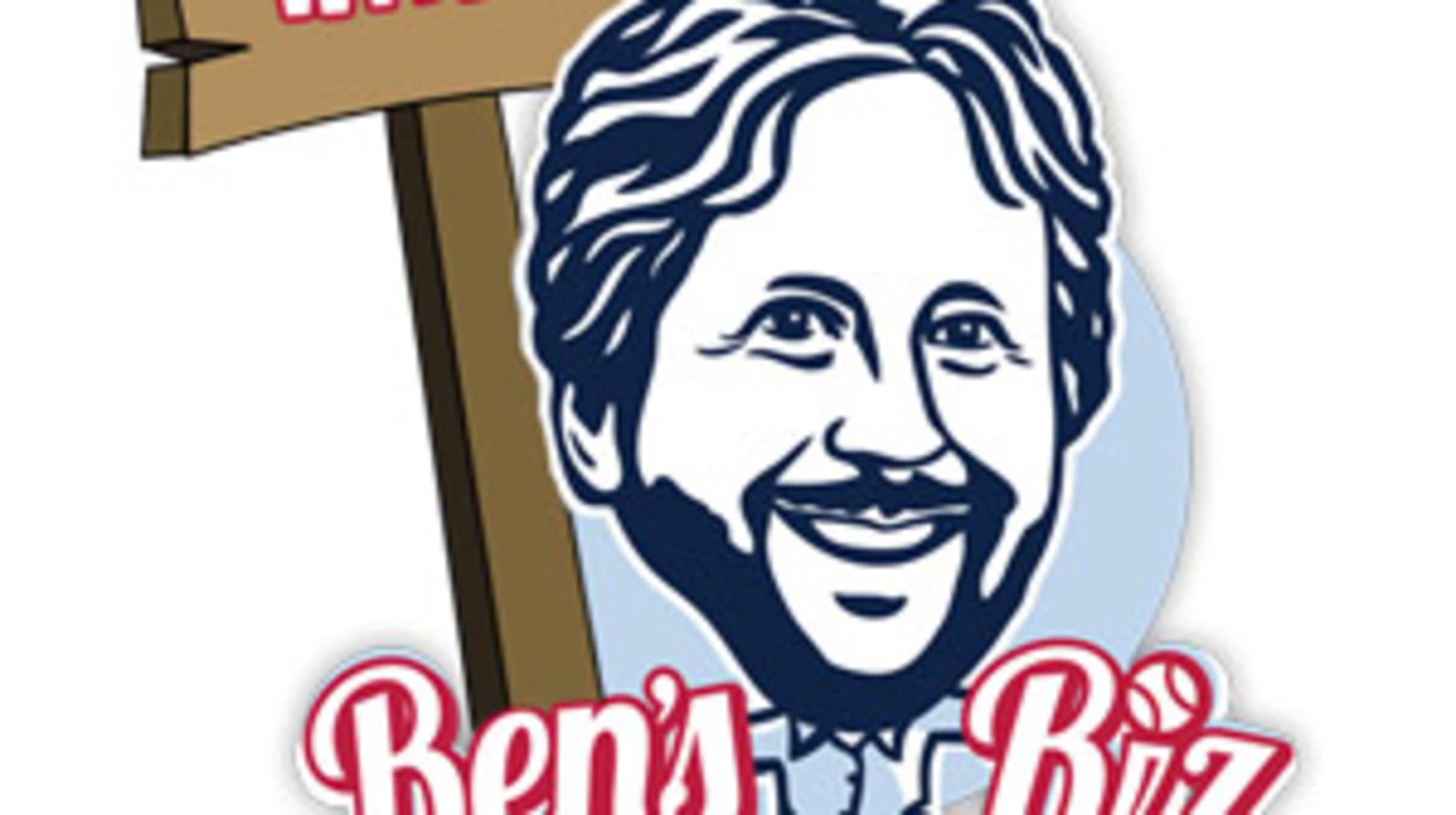 "We [at NASA] like to find ways to talk about the moon and publicize it in different ways," said Petro, a deputy project scientist for the Lunar Reconnaissance Orbiter Mission. "I'm a huge baseball fan, so I thought, 'Let me look at the path of totality and see where I want to go.' It passes very close to Kauffman Stadium in Kansas City and a mile south of Busch Stadium [in St. Louis]. But if you're in a baseball stadium, you want to be in the total path."
Enter Minor League Baseball.
"I went to each team [in the path of totality's] website and emailed them out of the blue. Having a NASA email address helped get their attention," said Petro. "I heard back almost immediately from [Volcanoes owner] Jerry Walker, who let us know how we might get involved."
Monday's Volcanoes game will begin at 9:35 a.m., with a built-in eclipse delay taking place approximately 40 minutes later. Petro will give educational presentations on the eclipse every half-hour between 6:30 a.m. and 9:00 a.m. He'll also throw out a "transcontinental first pitch," which will be delivered via video and "caught" in Charleston by a NASA colleague attending the RiverDogs game. Petro reports that there will also be NASA team members in Columbia and Idaho Falls as well, and the eclipse delay in Salem-Keizer will be streamed at eclipse.stream.live under the listing of "Lunar Reconnaissance Orbiter Team."
"Our main goal is not only to enjoy the eclipse, but to get the word out about the mission we have," he said. "We see it as an opportunity to educate and inform the public about what we do. We have a story to tell. We want to talk about the moon and the moon's role in the eclipse. But the most important thing is eclipse safety."
To that end, it is important to note that it is never OK to look directly at the sun, and that eclipse-viewing sunglasses are mandatory (NASA notes that ordinary sunglasses "transmit thousands of times too much sunlight.") As such, eclipse-viewing sunglasses will be distributed to fans attending each of the Minor League ballpark events. The only portion of the eclipse in which viewing glasses are not needed is during totality, when the moon completely blocks out the sun.
Petro, along with NASA colleagues, such as science educator Molly Wasser (who runs the organization's @NASAMoon Twitter account) see the coast-to-coast solar eclipse as the beginning of a hopefully fruitful relationship with Minor League Baseball teams nationwide.
"It's a singular event on Aug. 21, but any baseball team could have a 'Space Night,' a 'Moon Night,' whatever," said Petro. "We [at NASA] can go to science museums and people who are already interested will come. But with Minor League Baseball you're talking with people who may not necessarily go to a science museum. We're reaching out to people not in our traditional audience."
And while Monday's stadium events are strictly Minor League, Petro is eyeing an eventual callup to the Majors.
"The next [total solar] eclipse is in 2024," he said. "I've already looked at the path of totality, and will be reaching out to the Cleveland Indians and the Texas Rangers."
On the right path
Seven Minor League teams in the path of totality are hosting eclipse-related events Monday, beginning with the Salem-Keizer Volcanoes and ending with the Charleston RiverDogs. Here is what those seven teams have planned (information regarding time and duration of totality provided by nationaleclipse.com.)
Salem-Keizer Volcanoes
Game time: 9:35 a.m.
Totality begins: 10:17 a.m,: one minute and 54 seconds duration
The Volcanoes' Monday morning ballgame is the culmination of a four-day "EclipseFest," the first three days of which overlapped with a ballpark "BrewFest." Gates open at 5 a.m., with NASA's Noah Petro giving educational presentations at half-hour intervals between 6:30 a.m. and 9 a.m. Petro will then officiate the built-in eclipse delay, occurring shortly after the game begins. Volcanoes players, meanwhile, take the field in eclipse-themed jerseys.
Tweet from @SKVolcanoes: 1week from the 1st ever Pro Baseball #Eclipse Delay! Join #NASA and Sports Illustrated at Volcanoes Stadium for a once in a life time event! pic.twitter.com/TiMUYoPVup
Idaho Falls Chukars
Totality begins: 11:33 a.m.; one minute and 48 seconds duration
The Chukars are the only team in the path of totality not to have a home game Monday. However, Melaleuca Field will still be open to fans, beginning at 8:30 a.m. Highlights include a 40-minute presentation by astronaut Alvin Drew, as well as a scientific panel discussion during the eclipse's 75-minute partial phase.
Bowling Green Hot Rods
Game time: 10:35 a.m.
Totality begins: 1:27 p.m; 55 seconds duration
The Hot Rods and the opposing West Michigan Whitecaps will wear eclipse-themed jerseys, with the Hot Rods representing the moon and the Whitecaps representing the sun. Totality occurs some two hours and 52 minutes after the game begins; if the game has not been completed then it will be delayed.
Tweet from @BGHotRods: The Hot Rods and Whitecaps Solar Eclipse jerseys will be up for auction beginning 8/18 on @DASHauction Details: https://t.co/Y7tApxZvdJ pic.twitter.com/YQYwnPKhfM
Nashville Sounds
Totality begins: 1:27 p.m.; one minute and 57 seconds duration
Game time: 4:05 p.m.
Nashville is the largest city within the path of totality, and the Sounds (in conjunction with the mayor's office) are hosting a viewing party at First Tennessee Park. At 2 p.m., approximately half an hour after the eclipse's conclusion, the ballpark will be cleared. One hour later, gates open for a 4:05 Sounds game against the Iowa Cubs.
Greenville Drive
Game Time: 1:05 p.m.
Totality begins: 2:38 p.m.; two minute and 10 seconds duration
Late last month, the Drive announced that they were moving Monday's scheduled night game against West Virginia to a 1:05 p.m. start. The game will go into a delay approximately 90 minutes after it begins, when totality occurs. No guests from the scientific community have been announced, but a local news meteorologist will be there to provide information throughout the day.
Columbia Fireflies
Game time: 1:05 p.m.
Totality begins: 2:41 p.m; two minute and 30 seconds duration
For their "Total Eclipse of the Park," the Fireflies will take the field in black jerseys featuring glow-in-the-dark elements on both the front and back. Gates open at 10:00 a.m. for a science-themed iMAGINE STEM Festival, which will run until the game begins some three hours later. The totality will mark the longest period of darkness at a Minor League ballpark.
Tweet from @ColaFireflies: Total Eclipse of the Park on August 21! Everything you need to know here: https://t.co/0KdCQ4DYDC#LetsGlow pic.twitter.com/SpBlKW6DPg
Charleston RiverDogs
Totality begins: 2:46 p.m.; one minute and 31 seconds duration
Game time: 4:05 p.m.
Like the Sounds, the RiverDogs are hosting an eclipse viewing party prior to their ballgame. A weather balloon will be launched from the stands at 1:15, and representatives from the NASA Goddard Space Flight Center will be in attendance to educate fans. The RiverDogs' game begins at 4:05, approximately 80 minutes after totality, with the team taking the field in black eclipse jerseys.