Jay ready to rock in relief role with Sags
Twins No. 8 prospect feeling healthy in return to bullpen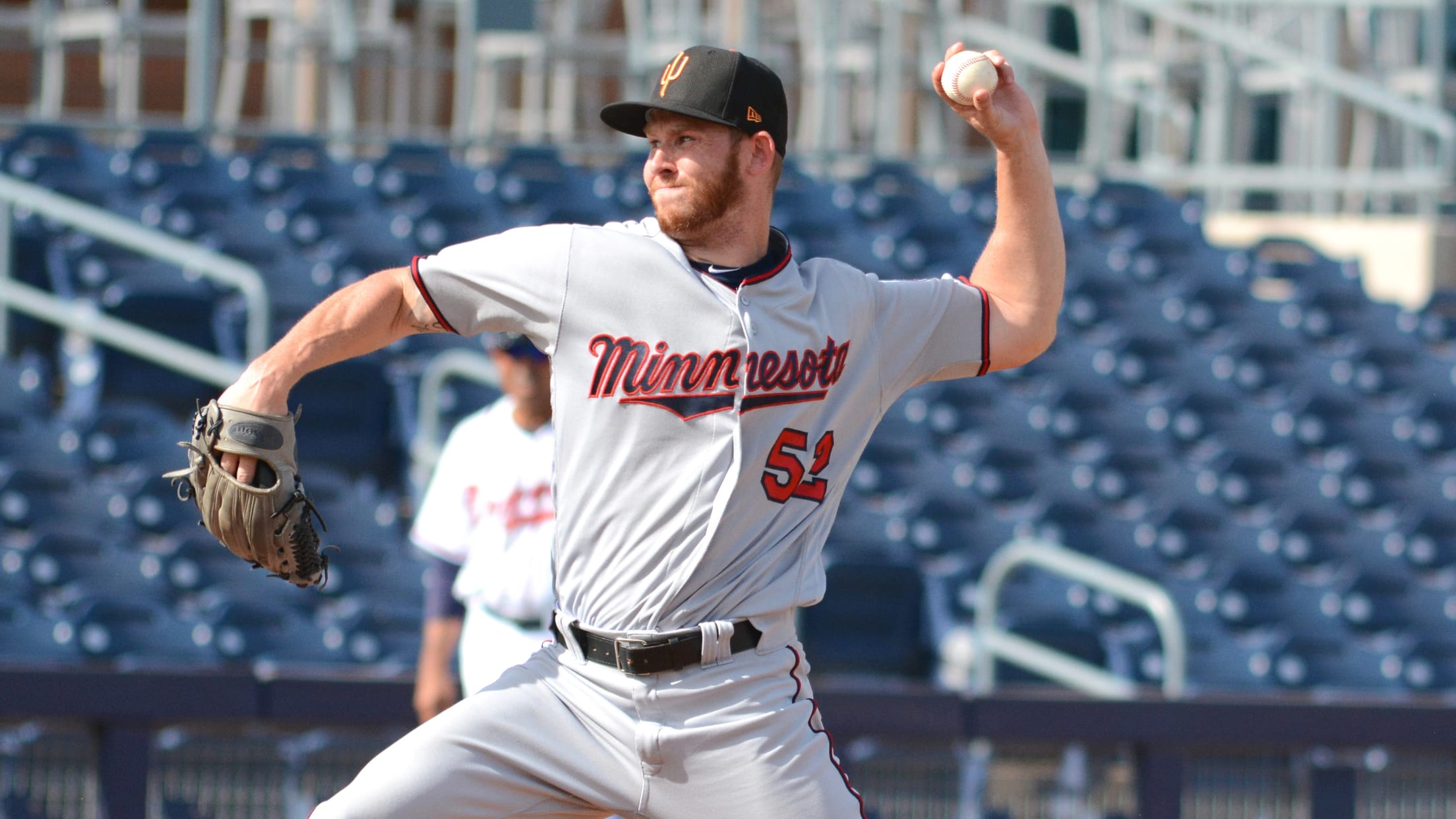 Tyler Jay was named 2015 Big Ten Conference Pitcher of the Year at the University of Illinois. (Buck Davidson/MLB.com)
Bullpens are having a moment. For Tyler Jay, the timing couldn't be better.The Twins' eighth-ranked prospect is back in the bullpen and finally feeling healthy after injuries cost him nearly all of the 2017 season. Needing to make up for lost time, the Twins sent Jay, the sixth overall pick in the
Bullpens are having a moment. For Tyler Jay, the timing couldn't be better.
The Twins' eighth-ranked prospect is back in the bullpen and finally feeling healthy after injuries cost him nearly all of the 2017 season. Needing to make up for lost time, the Twins sent Jay, the sixth overall pick in the 2015 Draft, to the Arizona Fall League to get as much work in before the calendar flips to 2018.
"I just want to be myself and get back to normal in terms of my arm, my health, my pitching and my stuff. I want to get back into the swing of things and get used to that instead of what was going on before," Jay said. "I didn't throw much this year, so it's nice to be down here. It's just been an overall good time so far.
"For these games, you try to be as close as you can to what you'd be doing in a regular-season game. But my pitches, with the amount of innings that I've had this year, aren't where I want them to be. But it's getting better every day with the location and stuff like that getting back to where I usually am, but I'm just taking it day by day."
It's been a long road for Jay to get to this point. The 23-year-old left-hander looked like he was on the fast track in 2016, when he was dominating the Florida State League in his first season as a starting pitcher.
Jay served as the closer at the University of Illinois and, after being drafted, was sent straight to Class A Advanced Fort Myers, where he impressed in 19 appearances out of the bullpen.
At 6-foot-1 and 185 pounds, he doesn't have the trademark frame of a fireballer, but the 23-year-old can dial up his fastball near triple digits and has an impressive slider that serves as his best out pitch. He also can mix in a curveball and changeup, giving him the four-pitch mix that every pitcher needs if he wants to make it as a Major League starter.
With an arsenal like that, it was no wonder Minnesota wanted to see Jay work as a starter. And things began rather swimmingly for the Illinois native. He posted a 2.84 ERA and 1.22 WHIP over 69 2/3 innings with the Miracle, earning a promotion to Double-A Chattanooga in July 2016.
After making two starts for the Lookouts, Jay returned to the bullpen and appeared in three games before a neck injury ended his season early. He opened this season on the disabled list with biceps tendinitis and a shoulder impingement before making in debut on May 25. But it was clear something was still off and Jay was shut down after throwing only two innings for Chattanooga.
At first, the symptoms painted a bleak picture. His symptoms checked all the boxes for thoracic outlet syndrome (TOS), the same injury that affected right-handers Matt Harvey of the Mets and Phil Hughes of the Twins. However, Jay got good news after undergoing a series of tests.
"I ended up not having TOS, it ended up being more about my mechanics," Jay said. "My mechanics were causing the pain that would resemble the symptoms of TOS. Going through with all those tests and knowing that there's nothing wrong puts you at ease and, honestly, it's just nice to go out there and play again."
Known for having a funky delivery, the southpaw tried to clean up his motion when he transitioned from reliever to starter. That didn't end up working out as planned for Jay, who's put the quirk back in his windup.
"My delivery is back to where it was before," he said. "When you're starting, you need to prepare for six, seven innings, and I got away from myself a little bit. I feel like if I were to get back to my old delivery as a starter I'd be fine, I just got a little off track."
In addition to some unclean mechanics, Jay also put on nearly 20 pounds prior to this year and, even though he knew he'd need to bulk up, he felt carrying that extra weight contributed to his rough season.
"It's just an overall adjustment, getting older and putting on that weight," Jay said. "So it's just an adjustment knowing this is what I've got now, trying to get back to where I was. Obviously, I was a little bit lighter, but the weight was something I needed, so it's nice to know I can build off of this now."
While sidelined, Jay did his best to stay patient and use the layoff for benefits down the road.
"It's hard when you're really competitive and you just want to be a part of things," he said. "But you do learn a lot about yourself, your arm and your body in general, so I think one day it'll be something I can use to my benefit going forward. I learned throughout this whole process that I can't get too ahead of myself. When you get hurt, you start thinking about what you can do or thinking about where you'll be in a few months, but you can't do that. I've just gone day by day and it's helped me in everyday life as well, not just in baseball."
When Jay found out he didn't need shoulder surgery, he set a goal of getting back on the mound before the end of the season. He did just that, making six relief appearances -- three in the Rookie-level Gulf Coast League and three with Fort Myers. He was assigned to Surprise, where he has a 3.86 ERA and seven strikeouts over 5 2/3 innings. Jay hasn't allowed a run in four of his five Fall League appearances.
Pitching in relief has never bothered the 2015 Big Ten Conference Pitcher of the Year and with the way bullpens are valued these days, it shouldn't. Baseball has seen a shift in how relievers are deployed -- especially in the postseason -- and front offices, managers and fans are taking notice.
"It's something you could just see coming," Jay said. "Obviously, during the season you want to see your starters eat as many innings as possible and then all of a sudden you're seeing guys coming in in the fourth, fifth or sixth inning. But for me, I just take whatever role I'm handed and do the best I can to do whatever I'm asked to do. That's the best way to go about it because if you get too attached to one role and get asked to do something else one day you don't want to be out of sync. You need to have the mindset from the start of the game to the finish that anyone can go."
And while this seems like a golden age for relievers, players know that a lefty specialist is just as important to a team's success as a left-handed slugger, Jay said.
"Among the media, there may be more recognition for the bullpen now, but I feel like within the team there isn't a gap where you don't feel like you're valuable in any way," he said. "It's more of a perception thing; other people are starting to notice us more in the bullpen and realize, 'Hey, someone has to start, but someone else is going to need to finish this game.'"
Michael Leboff is a contributor to MiLB.com.