Prospect Roundup: Games of April 8
Cards' Flaherty shows MLB readiness; Matias keeps power on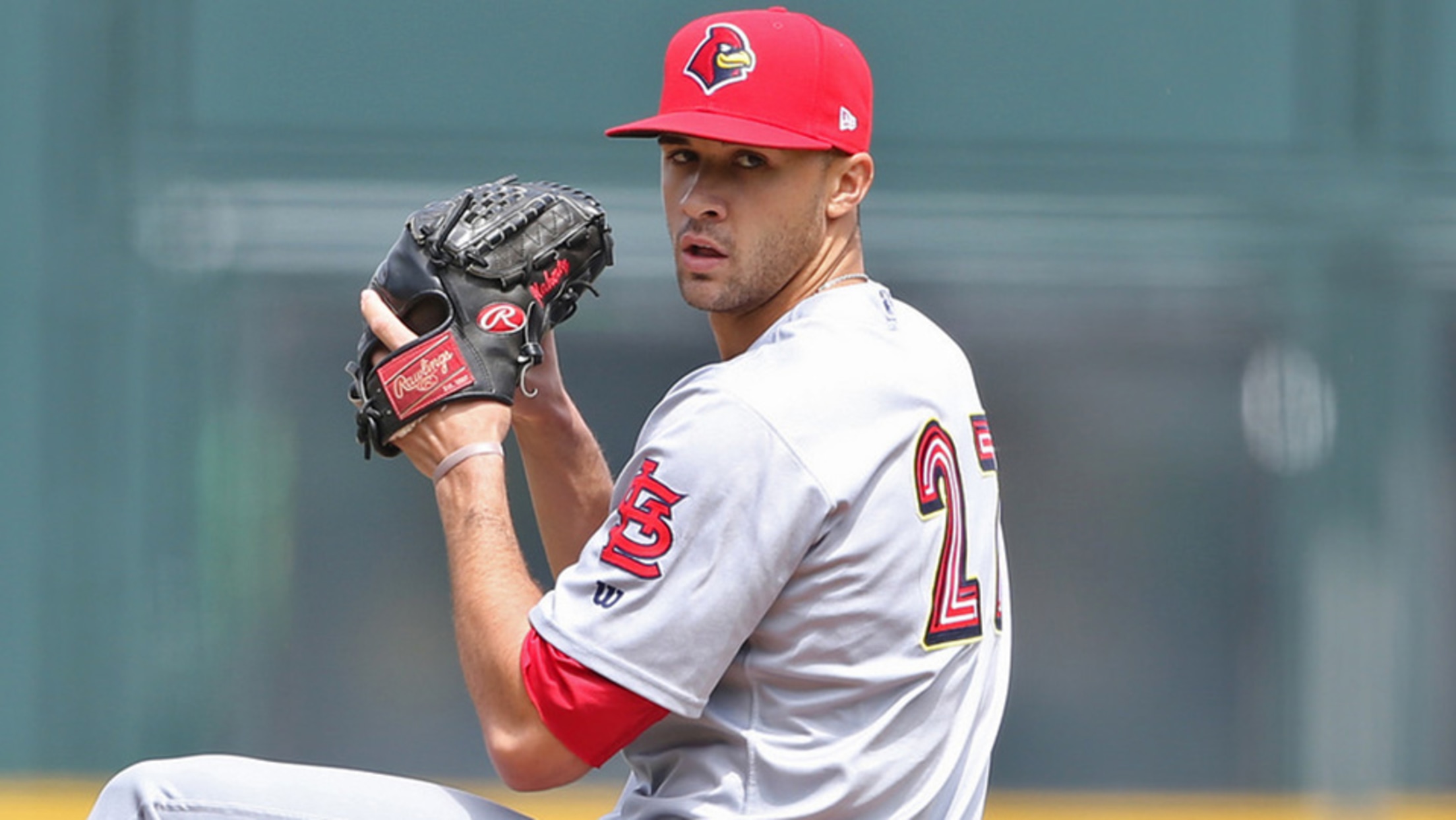 Jack Flaherty has posted a career 2.63 ERA over 92 1/3 innings at the Triple-A level. (Jamie Harms/MiLB.com)
Theme of the dayNice to see you again: Top-100 prospectsGleyber Torres (Scranton/Wilkes-Barre), Mitch Keller (Altoona), Juan Soto (Hagerstown) and Fernando Tatis Jr. (San Antonio) are all back where they ended the 2017 season, and all four showed they're capable of taking off. Torres collected four hits for the first time since
Theme of the day
Nice to see you again:
Top-100 prospects
Gleyber Torres
(Scranton/Wilkes-Barre),
Mitch Keller
(Altoona),
Juan Soto
(Hagerstown) and
Fernando Tatis Jr.
(San Antonio) are all back where they ended the 2017 season, and all four showed they're capable of taking off.
Torres collected four hits
for the first time since 2016.
Keller struck out eight
over six scoreless innings in his 2018 debut.
Soto flirted with the cycle
and finished 4-for-5 with a homer, a double and a stolen base. Tatis broke an 0-for-12 season-opening streak
to go 3-for-5.
Torres, Keller and Soto are back with their old teams because of injury concerns last season and could move up quickly should Sunday's form continue.
Who stayed hot
Royals OF Seuly Matias, Class A Lexington: 2-for-7, HR, 3B, 3 RBI, R, 4 K in doubleheader --
The Royals' No. 3 prospect homered twice in his season debut last Thursday and has kept the power on ever since. He has at least one extra-base hit in each of his first four games, and with his long ball in the first game of Sunday's twinbill, he's now tied with
Tyler O'Neill
for the Minor League lead with four homers. His career high is eight, achieved over 46 games in the Arizona League in 2016.
Who needed this one
Phillies 2B Daniel Brito, Class A Lakewood: 2-for-3, HR, 3B, RBI, 2 R --
The Phillies' No. 13 prospect is repeating the South Atlantic League after hitting .239/.298/.318 there last season as a 19-year-old, and he got off to a rough 0-for-8 start with four strikeouts in his first two games. Sunday was a much better showing for the BlueClaws slugger, who has the potential to be an above-average hitter. There were only two games last season in which Brito collected multiple extra-base hits, so he's already halfway there in the first week.
The unexpected
Cardinals Randy Arozarena, Triple-A Memphis: 1-for-2, R, 3 BB, 3 SB --
No one doubts that the No. 11 St. Louis prospect is a plus runner, but the 23-year-old outfielder hasn't posted eye-popping stolen base numbers since signing out of Cuba in July 2016. Arozarena swiped 18 bags between Class A Advanced and Double-A last season and went 7-for-14 on the basepaths in the Mexican Winter League. His three thefts Sunday represented a new career high and could be a signal he's willing to get more aggressive as he tries to stand out from an outfield prospect pack that includes O'Neill and
Harrison Bader
. That all three stolen bases came off veteran Major League catcher
Cameron Rupp
is a bonus.
Best matchup
Keston Hiura vs. Dylan Cease:
MLB.com's No. 56 and 61 overall prospects, respectively, squared off in the first game of a doubleheader between Carolina and Winston-Salem on Sunday, with Cease seemingly getting the upper hand. The fire-balling White Sox prospect got Hiura to ground out to third in the first inning and line out to third in the fourth. It wasn't a complete victory, however, with the right-hander plunking the plus-hitting infielder with the bases loaded in the fifth. It shouldn't be long before these two see each other again -- the Mudcats and Dash begin another four-game series, this time in Winston-Salem, on Thursday.
Who strengthened their promotion case
Cardinals RHP Jack Flaherty, Triple-A Memphis: 7 IP, 5 H, 1 R, 1 ER, 0 BB, 11 K, 103 pitches, 72 strikes --
The Cardinals' No. 2 prospect struck out nine and allowed one run in five innings in a Major League start on April 3 but was reassigned to Triple-A when
Adam Wainwright
returned from the disabled list. He pitched Sunday like a hurler whom the Cards should make room for -- and soon. Flaherty's 11 strikeouts were the most he's accrued in any of his 16 Pacific Coast League starts, and he finished strong with only one baserunner allowed over the final four innings. There's no doubt that the 22-year-old right-hander is the next man up when St. Louis needs a starter.
Others of note
Indians OF Will Benson, Class A Lake County: 2-for-3, HR, 2 RBI, 2 R, 2 BB, K --
The 2016 first-rounder looked raw but powerful in short-seaosn ball last season, and his homer, combined with the two walks, show promise.
D-backs RHP Brian Shaffer, Class A Kane County: 4 2/3 IP, 2 H, 0 R, 2 BB, 9 K, 85 pitches, 56 strikes --
The D-backs' No. 24 prospect, who was known for his slider at the University of Maryland, got his first full season off to a strong start by striking out nine of the 18 Clinton batters he faced.
Royals RHP Gerson Garabito, Class A Advanced Wilmington: 6 IP, 1 H, 0 R, 2 BB, 9 K --
The Royals' No. 28 prospect matched a career high with nine punchouts -- the first time he's hit that mark stateside. His previous nine-K game came on June 7, 2014 in the Dominican Summer League.
Mets LHP P.J. Conlon, Triple-A Las Vegas: 6 IP, 4 H, 1 R, 1 ER, 1 BB, 9 K, 86 pitches, 55 strikes --
New York's No. 24 prospect, who has plus control and an impressive changeup, notched his first nine-strikeout game since May 6 of last year..
Sam Dykstra is a reporter for MiLB.com. Follow and interact with him on Twitter, @SamDykstraMiLB.