Nationals' Glover closing in on big role
Relief prospect surrounded by closer talk after quick ascent in 2016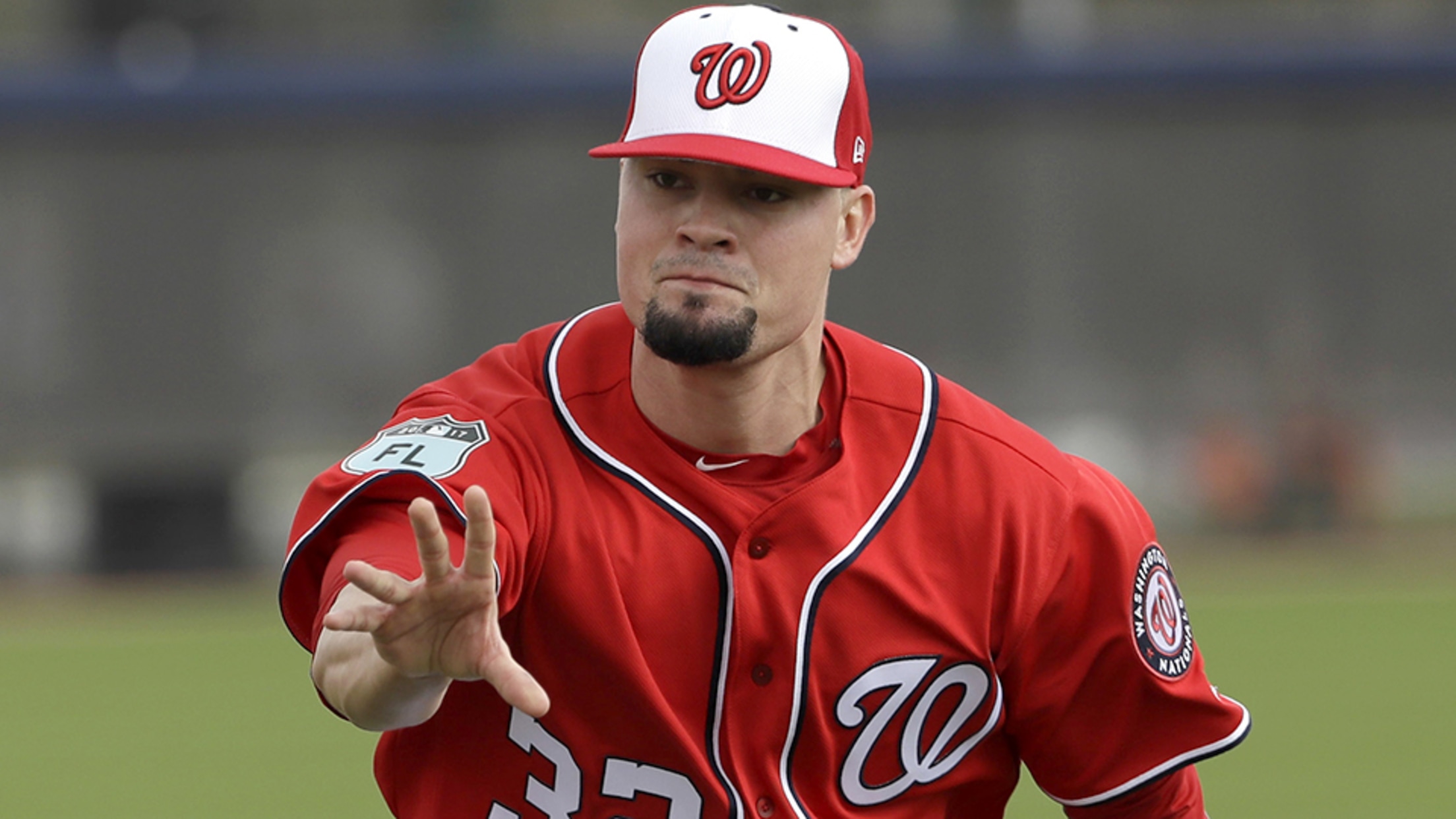 Koda Glover has averaged 10.9 strikeouts per nine innings in 59 appearances in the Minor Leagues. (David J. Phillip/AP)
WEST PALM BEACH -- Do a search on Twitter for "Koda Glover." Then, do another search on the same site for "Koda Glover closer." You're going to find a lot of overlap between the two results. The reason? Nationals fans can't seem to get enough of the idea that their
WEST PALM BEACH -- Do a search on Twitter for "Koda Glover." Then, do another search on the same site for "Koda Glover closer." You're going to find a lot of overlap between the two results. The reason? Nationals fans can't seem to get enough of the idea that their favorite organization's No. 7 prospect could be the team's most important reliever. The fact that Glover has struck out eight and allowed just one hit and one walk over five scoreless innings this spring has only generated more accolades.
It's normal to get excited about prospects, but not too often do fanbases get excited about relief pitcher prospects. It's especially curious to think that a reliever with prospect eligibility should be given a Major League bullpen's biggest role.
The Nationals have an atypical closer situation, however, since Mark Melancon departed for the Giants in free agency and trade attempts this offseason proved fruitless. Glover is in competition with Shawn Kelley, Blake Treinen, Sammy Solís and 42-year-old non-roster invite Joe Nathan for the job.
With a four-pitch mix that features two plus offerings (fastball and slider) and a performance that allowed him to play at four professional levels (including the Majors) last year in his first full season, Glover isn't a typical relief prospect.
"It's pretty rare to say you're going to develop just a reliever," said Nationals director of player development Mark Scialabba. "We've usually taken the role if it's a top prospect or someone you feel has Major League potential, you try to start him. With this case, because of what he was immediately after the Draft in our instructional league and his first year into his first full season, we felt that we want to make him a priority reliever."
<jsp:include page="/milb/include/spring_2017.html">
The Nationals first picked up the 23-year-old right-hander in the eighth round of the 2015 Draft out of Oklahoma State, where he posted a 1.90 ERA with 28 strikeouts and seven walks in 23 2/3 innings that spring. Having been a starter at Eastern Oklahoma State College (the same junior college Rockies pitcher Jon Gray played at before starring at the University of Oklahoma), Glover was asked to move to the bullpen in his one season with the Cowboys. Glover found that he thrived in the new role.
"I think college prepared me a lot," Glover said. "I was with Josh Holliday, Matt Holliday's older brother. He's a great guy, great coach. He's very intelligent when it comes to baseball. He readied me for a lot of this. But you've also got experience it for yourself, and that's part of the process."
The 6-foot-5 right-hander showed how advanced he was in the pros with a 1.80 ERA, 38 strikeouts and only two walks in 30 innings between Class A Hagerstown and Class A Short Season Auburn that first summer.
Following a trip to the instructional league, it was clear that Glover had the stuff to move quickly, should the Nats decide to keep him in the bullpen, but Washington still wanted to see him clear individual hurdles and assigned him to Class A Advanced Potomac to begin 2016. By the end of the first month, he was with Double-A Harrisburg. On June 20, he was with Triple-A Syracuse. On July 20, he was making his Major League debut.

All told, Glover posted a 2.25 ERA and 0.95 WHIP with 66 strikeouts and 14 walks in his 56 innings in the Minors before sticking in the Majors for good in mid-August. He showed a fastball that usually sits in the mid-90's -- his Major League average was 96.8 -- but can reach higher in a pinch and a 90 mph slider that MLB.com gave a 60 grade on the 20-80 scouting scale. His curveball and changeup came in below-average with 40's, but they are used sparingly to give batters other looks.
It wasn't just the dominant nature of Glover's run that helped fuel his path to the Majors; it was the manner in which the Nationals used him at each level. While a team's most dominant reliever is typically saved for the ninth inning, that methodology was challenged in last year's Major League postseason with pitchers like Andrew Miller and Aroldis Chapman coming in as early as the fifth. Even before then, the Nats didn't want a pitcher like Glover, who had the stuff to be his team's closer, sticking to one specific frame every outing.
"We want to make him pitch multiple innings," Scialabba said. "That's important. We wanted to make sure we maximize the reps. Because not only are we developing a pitcher, but we want to make sure he can field the position. Making sure he has all the fundamentals to being a pitcher is very important to the development process because you don't want him learning that at the Major League level. You want that mastered as best you can at the Minor League level. With one-inning stints in a closing situation, maybe you're not getting that type of exposure."
As a result of that strategy, Glover pitched all over the spectrum during his time in the Minors. Twenty of his 40 outings lasted one inning or longer. Of his 56 total frames, 1/3 came in the fifth, three in the sixth, 10 in the seventh, 17 2/3 in the eighth, 23 in the ninth and two in extra innings. Glover was more than happy to go along with the plan.
"I don't care," he said when asked about when he pitches. "I honestly do not care. Whatever they want me to do, that's what I'll do. I'm just glad to be here. I'm a competitor. At the end of the day, whether it's the second or the ninth inning, I'm going to compete."
Glover needed that mentality in the Majors, where he was used in numerous ways by Nationals manager Dusty Baker as Washington worked toward a National League East division title. Glover owned a 2.63 ERA with 13 strikeouts in 13 2/3 innings through his first 12 appearances, but saw disastrous results over his final seven games, during which he posted a 10.50 ERA with as many strikeouts as home runs allowed (three) in six frames. It was later revealed that he was pitching through a torn labrum in his hip.
Though he followed a path most first full-season players dream of, Glover admitted it's still difficult to reflect positively on a season that ended so poorly.
"I didn't really have a plan," Glover said. "I was just playing and trying to compete every day. But the way it went, it was a lot of fun. I'm glad I got here as fast as I did, but that said, once I got here I had a little bit of success and a couple of speed bumps. Got hit around. Got hurt. That's what I'm trying to do better this year is staying healthy and better overcoming the obstacles that I face.
"It fueled [my offseason]. That's where I'm at right now. I've got a little chip on my shoulder. I'm not happy about last year. That's the fuel to my fire."
Spending his first Major League Spring Training as a member of the 40-man rather than seeing the clubhouse as a non-roster invite first, Glover has tried to make the most of his time rubbing elbows with the likes of Max Scherzer, Stephen Strasburg and fellow reliever Kelley. Playing catch with Scherzer has proven particularly educational, though he wouldn't elaborate. ("I mean, I can't tell everything, man," he said.) With his health restored, his Grapefruit League appearances have been strong.
Regarding the closer competition, Glover made it clear he doesn't need the ninth inning to himself to feel of value to his team.
"You're going to pitch to the odds," he said. "There's so much that goes into baseball. You've got left-on-left matchups, stuff like that. It's all a matchups game. I feel like Dusty is very intelligent when it comes to that. He knows things like that. He's been around it forever. They're going to come up with different situations. They're going to throw different guys in different situations. I was a part of that [last season]. I was a part of some intense innings, and I loved every minute of it."
Whether he's the closer of the future, the closer of the present or just a plain quality reliever, the Nationals are pleased with how quickly Glover has come along in his development and are happy to leave the debate to Twitter.
"You have to have a certain type of makeup to pitch at the back end of a ballgame, and he certainly has that," Scialabba said. "He's a competitive man. He's a bulldog. He's not going to be afraid. He's going to pitch inside. He's going to attack hitters with everything he's got and leave it all out there. He's certainly not afraid no matter who he's facing. He continues to make adjustments, and we're excited about his future."
Sam Dykstra is a reporter for MiLB.com. Follow and interact with him on Twitter, @SamDykstraMiLB.