Inaugural Pride Night is a hit for Storm
Lake Elsinore emphasizes love and acceptance in colorful event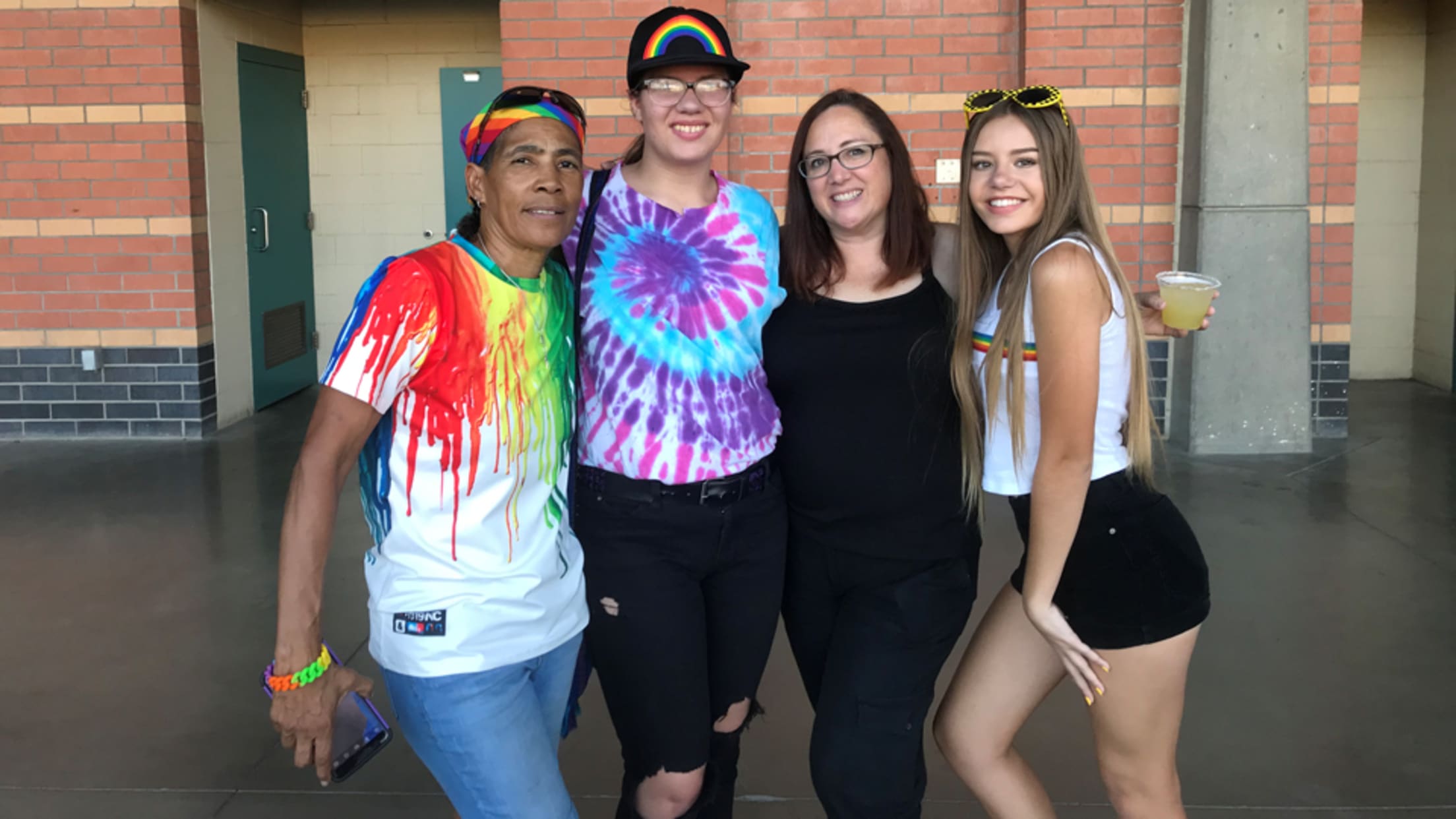 Mickie Wilson (l) heard about the Storm's event through Temecula Valley Pride and met up with friends from church at the game.
LAKE ELSINORE, California -- When Colton Hogue took a job in concession and ticket sales with the Storm four years ago, The Diamond seemed like a decent place to earn a paycheck, but not much else."When I first started here, I was going by the name of Cameron. It was
LAKE ELSINORE, California -- When Colton Hogue took a job in concession and ticket sales with the Storm four years ago, The Diamond seemed like a decent place to earn a paycheck, but not much else.
"When I first started here, I was going by the name of Cameron. It was my given name. Generally, I didn't talk very much about my personal life," Hogue said. "I was like, 'I'm here to work.' After the first season, I came out as transgendered and changed my name to Colton."
It was then that Hogue's coworkers started to become his friends, and the ballpark in Lake Elsinore become more than a place to clock in and clock out.
"It was refreshing to be able to be in this environment and have so much support from the workplace," said Hogue, now the club's assistant box office manager. "Instead of just a professional relationship, it became more of a personal relationship, because I got to explain things to [other Storm employees]. I got to answer questions. It was a very open, welcoming environment to be in."
Fittingly, on Tuesday when the Padres' Class A Advanced affiliate held its first annual Pride Night -- a promotion intended to foster love and acceptance through the celebration of the local LGBTQA community -- Hogue was named the official spokesperson.

Making a statement
In holding a Pride Night, the Storm are among a wave of Minor League teams to actively embrace a group of people that has been under-represented and, in some ways, feel unwelcome in the world of sports. Another California League team, the Modesto Nuts, held a Pride Night last season, and MiLB.com's Ben Hill estimates that between a dozen and two dozen teams across the Minors have held similar events at some point, with the Midwest League's Lake County Captains starting one
six years ago
.
Join us Tuesday, June 26th for our inaugural Pride Night #Storm #EyesOn25 #Pride #Pride2018 pic.twitter.com/O7ayX66Oqn

— Lake Elsinore Storm (@Storm_Baseball) June 21, 2018
"We just think it's time that we step forward and make a statement, say, 'Hey, come on out. We accept everybody. We accept the LGBT-Plus community,'" Storm general manager Raj Narayanan said. "We wanted to make sure we did it and kicked it off this year, but go bigger next year with more time and more planning and see what we can learn [from this year], because part of it is going to be learning what's important for the community [in order] to show true support."
With that approach, the team focused on bringing in Temecula Valley Pride -- a local LGBT-Plus organization -- for outreach and fundraising purposes. The club limited in-game promos to a between-inning video compilation of LGBT athletes discussing their experiences.
"We talked to other teams that have done it to learn [about] events and things they did, and most of them said, 'We didn't do anything special,'" Narayanan explained. "I said, 'That's fine.' ... We don't want to change the game, but as we talk to the [LGBT-Plus] organizations that are out there and as we continue to learn, we might add some elements to truly celebrate it going forward."

Welcoming the community
In whatever ways the event evolves and grows in future years, Temecula Valley Pride executive director Jaimee Flores considered the inaugural Pride Night at The Diamond a big hit.
"Are you kidding? It's great They've been making announcements, and we feel like ... everybody who's walked by has been like, 'Hey, thanks for being here! It's nice to have you guys here,'" Flores said. "It's much different than the atmosphere I grew up in, and they have gone above and beyond to make us comfortable, to make us feel accepted, to provide what everyone needed in order to be here successfully, so we really appreciate that."
Flores and Temecula Valley Pride volunteers had a table on the main concourse, where they sold pride flags, shirts, hats and other items. Proceeds from those sales and from tickets the group sold in cooperation with the Storm will go toward beginning an annual pride event in Temecula -- a picnic this Oct. 27 and perhaps a festival next year and a parade in future years.
"Originally, we just bought tickets as part of our fundraising, and we were able to sell all of our tickets, and then they offered us an opportunity to table and sell some flags. We thought that was just great, to come out and be visible, because ours is a fledgling organization," Flores said. "We're trying to promote it and get it to grow."
The Storm found Temecula Valley Pride through the efforts of tickets operation coordinator and box office manager Luke Wedgewood, who first voiced the idea of holding a Pride Night at a promo brainstorming meeting during the offseason. He got that idea from his fiancée, Kaiti Farrar.
"I was talking to my fiancée about what promos we could do," he said. "She mentioned a Pride Night. That's kind of where I started thinking about it, and then I brought it to everybody here and everyone was on board and supportive, so it took off from there."
Narayanan was excited to see the entire staff quickly get behind the idea, which he saw as "overdue." Wedgewood went to work on finding an organization that the promotion could help in some way. He connected with Temecula Valley Pride via Facebook.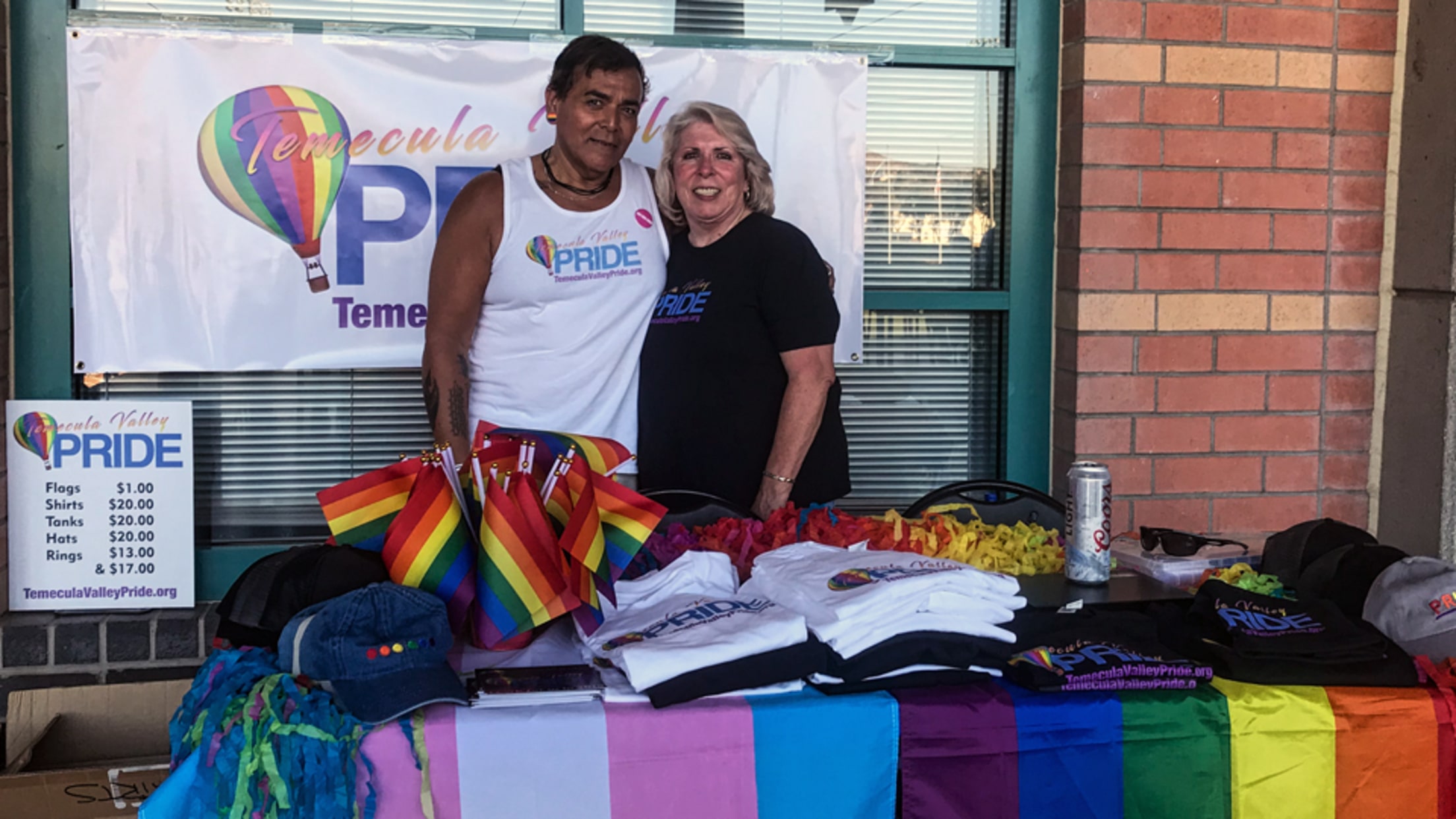 Temecula Valley Pride executive director Jaimee Flores (l) was excited to be a part of Pride Night.
"At first ... they were unsure of us and I didn't know anything about [the community], but as we've gotten closer and closer, they've gotten more and more excited, and they're very excited for the future," Wedgewood said. "The more I talked to them, the more they realized we're just here to help them spread their word and help their organization. They've been excellent to work with. We'll hopefully find more organizations like them."
Farrar was thrilled to watch her suggestion develop into something the Storm plan on making a meaningful event for years to come.
"I was thinking about all the Major League Baseball teams that have a Pride Night, and I was talking to my sister who lives in Denver and she [mentioned] going to the one at Coors Field," Farrar said. "I was like, 'Why don't the Storm do that?' I thought it would be a great way to include part of the community. Seeing it grow into something that is definitely bigger than I thought it was going to be is really cool."

Spreading love
The front office knew that not every member of their fan base would share that positive opinion of the event, but Narayanan never wavered in his conviction that making a special point of welcoming the LGBT-Plus community to the park was the right thing to do. He didn't worry about negative reactions.
"We discussed it two weeks ago, but ultimately we just said, 'Hey, it doesn't matter. Our job is to support the community, and our job is to let everyone know that we as an organization are an organization of acceptance and love and hope,'" he said. "That's really what this whole night represents, for me anyway.
"I think it's an important night for us. I think this runs all the way up the organization. One of our owners has a son who's gay and one of our owners has a daughter who's transitioning into a man, so this is genuinely who we are, and we want to let people know. This is an open forum for everyone."
One fan called the Storm office nine times over the course of the day to voice her disapproval to Narayanan.
"I've gotten some phone calls and some complaints about it. That's fine. I'll deal with every single phone call and complaint," he said. "There was actually zero doubt in anyone's mind on the staff that we were going to do this. Baseball is for everyone. This whole world is for everyone. We have to start looking at it that way. To truly continue to evolve as human beings, that's what we have to do. So if you don't support it, great, don't be here tonight. For those who want to support it, please come out, because that community deserves support."
🏳️‍🌈🏳️‍🌈🏳️‍🌈🏳️‍🌈 pic.twitter.com/aWiqUlRQHx

— Thunder ⚾ (@ThundertheDog) June 27, 2018
He did speak with the fan who repeatedly called but couldn't do much beyond articulating why he felt the event was important, and hope that fans who refused to attend this year's Pride Night might have a different attitude in the future.
"We have to live true to who we are. People in the LGBTQ community, to me, are more courageous than most others because they're willing to share who they are, truly and authentically, with the rest of the world. There's a power behind that. We have to embrace that power. I look at it and say anyone in that community is a friend of mine, because they're living true to themselves."
The GM didn't have to wait long to see the night's theme of love and acceptance make a real-world difference. Before the end of the second inning, he'd run into a friend whom he hadn't seen in a while.
"She was like, 'Hey, you know, I haven't been to a game in a long time.' I said, 'I'm glad you're here. What brought you out?'" Narayanan said. "She goes, 'My daughter's gay, and we haven't really talked. But this just brought us together.' That's great. Now we're bringing families together? It's an impact that I don't think any of us [foresaw], but that's awesome."
For Hogue, the promo -- especially in conjunction with the growing number of Pride Nights in the Minors and elsewhere -- had another important impact.
"Sports has that stigma around it where it's sort of tough guys, hard athletes. But having a night like this shows that it's a game for everybody," he said. "The community is open. It's not just directed at one specific group of people. I feel like it is something that kind of broadens the horizon around that stereotype."
Josh Jackson is a contributor to MiLB.com. Follow and interact with him on Twitter, @JoshJacksonMiLB.