Paige added to legacy during stint in Minors
Legendary hurler succeeded well past his prime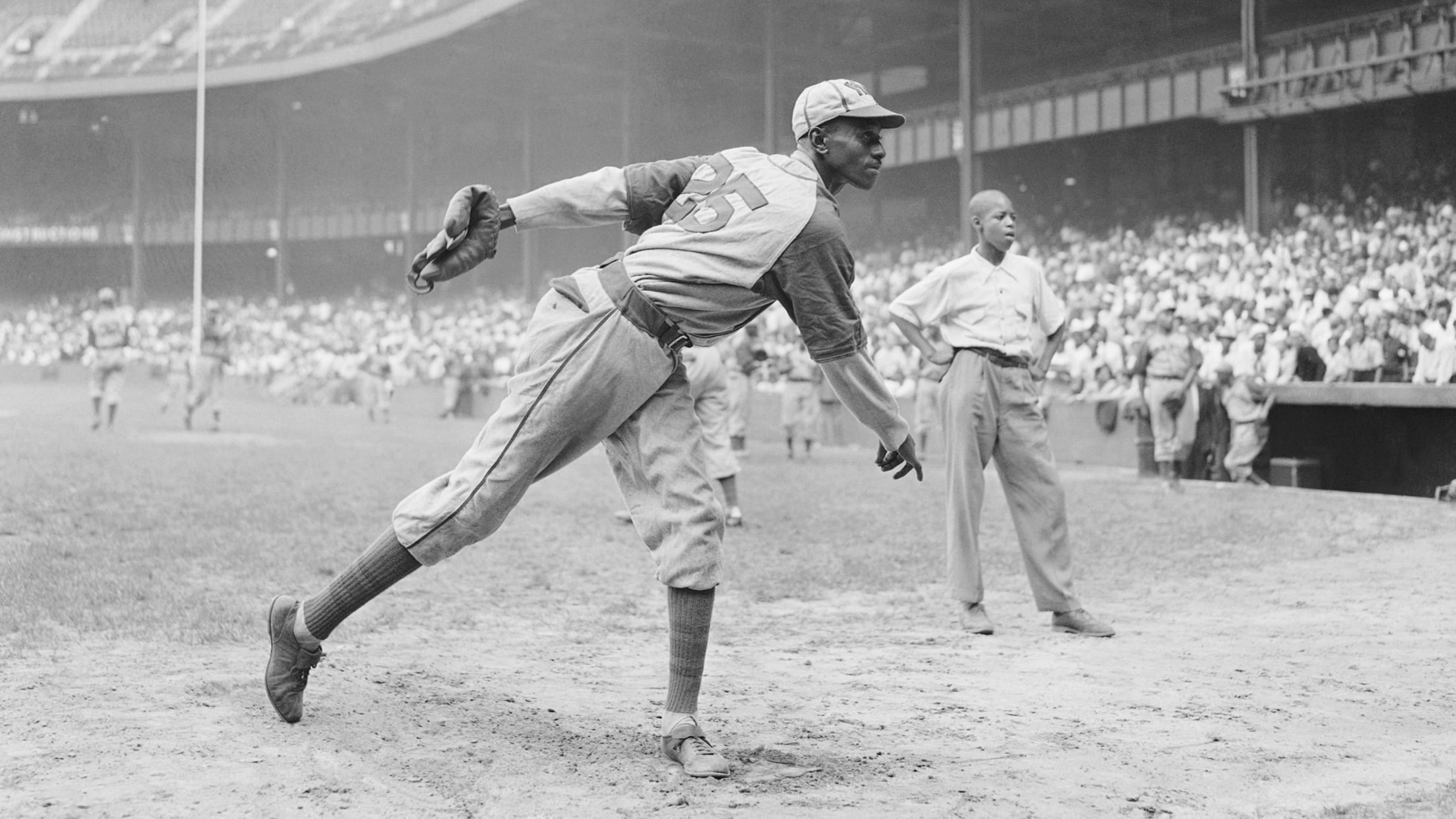 Kansas City Monarchs pitching great Leroy Satchel Paige warms up at New York's Yankee Stadium on August 2, 1942 for a Negro League game between the Monarchs and the New York Cuban Stars. (Matty Zimmerman/AP)
The line between truth and tall tale is often blurred when discussing Satchel Paige. Many have called him the greatest pitcher whoever lived, offering stories from the two decades he played in the Negro Leagues as proof.Though it wouldn't be difficult to argue that he was the greatest pitcher on
The line between truth and tall tale is often blurred when discussing Satchel Paige. Many have called him the greatest pitcher whoever lived, offering stories from the two decades he played in the Negro Leagues as proof.
Though it wouldn't be difficult to argue that he was the greatest pitcher on the planet during his prime, there is an equally compelling case that he was a much better pitcher than most even when he was long past his prime. Consider that he pitched five years in the Major Leagues when he was in his mid-forties, going 28-31 with a 3.32 ERA in 178 games. That doesn't even include the scoreless three-inning stint he had with Kansas City as a 59-year-old in 1965.
In between his Major League time with Cleveland and St. Louis in the late '40s and early '50s and that promotional appearance with the A's in 1965, he continued to add to his legend by pitching in the Minor Leagues, a fact that is often overlooked when discussing Paige's greatness. When Bill Veeck, the great innovator, brought Paige to Miami in 1956, it was more than a promotional stunt.
This was still the days before the Major Leagues expanded and the Minor League system was stocked with talented players, many of whom couldn't crack a big-league roster. But Veeck, who signed Paige nearly a decade earlier, felt he could still pitch. So after he became vice president of the International League's Miami Marlins, Veeck signed Paige, apparently over the objection of manager Don Osborn.
Legend has it that Paige retired all nine batters he faced in a tryout for Osborn, who quickly became convinced of the hurler's greatness. Paige pitched a complete-game four-hit shutout in his debut for the Marlins and would go on to post an 11-4 mark with a 1.86 ERA in 1956. He fanned 79 that year, relying on a curveball that Osborn is reported to have shown him how to throw.
Future Major Leaguer Don Cardwell, who would help pitch the Mets to a World Series win in 1969, was a youngster in the Philadelphia system in 1956, pitching alongside Paige in South Florida.
"I still have a picture of Satchel and I sitting in the bullpen all laid-back," Cardwell said. "He was the only guy I ever played with that amazed me. They flew him in on a helicopter for his first appearance in Miami. Unbeknownst to me, they had a rocking chair for him in the bullpen because of his age but he refused to sit in it. He said 'I'm not that old.'
"We played a game once in Havana and it was probably 98 degrees. The manager asked where Satch was because he was supposed to pitch in 10 minutes, so he sent the Cuban bat boy over to find out where Mr. Paige was. He said when you find him tell him he has six minutes to warm up. He came wandering out and threw eight warm-up pitches wearing one of those semi-wool long-sleeve shirts and said he was ready. He threw a four-hit shutout and it didn't even faze him."
Paige was also a participant in a history-making game on Aug. 7, 1956. The Marlins defeated Columbus, 6-2, that night before a record crowd of 51,713 at the Orange Bowl in Miami and Paige pitched into the eighth inning to earn the win. More amazing was the fact that the 50-year-old Paige drove in three runs with a 330-foot double to left-center field.
"I hit an inside curve for that double," Paige told the Miami Daily News. "You don't fool around with us hitters."
Paige went 10-8 with a 2.42 ERA the following year. He had 76 strikeouts and 11 walks, proving to be as effective as he was in his first year with the Marlins. Paige also had a new teammate in Whitey Herzog, who would go on to gain fame as a manager, winning nearly 1,300 games in 19 years on the bench.
"He didn't have to come to the park until the seventh inning and he'd take his place in the bullpen under a big old umbrella," Herzog said. "He was the damndest guy I'd ever seen. There was one time Don Landrum and I were trying to throw a ball from the center fielder warning track to home plate. He said he could throw it further and picked up a ball and threw it against the screen behind the plate. He had the greatest damn wrist I've ever seen.
"When he warmed up, he would use a Wrigley Spearmint wrapper. That was his home plate. He was something. Up in Rochester, they had a hole in the right-field wall and if you hit the ball through the hole, you got $100,000 from some bank. Well, I walked off 60 feet, six inches from that hole and asked him if he could throw a ball through it.
"He looked at me and said 'Wild child, does the ball fit through that hole? If it does, I'll take the bet, a fifth of Old Forrester if I can. Well, he picked up the first ball threw it in the hole and it hit and came out. The next one he threw went right through the hole."
Paige went 10-10 in 1958, finishing up his three years in Miami with a 31-22 record. He walked only 54 batters in 340 innings.
"He could just pinpoint the ball anywhere he wanted," Herzog said. "He never pitched inside much. His theory was that you made more mistakes on the inside than the outside. But when he was in Miami, he was still throwing the ball 87-88-89 miles an hour."
Paige took some time off over the next two-and-a-half years, starring in a movie, The Wonderful Country, with Robert Mitchum and writing his biography. But the lure of the field was too great and he returned in the summer of 1961, signing on with the Portland Beavers of the Pacific Coast League. Though he didn't record a decision in his 25 innings of work, Paige had a respectable 2.88 ERA with 19 strikeouts at age 55.
The folks in Portland still remember Paige and honored him in 2002 with a bobblehead doll at one Beavers' game. Dwight Jaynes is currently the president of the Portland Tribune, a twice-weekly paper in the city. He was a batboy for the Beavers in 1961.
"I was a kid, but from what I remember he could still pitch a little," Jaynes said. "He would pitch three innings and be OK. No one would ever hit him much. I don't think anyone ever bunted on him either. He wouldn't have to hit often unless the ninth spot came up in the second innings. But he came up to hit one time and he used this big old heavy bat and my mind remembers him getting a hit.
"He was actually a pretty quiet guy and didn't strike you as one of those outgoing guys. He communicated, but it wasn't in a gregarious manner. But when he was on the mound, he didn't look like he shouldn't be there. He still looked like a pitcher who could pitch."
He made his final appearance as a professional in 1966, giving up two runs in two innings for Peninsula Pilots of the Carolina League against Greensboro. The catcher for that Peninsula team was an 18-year-old slugger named Johnny Bench, though it's not clear whether he caught Paige that night or not.
Paige signed with Atlanta at age 62 and never appeared in a game, serving primarily as a coach for the better part of two seasons in order to qualify for his Major League pension. He was inducted into the Hall of Fame in 1971, leaving behind hundreds of stories and memories, many of which come from his time in the Minor Leagues.
Kevin T. Czerwinski is a contributor to MiLB.com