Hurlers on the move face unique challenges
Shuttling back and forth to bigs tests mentality, brings opportunity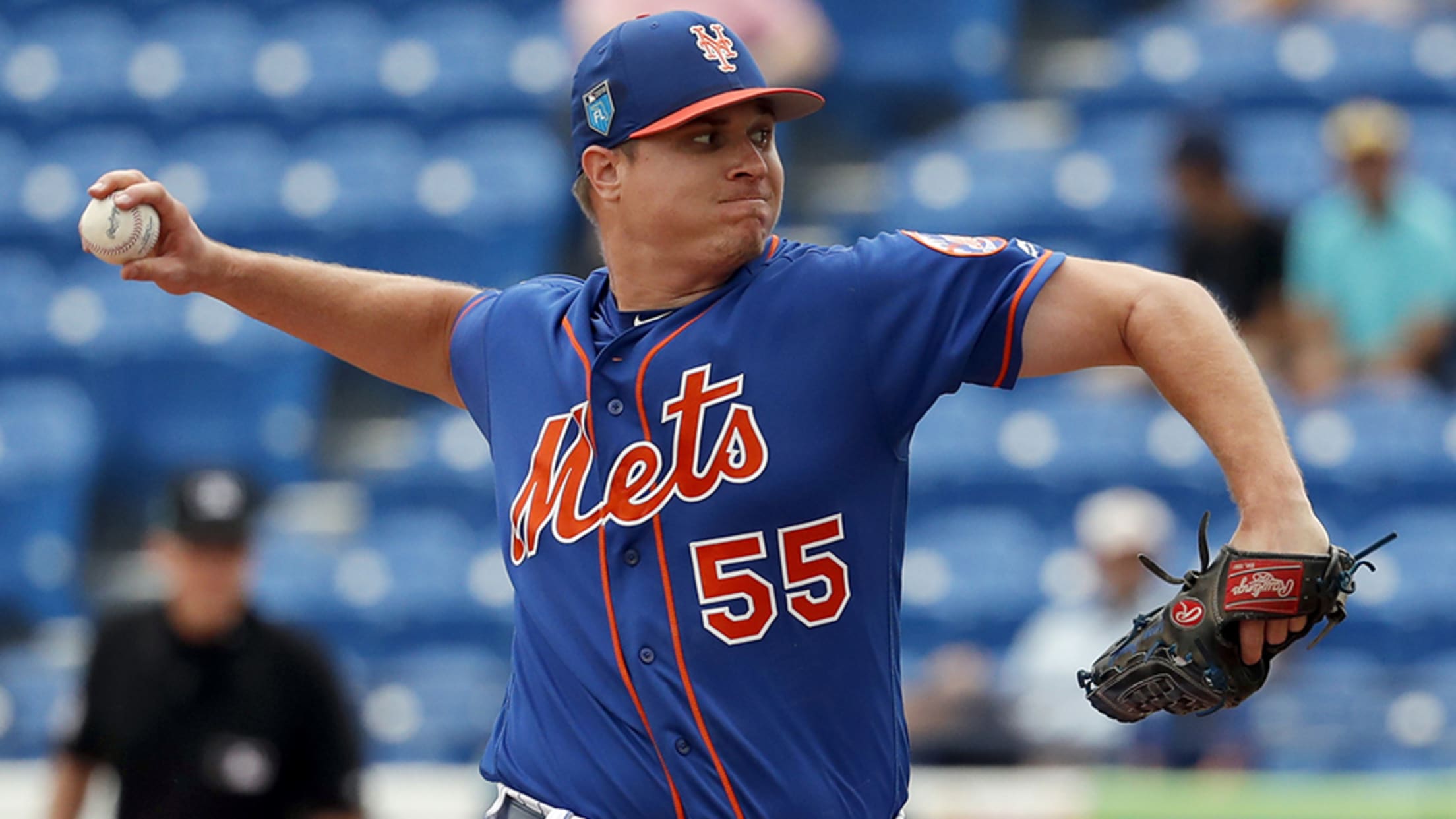 Corey Oswalt has been recalled three times by the Mets this season and has one career Major League appearance. (Jeff Roberson/AP)
As Mickey Jannis' first pitch slapped against the catcher's mitt on April 9 at Las Vegas' Cashman Field, Corey Oswalt figured he was in for a typical night. Scheduled to start the next day, the 24-year-old right-hander was perched in the stands behind home plate, tracking pitches for his fellow
As Mickey Jannis' first pitch slapped against the catcher's mitt on April 9 at Las Vegas' Cashman Field, Corey Oswalt figured he was in for a typical night. Scheduled to start the next day, the 24-year-old right-hander was perched in the stands behind home plate, tracking pitches for his fellow starter.
That lasted about 20 minutes.
Triple-A 51s manager Tony DeFrancesco summoned Oswalt to the dugout and told him to leave the stadium as fast as he could to grab a red-eye flight. He would be joining the Mets for the first time in Miami.
New York's No. 16 prospect, Oswalt grabbed his belongings from his locker, drove to his nearby apartment, hastily shoved some clothes in a travel bag and ordered a 10-minute Uber ride.
"During that moment, the adrenaline gets going and you're all excited," he said. "Then it's a six-hour flight and you barely sleep."
Oswalt didn't pitch in an 8-6 win over the Marlins on April 10 and was optioned back to Las Vegas the next day.
Rather than feeling frustrated or teased, Oswalt said he was mostly happy to receive the call he's been waiting for his whole life. The 2012 seventh-rounder is aware that such a journey is hardly a rarity for many pitchers on the verge of breaking into the big leagues.

The strategy and psychology
Lance Painter remembers feeling that tap on his shoulder and how his blood began boiling.
In his second professional season with the Rockies, the right-hander was called up for a two-start stint in late May 1994. After lasting only 3 2/3 innings in his season-debut against Atlanta, he pitched into the sixth and relinquished four runs on five hits in his next turn at Montreal.
He felt much better about his performance, but he left the manager's office with a ticket back to Denver. He was being optioned to Triple-A Colorado Springs.
"Oh, I was mad, and I let the manager know," said Painter, who is now the pitching coach of Triple-A Tacoma. "I got a phone call the next day telling me I shouldn't have done that."
Painter returned to the Rockies in June and went on to enjoy a 10-year MLB career. But what he experienced as a sophomore pitcher is akin to what many pitchers endure over the course of their career.
This shuttling back and forth between the Minors and the Majors is possible because of "player options," which allow teams to move players freely, so long as the player remains in the Minor Leagues for at least 10 days after being sent down. Options are exhausted on a season-to-season basis, not with every transaction, so a player can be moved up and down an unlimited amount of times during an option year. Players typically have three option years, although a fourth is granted if the player has fewer than five professional seasons. For players with five or more seasons of service time, the consent of the player is required in order for him to be optioned.
Having
Minor League options
is a dual-edged sword for many players. On one side, optionable players (and their roster flexibility) are more desirable for Major League clubs. But at the same time, a player having options available removes a strong incentive for an organization to keep him on the big league roster.
"These days, if you have an option left, and you're pitching good, don't send out your laundry," said Rays Minor League pitching coordinator Dick Bosman.
Clubs will take advantage of Minor League depth if the big league team needs it, and 2018 has provided plenty of examples.
St. Louis reliever
Mike Mayers
accrued 10 different transactions since first being recalled this season, and
John Brebbia
has seven to his name.
Jack Flaherty
was optioned and recalled two different times this season, though it appears he's settled into the Cardinals' rotation since being brought up May 19.
Like Oswalt, who has been recalled three separate times but has only made one big league appearance this season, his Las Vegas roommate
P.J. Conlon
has yo-yoed with the Mets. Recently, he was even designated for assignment by New York and claimed by the Dodgers, only to be reclaimed by the Mets a few days later.
June 6, 2018
How much or how little this strategy is implemented depends largely on the construct of the roster, according to Braves special assignment scout Billy Ryan, who spent three season as Atlanta's director of baseball operations.
"I don't know how much it's evolved," he said. "I think different clubs use it different ways. There are some teams with some long leashes that value continuity in the clubhouse, where others may treat the 23rd, 24th, 25th guy on the roster as a little bit more fungible and kind of cycle them in and out."
Bosman, the Rays' pitching coordinator since 2001, thinks shuttling has become so common that players are immune to the disappointment of being optioned to the Minors.
"The atmosphere and the attitude about going up and down and all that is a lot more accepted now than it ever was before because it's done all the time," Bosman said. "These kids are a lot more accepting these days to go out there and lighting it up and pitch three or four days."
He remembers it being different even four years ago. In 2014 and 2015, Kirby Yates and C.J. Riefenhauser yo-yoed. Yates was up and down three separate times before being designated for assignment at season's end. Riefenhauser was recalled and optioned twice in 2014 and four times in 2015.
"Those kids earned the right to go to the big leagues. They worked really, really hard, and they pitched pretty darn well when they got there," Bosman said. "But when they needed a fresh arm, they got sent out. And, oh boy, you had to do some serious scrambling to keep the morale up. It took a while for those guys so that when things like that happened, they weren't devastated."
But for players like Triple-A Tacoma's Casey Lawrence, morale hasn't been an issue.
Lawrence, who began 2017 in Triple-A Buffalo with the Blue Jays organization, was recalled and optioned two separate times before being designated for assignment and claimed by Seattle, where he was up and down on three separate occasions before settling into a permanent long-reliever role in the Mariners bullpen on Aug. 19.
He would joke with Emilio Pagán, who was in a similar situation with Seattle in 2017 before being traded to Oakland in the offseason, that if they could keep outings under three innings, then maybe they'd get a chance to stay. Perhaps it's an environment he's become accustomed to, but Lawrence still had to make an effort to keep a level head as he rode the elevator.
"It's just one of those things where as much as you try and not think about it, it's always in the back of your head," Lawrence said. "But at the same time you have a job to do and get it done for the big league team. Then when you come back down, you have to put your work in and throw the ball well, so you get that opportunity again."
The toughest aspect of it all from his perspective has not been fluctuating from the Majors to the Minors, but from the rotation to the bullpen.
Lawrence, 30, came through the Minors exclusively as a starter. Signed as an amateur free agent out of Albright College in Reading, Pennsylvania -- where he initially played basketball before walking on as a pitcher, he made 27 total MLB appearances last season, but only two starts -- both with Toronto. He's in the Rainiers' starting rotation in 2018. But if or when his opportunity comes again with the Mariners, he knows that likely won't be his role.
"Trying to find a routine out of the bullpen [was tough]," Lawrence said. "As a starter, you have your routine down. From lifts to bullpen, everything is planned out. As a reliever, you're out there by the edge of your seat and just trying to figure it out on the fly, and learn it in the big leagues while trying to get the best hitters out in the world.
"Having done it in Toronto and then doing it here, I felt like as the year went on I got a lot more comfortable. Am I as comfortable throwing out of the bullpen as I am as a starter? I don't think even close to that yet, so that's still a work in progress and we're still finding ways to adjust."
Gil Patterson, who is the Minor League pitching coordinator with the A's and has been in similar roles with the D-backs and Yankees, said pitchers have confided with him that they wished there was more experimentation with bringing starters out of the bullpen to prepare for this exact situation.
"I think the worst thing you can do, regardless of who the player is or what the circumstance are, is to call a guy up and send him down and not let him know what's going on," Ryan said. "That way they don't feel a part of it, they feel like they're just twisting in the wind and if they get sent down they may not know why."
Lawrence, on the other hand, prefers not to get caught up in the ins-and-outs of transactions when he's being shuttled back and forth.
"As players, sometimes you don't want to know the reasoning behind it," he said. "You just want to go out and perform and get all those other things you can't control out of your mind, because at the end of the day, the only thing you can really control is our own individual performance."

Travelin' men
As a frequent member of the Mariners' shuttle back and forth from Tacoma, Lawrence has stayed in both team hotels, the Hotel Murano in Tacoma and the Silver Cloud Hotel, just a few blocks from Safeco Field. He's changed hotel rooms so frequently, there were days he would come home from the ballpark late at night and forget which was his.
"I had one suitcase no matter where I went," Lawrence said. "I just took everything with me, wherever I went, in and out of hotels."
But there is a silver lining to Lawrence's situation. The distance between Safeco Field and Cheney Stadium is about 30 miles, a 45-minute commute. It's the second shortest commute in baseball based on straight-line distance.
The Braves boast the shortest between SunTrust Ballpark and Triple-A Gwinnett at 29 miles
"That's been a huge luxury for us the last couple of years," Ryan said. "Especially going through a rebuild, where we've had a cast of characters the last couple of years riding that shuttle. And to be able to make those decisions somewhat last minute, more often than not, has been a huge advantage for us from a convenience and competitive standpoint."
Some teams are not as fortunate.
Distance from MLB club to Triple-A affiliate
Take Oswalt's Mets, for example, which have the longest distance to its Triple-A affiliate, with Las Vegas being approximately 2,200 miles from Citi Field.
Oakland is a little over 1,900 miles away from its Triple-A club in Nashville. But according to Patterson, it doesn't discourage using Triple-A depth when needed -- it just might require a little more planning.
"Even though there is a big distance, it's still just a plane ride," Patterson said. "People are told things often times at midnight or 1 a.m. or 2 a.m. that a move is going to be made. Overall, I don't think it's created a problem."

The future
Of course, road trips and plane rides can disrupt important routines for pitchers as well as recovery time between appearances. But getting up to the big leagues and being sent back down can also be a part of a pitcher's maturation as a professional.
"I think it's something every young pitcher has to go through, and the reason is, a lot of times you think you know yourself, but until you get up to the big leagues and you face big leagues hitters, you realize, 'I don't know myself as much as I thought,'" Painter said.
As long as baseball is a business and there are player options, that rite of passage likely won't go away. No pitcher dreams of being on the shuttle from Triple-A to the Majors. They dream of stepping on the big league mound and staying there for their entire career. But, for the most part, they're happy to play wherever they can if it might mean another chance in The Show.
"I remember years ago I had a pitcher complaining to me about going up [to the Majors] for two starts and going back down for three and then up again for another start, so when he came back down again his attitude was terrible," Patterson said. "So I said, 'Don't worry. I'm not going to send you anymore. I'm going to send someone else.' And two minutes later, you could see his whole attitude change. 'No, no, no, I'll go back up. I'll go back up.
"I think that proves a point: when you're a pitcher, that's the way it is."
Josh Horton is a contributor to MiLB.com. Follow him on Twitter @joshhortonMiLB