Prospect Q&A: Tate eager to earn his stripes
Yankees' No. 11 prospect reflects on trade, looks toward new season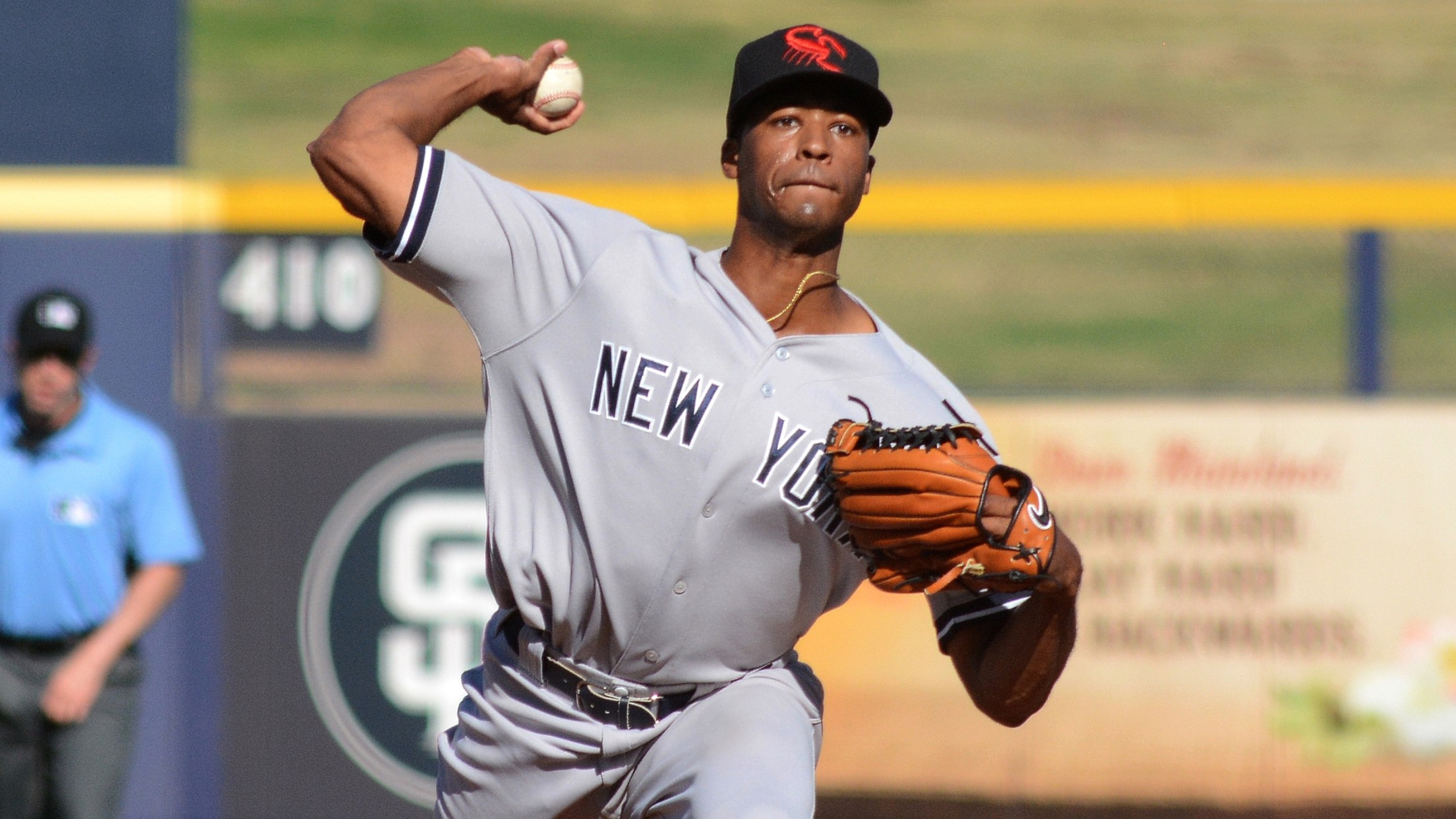 Dillon Tate compiled a 1.07 WHIP and fanned 11 batters in 9 1/3 innings with Scottsdale in the AFL. (Buck Davidson/MiLB.com)
Although he was only drafted in 2015, Dillon Tate has already seen how quickly things can change for a young baseball player. When he graduated from Claremont High School in Los Angeles County, Tate wasn't even on the professional baseball radar. Three years later, the Yankees' No. 11 prospect was
Although he was only drafted in 2015, Dillon Tate has already seen how quickly things can change for a young baseball player. When he graduated from Claremont High School in Los Angeles County, Tate wasn't even on the professional baseball radar. Three years later, the Yankees' No. 11 prospect was the consensus top starting pitcher in the 2015 First-Year Player Draft.
Things continued to look up for Tate when Texas took him fourth overall that year. He was the first pitcher selected.
After a successful albeit brief showing with Class A Short Season Spokane and Class A Hickory in which he went 6-6 with a 1.00 ERA to close out 2015, Tate found himself on the other end of the spectrum out of the gates the next season. A hamstring injury forced the right-hander out of the lineup in April and May, and Tate's velocity and form dipped as a result. The California native never really found his footing with the Crawdads in 2016. Opponents hit .311 against him, and he went 3-3 with a 5.12 ERA and a 1.62 WHIP in 65 innings.
The Rangers eventually dealt Tate to the Yankees for Carlos Beltran at the trade deadline. He made seven appearances with Class A Charleston, all in relief, to close out 2016. In 17 1/3 innings for the RiverDogs, Tate was 1-0 with a 3.12 ERA and a 1.58 WHIP.
We caught up with Tate to talk about how his struggles served as an early lesson in dealing with adversity and what he's looking to do this season.
<jsp:include page="/milb/include/prospectqanda2016.html">
MiLB.com: How did you hear about the trade?
Tate: I first heard about the trade from one of my teammates in Hickory, Matt Ball. I was going through workouts outside with the team and I went inside for something. I looked at my phone and I saw a bunch of posts on social media about the Yankees this, the Yankees that. I came outside and looked at [Ball] and said, 'I think I just got traded to the Yankees.' And he was asking me if I was sure and I told him I wasn't, so he asked if I wanted him to check for me. So he went into the clubhouse and came back out and nodded his head yes. It felt kind of funny at first because you're really close with all of your friends and build such good relationships with. Then just like that you end up leaving, so that was tough to do. But when I went down to Charleston, the guys welcomed me with open arms and they made it a smooth and pleasant transition.
MiLB.com: It seems like the Yankees were eager to let you work with Charleston pitching coach Justin Pope. What was the experience like working with him? What did he have to offer to get your game back on track?
Tate: Working with Justin Pope was really enjoyable. He really wanted me to just go out there and be myself. We worked on a lot of basic things that I already do, and he just helped me do what I do naturally, but better. We slowly improved my delivery with repetition.
MiLB.com: Your velocity took a dip in 2016. How did it feel to see it climb back to where it was when you played in the Arizona Fall League? What did you learn from your time with Scottsdale?
Tate: It felt good. It felt like I was finally seeing results from the work that I was putting in day in and day out, and that really boosted my confidence. You're playing against great competition down there, so I felt like my focus had to be better than it was in the beginning of the season because there are older, more experienced players down there that can hurt you. I just had to make sure my attention to detail was higher than it's ever been.
MiLB.com: Your first full professional season definitely wasn't without its ups and downs. You dealt with a hamstring injury and had trouble finding a recipe for success on the mound. How do you plan on learning from the experience to make yourself a better player?
Tate: It's definitely tough after having success and then you struggle. One thing that helped me out was realizing that I had struggled before, so I didn't let myself get down on myself when I know where I was four years ago and how my development took a few years to really turn the corner. I really just did my best to stay positive and keep working rather than dwelling on the bad things that were happening in my outings early in the year. Looking on what I'd done in the past and realizing I made progress by continuing to work hard made the struggles go a little easier, I'd say.
MiLB.com: The Yankees turned some heads this summer when they overhauled their farm system by acquiring some high-end prospects, including yourself. Have you taken any time to reflect on this new core of prospects you've joined?
Tate: I just look forward to being the best version of me that I can possibly be. Yes, it is exciting to be around a lot of top-tier guys, even the guys that weren't in the trades and were already in the system. A lot of them are talented guys as well, so being around those guys is helping me play better and I'm enjoying every bit of it. There's more baseball to come, so I can't really get too high or too low at this point at time.
MiLB.com: Have you ever been to New York before? Coming from a place that prides itself on its easy-going way of life, what were your thoughts on the city?
Tate: I've traveled to New York before. It's a very, very busy place. People are everywhere. It always looks like there's something to do, which is really cool. I'm not really a guy that goes out too much, that's not really my scene. But the cool thing about New York is that there's something there for anyone, even if you're not into going out.
MiLB.com: You spent a lot of time working out at the MLB Urban Academy in Compton, California. Major League Baseball strives to embed itself in communities to try and grow in the game, especially in the inner cities. Can you sum up your experience at the academy? Do you feel like you need to set an example for kids in that area to help grow the sport?
Tate: I definitely see myself as a role model for kids who want to continue to play baseball and pursue their baseball dreams. The Academy was a place for me to go and get additional reps pitching, because I wasn't getting those reps in high school. Pretty much every weekend, I was pitching there, and in college, I played summer ball down there. It was a place that I could work on things in a safe environment so I could continue to develop. They have done a lot for me and helped me develop my game, so I'm very thankful for what they've helped me accomplish.
MiLB.com: As someone with poor vision, I'm always drawn to players who wear goggles. Do you plan on wearing them throughout your career?
Tate: You may see me with them on, you may not. I feel like it's easier to see with the contacts. With all the humid weather that we play in, the goggles always get fogged up and I don't like to have to step off the mound to wipe them off. That's why I've started to go with contacts, but in practice, I still use my goggles.
Michael Leboff is a contributor to MiLB.com.