Prospect Roundup: Games of Aug. 13
Tatis continues second-half surge; Buehler shines in relief role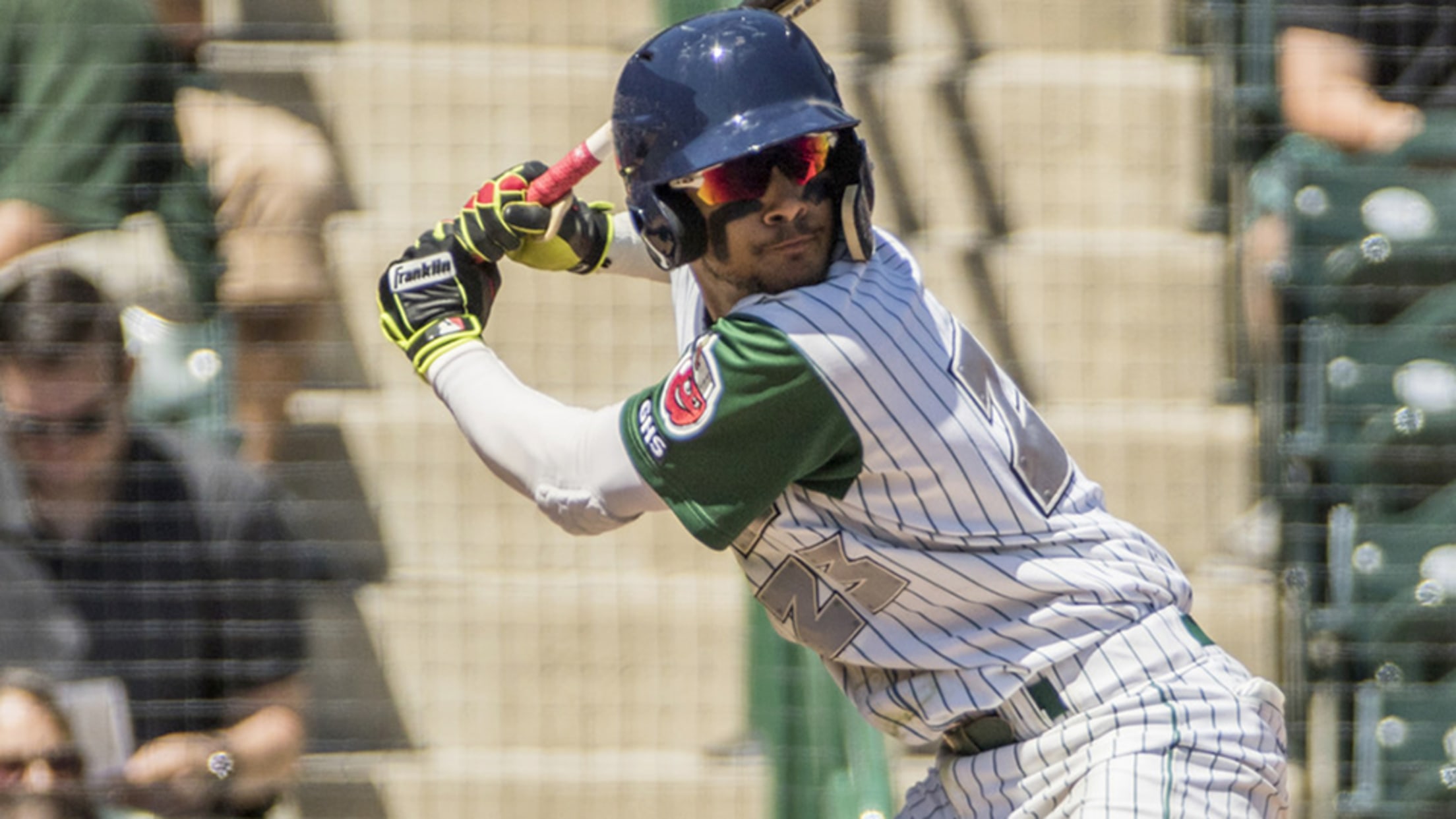 Fernando Tatis Jr. ranks third in the Midwest League with an .893 OPS over 112 games this season. (Fort Wayne TinCaps)
Dodgers RHP Walker Buehler, Triple-A Oklahoma City: 2 IP, 0 H, 0 R, 0 BB, 5 K, 28 pitches, 21 strikes -- The Dodgers knew they would need to limit Buehler's innings in 2017 -- his first fully healthy campaign since Tommy John surgery in 2015 -- and they've been
Dodgers RHP Walker Buehler, Triple-A Oklahoma City: 2 IP, 0 H, 0 R, 0 BB, 5 K, 28 pitches, 21 strikes -- The Dodgers knew they would need to limit Buehler's innings in 2017 -- his first fully healthy campaign since Tommy John surgery in 2015 -- and they've been successful with 80 2/3 innings on the 23-year-old's resume this summer. Sunday's appearance was Buehler's third straight out of the bullpen -- and his best yet in that new role. He struck out five of the six Round Rock batters he faced to earn his first career save. There's little doubt these relief outings are Major League auditions, and it remains a real possibility that a Los Angeles team on track for 115 wins could add MLB.com's No. 13 prospect and his plus fastball and curve to its bullpen in time for the playoffs. Buehler, who has allowed three earned runs while fanning eight in 5 1/3 innings of relief, needs to show consistency out of the 'pen, but his Major League debut could be a scary proposition for other playoff-bound teams this fall.
Blue Jays OF Teoscar Hernández, Triple-A Buffalo: 2-for-5, HR, 5 RBI, R, K -- It's taken some time for Hernandez to make a big impact with his new organization, but he did just that Sunday. Acquired from the Astros at the deadline for Francisco Liriano, the Blue Jays' No. 5 prospect hit a grand slam and plated a season-high five RBIs in a 10-4 win at Toledo. The slam was his first home run in 11 games with Buffalo. In that time, the 24-year-old has gone just 5-for-39 (.128) with the homer, three doubles, six RBIs and 18 strikeouts. He's been an above-average hitter at Triple-A each of the last two seasons, so it's best to treat this as more of a dry spell than anything more troubling. When things are clicking, Hernandez has shown a solid bat with above-average speed that helps him on the basepaths and all over the outfield. (He's played all three spots with the Bisons.) With 112 plate appearances in the Majors already, he'll head to Toronto by September at the latest, and he'll have a better shot to compete in that outfield than he did in Houston.
Pirates RHP Clay Holmes, Triple-A Indianapolis: 5 IP, 0 H, 0 R, 1 BB, 4 K, 69 pitches, 42 strikes -- The Pirates' No. 19 prospect did what he does best Sunday -- force groundouts. Of the 16 Syracuse batters he faced, seven hit groundball outs. In 96 2/3 innings this season, Holmes has seen 62.5 percent of the batted balls against him go on the ground; no other pitcher in the International League has a groundball rate higher than 52.2 percent. It would've been fun to see how far the ground game could have gotten his no-hit bid Sunday, but it appears he was piggybacking with former starter Tyler Eppler, who gave up the Chiefs' only two hits over his three frames in the Indians' 2-0 win. Holmes' first season in the IL has been fairly successful as he's posted a 3.26 ERA with 89 strikeouts and 49 walks. He's still behind IL ERA leader Steven Brault (1.94) on the Pirates' organizational depth chart, but after being added to the 40-man roster last November, Holmes could be pushing for a September spot start in the Show as a test to see how his sinking fastball plays at the highest level.
Padres SS Fernando Tatis Jr., Class A Fort Wayne: 3-for-4, 2B, 2 R, BB -- The No. 4 Padres prospect's second-half surge reached another level Sunday with his first three-hit game since July 3. In 46 contests over the second half of the Midwest League season, Tatis is hitting .300/.443/.644 with 12 homers, five triples, nine doubles and 16 steals. His 21 homers over 112 contests on the set a Fort Wayne season record, and his 28 steals make him one of two members of the Minor League 20-20 club -- along with Phillies prospect Scott Kingery (24 homers, 27 steals). San Diego was aggressive when it sent the shortstop to full-season ball just three months after he turned 18, and he's rewarded the parent club's confidence by growing into the Class A level as he's gained experience. It's worth noting that the TinCaps are competing for a playoff spot, and the Padres could keep Tatis in place to see him play meaningful games down the stretch. A late promotion to Class A Advanced Lake Elsinore can't be ruled out either, however, to give him a brief look at the California League in preparation for 2018.
Angels OF Brandon Marsh, Rookie-level Orem: 4-for-5, 2 2B, RBI, 3 R, CS -- The Angels' No. 6 prospect snapped an 0-for-10 streak while matching a career high with four hits Sunday in a 15-2 win at Missoula. Don't let the cold snap fool you -- when Marsh has played for the Owlz in 2017, he's been incredibly effective, batting .395/.453/.645 with three homers, two triples, six doubles and four steals in 18 games. Of course, "when Marsh has played" is a key phrase. The 2016 second-rounder didn't play at all in the Minors last year due to a back issue, and he missed a month of 2017 with a sprained thumb. When healthy, Marsh is known for his plus run tool as well as both his range and arm in the outfield. He's played primarily in right this season with some time in center as well. If he can show that his small-sample success with the bat in the Pioneer League is real, he has a chance to give Los Angeles another well-rounded outfield prospect alongside Jo Adell and Jahmai Jones, the organization's top two prospects.