Quiet Merritt speaks up in playoff spotlight
Left-hander breaks out, then helps Indians clinch AL championship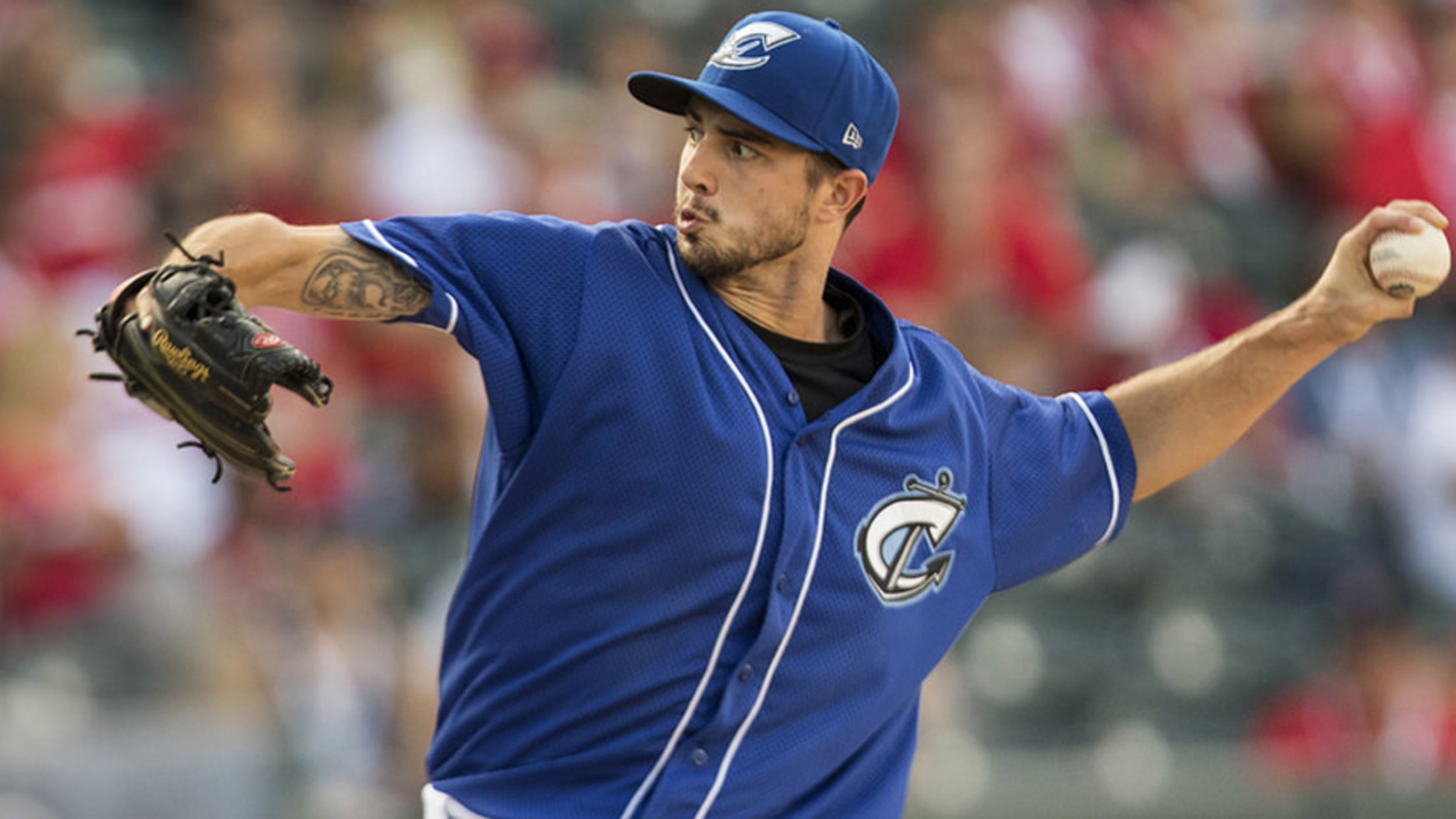 Ryan Merritt posted a 3.70 ERA with 92 strikeouts in 24 Minor League starts in 2016. (Ivan Pierre Aguirre/El Paso Chihuahuas)
Before pitching in the biggest game of his career to date, Ryan Merritt was understandably nervous."That morning, I definitely couldn't get down much food," he said.But he didn't show it. Indians teammate Cody Anderson said the 24-year-old stuck with his typical routine before Game 5 of the American League Championship
Before pitching in the biggest game of his career to date, Ryan Merritt was understandably nervous.
"That morning, I definitely couldn't get down much food," he said.
But he didn't show it. Indians teammate Cody Anderson said the 24-year-old stuck with his typical routine before Game 5 of the American League Championship Series, keeping to himself, playing games on his phone and tuning everyone out.
Until the manager came his way.
"Terry Francona, he told me before the game, 'Just treat it like any other game, just be yourself, have fun out there. We got your back. No matter what, we have you out there. So just lean on us, trust us while you're out there on the mound and just give us everything you got and it's going to turn out all right,'" Merritt recalled.
Merritt had been no stranger to getting the ball in a big game. After making just five starts with Triple-A Columbus in 2015, the Indians' future pitching prospect of the year made three Game 1 starts in the postseason that year.
"I just think his demeanor on the mound and [his] being able to stay focused has been good, and it's allowed him to be successful," Clippers manager Chris Tremie said.
Merritt cherishes the trust he's given in big spots, and while the results haven't always been the best (he sports a 4.34 ERA in four Minor League postseason starts), the Texas native wants to be on the mound for the most important games.
"I don't ever back down from a challenge," he said. "I just know I have to focus, get focused and just rise to the challenge."
Over the offseason, Merritt worked on improving his body strength and his cut fastball. Knowing he'll never have a "filthy hammer" like Clayton Kershaw, the 6-foot hurler focuses on command.
"I'm not going to overpower people," he said. "I'm going to throw strikes."
Merritt remains the same pitcher he was when he and Anderson joined the Indians system five years ago, a fact his teammate attributes to an unwavering approach.
"He's just got a mentality that, he's like a bulldog. He's never going to give in," the 26-year-old right-hander said. "There's a lot of people who can tell him, 'Try to throw harder, try to do this, try to do that,' but at the end of the day, he sticks to what he can do best and that's locating the ball and competing."

Tremie and Anderson find Merritt to be really quiet, with the latter adding he wouldn't hurt a fly. While the friendly demeanor vanishes when he gets on the mound, the volume does not change. With one exception.
"I remember he was having a tough time locating the ball, but like the fifth inning, the first time I ever seen him give a lot of emotion, he fist-pumped after he struck out one of the guys," Anderson recalled of a Columbus game on May 19. "It was a day game, which he doesn't really like day games because he likes to do [his routine]. But he gave that fist pump and that was a moment where, 'This guy, he's small but he's a real competitor.' He's always even-keeled, but that one time ... he was real fired up. It just goes to show you what kind of guy he is. He goes out there and competes, no matter where he's at."
After getting a taste of the Majors at big league camp, Merritt came out of Spring Training "ready to pitch." Tremie watched his starter execute pitch after pitch on a consistent basis. He was labeled under-the-radar, but to his manager, Merritt had been standing out since the Indians selected him in the 16th round of the 2011 Draft.
"He kept working, kept getting better at his craft," Tremie said. "We valued him for several years now and really felt like he was going to help our Major League team and our organization throughout the years."
On May 23, the skipper informed Merritt it was time for him to fulfill that promise. The Indians' No. 29 prospect was nervous but excited and immediately called his fiancée, Sarah, to tell her the good news.
"She just started crying," he said. "She was just so happy for me."
Merritt had to patiently wait seven days in the Indians bullpen before making his debut. During that time, he tried to soak up as much as he could, from observing the routines of relievers to asking Anderson about rookie protocol. (Always let veterans board a plane or get on a hotel elevator first.)
In his debut on May 30, Merritt allowed one hit over 4 1/3 innings against his hometown Rangers. The butterflies didn't make the McLennan Community College product waver from what got him to that point.
"He goes out every outing and you know what you're going to get from him, every single outing," Tremie said. "And that's something that gives you a little comfort as manager, as a coaching staff, pitching coach and even the players, especially the players playing behind him."
Merritt returned to the Minors, but would move between the two levels five more times. Anderson, who also spent the year bouncing up and down, respected the way his friend handled the changes, citing his morals and family upbringing. A noted optimist, Merritt stayed positive, no matter what level he was at.
"It's definitely different. Once you go up there and then you go back down, you got to boost yourself up every game and still treat it as a normal game," he said.
Terry Francona congratulated Ryan Merritt after Game 5 of the ALCS. (Frank Gunn/AP)
It wasn't always easy for Merritt to remain positive. On June 27, he was placed on the disabled list with mid-back tightness.
"That was definitely the toughest part of the season. I really haven't been hurt that much ... knock on wood," he said. "I haven't had much injury, I haven't had to deal with it, so I felt useless a little bit."
By his side in the training room, Anderson was also on the DL with elbow inflammation. On the bench, in the Minors, the pair pushed each other to get back to Progressive Field. Merritt focused on being a good teammate and cheering on the Clippers from the dugout.
"He's a really positive person, so just talking to him always helps," Anderson said. "Nothing negative really ever gets to him. We help each other out that way."
Merritt was back on the mound with Columbus on July 6, and about a month later, he made his way back to "The Show." With another experience to "put in the piggy bank," Merritt made his final stint with the Clippers his best yet, going 4-1 with a 2.68 ERA and 26 strikeouts in six starts.
"He's a competitor, so he's out there trying to get guys out," Tremie said. "We were in the middle of a playoff situation ourselves and he wanted to contribute to that. I think that was a big part of it."
After the Clippers were eliminated in the Governors' Cup semifinals, Merritt rejoined Cleveland, but was left off the American League Division Series roster. So the left-hander went to Arizona to stay ready if his club needed him. Then his phone rang.
"'Hey, Cleveland might need you for a start against the Blue Jays. Pack your bags, we're going to fly you out here,'" he remembered hearing.
For the first time outside of Spring Training, Merritt and Anderson were on the Indians together. The California native beamed with pride as he helped his friend prepare for his first bullpen in a while.
Francona ended up calling upon Merritt for Game 5. He exceeded even the highest of expectations, working around two hits over 4 1/3 scoreless innings.
"I get chills right now thinking about it," Anderson said. "I had seen how hard he's worked to put some weight on and really put himself in the situation that he was. To see him go out there and do as well as he did was, I couldn't have been happier for anybody."
The Indians bullpen continued what Merritt started as the club went on to win the game and the AL pennant.
"Oh my, it's almost a blur. It happened so fast. What was so special to me is that all my teammates were just so happy for me and congratulating me and hugging me and telling me 'good job,'" he said of the postgame celebration. "Just that they're happy for me and that they appreciated me being there."
Losing to the Cubs in the World Series didn't dampen Merritt's spirits, nor did the appendicitis he suffered in November. With winter turning spring, the soon-to-be 25-year-old will enter camp with a new perspective. He won't be anticipating his first taste of "The Show" and he won't be the new guy in the clubhouse. But he will remain the same optimistic, quiet pitcher he always has been.
"It was an emotional and an exciting time for me. I got to learn a lot and get my toes wet," he said. "Now I'm excited to go into next season and try to earn a spot."
Kelsie Heneghan is a contributor to MiLB.com. Follow her on Twitter @Kelsie_Heneghan.