Quincy's Ellis stole the show in 1965
Southpaw tossed one-hitter, hit three homers in twinbill opener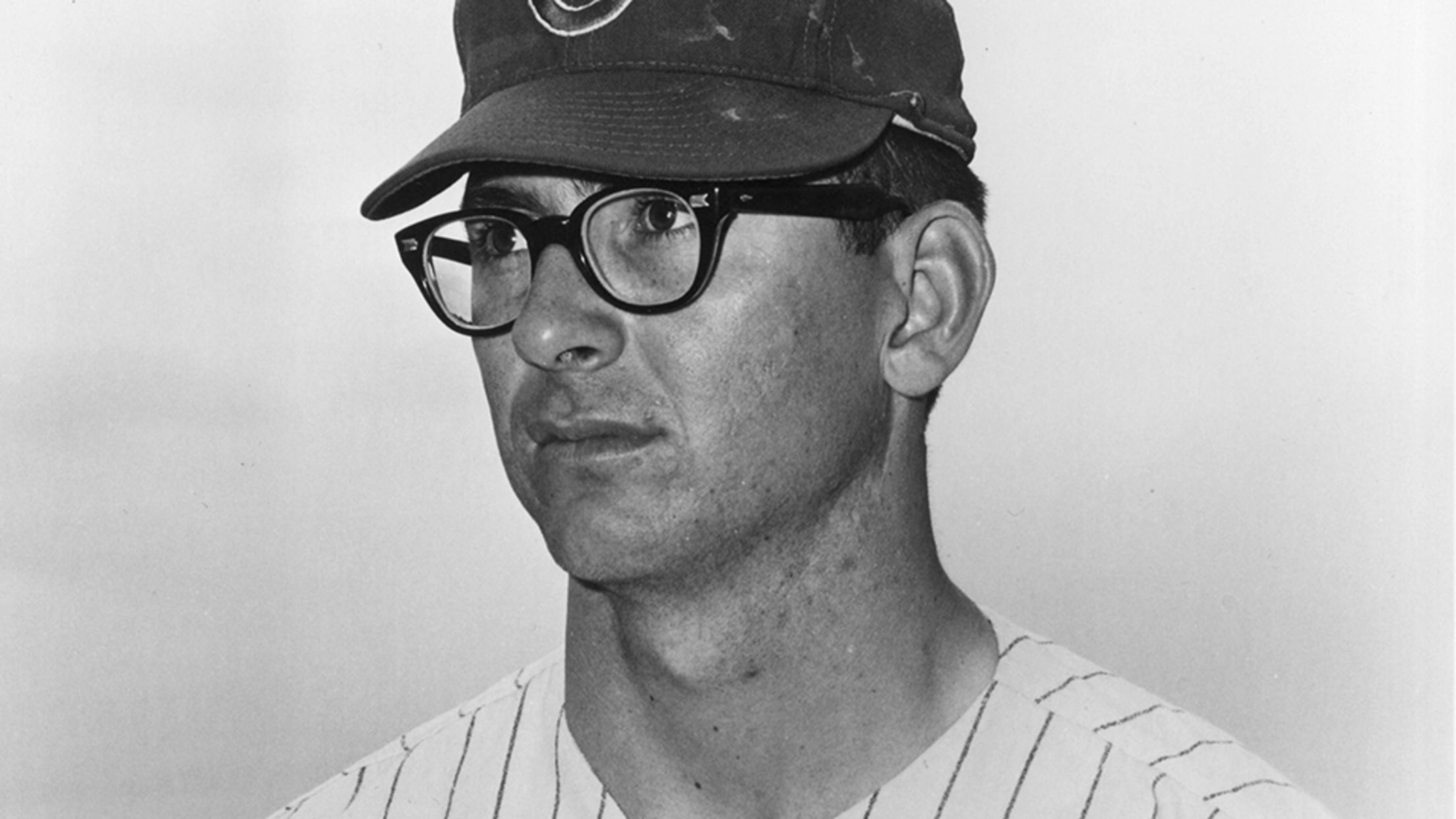 Jim Ellis made his Major League debut for the Cubs on Aug. 11, 1967 against the Phillies at Wrigley Field. (Chicago Cubs)
Minor League Baseball is known for its rich history, dating back more than 100 years. While much has been written about the best teams and top players who have graced the Minors, there remain many stories either untold or largely forgotten. Each week, MiLB.com will attempt to fill that gap
Minor League Baseball is known for its rich history, dating back more than 100 years. While much has been written about the best teams and top players who have graced the Minors, there remain many stories either untold or largely forgotten. Each week, MiLB.com will attempt to fill that gap and explore these historical oddities in our "Cracked Bats" feature. Know of any stories to be considered for this feature in the future? Send an email and let us know.
There were times when Jim Ellis threw the ball very well during a professional career that lasted nearly a decade.
There were times when the California native hit the ball well, too.
But there was only one instance when his arm and his bat were in perfect harmony: a day in 1965 when Ellis carved out one of the most memorable days in the history of the Midwest League. The then-Cubs farmhand pitched a one-hitter for Quincy on May 9, shutting down Dubuque with relative ease.
While one-hitters aren't all that uncommon, it's what Ellis did at the plate that made the day special. He had five hits in six at-bats, connecting for three home runs, including a grand slam, and driving in seven runs in a 25-0 romp. It should be noted that while The Sporting News and United Press International credited Ellis with seven RBIs, he said he remembers collecting 11. In addition, The Sporting News reported that the Cubs hit eight homers, while UPI said they had seven.
Regardless of the number of runs he pushed across the plate, Ellis had a game that few have matched. Adding to what he accomplished at the plate was the fact that it was only a seven-inning game, the first of a doubleheader.
"I couldn't have had a better all-around game. I don't see how I could have surpassed that," Ellis, 62, said. "It was one of those games where everything fell into place. It still crosses my mind once in a while, but not that often anymore. After that game, I had kids coming up to me for weeks and weeks asking about it. They looked at me like I was some kind of freak, but I had some local notoriety."
Ellis was having a good day before heading to the plate in the sixth inning, when he connected for the game's second grand slam [third baseman Tom Lindsey hit one in the first]. He came to bat again in the seventh, looking for a fourth homer but struck out.
"Our manager [and third base coach, Walt Dixon] shook my hand the first two home runs, but on the third one he turned his back on me," Ellis recalled. "It was becoming embarrassing. At times, I hit the ball well, but that was just an unusual game. The grand slam went over the center field fence, which was some 400 feet. I saw it bounce up behind the wall; it landed in an intersection.
"I wasn't thinking about anything, really. The last time I came to bat I was trying to hit another homer, but I struck out. I wasn't afraid [of retaliation]. We weren't trying to show up the other team. It was just a game that got out of hand."
The only blemish on his afternoon was a third-inning single by Packers second baseman John Perkins. Otherwise, Ellis struck out 11 and walked one. The game proved to be the highlight of a season -- and perhaps a career -- that saw Ellis go 14-8 with 214 strikeouts over 168 innings.
"The only hit I gave up was a half-sinking liner that just got into the outfield," Ellis said. "It was the only ball they got out of the infield and it came to a dead stop about 50 feet behind the second baseman."
The other oddity surrounding the game was the fact that it took place in neither Dubuque nor Quincy. Dubuque was supposed to be the home team, but the Mississippi River had flooded badly that spring. Almost everything near its banks, including the ballpark, was under water, so the teams set up shop some 20 miles away in Dyersville, Iowa.
"Six or seven parks were under about six or seven feet of water," Ellis said. "I remember one photograph of a guy with a fishing line in one of the dugouts. When we flew in there, someone said the river had swollen to 15 miles wide."
The elements, however, did little to slow Ellis that day. Eventually, arm problems kept him on the shelf, eventually forcing him into retirement in 1971. He had been traded to the Dodgers, Cardinals and Brewers, who released him midway through the '71 season.
Ellis did get to briefly experience life in the Major Leagues, though, before leaving the game. He was 1-1 with a 3.24 ERA in eight games for the Cubs in 1967, then posted a 1.69 ERA in two games for the Cardinals in 1969.
After leaving baseball, he returned to college, then became a row farmer in California, an occupation he held until retirement. A self-proclaimed "lifelong student," Ellis has gone back to school recently and is working as a substitute teacher.
Kevin T. Czerwinski is a reporter for MiLB.com.