Recalling when A's lofted only one homer
Betcher Cordele's team's lone long ball during summer of 1952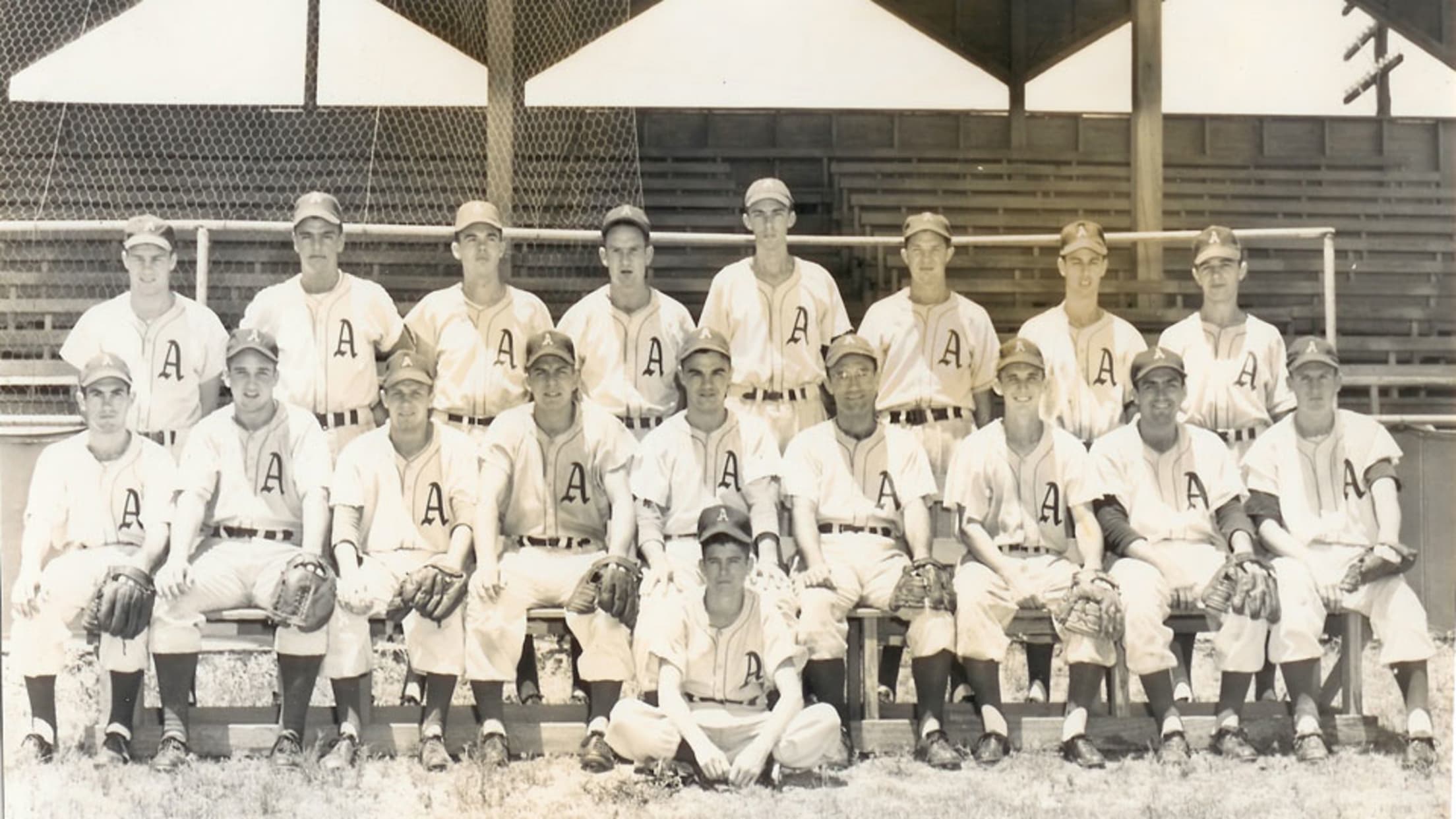 The Cordele A's only belted one home run in the Georgia-Florida League in 1952. (John Bell)
Minor League Baseball is known for its rich history dating back more than 100 years. While much has been written about the best teams and top players who have graced the Minors, there remain many stories either untold or largely forgotten. Each week, MiLB.com will attempt to fill that gap
Minor League Baseball is known for its rich history dating back more than 100 years. While much has been written about the best teams and top players who have graced the Minors, there remain many stories either untold or largely forgotten. Each week, MiLB.com will attempt to fill that gap and explore these historical oddities in our feature, "Cracked Bats."
The Georgia-Florida League was not rife with home run hitters during its 23-year existence. But few could have expected what the team in the tiny Georgia town of Cordele experienced in 1952 when the A's put together one of the most punchless seasons in baseball history.
Cordele finished fifth in the eight-team Class D circuit that year, 15 games behind frontrunning Valdosta. What makes their otherwise pedestrian season significant, however, is the fact the A's hit only one home run during the 139-game campaign. Ralph "Froggie" Betcher was the team's resident slugger, connecting for that lone shot on July 3 against Brunswick.
That Cordele only hit one home run in 1952 wasn't completely surprising, considering Tifton's Parnell Ruark led the league with 19. Only three GFL players reached double figures in home runs that season. And only twice did someone reach the 30-homer mark in more than two decades, with the GFL record being a modest 32.
The size of the ballparks and the relative inexperience of the players -- many were just out of school -- seem to be the biggest contributing factors to the low home run totals. Yet what Cordele did, or rather didn't do, in '52 still stands out.
"We were aware that mine was the only home run for our team," said Betcher, 79. "I guess there were plenty of homers in the league, but it's a hard thing to say if people were expecting us to hit home runs. I hit seven homers with Pulaski in the Appalachian League in 1950, but I think the ball traveled a lot further there than in the Georgia-Florida League. I don't think there were too many homers hit by many clubs in '52 in the league."
It's not as if the A's were without talented players. Betcher, the third baseman, hit a team-leading .306 while infielder/outfielder Bob Davidson batted .303. Second baseman Paul DeMont hit .301 and shortstop Gerry Schypinski hit .297. DeMont and outfielder Don Day also shared the league lead with 10 triples.
"I think we were all light hitters," said Schypinski, 75. "I wouldn't say we were power hitters at the time. It seemed funny that no one hit any more. We did hit the wall once in a while. We weren't exceptionally strong hitters just a lot of singles and doubles.
"The thing of it is that I'm not sure if the stadiums were that big. But it was Class D, and a lot of us were just coming out of school at the time. There may not have been too many homers, but it was a pretty good league. I don't know the reason why. Except for the home runs, it was enjoyable."
It seemed that way for Betcher, a Pittsburgh native who grew up idolizing Mel Ott, Paul Waner and Stan Musial, all Hall of Famers. Betcher was part of the post-war baseball boom, playing in the Eastern Shore League in 1949 before splitting the next two seasons in the Appy and Western Carolina Leagues. He also played briefly for Cordele in 1951 before returning full-time the following year.
Fans in Cordele took an instant liking to Betcher, who was a chatterbox on the infield. They dubbed him "Froggie" because of his deep voice, and the nickname stuck.
"I married a Georgia girl 54 years ago, and her younger sister calls me Froggie to this day," Betcher said. "She was 5 or 6 when I was playing ball there, and that's how she remembers me."
Froggie and the rest of the A's celebrated the July 4 holiday a few hours early that summer when they took the field against Brunswick at City Park. Cordele only averaged 465 fans per game in 1952, with most of the games, including the July 3 contest, played at night.
Cordele won, 14-2, in what was a rather nondescript affair. Had Betcher not connected for his fourth-inning blast, the A's story would be equally compelling but only because the team would have gone the entire season without hitting a home run.
"The irony of the situation was that the bases were loaded when I came up," said Betcher, who was 1-for-5 in the game. "But on the first pitch, the catcher tried to pick a guy off third. He threw wild and the guy on third scored, the guy on second scored and then the guy on first scored when the throw to third base went wild again.
"The next pitch, I hit a home run, 407 feet over the center-field fence. I remember it like it was yesterday. For a youngster, that's a pretty good drive. That's what happened. It was a fastball right down the middle, and I let her go. I was lucky to connect, I guess."
The memory of the shot heard 'round Cordele that summer night lasted the rest of the season. Betcher still chuckles about the homer and his place in Cordele's strange season. That year, however, proved to be his swan song.
Betcher went to Philadelphia A's owner Connie Mack the following spring, looking for more money. Though Mack offered Betcher a job as a manager in the Philly system, the offer wasn't good enough to keep him around. Betcher returned to Pittsburgh and played semi-pro ball for a few years before becoming a high school and American Legion umpire, a position he held through 1993.
"Here were teams signing folks for big bonuses and I'm getting $100 and $200 raises, so I gave it up," Betcher said. "I guess I was born 40 years too early." Not where the folks in Cordele were concerned.
Kevin Czerwinski is a reporter for MLB.com.