Nelson was class of IL in 1950s
Slugging first baseman never got much of a chance in Majors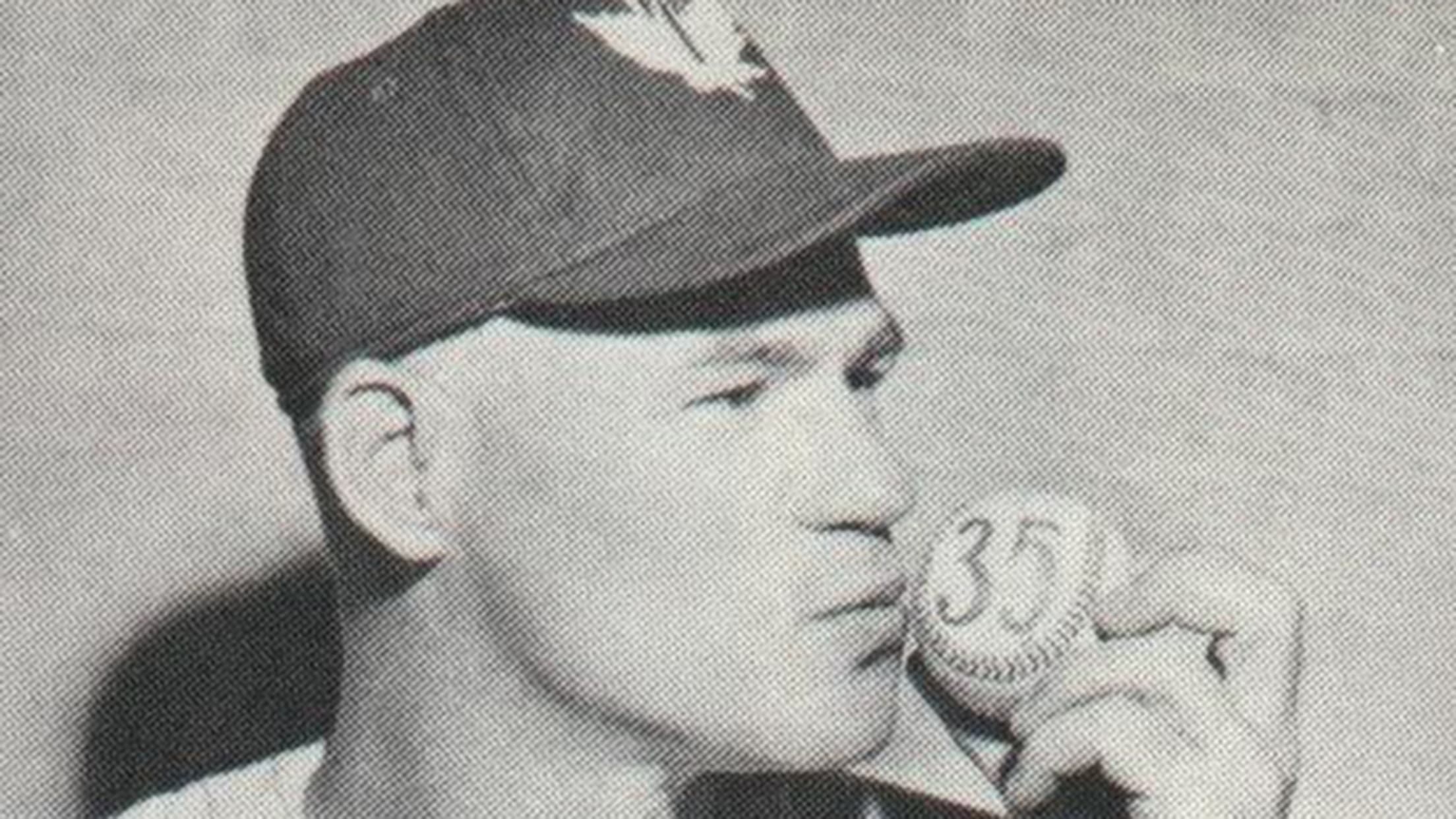 Rocky Nelson combined for 71 homers and 222 RBIs for Triple-A Toronto in 1957-58. (Canadian Baseball Hall of Fame and Museum)
Minor League Baseball is known for its rich history, dating back more than 100 years. While much has been written about the best teams and top players who have graced the Minors, there remain many stories either untold or largely forgotten. Each week, MiLB.com will attempt to fill that gap
Minor League Baseball is known for its rich history, dating back more than 100 years. While much has been written about the best teams and top players who have graced the Minors, there remain many stories either untold or largely forgotten. Each week, MiLB.com will attempt to fill that gap and explore these historical oddities in our "Cracked Bats" feature. Know of any stories to be considered for this feature in the future? Send an email and let us know.
Minor League Baseball in the 1950s was rife with now-forgotten sluggers, bashers whom many believed -- simply based on the kinds of seasons they were able to string together -- that a prolonged stint in the Major Leagues was inevitable. But during a pre-expansion era when owners ruled and available big league roster spots were treated as precious commodities, many of these Minor League musclemen never got a true chance to shine on the big stage.
Rocky Nelson is one such home run hitter. He did play portions of nine seasons in the Major Leagues between 1949-61, serving as a part-time player with the Cardinals at the beginning of his career and finishing in a similar role with the Pirates. In between, there were stops in Brooklyn, Cleveland and Chicago, a return trip to St. Louis and the first of two stints with Pittsburgh.
Nelson, however, never got more than 244 at-bats in a season, and that was during his rookie year with the Cardinals. He never hit more than seven homers in a Major League season, reaching that figure twice -- once in 1956, when he split the season between the Dodgers and Cardinals, and again with the Pirates in 1960.
It's what Nelson did, though, during one magnificent stretch in the mid-'50s that earns him a special place in Minor League history. Nelson hit 203 of his 234 Minor League homers in the International League between 1947-62, the bulk of which came during a six-year run with Montreal and Toronto. He also drove in 737 of his 1,009 Minor League runs while playing for IL teams, the last of which came in 1962 with Toronto.
Nelson became the first multiple MVP in the International League, earning the honor three times (1953, 1955, 1958). He also won the league's Triple Crown in 1955 and 1958. The only other player to be named IL MVP twice was Roberto Petagine (1997-98 with Norfolk and Indianapolis).
The Ohio native is a member of both the Canadian Baseball Hall of Fame and the Ohio Baseball Hall of Fame. Nelson, who totaled 31 Major League homers and 173 RBIs, also was the last living member of the International League Hall of Fame prior to his death last fall at the age of 81.
"For me, Rocky was the finest ballplayer I ever played with and against," former Montreal Royals teammate Glenn Mickens said. "He could do almost everything. The only thing he couldn't do was run. He should have been a big league star. It took him until the end to really get there, but Rock could hit with anyone in the big leagues.
"It didn't matter if the pitcher was left-handed or right-handed. It was a pleasure to play with him in Montreal. I have tremendous appreciation for him. He was a ballplayer's ballplayer. To me, he would have been a superstar [in the Major Leagues]."
Nelson's real first name was Glenn, but folks called him Rocky after he got plunked in the head by a baseball while playing pepper during his first stint with the Cardinals. His easygoing, colorful nature and less than imposing stature -- he was 5-foot-11 and weighed less than 200 pounds -- didn't exactly fit his nickname, let alone the traditional role of big bopper. Add in the fact that his stance was somewhat awkward -- he was left-handed with an open stance that had both feet facing the pitcher -- and the idea that he'd be tearing the cover off the ball with such regularity seemed far-fetched.
And for a while, that proved to be the case. He combined for 36 homers between 1946-52, seven of which came in the Major Leagues. Then came the 1953 season with Montreal, the Dodgers' top affiliate in the IL. He batted .308 with 34 homers and a league-leading 136 RBIs, also topping the circuit with 106 walks as Montreal -- managed by Walt Alston -- won the IL crown.
"We had a terrible start [in 1953]," Nelson told The Montreal Gazette in 1987. "We didn't have any home run power. I told Walt if he wanted me to concentrate on going for power, I'd give it a try. I went out early for several days in a row and aimed for the fence in right with [shortstop] Stan Rojek throwing to me. That's how I came up with that crazy stance.
"I was sitting back as though I was in a rocking chair. Usually, you get set, pivot and then swing. I was just taking out the pivot."
Nelson and his pivot didn't join the Royals until mid-May in 1954, but he still led the league in homers (31) and walks (105) while batting .311. He continued to shine in relative anonymity, though his teammates realized how special he was.
"We were in Rochester one night and there was a gale blowing in from right field," Mickens said. "I was hitting fungoes to the outfielders, and I could barely get the ball over second base and into right field. So when I went back to the dugout, I said, 'No one in the world, not even King Kong, is going to hit one out of here tonight.'
"But the second time up, Rocky hit one over the right field fence and I was in awe. It wasn't a towering fly. It was just a rope. And he did that over and over. We had a building out beyond right field in Montreal, and Rock hit one on top of the building. It was uncanny the things that he could do."
By 1955, few in the Minor Leagues could match his prowess. He won his second MVP award and first Triple Crown for the Royals, hitting .364 with 37 homers and 130 RBIs. He also led the league in walks for the third consecutive season with a career-high 118. His efforts should have been good enough to get a look from the folks in Brooklyn, but they weren't, leaving many people in the IL puzzled.
The Sporting News, which covered Minor League baseball extensively at the time, ran an editorial during the last week of the 1955 season in which several IL executives questioned the logic of not promoting Nelson, who, according to the story, also was making as much money as nearly three-quarters of the players in the Majors. At the time, league secretary Harry Simmons had this take on the matter.
"With Rocky's world of ability, it's incredible that he hasn't been in the Majors for years," Simmons said. "He's a better first baseman than many up there."
Unfortunately, he wasn't a better first baseman than the one the Dodgers had in Gil Hodges. Nelson fell victim to a similar fate later in his career, when he signed for a second time with Pittsburgh and got stuck behind Ted Kluszewski and Dick Stuart.
Undeterred, Nelson got off to yet another hot start in 1956; this time, Brooklyn made a move and promoted him. Although he spent the bulk of the season with the Dodgers and later the Cardinals, he hit only .217 in 152 at-bats, collecting seven homers and driving in 23 runs.
Nelson spent 1957 with Toronto, "slumping" to 28 homers and 102 RBIs but followed that with his second Triple Crown season in 1958. He hit a career-high 43 homers for Toronto, drove in 120 runs and batted .326 to earn his third MVP award in six seasons. After that, the Pirates finally took notice and signed him for a second time prior to the 1959 season.
In 502 at-bats over the next three seasons with Pittsburgh, Nelson smacked 18 homers and drove in 80 runs in a limited role. But he found one true moment of glory in 1960 during the Pirates' miraculous World Series victory over the Yankees. It was Nelson who played an integral role in the upset, hitting a two-run homer in the first inning of the seventh game against "Bullet" Bob Turley.
The shot proved to be a microcosm of Nelson's career because it, too, is largely forgotten as a result of Bill Mazeroski's Series-winning homer in the ninth. In fact, Mazeroski's homer was only made possible because of Nelson's fielding gaffe that allowed the tying run to score in the top of the inning and set the stage for the memorable moment.
"He was probably one of the better Minor League hitters that ever played and ended up being a good Major League hitter," said Bill Virdon, a teammate of Nelson's in Pittsburgh. "A lot of people were surprised that he didn't make it, but he was kind of a victim of circumstance. The places he was located always seemed to have one of the better first baseman in the business, so it was tough for him to break in.
"He always seemed to hit, and when he came to the big leagues, he played a little and lost his edge. Then he'd go back down to the Minors, hit again and come back and the same thing would happen. Everyone was surprised he didn't end up with an excellent career because of his hitting and because he could play first."
The 1960 season proved to be Nelson's last and really only big league hurrah. He came off the Pittsburgh bench again in '61 and a year later was back in the Minors, splitting time between the American Association and the IL one last time. He retired following the '62 season.
"Rock lived for the RBIs. That was his money," Mickens said. "One night, I remember he got on someone who got picked off while he was up. That was Rock. That was his way. But he was never very vocal. He was an introverted family guy. I can still see him in his room on the road. He was a crossword puzzle kind of guy. His whole world was baseball and love for his wife."
Nelson was never bitter about not getting a true chance in the big leagues. He seemed to enjoy himself wherever he played and, based on Mickens' account, was extremely popular with all of his teammates. Still, he always wondered, "What if?"
"The Major League teams sent their best young pitchers to the International League," Nelson told the Montreal Gazette. "I proved I could handle them. I always felt I could hit over .300 in the big leagues if I had been given the opportunity."
Kevin Czerwinski is a reporter for MiLB.com.