Josephina has huge night at plate for Rome
Braves infield prospect logs career highs with five hits, four RBIs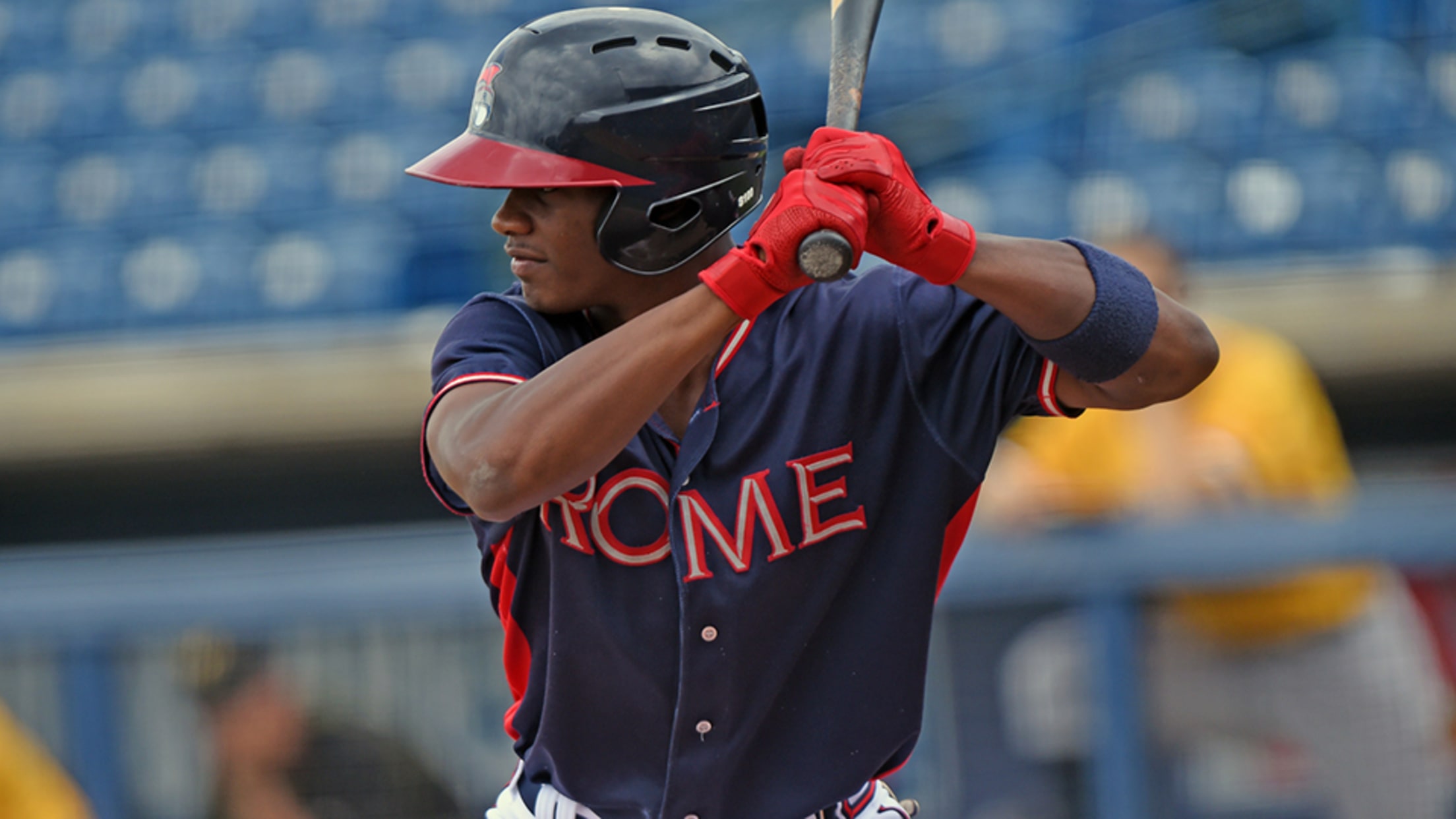 Kevin Josephina is hitting .367 (18-for-49) with 10 runs scored in his last 13 games. (Brian McLeod/MiLB.com)
It's never too late in the season to discover a fresh approach at the plate. Kevin Josephina did just that en route to a career night for Class A Rome.The Braves second baseman went 5-for-5 with a triple and a double while matching his career high with four RBIs on
It's never too late in the season to discover a fresh approach at the plate. Kevin Josephina did just that en route to a career night for Class A Rome.
The Braves second baseman went 5-for-5 with a triple and a double while matching his career high with four RBIs on Saturday night as Rome rolled to a 10-0 victory over Columbia at State Mutual Stadium. It was his first career five-hit game.
Box score
"It feels good just sticking with an approach ," Josephina said. "I was just trying to see the ball early and I got a couple fastballs and it felt good today."
Signed out of Curacao in 2013, Josephina raised his batting average nine points to .249 in his fourth professional season. He has six triples, 13 doubles, 34 RBIs and 40 runs scored in 116 games.
Josephina's other four-RBI game came in the Rookie-level Dominican Summer League on June 17, 2014. He has hits in 10 of his last 13 games, including a four-hit performance in a 16-inning game -- also against the Fireflies -- on Aug. 20.
"I've been working on [the aggressive approach] with my hitting coach [Bobby Moore]," Josephina said. "I've been taking a lot of pitches and not been aggressive. We started changing it up a little bit and we started going for the fastball. Not seeing anything new. Same baseball, same game, same pitcher, it's just about being more aggressive at the plate."
With one out in the second inning on Saturday, Josephina laid a bunt down the third base line and beat the throw from Jay Jabs for an infield single. He moved up a base on Anthony Concepcion's single to center and scored on Bradley Keller's single up the middle.
"I was trying to go early in counts because I was looking for the fastball most of the time," Josephina said. "Most of my hits were early in counts because I was looking for [the fastball]."
After Carlos Martínez was hit by a pitch in the third, Lucas Herbert doubled to put a pair of runners in scoring position. Josephina cleared the bases with a double to center.
"I was just trying to drive in runs when I had my turn and just help the team to win," the 20-year-old said. "Most of the time, they were on base because they were hitting good today, too."
Josephina added another single on a grounder to left with two outs in the fifth. Jabs booted a Leudys Baez roller to start the seventh and Josephina followed with a ground ball down the right field line that went for a triple before scoring on Concepcion's infield single.
• Get tickets to an R-Braves game »
Josephina capitalized on his final opportunity with one out and two runners on in the eighth, knocking a single into right to drive in another run.
Isranel Wilson went 3-for-5 with a triple and an RBI for the Braves, who got five scoreless innings from Jeremy Walker (7-11).
Gerard Gilberto is a contributor to MiLB.com. Follow and interact with him on Twitter, @GerardGilberto4.