Roosevelt Stadium key in baseball history
Robinson broke color barrier, Irvin starred in Jersey City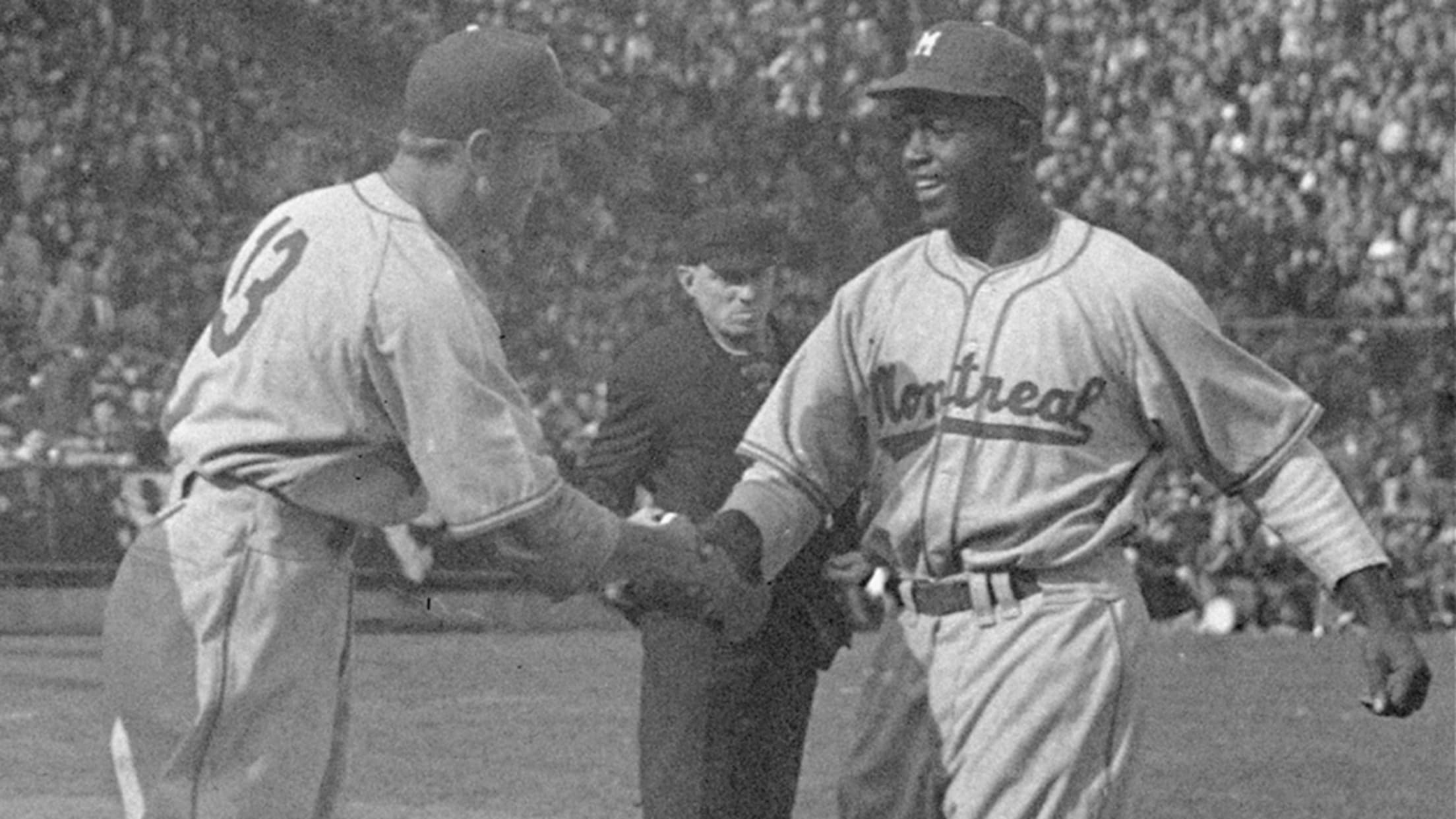 Jackie Robinson is greeted by George Shuba after hitting a home run at Roosevelt Stadium on April 18, 1946 while umpire Art Gore looks on. (AP)
JERSEY CITY, N.J. -- Almost every baseball fan has heard the story of Roosevelt Stadium's most famous day. At the Minor League ballpark in Jersey City, N.J., on April 18, 1946, Jackie Robinson broke baseball's color barrier by playing in the first integrated professional game in decades.Playing for the Triple-A
JERSEY CITY, N.J. -- Almost every baseball fan has heard the story of Roosevelt Stadium's most famous day. At the Minor League ballpark in Jersey City, N.J., on April 18, 1946, Jackie Robinson broke baseball's color barrier by playing in the first integrated professional game in decades.
Playing for the Triple-A Montreal Royals against the Jersey City Giants in front of a standing-room-only crowd of more than 25,000 [the stadium's official capacity was 24,000], Robinson hit a three-run homer, collected four RBIs, stole two bases, scored four times and went 4-for-5. Twice, Robinson scored by bouncing explosively off the third base bag and causing a Jersey City pitcher to balk. In his first game in the Dodgers organization, he led his team to a 14-1 victory.
But Robinson's breakthrough day was only the first pioneering performance at Roosevelt Stadium by an African American, making the ballpark, which has since been demolished, a significant piece of baseball -- and cultural -- history.

Irvin and Thompson
Monte Irvin was such a star during his eight years in the Negro Leagues that some had suspected he would be the first to break the color barrier.
Hall of Famer and Negro Leagues legend James "Cool Papa" Bell said of Irvin, "Monte was our best young ballplayer at the time. He could do everything. ... It's not that Jackie Robinson wasn't a good ballplayer, but we wanted Monte because we knew what he could do."
When the New York Giants signed Irvin in 1949, they sent him to Jersey City to play for the "Little" Giants, making Roosevelt Stadium his new stomping grounds. Irvin's family had moved to nearby Orange, N.J., when he was 13, and he lived in his family's house during his tenure with the Giants. But the shortstop-turned-outfielder proved even more comfortable at Roosevelt. By the beginning of July, Irvin was batting .373, and 32 of his 76 hits were for extra bases, including nine home runs. He was a key piece of a Jersey City team that was coasting through the spring.
As the big league Giants entered the second half of the season, it was apparent that a man of Irvin's abilities would be needed if they had any shot at the National League pennant. The Hall of Famer played his first Major League game as a 30-year-old rookie, but surprisingly, he had mixed feelings about the callup.
"I didn't want to go because we were in first place and I was having a real good time. But it was my chance and I went," Irvin told
The Jersey Journal
.
Irvin did not go from Roosevelt Stadium to the Polo Grounds alone, though. Hank Thompson, another African American, also spent the first half of the 1949 season with the Triple-A Giants and was also instrumental in their success. Jersey City's right-center field wall was 377 feet from home plate, but the left-handed Thompson bashed 14 homers in 68 games for the Little Giants.
When Thompson and Irvin took the field for the New York Giants on July 8, 1949, they became the organization's first black Major Leaguers. Thompson, who played in 27 games for the American League's St. Louis Browns in 1947, also became the first African American to play in both the AL and the NL.
While Thompson hit .280 and drove in 34 runs for the stumbling Giants, Irvin struggled at the big league level, batting .224 and finishing the season without a home run.
After spending Spring Training with the Giants in 1950, Irvin found himself returning to Jersey City, telling reporters as he packed for another trip to the Minors, "I'll be back."
That April in Jersey City, he found the confidence that carried him through the rest of his Major League career.
"In Jersey's stadium, with its 420-foot wall [in center field], he smashed towering Ruthian flies over the scoreboard,"
Baseball Digest's
Charles Dexter wrote in 1951 of Irvin's 1950 stint in Jersey City.
Indeed, sellout and near-sellout crowds of close to 25,000 packed Roosevelt's seats and aisles that spring to see Irvin devastate International League pitching -- he hit 10 homers and put together a .510 batting average in 18 games. By mid-May, New York was in seventh place and couldn't ignore Irvin's success. He was promoted and remained a staple in the Giants lineup for the five seasons.
In 1951, one year after his ferocious tear with Jersey City, Irvin became the first African American to lead a league in RBIs (121). At the end of the season, along with Willie Mays and Thompson, he formed part of the first all-black outfield in Major League history when Thompson started in right in place of the injured Don Mueller in a World Series game.
But all the Major League history created by Thompson and Irvin didn't originate in New York -- it started on the other side of the Hudson River.
"What a wonderful stadium," Irvin told
The Jersey Journal
. "It was the class of the International League and better than many [Major League] stadiums. I had a lot of thrills there."
Robinson Returns
On Aug. 15, 1956, 10 years after Jackie Robinson played in his first professional integrated game, the Dodgers -- seeking a replacement for Ebbets Field -- crossed the Hudson River to host the Giants at Roosevelt Stadium.
This time, though, Robinson had a game to forget. The Dodgers veteran went 0-for-4 and was booed by the crowd of 26,385. The "visiting" Giants had built a considerable fan base in Jersey City through their Minor League affiliate.
The heroics in this game belonged to another African American legend: Mays homered in the fourth inning off Don Newcombe, the first black pitcher to win 20 games in a season. Mays' homer is recognized as the only time a ball was ever hit completely out of Roosevelt Stadium.
The blast was one of three hits Newcombe allowed over eight innings and Clem Labine pitched a scoreless ninth, but Giants southpaw Johnny Antonelli threw a two-hit shutout. The solo shot made all the difference in the 1-0 game.
With Mays' monster home run, the slugger wrote another chapter in the history of Roosevelt Stadium's relationship with some of the best and boldest African American players who reached the Major Leagues.
End of an Era
After the Giants and Dodgers left New York for California following the 1957 season, baseball was absent from Roosevelt Stadium for more than two decades. The stadium was used for wrestling matches, ice skating, rock concerts and circuses beginning in the 1960s and continuing until its demolition in 1985.
Thanks to efforts of city officials, baseball made a short-lived comeback at Roosevelt Stadium, playing home to the Jersey City Indians in 1977 and the Jersey City Athletics in 1978. But the return wasn't as glorious as some had hoped. The Double-A Indians ended the season with a 40-97 record and struggled to draw crowds through the summer.
One more African American whose style and approach would have a profound affect on baseball called Roosevelt Stadium home in 1978. But by the time Rickey Henderson arrived with the Double-A Jersey City A's, the stadium had fallen into disrepair. Henderson stole 87 bases in 115 attempts against Eastern League catchers that season, but few turned out to watch and his team finished in last place with a 54-83 record.
In November 1982, when it was clear that Roosevelt Stadium was headed for demolition, former Jersey City Mayor Thomas F.X. Smith defended his efforts to bring the Indians and A's Minor League teams to the stadium, telling
The New York Times
, "We owed it to the people who felt so strongly about the park. You can't just take away something that's been part of the mores, the customs, of a community."
Although Smith and others couldn't resurrect the long-neglected ballpark, Roosevelt Stadium lives on as a baseball landmark.
Josh Jackson is a reporter for MiLB.com.