St. Lucie's Dunn keeping opponents off board
Mets No. 3 prospect allows two hits, fans seven over five frames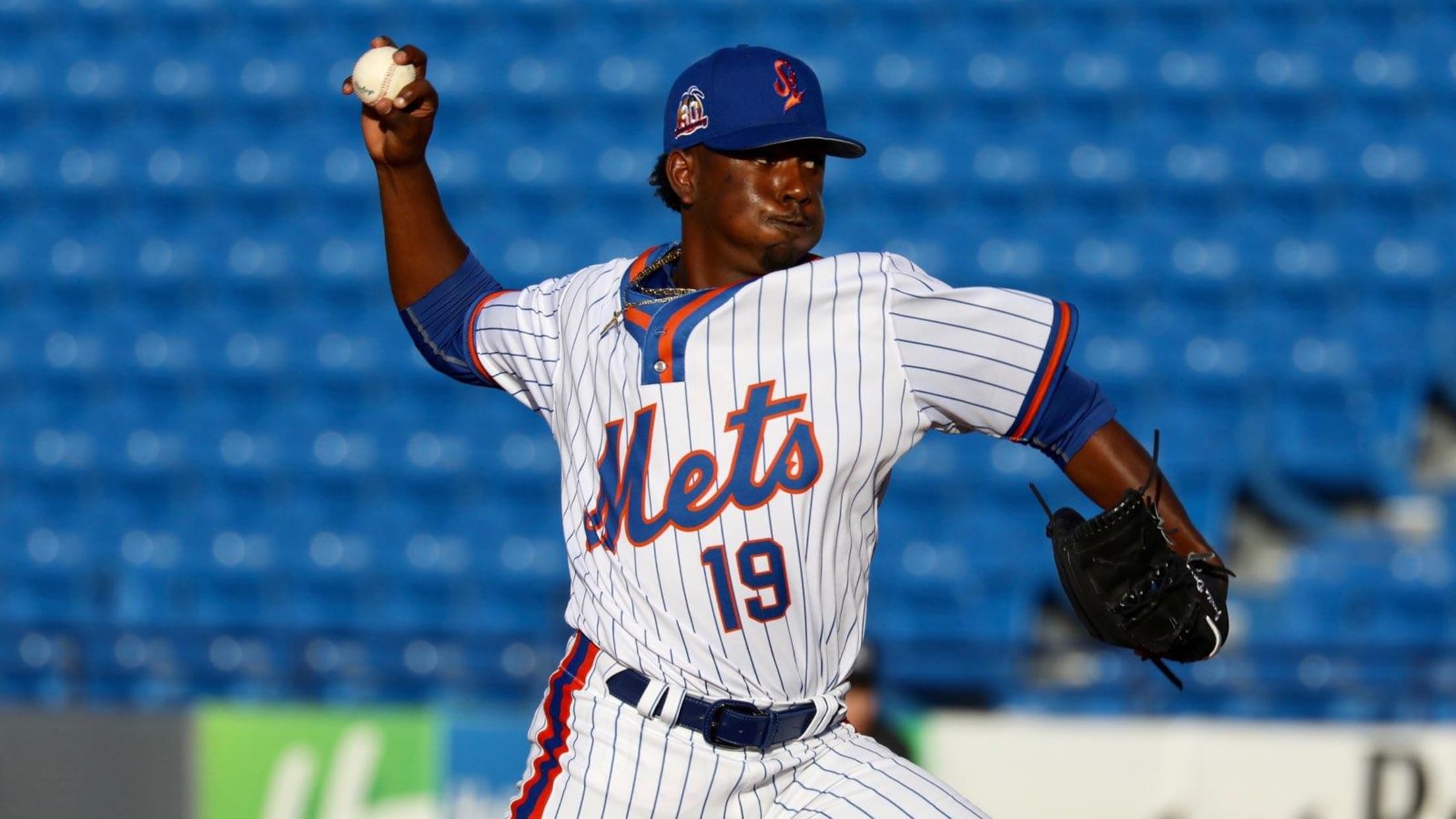 In his past three starts dating back to last year, Justin Dunn tied a career high with seven strikeouts. (Helene Haessler/St. Lucie Mets)
Justin Dunn has picked up right where he left off.For the second straight start, the third-ranked Mets prospect threw scoreless ball. Dunn gave up two hits and three walks over five scoreless frames in Class A Advanced St. Lucie's 4-3 win over Tampa on Wednesday. For his third straight start
Justin Dunn has picked up right where he left off.
For the second straight start, the third-ranked Mets prospect threw scoreless ball. Dunn gave up two hits and three walks over five scoreless frames in Class A Advanced St. Lucie's 4-3 win over Tampa on Wednesday. For his third straight start -- dating back to last year -- he matched a career high with seven strikeouts.
Working opposite Dunn was Yankees No. 15 prospect Trevor Stephan, who allowed three hits and struck out seven over six shutout innings. In his season debut on April 5, Dunn earned the win against Bradenton in a game with a lot of similarities.
The consecutive pitchers' duels just gave Dunn more motivation.
Gameday box score
"I love those games," he said. "Those are the games you play for. It's exciting, you get back out there, and it's like, 'Your turn.' You do your thing then flip the ball to the other guy, and it's who's going to be the first one to break? To have that kind of game, having two back-to-back, it's a good confidence builder."
Dunn is in his second season in the Florida State League after posting a 5-6 record and a 5.00 ERA over 95 1/3 innings in 2017. The 2016 first-round pick, who spent most of his time coming out of the bullpen at Boston College, converted to a starting role in his final season with the Eagles.
"I put some weight on to handle the longer season last year," Dunn said. "I did that in college, but it wasn't enough. I wasn't physically ready to handle the grind of a full season. I didn't change much else, I went back to my closer mentality actually. That's what made me good in college. I came at you with everything I have, I gave all four of my pitches. Getting back to that attack mode has sharpened my stuff."
In his first season as a pro, Dunn posted a 1.50 ERA in 30 innings for Class A Short Season Brooklyn. He made the leap to St. Lucie, where his strikeout rate decreased as he continued to adjust. Dunn finished last season on the disabled list after compiling seven strikeouts in a win over Tampa on Aug. 3.
Dunn, who didn't make any big physical changes in the offseason, cited his experience in the Florida State League and his comfort level for the success in his first two outings.
"The confidence is high right now," he said. "I didn't change much, just the mental aspect of it. Not putting pressure on myself. I took the pressure off, with two full years of pro ball. I'm not in control of a lot of things, so I just have to go out and pitch and do what I've know how to do since I was a little kid."
The 22-year-old right-hander has continued to work on command and getting through lineups more than once since converting to a starter. At the conclusion of last season, Dunn had begun to strike out more batters as he increasingly utilized a fourth pitch.
"The changeup is something I've worked on a lot this offseason," he said. "It felt good last game. The fastball command has been pretty on. A couple pitches I missed on trying to be too fine, but it had good life to it, so I'll take it."
Dunn feels the changeup can be a game changer. He already possesses an upper-90s fastball, a bending curveball and a slider that works as his out pitch. The Freeport, New York native believes the changeup development makes him more deceptive.
Two games in, it's produced the results he's wanted.
"It's more having the trust in it to throw it," Dunn said. "It's hard. I try to have a good fade to it if I can. A lot of hitters are going to think it's a fastball when it's a changeup. If I can get it into that 84-86 range, with a decent fade, I'll be OK."
Ian Strom, who scored twice, walked off Wednesday's win on a wild pitch by righty reliever Matt Frawley. Top Mets prospect Andrés Giménez went 2-for-4 with a double.
Marisa Ingemi is a contributor to MiLB.com. Follow her on Twitter @Marisa_Ingemi.