Storm Chasers' Eibner homers three times
No. 23 Royals prospect rips two blasts in 10-run fifth, drives in six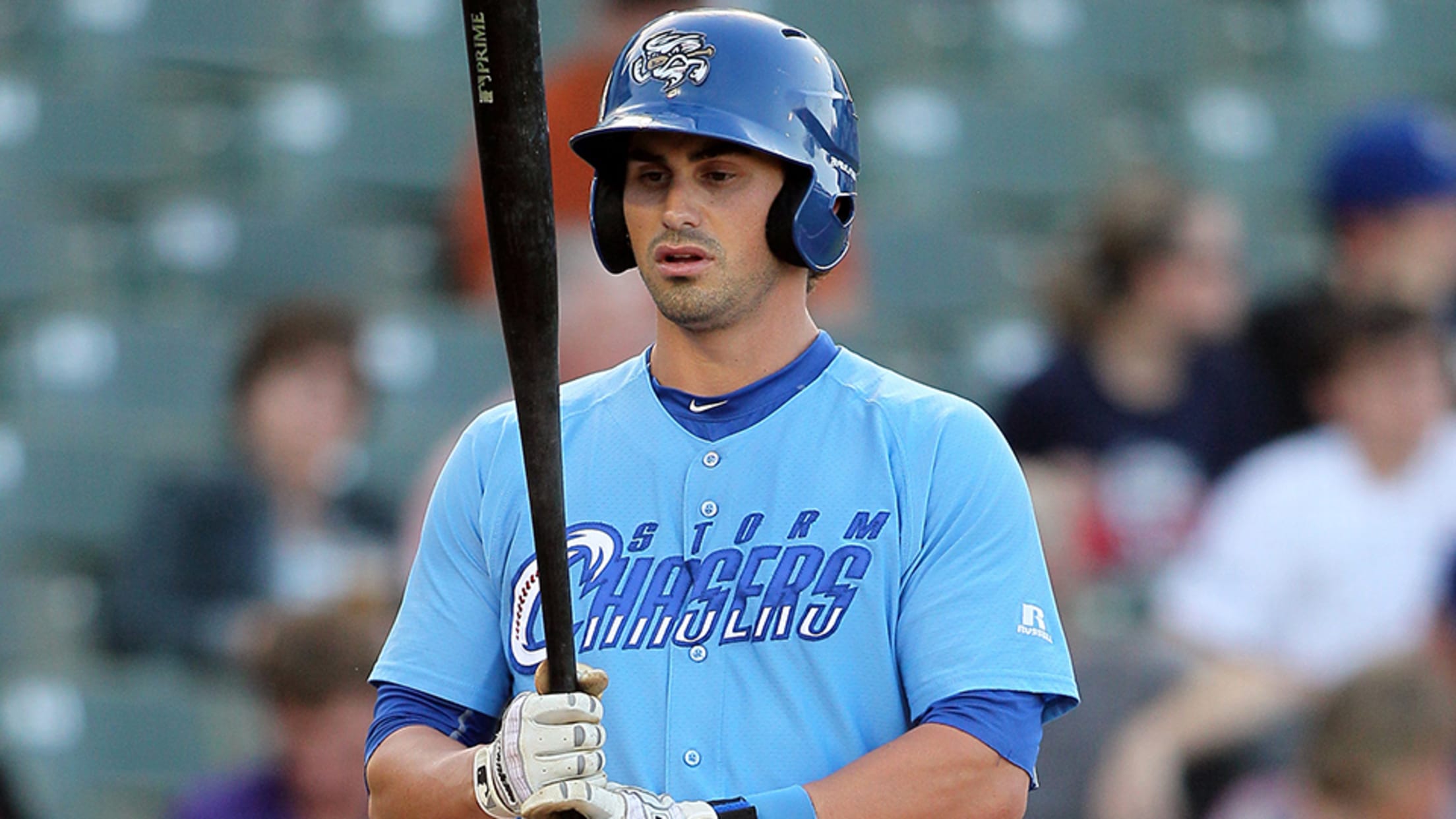 Brett Eibner became the fourth Minor League player to go yard three times this season. (Jim Redman/MiLB.com)
Brett Eibner's historic day at the plate began with a double play. The Royals' No. 23 prospect went yard twice in the fifth inning en route to becoming the fourth Minor Leaguer this season to hit three home runs in a game in Triple-A Omaha's 15-5 thumping of Memphis on
Brett Eibner's historic day at the plate began with a double play.
The Royals' No. 23 prospect went yard twice in the fifth inning en route to becoming the fourth Minor Leaguer this season to hit three home runs in a game in Triple-A Omaha's 15-5 thumping of Memphis on Thursday at Werner Park. He joined Sacramento's Jarrett Parker among players who have accomplished the feat in the PCL this year.
Four innings earlier, however, Eibner stormed back to the dugout having erased a pair of walks by Whit Merrifield and Jorge Bonifacio by bouncing a double-play grounder to third baseman Patrick Wisdom.
"I was kind of really mad at myself," Eibner said. "I knew it as soon as I swung at it. It was really bothering me in the outfield [in the next inning], killing that rally we had in the first. Because [Memphis starter J.C. Sulbaran] was really struggling to find it and I didn't do anything but help him out. I made sure that I locked it in right after that."
The University of Arkansas product did just that when he faced Sulbaran (2-3) again in the third, belting a high fastball over the wall in right-center field.
Two innings later, Eibner beat the Redbirds' right-hander again, this time to left. The blast was the product of a lesson he had learned from his first-inning groundout.
"He was throwing me a lot of changeups and finally I got one I could handle and hit that out to left," the 27-year-old explained. "I stayed in tight instead of rolling it over like I did my first at-bat."
But Eibner did not expect to be back at the plate again later that same inning. The Storm Chasers chased Sulbaran, and kept the line moving once reliever Justin Wright took over.
"Once we started rolling like that, I knew that I was definitely coming up again that inning," the San Diego native said.
With two outs, Wright threw a fastball on the outer half of the plate, and Eibner got just enough of it.
"The third one I didn't expect to go out," he said. "I hit a hard line drive and I didn't know it was going to carry enough. I knew it was over [right fielder David Washington's] head, but I didn't know it was going to clear the wall. It ended up skipping off the top of the wall and out."
The homer completed a 10-run inning for Omaha, the biggest single frame in the PCL this season.
"It was a fun night. Everyone kind of joined in on the party," Eibner said. "It's something that we needed. I wouldn't say we were scuffling, but we hadn't been putting together those big innings like we had earlier in the year. Hopefully, we can keep rolling."
The second-round selection in the 2010 First-Year Player Draft thought carefully about where to rank the night in his career before settling on, appropriately, No. 3.
"There's a home run I hit in the College World Series against Virginia that was big," he said. "What I did last year in big league camp [hitting .500 with six home runs] was probably the top, just because of the competition I was facing and getting to do it with the big league team. But this is up there. Hitting three home runs in a Triple-A game is definitely in my top three."
Bonifacio plated three runs and scored three times while Royals No. 15 prospect Hunter Dozier finished 2-for-5 with an RBI.
Omaha starter Luke Farrell (2-0) surrendered three runs on five hits and one walk while striking out four in 5 1/3 innings.
Washington and Cardinals No. 9 prospect Charlie Tilson went deep for Memphis.