Rangers Prospect Primer: Tool time in Texas
Healthy Matuella on the rise, Calhoun looks to master outfield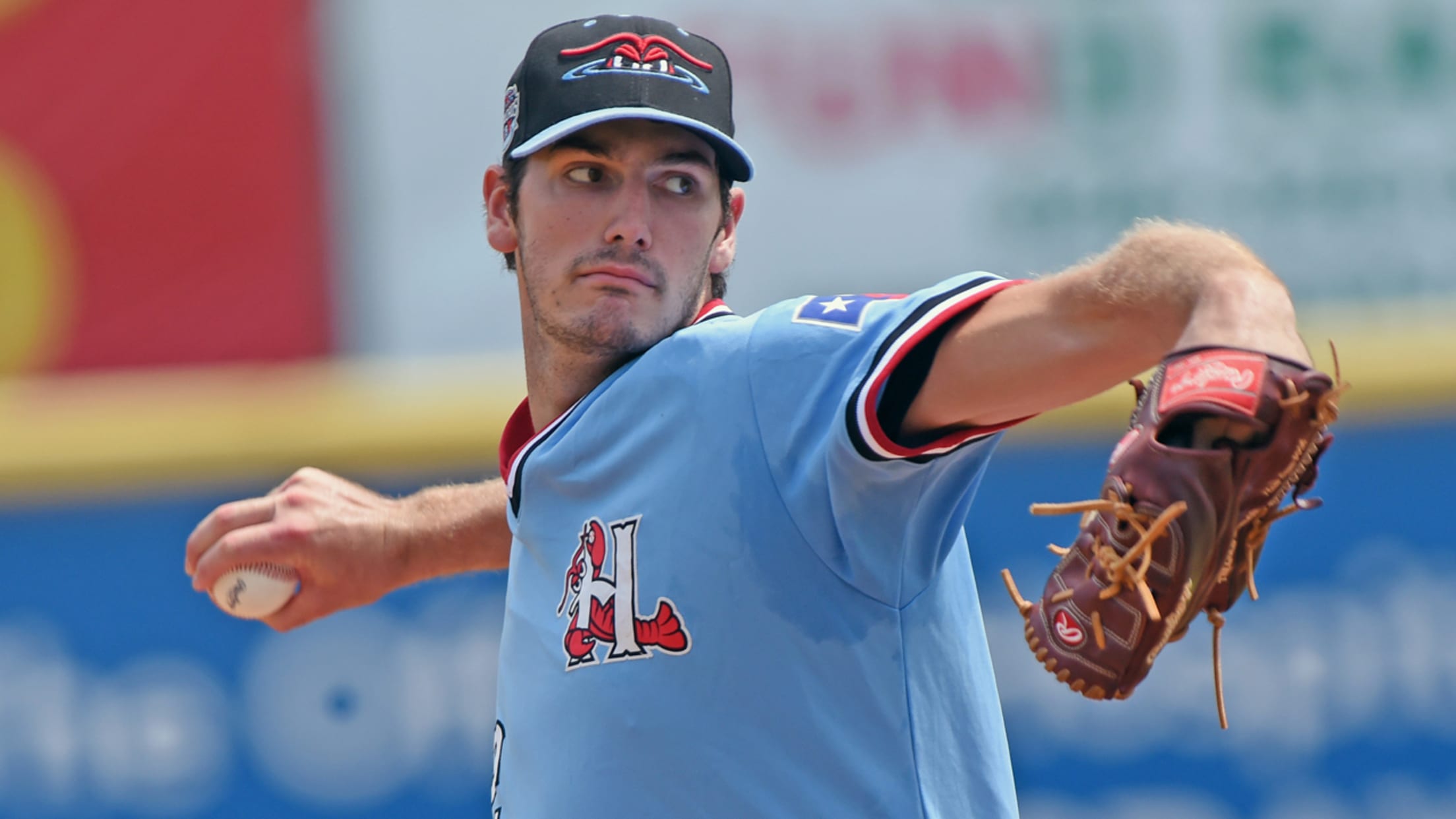 Despite a couple years lost to injuries, the Rangers still believe in Michael Matuella's upside. (Brian McLeod/MiLB.com)
Some players are on the verge of stardom, others are entering a crucial phase of their development and still others are getting their first tastes of full-season ball. With the 2018 season approaching, MiLB.com takes a look at the most intriguing prospects from each MLB organization.Major League-ready: Willie Calhoun, 2B/OFCalhoun's
Some players are on the verge of stardom, others are entering a crucial phase of their development and still others are getting their first tastes of full-season ball. With the 2018 season approaching, MiLB.com takes a look at the most intriguing prospects from each MLB organization.
Major League-ready: Willie Calhoun, 2B/OF
Calhoun's bat has been set for "The Show" for a while. His glove is the last piece that needs to fall into place. The Rangers optioned their 2017 trade acquisition to Triple-A Round Rock on March 13, giving the 23-year-old instruction to focus on his work in the field for the rest of Spring Training. When that's ready, the big leagues are next.
"Coming over from the Dodgers playing primarily in the infield, second base, he's had just a handful of games out there in left field," Rangers assistant general manager for player development Jayce Tingler said last month at camp. "Certainly the left-field focus (is key), first steps, reactions off the bat, continuing progress with baseball instincts, running the bases. We obviously loved Willie's bat. He hits for power, hits for average, can beat you in several different ways at the plate. It's just more continued work specifically in left field, getting used to it. We've got a big stadium in Arlington in left, left-center, so that's pretty critical to finish him off and hopefully get him ready for the big leagues."
Calhoun made his big league debut last year after the Rangers picked him up at the Trade Deadline as part of the deal that sent Yu Darvish to the Dodgers. In his first 13 big league games, Calhoun played left field in 11, batting .265/.324/.353 with his first Major League homer on Sept. 27. A spot with the Express will provide the Vallejo, California native everyday opportunities to get defensive experience.
"Willie's competitive," Tingler said. "I think naturally he's comfortable in the box. Unlike most players, the bat is usually the hardest thing. For Willie, it's arguably the easiest part of his game. He's competitive. He wants to be good. I don't think he has any interest in being a 23-, 24-year-old DH. Because Willie is competitive, if you throw some challenges out there, from our short experiences with him, he's always seemed to rise to the occasion."
Full-season debutant: Hans Crouse, RHP
Taken in the second round last year, Crouse got 20 innings under his belt over 10 appearances in the Rookie-level Arizona League. After dominating with a 0.45 ERA, a 0.70 WHIP and 30 strikeouts over that span, Crouse is ready for more.
"He's very competitive on the field, on the mound," Tingler said. "Off the field, he's a soft-spoken, great person. He's a unique talent. He has unique abilities. He's a high school kid who has both power to his game, touch and feel and command. He's got the ability to create swing-and-miss without trying to create swing-and-miss. He throws strikes, produces a lot of swing-and-miss. He's got two different breaking balls. He's working on developing a changeup, and obviously, he can go 97-99 with his fastball. He's kind of a unique bird."
• More quotes from Rangers executive Jayce Tingler on the blog »
Crouse isn't just a fun talent to watch. MLB Pipeline describes him as "extremely animated on the mound and … known to groom the dirt a la Mark Fidrych or throw a shimmy into his mechanics like Johnny Cueto." There's more to it than just the quirks.
"When I say Hans is unique, he has the ability to sync his arm up and throw strikes. He does it with different deliveries. He'll hang. He'll slide-step. He'll do his shimmy. Honestly, we haven't touched any mechanical aspect of it just based on how he's got a unique talent to be able to sync his hand up with his body and throw strikes. Honestly, we haven't done much mechanically."
Crouse is set for Class A Hickory in his full-season debut.
Back and healthy: Michael Matuella, RHP
Matuella gets this distinction because he proved in 2017 that he was -- for the first time in two years -- fully healthy. A potential top overall Draft selection while at Duke, the righty underwent Tommy John surgery during his final collegiate season in 2015 and was limited to three innings when his elbow flared up after the Rangers took him in the third round of 2016. Last year, he went wire to wire.
"It was a big step last year," Tingler said. "Most importantly, that was his goal, and that was the organizational goal. I think the next step is to continue to make his starts. Bearing good health, we're going to push him to high-A. He's been as impressive as any pitcher we've had here in Spring Training. At some point, he's going to add a slider to his arsenal. It's probably not going to be the first month, first couple weeks of the season, but get something to break down and away to the righties. That's something that as the season goes on, the weather warms up, continue to have good health, that's something that he's probably going to be looking to do."
After making 21 appearances (20 starts) and reaching his limit of 75 innings a year ago with Class A Hickory, Matuella is ticketed for Class A Advanced Down East to begin the 2018 season. Texas still sees the righty as having Major League front-line potential in the not-too-distant future.
"We most definitely do, especially after what we've seen this Spring Training," Tingler said. "It's hard. Guys, their careers get derailed, but to Michael's credit, he continues to mature. He's a tedious worker. He's found out things about himself, knows how to manage his injuries from the past. We believe that guy is still there, and we fully expect to see it."
Loudest tool: Jose Trevino, C
Two Minor League Gold Glove Awards will garner prospects across-the-board recognition for defensive work, and that's what's on Trevino's resume.
"The command of respect from the pitching staff, from his teammates, he truly is like the quarterback behind the plate," Tingler said. "He knows the gameplan. He has the pitchers' trust. The fingers are put down. There's been preparation. There's been background work of why he's convicted in those pitches. Any time you're buying the pitchers' trust, it can eliminate some thinking, and they can just concentrate on making their pitch."
Last year with Double-A Frisco, Trevino sported a .996 fielding percentage in 99 games behind the plate and threw out 41.3 percent of potential basestealers.
"We obviously loves his defensive skill set, the two Gold Gloves, how he's viewed in the industry defensively certainly speaks for itself," Tingler said. "With that being said, he still has things to work on defensively, and those are the things that we're going to continue to work on in our time in the Minor Leagues. Our goal is to get him as comfortable at the plate with the bat as he is going defensively behind the plate. He's been making some swing adjustments, starting to feel confident the last week or so. He's starting to drive the ball in the air pull-side, things like that. We're excited."
Trevino is headed back to Double-A Frisco to begin 2018.
Breakout prospect: Tyreque Reed, 1B
Reed didn't exactly come out of nowhere -- it was actually Itawamba Junior College in Mississippi in last year's eighth round -- to put together an impressive professional debut last year in the AZL, but he was certainly under the radar before that showing. While clubbing five homers among his 20 extra-base hits in 35 games, scoring 35 runs, driving in 29 and posted an overall slash line of .350/.455/.617. He drew 22 bases on balls and struck out 26 times. Reed is built like a tight end at 6-foot-2, 260 pounds and has a chance to put himself firmly on the prospect radar if he handles South Atlantic League pitching similarly when he reaches Hickory this season.


More to keep an eye on: Tingler called Leody Taveras "one of the best defensive center fielders I've seen" and said the top Rangers prospect's continued offensive development will be his biggest point of emphasis at Down East. … Righty A.J. Alexy is headed back to Hickory where he finished last year after being acquired in the Darvish trade and could head to the Carolina League quickly with a hot start. … Like Reed, lefty reliever C.D. Pelham cuts an imposing physical figure and has a repertoire on the mound to match. Pelham converted 13 saves last year with Hickory and fanned 75 batters in 62 innings. He's ticketed for Down East's Opening Day roster. … Josh Morgan played in 106 games last year as a shortstop and catcher and will join Trevino in Frisco to continue working on his versatile profile.
Predictions:
Most home runs in the system: Reed
Most stolen bases:Bubba Thompson
Most strikeouts: Crouse
Current prospect to get most Major League playing time: Calhoun
Non-Top 100 prospect to end 2018 in the Top 100:Cole Ragans
Tyler Maun is a contributor to MiLB.com. Follow him on Twitter @TylerMaun.