Toolshed: Dunn finds relief, then starts again
Mets No. 3 prospect dominates following stint in St. Lucie bullpen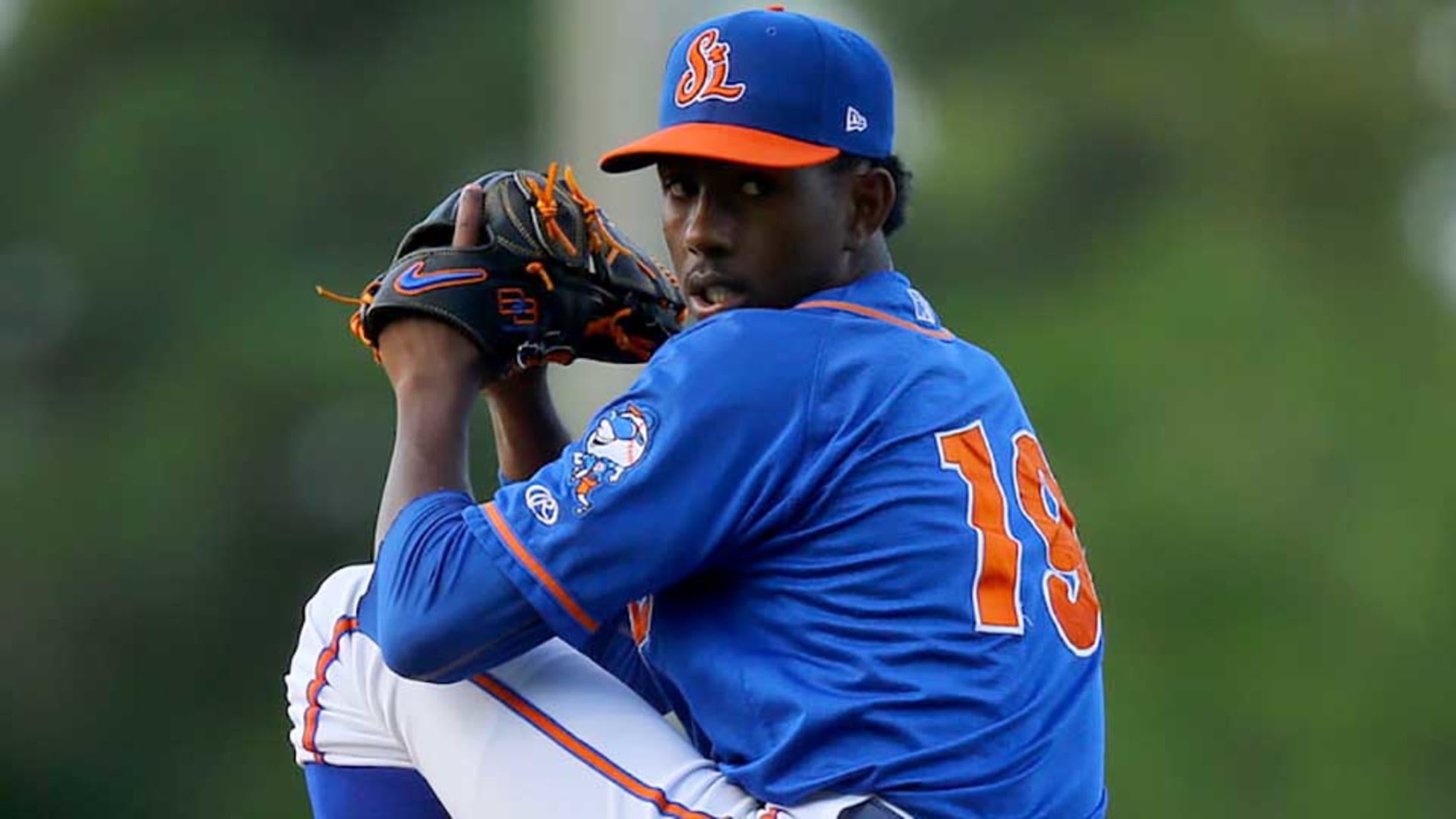 Justin Dunn hadn't posted a scoreless outing this season until he tossed three no-hit frames in relief on May 24. (Gordon Donovan/MiLB.com)
Justin Dunn was starting, but Justin Dunn was struggling.On May 6, the Mets' No. 3 prospect allowed six earned runs on nine hits and plunked two batters in just two innings for Class A Advanced St. Lucie. In his next start, he gave up four earned runs on five hits
Justin Dunn was starting, but Justin Dunn was struggling.
On May 6, the Mets' No. 3 prospect allowed six earned runs on nine hits and plunked two batters in just two innings for Class A Advanced St. Lucie. In his next start, he gave up four earned runs on five hits and two walks over 5 1/3 frames, yet his ERA went down from 6.91 to 6.89, 47th-best in the Florida State League.
The Mets decided change was needed. They sent the 19th overall pick in the 2016 Draft to the bullpen. He's allowed one earned run over 16 innings since.
"He saw some early adversity for sure," said St. Lucie pitching coach Marc Valdes. "He was trying to be too perfect with his pitches. That comes from the fact that he was last year's first-round pick. He wants to prove he was worth it and that he deserves to be here at [Class A Advanced]. He didn't need to do that. Now you can see he's starting to feel more comfortable. He's locating a lot better because he's not worried about being too fine, and his fastball command has improved a lot."
The 21-year-old right-hander is back in the St. Lucie rotation and finding success again in that role. He tossed five scoreless innings, striking out seven with no walks and five hits allowed, Monday night for his first scoreless start of the season. The outing dropped his ERA and WHIP to 4.81 and 1.52, respectively, through 48 2/3 innings this season.
But this isn't his first time making the switch between roles, which is part of the reason why Dunn is finding success again in his first full season.
A year ago, the storyline entering the Draft was that Dunn had finally moved into a starting role at Boston College after spending most of his freshman and sophomore seasons in relief. The Eagles right-hander had four good pitches in his fastball, slider, curve and changeup -- a mix atypical of relievers -- and with those offerings, most experts believed he should be a starter at the next level. BC gave him his first start on April 9 and kept him in that role for eight of his final nine appearances. He even tossed a nine-inning complete game against Georgia Tech in the ACC tournament.
The Mets had seen enough of Dunn in a starting role to take him with their first pick and sign him to a slot-value $2,378,800 signing bonus. The New York native made eight starts and three relief appearances for Class A Short Season Brooklyn last season, posting a 1.50 ERA with 35 strikeouts and 10 walks in 30 innings, and looked ready to make the jump to Class A Advanced, a common full-season path for a college pitcher of his caliber.
Then the struggles started. He walked five and didn't strike out a batter over four innings in his FSL debut on April 8. He allowed a combined 10 earned runs over 10 2/3 innings in his final two starts. Valdes could see St. Lucie's star hurler trying too hard.
"When he's trying to be too fine, he's throwing it two balls off the black of the plate, rather than trusting that his stuff is good enough," he said. "He was trying to get strikeouts, when quick outs work, too. Get quick outs, get deep in the game -- that's all he needed to focus on."
By the middle of May, with his ERA approaching 7.00, the Mets needed to figure out some plan to get Dunn back on track. A blessing came via the transaction page. Mets No. 24 prospect Chris Flexen began the season on the disabled list after undergoing surgery to remove a bone chip in his right knee and needed rehab starts with St. Lucie before making the bump to Double-A Binghamton. The Mets saw an opportunity to ease Flexen in with Dunn piggybacking behind him, eating up innings without the pressure of being that day's starter.
Back in his old role, Dunn allowed just one earned on three hits and three walks in five innings on May 17. The next time out, he tossed three no-hit frames, striking out four. Finally on May 30, he allowed just one hit in three scoreless innings. Overall, he posted a 0.82 ERA and 0.82 WHIP in his brief move to the bullpen.
"The kid's an A+ kid," he said. "He's intelligent and knows to do what's best for the team. This wasn't a selfish act. We did it to get him some confidence. Then, he didn't have to worry about going five or six innings each time. You could see him going back into a groove. Now that he's back in the rotation with some confidence, he can stick there. Will he have some tough times? Sure. But at least he'll have the confidence that he can pull himself out again."
Perhaps most notable was how Dunn found his control in those relief outings. Addressing Valdes' worries about trying to be too perfect, the right-hander worked on his direction on the mound, using what the coach called "dry runs" to try to repeat his delivery to the plate from the left side of the rubber. It's still a work in progress, but Monday's start proved he's on the right track.
Even without that most recent gem, Valdes admits the Mets still would've had too much trust in Dunn to consider the bullpen move a permanent one this early in his career. In other words, this wasn't akin to 2015 fourth overall pick Dillon Tate's struggles leading to a full-time relief role with the Yankees following his trade. Either way, the Mets will take the leap forward they received this week.
"He would've gotten another start, I can tell you that," he said. "But he knew five innings was his job [Monday], and he had a fairly low pitch count. He did it with relative ease. I saw a completely different pitcher from start one compared to now."
Sam Dykstra is a reporter for MiLB.com. Follow and interact with him on Twitter, @SamDykstraMiLB.