Toolshed: Gore ready to kick into gear
Despite unusual delivery, top Padres pick won't change style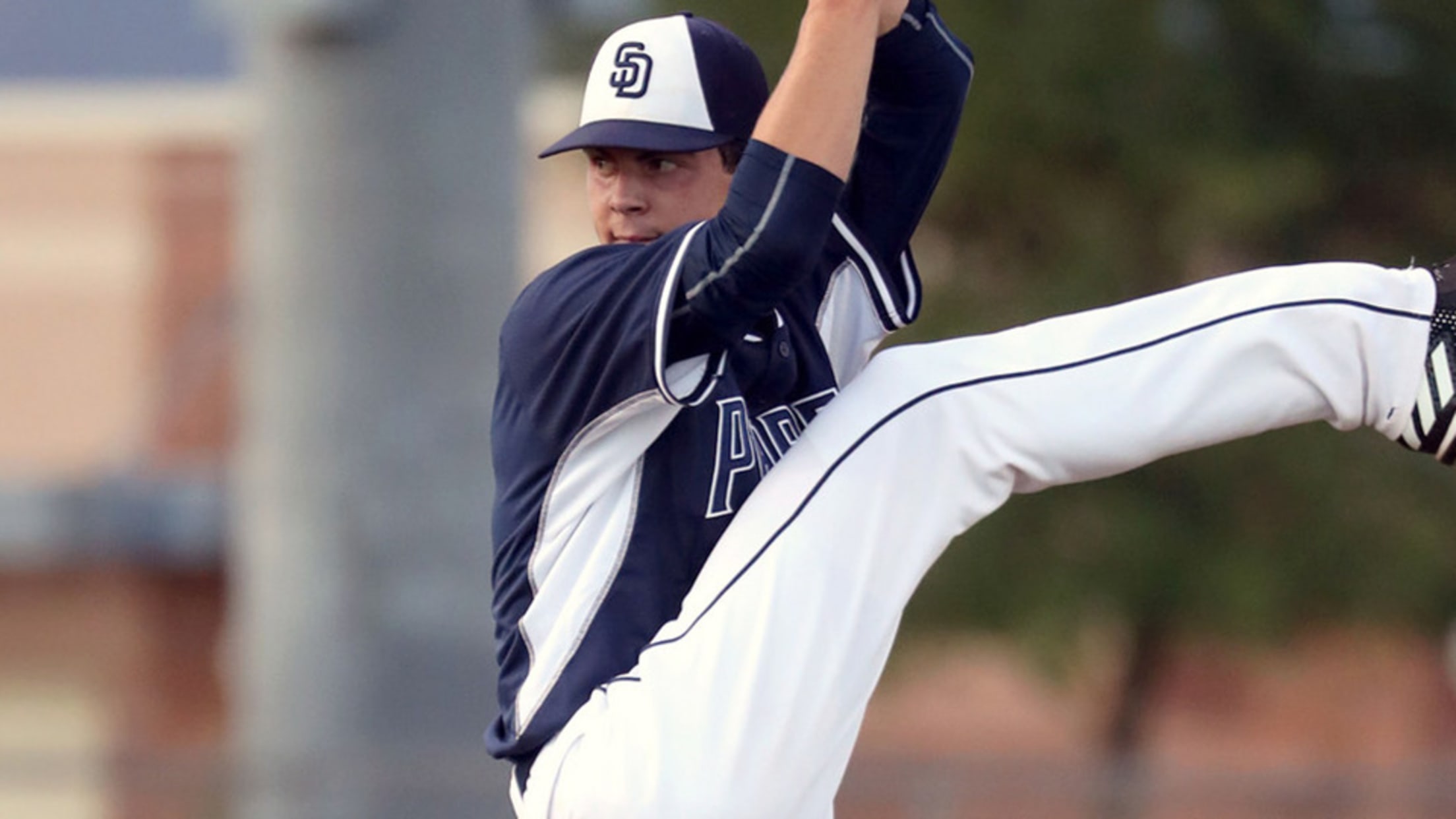 MacKenzie Gore held opposing Arizona League batters to a .184 average during the 2017 season. (Bill Mitchell)
It's December in the first offseason of MacKenzie Gore's young baseball career, and he's just starting his first professional offseason throwing program. He's throwing from around 90 feet for now, keeping the arm loose after a brief respite since he returning home to North Carolina. He'll keep adding to that
It's December in the first offseason of MacKenzie Gore's young baseball career, and he's just starting his first professional offseason throwing program. He's throwing from around 90 feet for now, keeping the arm loose after a brief respite since he returning home to North Carolina. He'll keep adding to that program and eventually end up throwing off the mound, just in time for his first Spring Training at the Padres complex in Peoria, Arizona.
Then he'll be a sight to see once again.
The No. 3 overall pick in the 2017 Draft is a special talent, no doubt, but what stands out first is his delivery, which immediately became one of the most distinctive in the Minor Leagues. The 18-year-old left-hander employs a leg kick that, when pitching out of the windup, allows his right knee to reach his chest and his right foot to go as high as the brim of his cap. Out of the stretch, it's a little less pronounced in an attempt to get the pitch quicker to home. But when it comes to mechanics, it's not hard to envision a future in which Gore has some of the most recognizable delivery in the game, one that notorious leg kicker Dontrelle Willis has already stamped with his approval.
"I've been doing it for a long time, I guess," Gore said. "It's not anything anyone told me to do specifically or anything like that. I was just taught to turn my hip pocket toward the catcher to get everything to line up, and as I kept working on it, it became a turn and a big kick. It just kinda happened. But I'm happy with it because I'm able to repeat it. That's the big thing, repeating the delivery. I'm a big mechanical guy, so I want to make sure everything is smooth and repetitive. This just works for me."
There is no doubting that assertion.

Before he even entered the Draft, Gore was arguably the most productive high-school pitcher in the country. (Yes, that includes the Reds' Hunter Greene.) The 6-foot-3 southpaw allowed only two earned runs over 74 1/3 innings during his senior year at Whiteville (North Carolina) High School. That's good for a 0.19 ERA in high-school ball, where games only go seven innings. Over that same span, he struck out 174 and walked only five. For as many moving parts as Gore's windup has, the most moving opposing North Carolina hitters did proved to be lonely walks back to the dugout.
In July, Gatorade named him the High School Athlete of the Year, an honor that came with its own Sports Illustrated cover.
It wasn't just the results that popped out. Gore had the special stuff to back them up. His fastball usually sits in the low- to mid-90s but can pop up to about 96 mph when he needs, all with good command. His curveball is considered a plus pitch already, and his slider and changeup also have earned above-average grades from MLB.com.
There comes a time when draftable high-school pitchers know they can get outs with just the velocity off their fastball against bats that rarely see 90, never mind a few miles per hour above that. But Gore refused to let that be the case.
"When I was young, I couldn't blow the fastball by anyone yet," he said. "I could spot it up, but I knew I had to keep working on other things during the game. That's what I'm out there to do every time. It's an opportunity to work on my whole game. Whether it's throwing the changeup more or tightening up the breaking balls, it doesn't matter how well things are going. I needed to work on all of it when I'm out there.
"I'm a four-pitch guy."
Gore said he started to see the velocity start to jump when his body jumped as well. A self-proclaimed "runt" during his middle-school and high-school freshman years, he shot up three inches and added 10 to 15 pounds by the end of his sophomore campaign. By his estimation, he added that same amount of weight each of the next two years before his Draft season.
Scouts saw the whole package -- the results, the stuff, the evolving body -- and fell in love. He went to the Padres third overall and signed rather quickly for $6.7 million, the largest bonus San Diego ever gave a Draft pick. (It helped that he was the club's highest pick in eight years.) As of MLB.com's latest prospect ranking update, Gore checks in at No. 24 overall, second-best among left-handed pitching prospects behind Braves southpaw Kolby Allard at No. 21.
The North Carolina native continued to dazzle during his first trip to the Minors in the complex-level Arizona League, posting a 1.27 ERA and a 0.98 WHIP with 34 strikeouts and seven walks in 21 1/3 innings. He struck out 40.5 percent of the batters he faced in the Grand Canyon State, though his outings were limited to four innings tops. Again, the results spoke for themselves, but Gore kept his focus elsewhere, using the tool of video to break down how his mechanics were holding up as he pitched deeper into the summer than he had before.
"You can tell on video pretty easily if things are coming apart," he said. "My goal is to stay flexible, so it helped a lot to be able to watch things over. It allowed me to get better with my breaking balls too. I'm looking at the little things with those, like keeping them in the same plane as my fastball, making sure they pop right out of my hands. I'm still throwing all four and studying how they're working."
With the Padres throwing program just beginning, Gore's focus right now is on weight training and continuing to fill out his still projectable frame. He's aiming to get up to 200 pounds by Spring Training, and given that he's listed at 180, it might take more than his usual high-school jump in muscle to make that happen. It'll be interesting to see how San Diego handle its top prospect in what could be his first full season. Reggie Lawson -- their highest high-school arm from the 2016 Draft at No. 71 overall -- threw 73 innings all with Class A Fort Wayne, but didn't start his season until May 22.
Part of Gore's infatuation with mechanics is to maintain his health, and early in the offseason, he's translating that to his whole body in his preparatory workouts.
"Right now, I'm just focusing on being ready to go for Spring Training," he said. "I'm not really worried about where I'll be or anything like that. The main concern is being able to hold up for that whole first year of pro ball. I want to start on a good note."
Once he does step onto a mound again, expect that signature leg kick to return. Gore and everyone else who has seen him wouldn't have it any other way.
"Nobody's ever said anything to me," he said. "If I ever start not being able to command the ball where I want, I'll be sure to change things immediately. ... Everyone wants to let MacKenzie Gore be MacKenzie Gore, and see where it goes. It's going good right now."
Sam Dykstra is a reporter for MiLB.com. Follow and interact with him on Twitter, @SamDykstraMiLB.