Toolshed: September callup preview
Breaking down top-100 prospects' chances of reaching the Show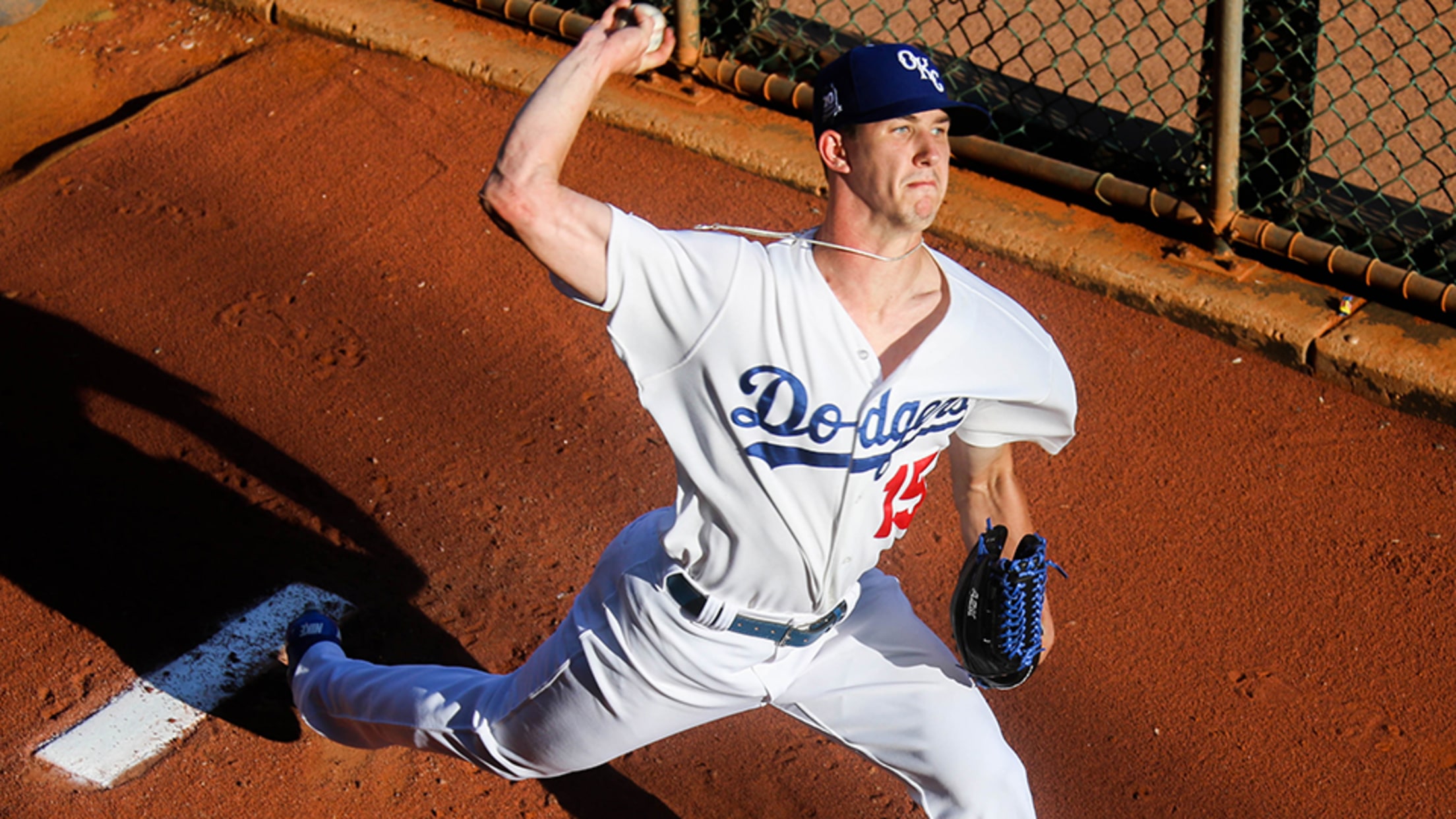 Walker Buehler could head to the Majors in just his second season back from Tommy John surgery. (Josh Gurnick/Oklahoma City Dodgers)
The biggest month of some prospects' careers is almost here.On Friday, Sept. 1, active Major League rosters can expand to hold any and all members of an organization's 40-man roster, meaning many promising youngsters who had been squeezed out by the 25-player limitation will get their first experience in the
The biggest month of some prospects' careers is almost here.
On Friday, Sept. 1, active Major League rosters can expand to hold any and all members of an organization's 40-man roster, meaning many promising youngsters who had been squeezed out by the 25-player limitation will get their first experience in the Show. Of course, some top prospects already made their big league debut this summer or even earlier. Many others, though, will benefit from the roster expansion and get that first taste of the game's highest level -- just in time to impact a playoff race or make their case for a place in a club's long-term plans.
To be clear, not every player has to be brought up on the first of the month. They can be added to the active roster at any point after rosters expand, meaning fans won't see necessarily see a huge wave of prospects entering the big leagues come Friday. It might be more of a trickle. But without a doubt, this next month will be an opportunity to see some of the Minors' best hitters and pitchers get a chance to test their tools against the best the game has to offer.
Below are some MLB.com top 100 prospects who could be looking at Major League time in September, grouped together based on their chances.

Already up
Yoán Moncada
(White Sox),
Amed Rosario
(Mets),
Rafael Devers
(Red Sox),
Ozzie Albies
(Braves),
Clint Frazier
(Yankees, DL),
Carson Kelly
(Cardinals),
Dominic Smith
(Mets),
Derek Fisher
(Astros),
Lucas Giolito
(White Sox),
Jorge Alfaro
(Phillies),
Rhys Hoskins
(Phillies),
Tyler Mahle
(Reds)
More than likely
Franklin Barreto, SS/2B, Athletics:
Oakland's top prospect played 11 games with the big club in June and July and is a lock to head back, even though he went just 8-for-42 (.190). Barreto has been hot of late, hitting .330 with four homers and a .904 OPS over 24 games in August. He'll have to compete with Jed Lowrie and Marcus Semien for time up the middle, but MLB.com's No. 37 overall prospect remains a big piece of the A's future and should get plenty of looks to determine his place entering the offseason.
Anthony Alford, OF, Blue Jays:
The Blue Jays made waves in May by calling up the No. 49 overall prospect after only 33 games at Double-A New Hampshire, but Alford suffered a broken left hamate bone in just his fourth game with the club. He's been solid since coming back to the Eastern League, hitting .297/.401/.407 with nine steals in his last 34 games, and that should be enough to head back north. He's unlikely to unseat slugger Jose Bautista from right or Gold Glove contender Kevin Pillar in center right away, but he could get looks in any of the three outfield spots with his plus-plus speed.
Chance Sisco, C, Orioles: Unlike the previous two prospects in this category, Sisco is not currently on his organization's 40-man roster, so a move would be required for him to make the jump. However, the 22-year-old backstop is eligible for the Rule 5 Draft this offseason (meaning he'll have to be added to the 40-man by November anyway) and has performed well enough to earn a Major League look. Sisco has a .268/.338/.397 line with seven homers and 23 doubles in 96 games at Triple-A Norfolk. His defense remains a work in progress with a 22.6 percent caught-stealing rate, but his bat is good enough to provide Major League value now. Welington Castillo and Caleb Joseph have done solid work holding down the catching fort in Baltimore, but if Sisco truly is the catcher of the future in Charm City, now is a good time to show it.
Ryan McMahon, INF, Rockies: Colorado brought up its No. 3 prospect for exactly one week earlier this month and shouldn't hesitate to do so again when rosters expand. The 22-year-old left-handed slugger has regained his status as one of the best bats in the system and has especially thrived at the Minors' top level, hitting .367/.402/.594 with 13 homers, one triple and 23 doubles in 68 games at Albuquerque. He's played third and second base this season but has focused primarily at first this month. Regardless of position, he's a bat-first player and has grown enough offensively to serve a role off the bench at least during the Rockies' attempt to hold onto a Wild Card spot.
Jeimer Candelario, 3B, Tigers: The 23-year-old switch-hitting third baseman wasn't acquired from the Cubs for left-hander Justin Wilson and catcher Alex Avila to miss out on a Major League look in September. Indeed, Candelario has already played 12 games with the Cubs and Tigers this season and has hit enough with a .263/.342/.485 line and 15 homers in 107 Triple-A games to get another promotion after rosters expand. He's currently blocked at the hot corner by Nick Castellanos, but there was a development when Castellanos cleared waivers, making him eligible to be traded this month. If Castellanos isn't moved, Detroit could give both a chance to claim third base for their own.
Brandon Woodruff, RHP, Brewers: The 24-year-old right-hander posted a 1.62 ERA with 12 strikeouts over three starts (16 2/3 innings) for the Brewers in August before he was optioned back to Triple-A Colorado Springs to make room for a healthy Chase Anderson. Those numbers alone would have Woodruff back with Milwaukee, but his plus fastball, above-average slider and good control will be contributing factors as well. With only 94 innings under his belt between the Majors and Minors due to hamstring issues, he'll have plenty of life left in his arm in September, should the Brewers need him for multiple starts.
Harrison Bader, OF, Cardinals: MLB.com's No. 99 prospect is another name on this list with Major League experience already, having been brought up for six games in July when both Dustin Fowler and Stephen Piscotty were injured. He made a solid impression, going 6-for-21 (.286) with two doubles in those six contests and building on the solid offensive performance he's put up this season at Triple-A Memphis (.283/.347/.471, 20 homers, 15 steals). The Cardinals are certainly not wanting for outfield options between Fowler, Piscotty, Randal Grichuk, Jose Martinez and a breakout Tommy Pham, but Bader could make for a good pinch-hit or pinch-run candidate as St. Louis' backup center fielder in September.

There's a chance
Ronald Acuña Jr., OF, Braves:
There's a lot going on here. On the one hand, the 19-year-old outfielder has been the Minors' breakout star of the year, hitting .325 with 20 homers and 42 steals across three levels. He's perhaps been better at Triple-A Gwinnett than his two previous stops with a .347 average, eight homers and nine steals in 46 games. There's a case to be made that he should be rewarded with a Major League test before the offseason and that Atlanta wouldn't have pushed him this quickly if they didn't think a September callup would be a possibility in the first place. On the other hand, Acuna has played 131 games this season, and he'll
head to the Arizona Fall League
in October for even more action. An AFL spot doesn't have to happen -- Yoan Moncada was promoted to the Majors and named to an AFL roster in the same week last year -- but it is a fairly clear indication of the Braves' plans in this case. However, given the trend with Acuna all season, don't be surprised by anything.
Walker Buehler, RHP, Dodgers: Like Acuna, Buehler has climbed three levels and found success at each stop. But unlike his Braves counterpart, there are much clearer signs that a September move is coming. First, he's switched to the bullpen with Triple-A Oklahoma City, not only to limit his innings two years after Tommy John surgery but also to clear his path to Los Angeles, where he's more likely to fit now as a reliever. MLB.com's No. 13 prospect has three above-average pitches in his fastball, curve and slider, and his velocity can take another jump to the high-90s more consistently in shorter outings. He's definitely a starter long term with that arsenal, but adding him to a bullpen that already leads the Majors with a 2.94 ERA should be a scary proposition for Dodgers opponents in September or beyond.
Brent Honeywell Jr., RHP, Rays: The Rays have said they don't plan to bring up their top prospect, and a four-game suspension for "disciplinary reasons," according to Marc Topkin of the Tampa Bay Times, won't help his cause. But the 22-year-old right-hander was looking ready with a 2.00 ERA, 57 strikeouts and only 10 walks over 45 innings in his last nine starts at Triple-A Durham. With four above-average pitches, including the elusive screwball, he has to be a better starting option than Austin Pruitt (5.27 ERA) for the Wild Card-chasing Rays, but the opportunity to prove that is far from a given at this point.
Lewis Brinson, OF, Brewers: On merits, Brinson would be in the "More than likely" or even "Already up" categories. After all, he was hitting .331/.400/.562 with 13 homers and 11 steals at Triple-A Colorado Springs. He suffered a hamstring strain two weeks ago that the Brewers announced would hold him out for four to six weeks. On the optimistic side, that could mean a return in the middle of September. On the pessimistic side, he might not be back in time. The Brewers, who sit 3 1/2 games behind the Cubs in the NL Central and four games back of the Rockies in the Wild Card, could certainly use Brinson's five-tool talents, but it'll come down to his recovery time.
Francisco Mejía, C, Indians: Tuesday's Arizona Fall League announcement again complicates matters here. Before, Mejia looked on-track for a September promotion as the only Indians catcher on the 40-man roster who was not with the big club. To boot, he has performed well enough at Double-A Akron with a .298 average, 14 homers and .842 OPS to earn a debut with the defending American League champs. However, the 21-year-old switch-hitter was one of 11 top-100 prospects named to an AFL roster, and what's more, Cleveland added he would be headed there to get some time at third base. That doesn't preclude a shot in the Majors necessarily, but it may speak to the organization's belief in his defensive abilities behind the plate at this point. The next few weeks could be some of the most important in Mejia's career thus far.
Willy Adames, SS, Rays: Tampa Bay needs all talent on deck as it sits 3 1/2 games back in the AL Wild Card hunt, and as a member of the 40-man roster, MLB.com's No. 18 overall prospect would be a nice addition. The 21-year-old shortstop has certainly held his own in his first season of Triple-A with a .272/.359/.406 line, nine homers, five triples, 27 doubles and 10 steals in 123 games for Durham. There are a couple things holding him back from the "More than likely" category, however. The Rays typically hold off on bringing up top prospects of Adames' ilk (think Blake Snell in 2015/2016). Additionally, this is a club that already has a logjam in the middle infield, even after trading away Tim Beckham. There's also the fact that Durham is headed to the International League postseason, and Tampa Bay would almost certainly prefer Adames to get regular at-bats there deep into September, rather than waste service time on the bench in the bigs. This September decision is not as clear-cut as Adames' skill level or roster status would make it seem.
Alex Verdugo, OF, Dodgers: In perhaps any other system, the Dodgers' No. 2 prospect would have been up by now. The 21-year-old is hitting .315 with 36 extra-base hits and an .828 OPS over 116 games at Triple-A. He's got the plus-plus arm to be an asset anywhere in the outfield, and he's become the type of prospect that caused Dodgers fans to rejoice when he wasn't traded at the deadline. But finding a spot in the Los Angeles outfield in September is a bit difficult. The Dodgers dealt for Curtis Granderson this month and will definitely add Joc Pederson back to the outfield mix when rosters expand. Verdugo would give Los Angeles an interesting option as a left-handed pinch-hitter or late-game defensive replacement, but it's worth noting he's struggled in the second half, hitting just .246 with a .710 OPS in 37 games since the Triple-A All-Star break. His September ascension isn't as much a given as it looked at times over the summer.
Jack Flaherty, RHP, Cardinals: The No. 3 Cardinals prospect has had a breakout season that certainly put him in the Major League conversation. Flaherty has a 2.18 ERA and 1.04 WHIP with 147 strikeouts in 148 2/3 innings between Double-A Springfield and Triple-A Memphis, causing him to jump to No. 53 overall after beginning the season outside of MLB.com's top 100. The 21-year-old right-hander's name was being bandied about as a potential injury replacement for Mike Leake last weekend before Leake made his Saturday start. Flaherty, whose previous career high for innings was 134, is scheduled to pitch for Memphis on Thursday and is likely to get more innings with the Redbirds in the Pacific Coast League playoffs. That could push him to his limit for the season, and without Flaherty being Rule 5 eligible this offseason, there's no big rush to put him on the 40-man roster. But given his talent level, the Cards, who are five back in the division and 5 1/2 behind in the NL Wild Card, may still come calling if another injury pops up with a starting pitcher or if St. Louis deems Flaherty to actually be Leake's replacement this time around following his trade to the Mariners on Tuesday.
Scott Kingery/J.P. Crawford, INF, Phillies: This is one of the most fascinating situations of September. The Phillies have already brought up No. 70 overall prospect Rhys Hoskins -- with historically good success -- and they've shown some signs that they could do the same with No. 56 Kingery and No. 61 Crawford. Namely, they've started to move both around defensively. Normally a shortstop, Crawford has split his last 10 games between third and second at Triple-A Lehigh Valley, while second baseman Kingery has also seen increased time at the hot corner. (The Phils let Hoskins move from first base to left field for three games before jumping to the Majors.) Both players have looked capable from an offensive standpoint with Kingery hitting .306 with 26 homers and 28 steals between his two stops in 2017, while Crawford is batting .278 with 12 homers in 55 games since the beginning of July. With Hoskins, Nick Williams and Jorge Alfaro already up, the Phillies could put their future on full display in September by calling up Kingery and Crawford, too. But without anything to play for other than trying to secure the No. 1 overall pick in next year's Draft, they could also decide to wait until 2018 to kick off their full-on youth movement.
Chance Adams, RHP, Yankees: Ranked as the No. 60 overall prospect in the game, Adams has become the top arm in the Yankees' system, and he's performed as such with a 2.24 ERA, 1.05 WHIP, .188 average-against and 129 strikeouts in 144 2/3 innings between Double-A Trenton and Triple-A Scranton/Wilkes-Barre. The fact that he's dominated as he has at the Minors' top two levels would certainly point to a Major League debut soon. But like Flaherty, he's not on the 40-man and has already posted a career high in innings with potentially more to come in the playoffs. If the Yankees really trusted Adams to hit the ground running in the Majors, they likely would have brought him up by now, instead of trading for Jaime Garcia. They still might give him that chance in September as they try to chase down the Red Sox or secure one of the two Wild Card spots, but with every passing RailRiders start Adams makes, that looks less likely.
Stephen Gonsalves, LHP, Twins: MLB.com's No. 72 overall prospect has staked his claim as the top arm in the Minnesota system with a 2.96 ERA, 118 strikeouts and 29 walks in 109 1/3 innings between Double-A Chattanooga and Triple-A Rochester, and that's put him on the edge of a potential September callup. Since being moved up to the International League on Aug. 10, Gonsalves has made quality starts in three of his four appearances with a six-run showing on Aug. 20 the only thing that's pushing his Triple-A ERA to 4.09. What's more, the 23-year-old left-hander has shown improved control this season, even after a shoulder injury held him out until May. Because of that injury, he's still got plenty of innings left in the tank and could help a Minnesota team that is trying to hold onto the second Wild Card spot in a crowded AL field. It might feel a tad aggressive for the Twins to push Gonsalves so quickly, even if it's for the chance to play in a one-game playoff, but he would need to be added to the 40-man in November anyway, so it wouldn't be jumping the gun by much.

Don't hold your breath
Austin Meadows, OF, Pirates:
Before the season, it would have been a smart bet that the Pirates' top prospect would have made the Show by at least September. Instead, he's battled hamstring and oblique injuries again in 2017 and hasn't been incredibly effective even when healthy with a .250/.311/.359 line in 72 games at Triple-A Indianapolis. The Bucs will add Meadows to the 40-man in November to protect his talent from the Rule 5 Draft, but don't expect them to risk more injury or struggle with a Major League promotion beforehand.
José De León, RHP, Rays:
The Rays had high hopes for MLB.com's No. 93 overall prospect when he was acquired for second baseman Logan Forsythe last offseason, but the 25-year-old right-hander has found it difficult to stay healthy in 2017. He was most recently placed on the disabled list on Aug. 14 with elbow tendinitis and has thrown only 41 innings on the season between the Minors and Majors. It might not be in anyone's best interest to push things in September.
Sam Dykstra is a reporter for MiLB.com. Follow and interact with him on Twitter, @SamDykstraMiLB.