'Topes' Pederson joins PCL 30/30 club
With steal, Dodgers prospect is first to reach milestone in 80 years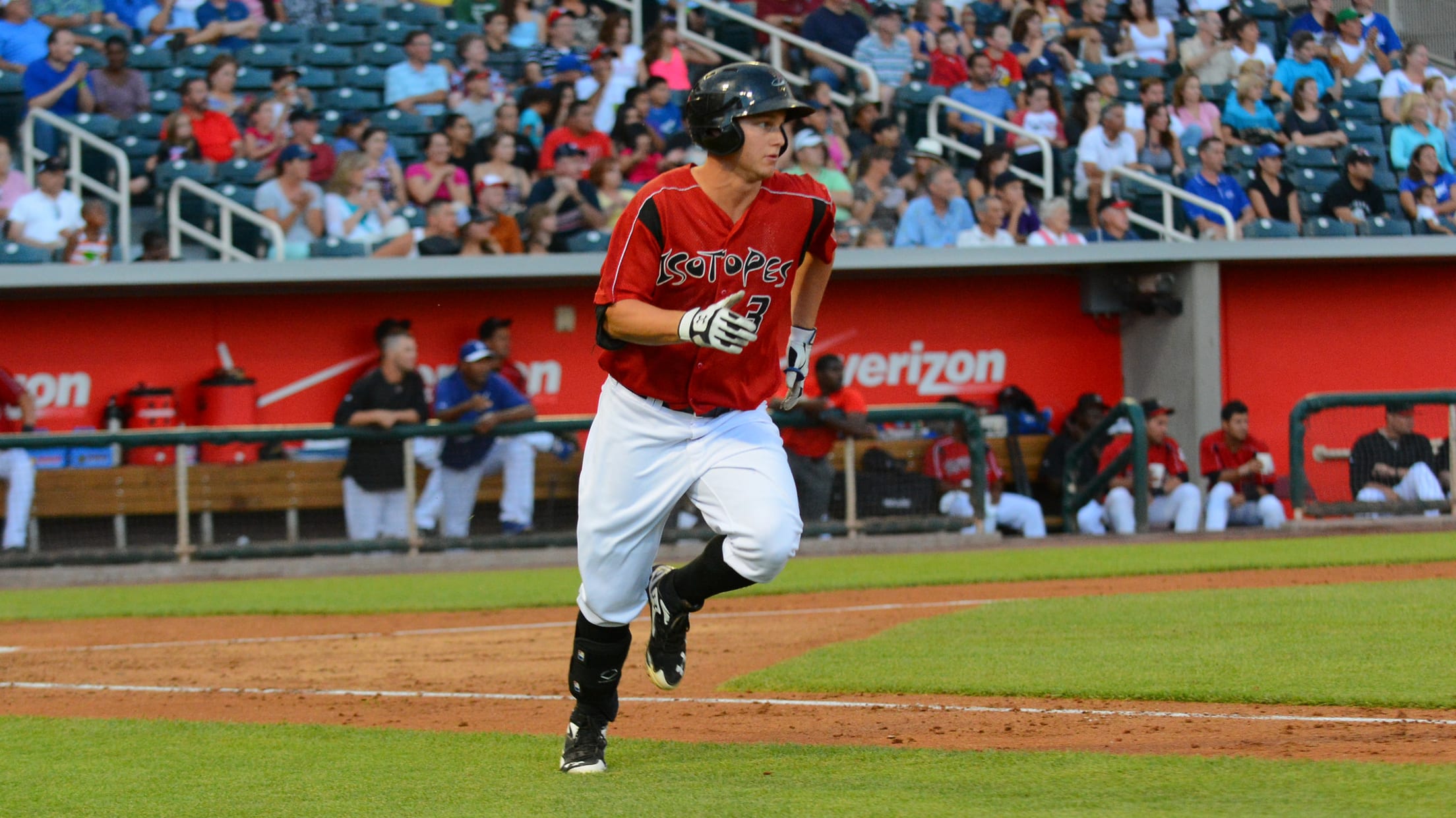 Joc Pederson has had three multiple-homer games and three multiple-steal games this season. (Albuquerque Isotopes)
By just about every measure, Joc Pederson has put together a remarkable season. By two specific measures, the Dodgers' No. 3 prospect has demonstrated exactly how rare a talent he is. With a stolen base on Saturday evening in Triple-A Albuquerque's 12-10 loss at Colorado Springs, Pederson became the first
By just about every measure, Joc Pederson has put together a remarkable season. By two specific measures, the Dodgers' No. 3 prospect has demonstrated exactly how rare a talent he is.
With a stolen base on Saturday evening in Triple-A Albuquerque's 12-10 loss at Colorado Springs, Pederson became the first player to record a 30-homer, 30-steal season in the Pacific Coast League since Frank Demaree in 1934.
"It's a great feeling. It shows that hard work and the process I've put in with the coaches and the Dodgers staff is paying off in results," Pederson said. "You don't ever strive to do something like that at the start of the season because you don't want to limit yourself. Something that prestigious is quite humbling and I'm honored to do it."
He was particularly grateful for the guidance of the Isotopes' skipper.
"I want to thank manager Damon Berryhill for keeping my head on straight through good times and bad times," he said.
Sky Sox first baseman Ben Paulsen did all he could to steal the spotlight with a three-homer, seven-RBI performance. The Isotopes' Alex Guerrero countered by going 4-for-5, falling a homer shy of the cycle, and plating six runs.
"[Paulsen's] a great hitter and he was locked in tonight," Pederson said. "What he did was pretty special. He swung the bat really well, unbelievably well, and that's a great accomplishment."
The admiration was mutual.
"[Pederson is] a special player," Paulsen said. "All the buzz and all the hype about him is pretty true. He has a lot of tools. He can really hit. He can run. It's really fun to play against a player like him."
Pederson's entry to the exclusive 30/30 club was accomplished in his 115th game of the season, compared to Demaree, who played 186 games in 1934. And it came on the same day Dodgers manager Don Mattingly confirmed that Pederson will be promoted when Major League rosters expand in September.
"I guess it's nice that he was talking about me, but until it happens, I've got to keep working on my craft here every day," said the California native. "Nothing is guaranteed. Tomorrow is not guaranteed. For now, I'm trying to help the team win here. If I get the chance to go up there, obviously, that's been my dream my whole life and I'll be really excited. But until then, I've got to stay in the moment."
Pederson is the second Dodgers player to record a 30/30 season in the Minor Leagues, joining Chin-Feng Chen, who did it for Class A Advanced San Bernadino in 1999. Aside from Demaree, the only other Pacific Coast Leaguers to accomplish the feat Lefty O'Doul in 1927 and Hall of Famer Tony Lazzeri in 1925.
Pederson, who had 31 thefts and 22 homers for Double-A Chattanooga last season, came into the game with a PCL-leading 32 dingers and 29 stolen bases. He also leads the circuit with 94 walks and a .432 on-base percentage. And he admitted that being on the cusp of 30/30 weighed on him somewhat.
"It was definitely a relief. It was definitely extra pressure," Pederson said. "The opposing teams made it tougher with the slide step and they were picking over a lot, but it's been a good learning lesson. And overall, it's been fun."
The 22-year-old outfielder was 1-for-4 with a walk on Saturday. He singled in the first inning against Sky Sox starter Yohan Flande but quickly moved to second when Tim Federowicz walked, then scored on Clint Robinson's base hit. He flied out in the second and grounded out in the fifth.
Facing Flande for fourth time with one out in the sixth, Pederson worked a walk that chased the left-hander. He broke for second on right-handed reliever Rafael Betancourt's first pitch and made it without a throw from catcher Dustin Garneau.
"I'd been watching the lefty from the bench, watching his tendencies and how he was using the slide step," Pederson said. "There's definitely a lot of preparation that goes into stealing bases, so when [Betancourt] was warming up, we were getting his times and watching his delivery. There was definitely a plan behind it and it's nice to know that good things can come from studying the game while it's going on."
MLB.com's No. 18 overall prospect hit his 32st homer and recorded his 29th steal on Friday night.
He socked homer No. 30 at home on Monday.
Astros outfielder George Springer was the last Minor Leaguer to join the 30/30 club, finishing last season with 37 homers and 45 steals across two levels. Previously, it had not been done since 2009.
Paulsen started his 3-for-5 night with a second-inning groundout, but swatted an opposite-field grand slam on the first pitch he saw in the third from Isotopes starter Justin Germano.
"I haven't been seeing the ball real well lately. In BP today, I slowed everything down," said the 26-year-old first baseman. "After that [third-inning] swing, everything just kind of clicked. I'm at my best when I'm hitting to the opposite field."
The long ball was a low liner and it wasn't immediately clear it was going to leave the yard.
"That one was questionable, but the wind was blowing out and the line drive got a little help," Paulsen said.
Even after it went out, it took Paulsen a moment to realize he'd collected four RBIs.
"I didn't even know the bases were loaded, to be honest," he said. "I thought it was first and second. The pitcher was on third and I forget he was there. Then, when I was running around [the bases], I saw and thought, 'Oh, man.'"
The Clemson product took Germano deep with one out in the fifth, again jumping on the first pitch.
"Hitting strikes is the main thing and those were both strikes," he said. "I put good swings on them and what happened happened."
An inning later, Paulsen hammered Barry Enright's 2-2 pitch well over the right-field wall for a two-run shot. Because of the two previous homers, he didn't feel any pressure in that at-bat.
"I was just trying to hit a line drive. I've never [hit three in a game] before, but I've had so many two-home run games that I wasn't thinking about it," Paulsen said. "I was just trying to stick to my approach, work like I did in BP and hit the ball hard."
Trotting around the bases for a third time, "was pretty cool, a really cool moment for me," he said.
Flande (3-10) ended up with the win, although he allowed eight runs on 11 hits and three walks while striking out four over 5 1/3 innings.
Rob Scahill retired the only batter he faced to record his second save.
Josh Jackson is a contributor to MiLB.com.