Wood Ducks deliver memorable first triple play
MacLean, Valentin, Ortiz, Moller combine on unconventional feat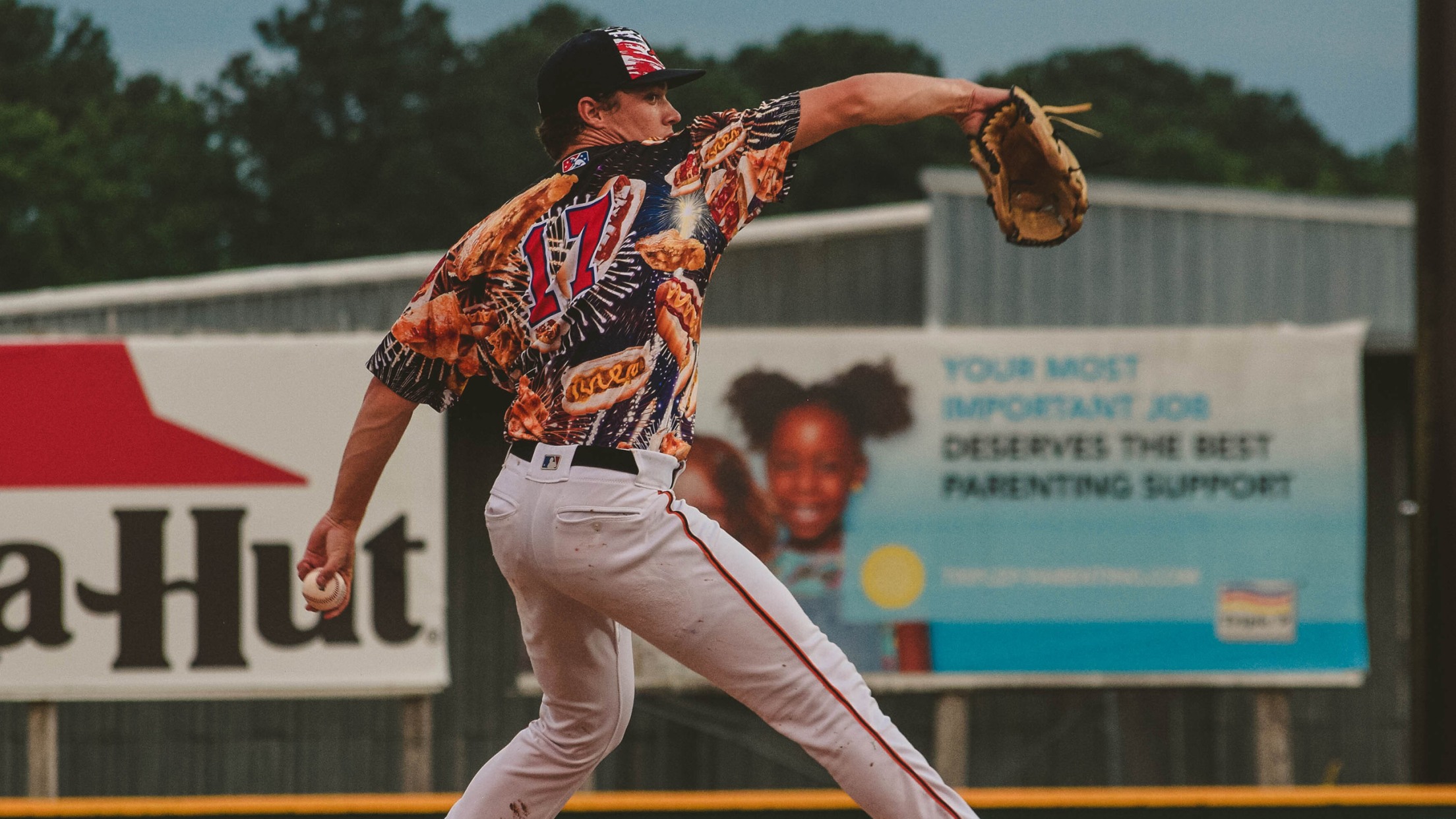 Dylan MacLean took the mound in a special jersey for the Fourth of July. (Will Treadaway/Down East Wood Ducks)
There have been a handful of triple plays in the Minor Leagues already this season, but Down East's three-out turnaround Sunday was its first since being established in 2017. The Rangers' Single-A affiliate made the unorthodox play look smooth. Four Wood Ducks got involved in the 1-4-3-2 feat that captured
There have been a handful of triple plays in the Minor Leagues already this season, but Down East's three-out turnaround Sunday was its first since being established in 2017.
The Rangers' Single-A affiliate made the unorthodox play look smooth. Four Wood Ducks got involved in the 1-4-3-2 feat that captured the final out at the plate in their 4-1 loss to the Kannapolis Cannon Ballers.
Holy COW. The Wood Ducks just pulled off a 1-4-3-2 TRIPLE play!! 😱🤯⚾️🦆 You don't see THAT very often!! @GoWoodDucks @BCHanks @gclemm77 pic.twitter.com/sHv1Ej5bA9

— Brett Kennedy WCTI (@KCKennedy93) July 4, 2022
Left-hander Dylan MacLean entered his first inning of work and faced trouble early after allowing a double, a walk and two singles. The 19-year-old fielded a comebacker by Wilfred Veras, made an immediate 180 and tossed to Xavier Valentin. The second baseman who made a routine throw to first for the second out.
First baseman Abimelec Ortiz made a heads-up play, catching Wes Kath trying to score on the double play by firing a laser to catcher Ian Moller, who laid the inning-ending tag.
"It was crazy," MacLean said about the experience of his first triple play. "I saw our first baseman throwing the ball to the catcher, and I didn't really know what was going on. I expected the run to have scored already, and I was shocked when he got him out.
"Just a winning baseball play. Having a tough inning, already down a couple of runs in the game and for [Ortiz] to be able to make that heads-up play was huge. [You could] kind of feel the momentum of the game change right there."
After the play, Down East trotted off the field like it was another day at the office, or so it may have seemed, but the team shifted into another gear.
"There was a lot of energy in the dugout," MacLean said. "All the pitchers who weren't throwing that day were fired up, all the guys came back in ready to hit. It was great energy after that play. It's definitely not something that we do every day at practice. I mean, I was amazed. I never thought I'd be part of something like that."