Yankees donate to LewisGale Regional Cancer Center at Pulaski
Proceeds from Calf'E's Fight Against Cancer Night presented Wednesday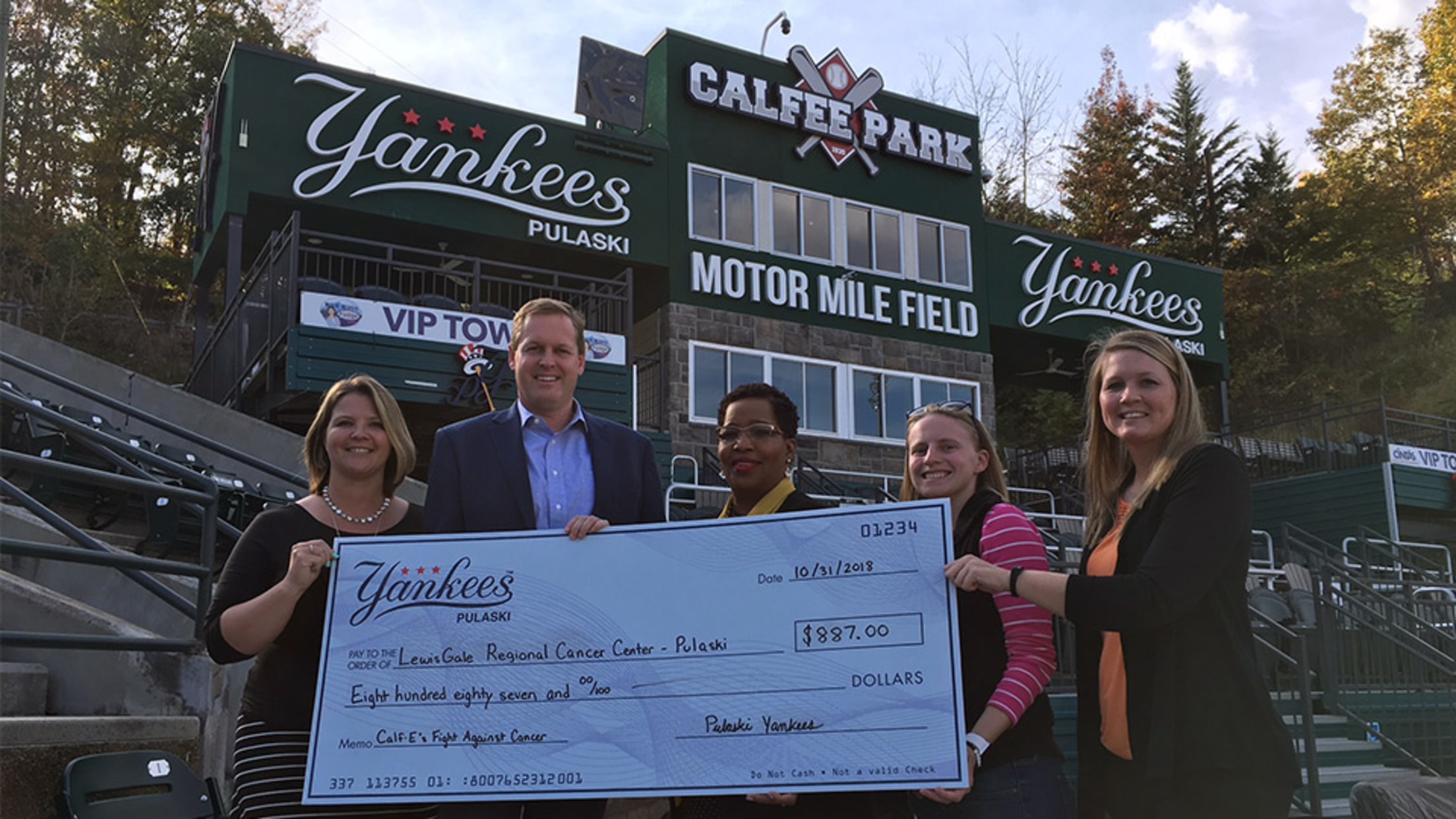 PULASKI, Va. - The Pulaski Yankees presented LewisGale Regional Cancer Center at Pulaski with a donation of nearly $1,000 last Wednesday from proceeds raised during the team's cancer awareness night on August 13. During Calf-E's Fight Against Cancer presented by Gay & Neel, Inc. the Yankees raised $887 through a dunk
PULASKI, Va. - The Pulaski Yankees presented LewisGale Regional Cancer Center at Pulaski with a donation of nearly $1,000 last Wednesday from proceeds raised during the team's cancer awareness night on August 13. During Calf-E's Fight Against Cancer presented by Gay & Neel, Inc. the Yankees raised $887 through a dunk tank and by donating $1 of all gameday ticket sales.
"During our 2018 cancer awareness night, we were able to spotlight nine different types of cancer - one per inning - and also raise funds to support cancer research and cancer care here locally," said Pulaski Yankees General Manager. "We appreciate the tremendous fan support in helping to raise these funds and also thank Gay & Neel, Inc. for their sponsorship of Calf-E's Fight Against Cancer. We're proud to donate these proceeds to our friends at LewisGale to support the great work they're doing to help cancer patients."
"We are so appreciative of the great partnership between LewisGale and the Pulaski Yankees," said Sean Pressman, CEO of LewisGale Hospital Pulaski. "The Yankees' generous gift will help in the treatment and recovery of many cancer patients across the community."
The 2019 Pulaski Yankees schedule will be available in the coming weeks. Season tickets for the 2019 Pulaski Yankees schedule are now on sale and can be purchased by calling (540) 980-1070. Additional information about season ticket plans and 2019 sponsorships can be found at pulaskiyankees.net.
The Pulaski Yankees are the Rookie level affiliate of the New York Yankees playing in the Appalachian League. Pulaski is celebrating its 53rd season in the Appalachian League in 2018. Calfee Park has won league championships in 1948, 1969, 1986, 1991 and 2013. Calfee Park opened in 1935 and was renovated for the team's first season as a Yankees affiliate in 2015. For more information, please visit www.pulaskiyankees.net.