Brewskis Downed by Stripers
Despite Brian Navarreto's three extra-base hits, Nashville falls 12-5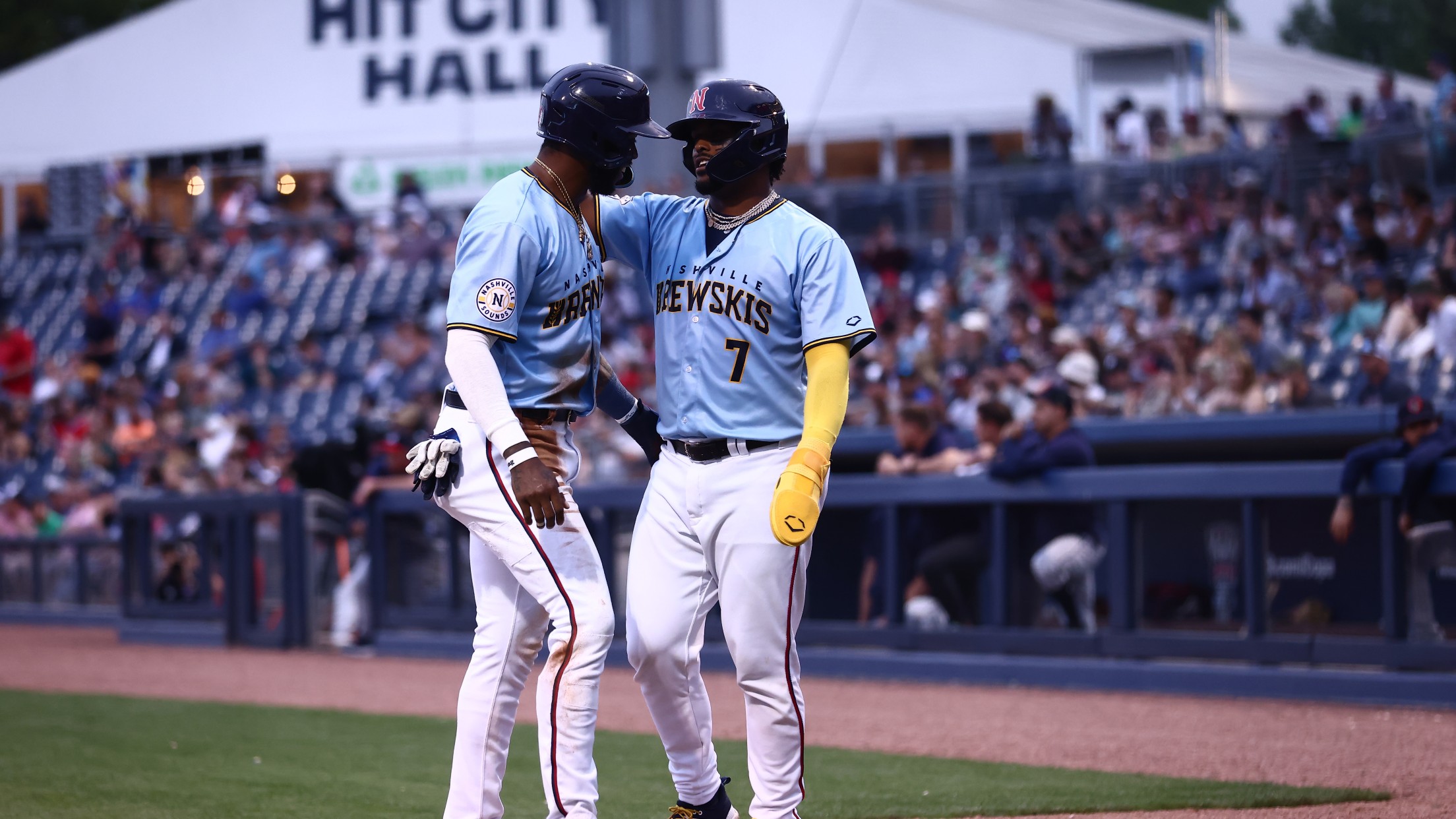 NASHVILLE – The Nashville Brewskis (18-16) were upended after Gwinnett's nine-run sixth inning, eventually dropping a 12-5 loss to the Stripers on Wednesday night at First Horizon Park. Nashville battled early after trailing 2-0 through two and a half innings, scoring three runs in the third to grab a short-lived
NASHVILLE – The Nashville Brewskis (18-16) were upended after Gwinnett's nine-run sixth inning, eventually dropping a 12-5 loss to the Stripers on Wednesday night at First Horizon Park.
Nashville battled early after trailing 2-0 through two and a half innings, scoring three runs in the third to grab a short-lived lead. Blake Perkins came through with a two-RBI double to tie things up, then Andruw Monasterio's sac fly scored Perkins to make it 3-2 Brewskis.
Gwinnett would tie things up in the fourth inning, then put things on ice with a nine-run sixth. Nashville continued to rack up hits as Brian Navarreto and Keston Hiura added RBI hits in the sixth and seventh innings, respectively. Unfortunately for Nashville, the deficit proved too deep to climb their way out of.
Janson Junk took the loss, allowing five runs (all earned) on seven hits and three walks in 5.1 innings. Lucas Erceg failed to record an out in the sixth, being charged with seven runs (6 ER) in the outing.
Working in a mop-up role, relievers Ryan Middendorf and Thyago Vieira combined to toss 2.2 scoreless innings. Middendorf struck out a couple in his First Horizon Park debut, while Vieira stranded a Striper on the bases in the ninth.
Brian Navarreto had a night to remember, cracking three extra-base hits with two doubles and a triple. Monasterio and Jon Singleton also added a couple hits on the line score. Eight of Nashville's nine batters recorded a hit, with the team logging 12 hits in the contest.
Game three of the series continues tomorrow night at 6:35 p.m. CDT from First Horizon Park. The Sounds starter is still to be determined. Gwinnett's starter is scheduled to be right-hander Michael Soroka (0-1, 5.23).
Post-Game Notes
Abraham Toro continued his on-base streak to an International League-leading 28 games tonight. He's batting .302 (32-for-106) with nine runs, nine doubles, 14 RBI and 16 walks during the streak.
Jon Singleton pushed his on-base streak to 27 games with two hits. He's batting .247 (24-for-92) with nine runs, six extra-base hits, 14 RBI and 26 walks during the streak.
Brian Navarreto totaled three extra-base hits for the first time in his career. His seven total bases also tied a career high.
The Sounds are 11-for-13 in stolen base attempts over the past seven games, including the four swiped bags tonight. Only four other teams in the league (Omaha, Worcester, Gwinnett and Memphis) have more stolen bases in that span.
The Nashville Sounds are the Triple-A affiliate of the Milwaukee Brewers and play at First Horizon Park. Season ticket memberships for the 2023 season are on sale now. For more information call 615-690-4487 or e-mail [email protected].