Sounds Announce Tentative Opening Day Roster
Two Tennessee Natives and the Franchise's All-Time Wins Leader Highlight Roster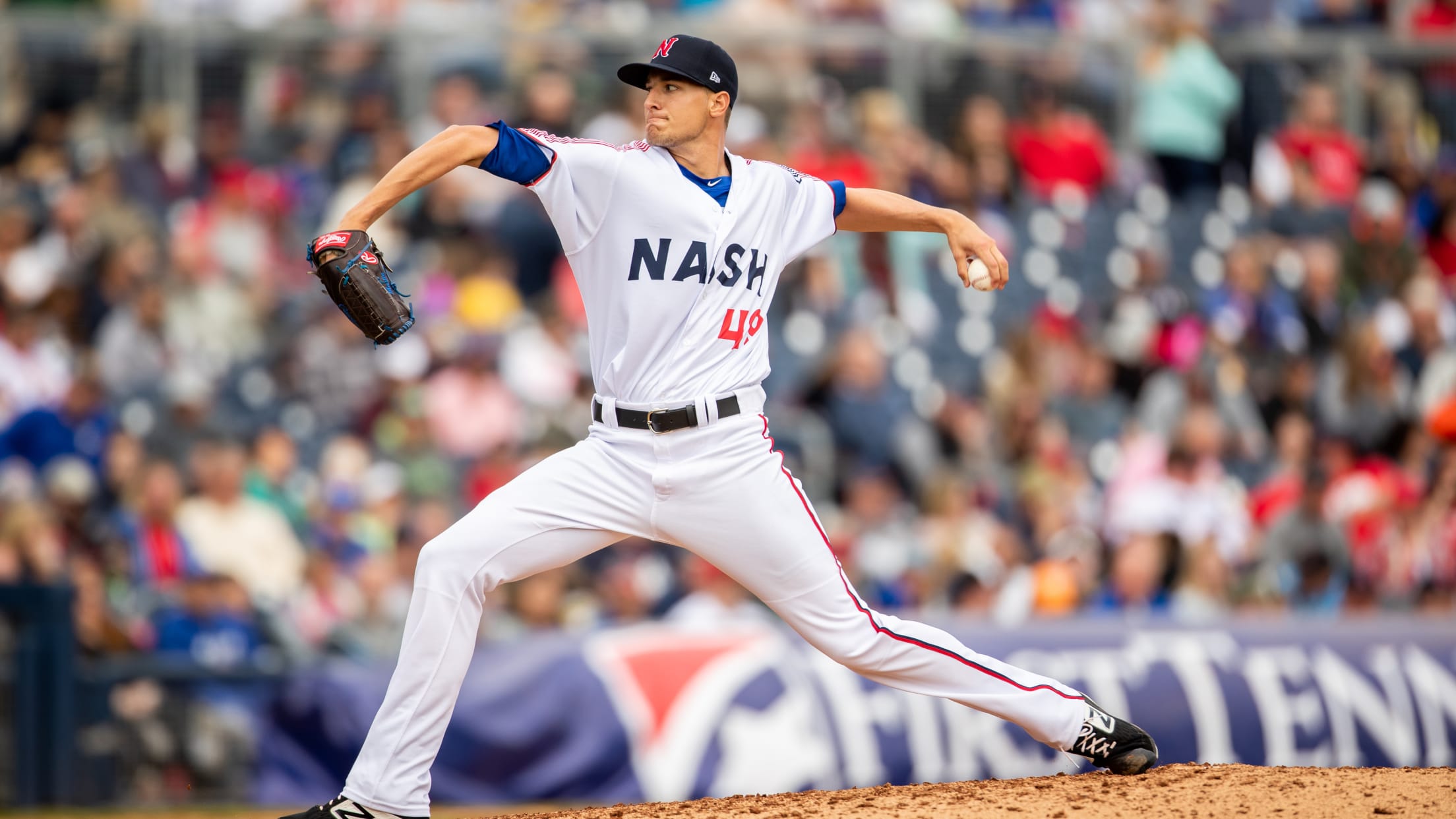 (Casey Gower - CaseysPhotography.co)
The Nashville Sounds Baseball Club, in conjunction with the Texas Rangers, announced today its tentative 2019 Opening Day roster. The Sounds host the Iowa Cubs at First Tennessee Park on Thursday, April 4 at 6:35 p.m. to begin the season.Two Tennessee natives, Four MLB Pipeline Top 30 Texas prospects, the
The Nashville Sounds Baseball Club, in conjunction with the Texas Rangers, announced today its tentative 2019 Opening Day roster. The Sounds host the Iowa Cubs at First Tennessee Park on Thursday, April 4 at 6:35 p.m. to begin the season.
Two Tennessee natives, Four MLB Pipeline Top 30 Texas prospects, the Sounds' all-time wins leader, and 19 players with Major League experience highlight the roster.
Nashville's own Zac Curtis is one of 15 pitchers listed on the tentative Opening Day roster. A graduate of Hendersonville High School, Curtis played college baseball at Volunteer State College and Middle Tennessee State before being drafted in the 6th round of the 2014 MLB Draft.
23-year-old Brett Martin is the second Tennessean on the roster. Born in Morristown, Martin graduated from Morristown-Hamblen East High School before attending Walters State Community College in 2014.
Members of the Sounds' roster currently listed by MLB Pipeline include left-handed pitchers Taylor Hearn (No. 11) and CD Pelham (No. 15), infielder Eli White (No. 16) and catcher Jose Trevino (No. 25). Hearn and White were acquired by the Rangers in separate trades in 2018, while Pelham and Trevino were drafted by the Rangers.
Right-hander Tim Dillard returns to the Sounds after spending parts of eight seasons with the organization from 2007-14. The 35-year-old is Nashville's all-time leader in wins (39) and innings pitched (556.2) and is second all-time in strikeouts (334) and games (209). Dillard is 18 strikeouts shy of matching franchise leader Jamie Werly.
Nashville's veteran team consists of three former first round draft picks. Infielder Matt Davidson was the 35th overall pick in 2009, right-handed pitcher Taylor Guerrieri was the 24th overall pick in 2011 and infielder Patrick Wisdom was the 52nd overall pick in 2012.
Of the 19 players with Major League Baseball experience, seven have played for the Rangers. 24-year-old outfielder Willie Calhoun was acquired by Texas in the 2017 trade for right-hander Yu Darvish and made his big league debut shortly after. He was a MiLB.com Organizational All-Star in 2018 and was a Pacific Coast League All-Star in 2017.
Joining Curtis, Pelham and Trevino as those who have played for the Rangers include right-handed pitchers Nick Gardewine and Ariel Jurado, and outfielder Carlos Tocci.
Other position players with notable major league service time include infielders Chase d'Araud and Nolan Fontana, outfielders Danny Santana and Zack Granite, and catchers Jett Bandy and Adam Moore.
Rounding out the tentative Opening Day roster are pitchers Wes Benjamin, Miguel Del Pozo, Brady Feigl, Ariel Hernández, Ronald Herrera, Richelson Peña and Phillips Valdez.
With 27 players currently listed for the Sounds, the team will make several roster moves prior to the official Opening Day roster being set on April 4.
The Sounds will be led by Manager Jason Wood who is managing at the Triple-A level for the fifth consecutive season.
Wood's coaching staff is comprised of Major League veterans including hitting coach Howard Johnson, pitching coach Brian Shouse, bullpen coach Eric Gagne and coach Geno Petralli. The five staff members combined to play in 3,362 Major League games.
Rounding out Wood's staff is athletic trainer Carlos Olivas and Al Sandoval. The two were part of Wood's Triple-A Round Rock staff in 2018.
The 42nd season of Nashville Sounds baseball officially begins on Thursday, April 4, when the Sounds host the Iowa Cubs at 6:35 p.m. Season ticket memberships for the 2019 season are available now by calling (615) 690-4487 or by visiting www.nashvillesounds.com.