NYPL notes: Tarpley finds balance, success
After rough start, Aberdeen lefty owns 2.08 ERA in last 26 innings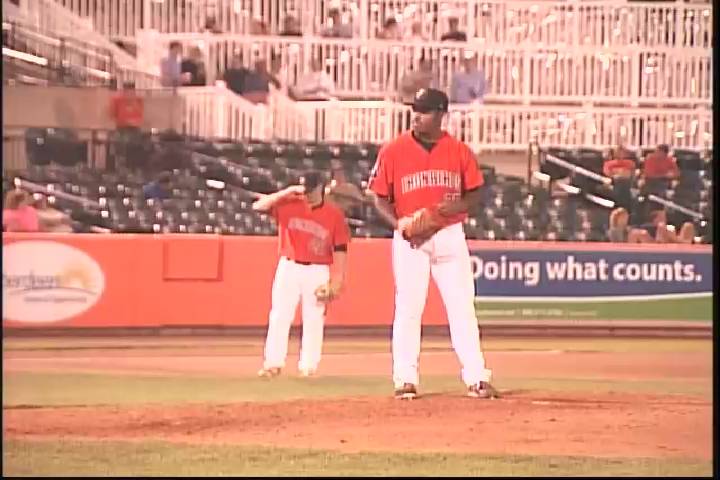 By Craig Forde / Special to MLB.com | August 8, 2014 10:00 AM
After a bumpy start to his 2014 season with the Aberdeen IronBirds, Orioles No. 16 prospect Stephen Tarpley has returned to form, flashing a new-found confidence after discovering the proper balance in his approach.
Feeling that his game is more sound, the 21-year-old left-hander has allowed just six runs in his last five appearances, showing the stuff that makes him one of the top southpaws on Baltimore's farm.
"These last [few] starts I've been mechanically there," said Tarpley. "The rhythm has been there and I haven't thought about the pitch selection as much. My curveball has been there the last three games, my changeup's been there, I've been able to hit spots and hit them well. Also, there have been some great defensive plays behind me -- I've got to give those guys their due."
Considered the top junior college prospect coming into the 2013 Draft out of Scottsdale Community College, Tarpley was selected by the Orioles in the third round and made his mark in his Gulf Coast League debut, allowing just five earned runs over 21 innings.
After his impressing the brass, he went through extended spring training in Sarasota before heading up to Aberdeen in June.
Things did not click right away for Tarpley, however, as his mechanics were off. He was hitting different landing spots on his follow-through and was worrying too much about the things that were out of his control.
Following his first four appearances, he had a 7.98 ERA and opponents were hitting .344 against him, but he was determined to right the ship by getting back to basics.
"It was more the fact that I was trying, instead of just doing," said Tarpley of his early struggles. "I wasn't just letting myself do what I naturally do on the mound. I tried to make something work and didn't quite get the results I wanted, so I got frustrated and missed more spots.
"Lately, I've just been going out there with the idea to just have fun, enjoy being out there, trust myself mechanically and know that I can make pitches and get guys out."
Over his last five appearances, Tarpley has being doing just that, posting a 2.08 ERA in 26 innings. He earned his first career win after striking out a career-high seven batters versus Staten Island on July 22nd.
Comfortable and confident, and wishing there were more months in the season, Tarpley is now aiming to finish strong and carry that momentum into a key offseason.
"Every time I'm getting on the mound I'm feeling more confident," said Tarpley. "I'm just looking to keep improving, continue to put up good numbers and figure out a routine I can take into next Spring Training."
In brief
Successful returns: After a rocky time in Williamsport last season, former first-rounder Mitch Gueller has put together a nice campaign for the Crosscutters in his return, going 5-2 with a 2.93 ERA in nine starts. Philadelphia's No. 20 prospect has earned those wins over his last seven appearances, posting a 2.13 ERA and 1.15 WHIP while striking out 20 over 38 innings in that stretch.
Not a bit player: Staten Island catcher Luis Torrens has been efficient at both ends of the plate. The Yankees' No. 10 prospect has thrown out 43 percent of the 35 runners that have attempt to steal on him. He is also hitting .327 with 37 hits and a team-high 21 runs in 29 games.
A pitcher and a gentleman: Daniel Gossett, Oakland's second-round pick this past June, has not allowed a run in his last four outings, each two innings stints. The A's No. 16 prospect struck out nine and allowed only two hits in that span. Gossett is 1-0 with a 2.25 ERA and 0.69 WHIP for Vermont.
Flying the coop: Aberdeen pitcher Pat Connaughton has left the team and returned to Notre Dame to complete his business management degree and play out his senior season on the men's basketball team. The Orioles' No. 19 prospect had a 2.45 ERA in 14 2/3 innings before his scheduled departure.
Craig Forde is a contributor to MiLB.com. This story was not subject to the approval of the National Association of Professional Baseball Leagues or its clubs.
View More