Aguilar Homers, but Tarpons Drop Finale, 7-3
Orozco Debuts after Promotion from Charleston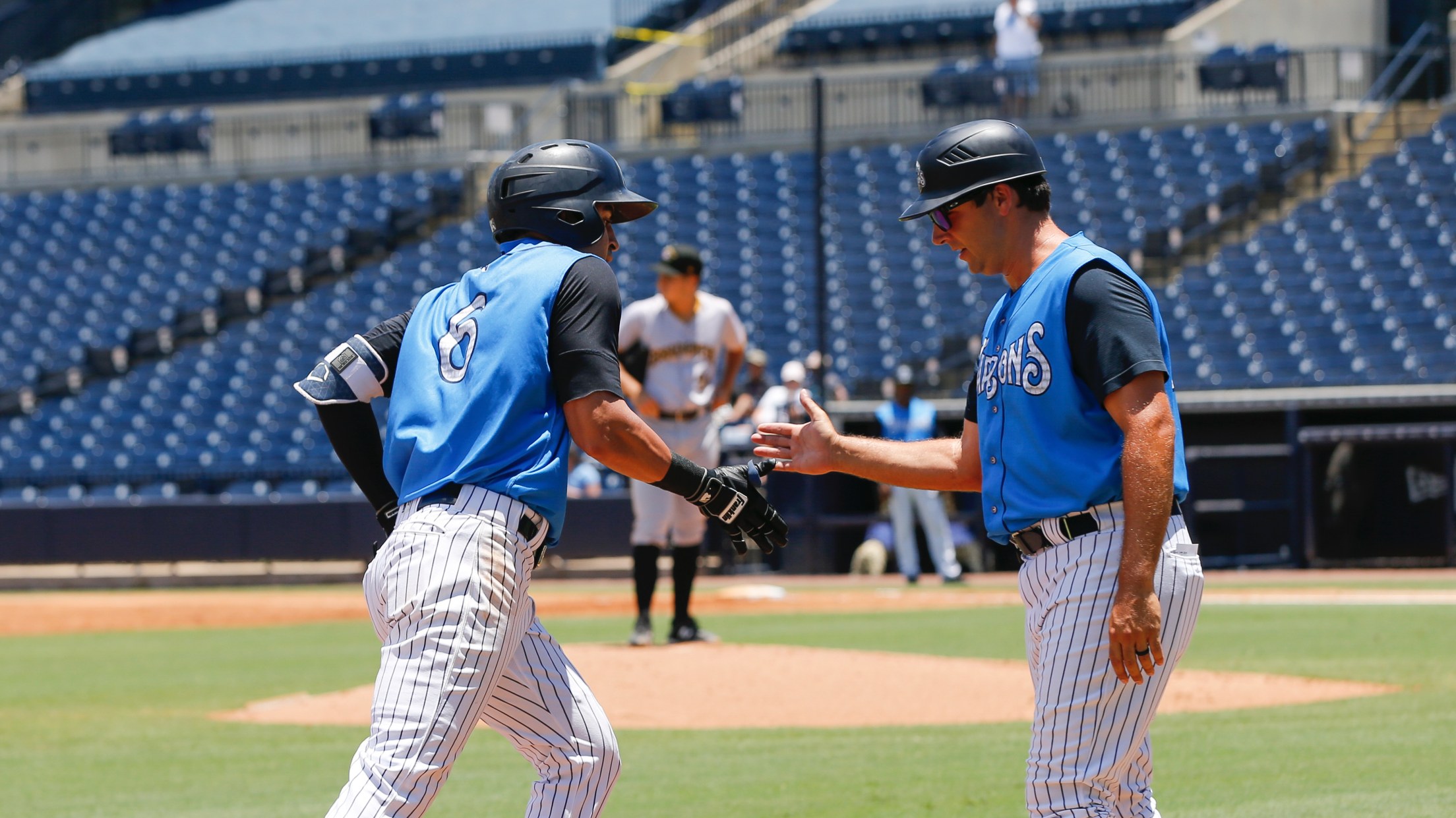 Angel Aguilar (1-for-3, HR, Sac-F, 2RBI, R) is greeted by third base coach Kevin Mahoney after crushing a leadoff home run in the 3rd in Tampa's 7-3 loss to Bradenton on Sunday afternoon at George M. Steinbrenner Field. (Mark LoMoglio)
TAMPA, Fla. - After taking the first two games of the series, the Tarpons failed to complete the sweep as the Marauders salvaged a 7-3 win in the finale on Sunday afternoon at George M. Steinbrenner Field.Prior to the game, RHP Jio Orozco was promoted from Single-A Charleston. Orozco got
TAMPA, Fla. - After taking the first two games of the series, the Tarpons failed to complete the sweep as the Marauders salvaged a 7-3 win in the finale on Sunday afternoon at George M. Steinbrenner Field.
Prior to the game, RHP Jio Orozco was promoted from Single-A Charleston. Orozco got the nod, with his former teammate, Donny Sands , doing the catching. The duo both graduated from Sal Pointe Catholic H.S. in Tucson, Arizona in 2015.
Orozco worked around a one-out single in the first and retired eight of the first nine batters he faced before stranding runners at second and third in the third inning.
Angel Aguilar crushed a leadoff home run over the BayCare Health Zone in left field, giving Tampa (23-32) a 1-0 lead in the third against RHP Max Kranick.
Bradenton (32-23) promptly tied the score when Raul Hernandez and Dylan Busby lined back-to-back doubles with two outs in the fourth.
Daniel Amaral legged out an infield single to open the fifth, and Robbie Glendinning reached on a throwing error by Aguilar at third base before Travis Swaggerty smashed a three-run home run to right, giving the Marauders a 4-1 lead.
Chris Sharpe followed with a base hit before Orozco (L, 0-1) was relieved. The 21-year-old allowed four runs (three earned) on a career-high nine hits in four and a third innings, striking out two without permitting a walk on 87 pitches (58 strikes).
RHP Hobie Harris retired four-straight batters before walking Deon Stafford to begin the seventh. After a flyout by Amaral, Glendinning walked in front of a flyout by Swaggerty. Harris got a pop-up from Sharpe, but second baseman Welfrin Mateo lost the ball in the sunlight.
The ball fell for an RBI single, scoring Stafford. A walk by Lucas Tancas loaded the bases, and RHP Braden Bristo relieved Harris. Hernandez greeted Bristo with a first-pitch, two-run single to left, giving Bradenton a 7-1 lead. A hit-batter later, Bristo stranded the bases loaded.
Following Aguilar's home run, Kranick faced one batter over the minimum until walking Dermis Garcia to begin the bottom of the seventh. Sands followed with a base hit and, one out later, Omar Carrizales walked, loading the bases.
RHP Gavin Wallace relieved Kranick, and Aguilar hit a sacrifice fly to right, scoring Garcia before Mateo popped out to end the frame.
Kranick (W, 4-5) made a quality start, holding the Tarpons to two earned runs on three hits in six and a third innings. The 21-year-old issued a season-high four walks while tallying five strikeouts on 96 pitches (61 strikes).
After a leadoff walk by Pablo Olivares in the bottom of the eighth, Diego Castillo and Isiah Gilliam both singled, loading the bases against RHP Logan Stoelke. Garcia hit a sacrifice fly to right, but Sands bounced into a 6-4-3 double-play to end the inning.
Bristo notched a strikeout while working a perfect eighth. RHP Kyle Zurak got a double-play to help him face the minimum in the ninth. RHP Samuel Reyes worked around a base hit by Carrizales in a scoreless ninth to close the game for Bradenton.
Gilliam (2-for-4, SB) logged a multi-hit game and tallied his 11th stolen base. Aguilar (1-for-2, HR, Sac-F, 2RBI, R) hit his second overall home run (first with Tampa). Garcia (0-for-2, BB, Sac-F, RBI, R) tallied his league-leading 40th RBI and extended his on-base streak to five games.
Up next, Tampa travels to Port St. Lucie for four games against the St. Lucie Mets. RHP Frank German (2-3, 4.35) is scheduled to make the start in the series-opener on Monday at 6:30 p.m. Live play-by-play of the action will be available on the St. Lucie Mets Baseball Network.
The Tarpons will return home to host the Florida Fire Frogs on Friday at 6:30 p.m. On Sink-or-Swim Friday, fans can enjoy all-you-can-drink Bud, Bud Light and Select Liquors for $20 from 5:30 p.m. to 7:30 p.m.