Scherff ready to roll in Red Sox system
No. 8 prospect prepared to show potential after 2017 Draft fall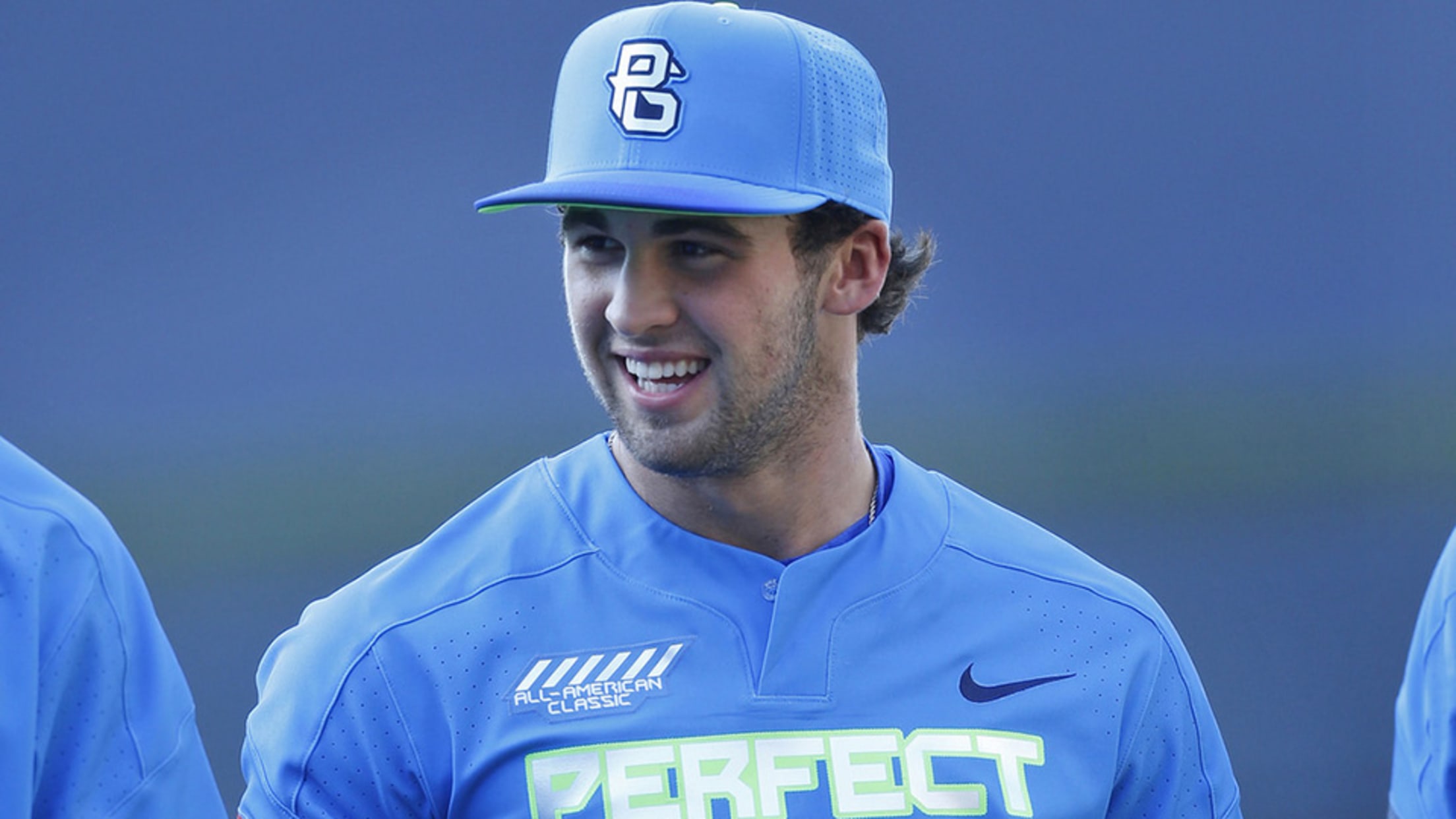 Alex Scherff participated in the 2016 Perfect Game All-American Classic in San Diego. (Christine Cotter)
FORT MYERS, Florida -- Alex Scherff had to think about it. Not about the answer, he knew the answer. Just about whether he wanted to be honest.Did the Draft go the way you expected or hoped? 
FORT MYERS, Florida -- Alex Scherff had to think about it. Not about the answer, he knew the answer. Just about whether he wanted to be honest.
Did the Draft go the way you expected or hoped?
A five-second pause followed the question. Then, the answer -- the truth, he believed -- tumbled out.
"No. It really didn't, no," he said. "Getting caught up in the all pre-Draft rankings, I was expecting to go on the first day of the Draft. Obviously, it didn't happen for whatever reason."
Here's what did happen.
Scherff was ranked as MLB.com's No. 52 prospect entering the Draft. He had been named Gatorade Player of the Year for the baseball-rich state of Texas after going 15-0 with a 0.73 ERA and 144 strikeouts in his senior year at Colleyville Heritage High School. But rumors that he'd command too big a signing bonus -- a demand that might have him honor his commitment to Texas A&M -- dogged him into June. The Red Sox ended up taking the 6-foot-3 right-hander in the fifth round, 161st overall. They signed him for $700,000, more than double the slot of $296,500 and roughly equivalent to the value of an early third-round pick.
"They didn't have a lot of convincing to do," Scherff said of post-Draft negotiations. "I wanted to sign, which I think is where a lot of the confusion came into this, and everyone thought I wanted to go to college. It's been my dream to play pro ball my whole entire life. But I got a solid offer moneywise. That's not an issue. My family's very blessed. It wouldn't have been a problem. I can't think of a higher purpose for me in my life than play baseball."
Here's what might happen next.
The Red Sox could have a steal in a pitcher with a hisrtory of throwing in the high-90's who's shown an impressive changeup for his background and is working on a breaking ball to round out the package. Scherff, ranked eighth among Boston prospects, could end being the club's best fifth-round pick since Mookie Betts in 2011 and, after being kept away from the Minors in 2017, he's ready to prove it on the field beginning this spring.
Scherff first jumped on Draft radar when his velocity jumped from the mid-80's during his sophomore year at Fort Worth Christian School to the mid-90's after a change in training regime that allowed him to drop roughly 40 pounds. Changing schools was another pre-Draft concern, but Scherff explained that he did so to continually look for a baseball challenge.
But he entered the Day One conversation at least with another jump in his senior year at Colleyville Heritage High School -- the same school he attended as a freshman -- this time with some nudging from his then-advisor, now-agent Bobby Witt, a 16-year Major League veteran and father of Scherff's teammate, Bobby Witt Jr. Scherff was pointed to the Texas Metroplex Institute for Sports Performance in Arlington and was told quickly that he didn't need to match his effort in the gym with his velocity on the mound.
"I trained myself until senior year, " he said. "Having recovery modalities at my disposal was crucial to how I pitched last year. Instead of me trying to move a bunch of weight, it was how I moved the weight. Not trying to lift too much, too often. I was told to slow down, which was not something I was used to hearing. I'm used to going 100 mph all the time. It's important to control it.
"Junior year training myself, I was topping 94, 95 after losing a bunch of weight sophomore year. I started going to work out, started the season 92, 94 and then I got to 100, 101. I call my trainer the 'mad scientist.' It totally elevated my game."
As much as his velocity can pop off the page, the changeup might be the most impressive pitch in Scherff's repertoire. It's not something dominant high school pitchers typically need, especially those with the right-hander's velocity; they can rely on the heat alone. Instead, Scherff started messing around with changeup grips to see if anything clicked and, eventually, one did, one in which he splits his middle and ring fingers along the seams. Because it looks almost exactly like his fastball, hitters, especially less-experienced ones, can be baffled by the drop in velocity and the movement of the offering.
"It's a pitch that has late depth and some armside run to it," Red Sox vice president of player development Ben Crockett said. "He really does a great job of maintaining his arm speed. Yeah, you don't see a lot of guys that are able to do that. But the way he's able to pronate that release and allow the ball to come out of his hand with that kind of extension, it's a real natural ability to throw that pitch."
It could have been interesting to see Scherff put all that together even in small doses with a low-level club after his signing became official in late June 2017. But when Minor League athletic training coordinator Brandon Henry inquired about how many innings Scherff had thrown his senior year, the right-hander again was blunt: the answer was 100 1/3. That was enough for the Sox to keep him at their Spring Training facility the rest of the summer, where'd he be a member of the Gulf Coast League roster but not an official participant.
After years of throwing to become a pro, not being able to throw as a pro was killing Scherff.
"The GCL was brutal," he said. "It was really, really rough. I was down here for 2 1/2 months. It felt like I was down here for, like, six. It was really hot. Doing charts all the time is something I wasn't used to. It was a lot different than I was used to the last year of my life before that. Being a senior in high school, I didn't really have anything to do. I pitched a bunch, so I was shut down. I felt like I was useless for a while. It was mentally taxing."
Scherff started to ramp up around August and got to pitch in unofficial intrasquad games but saw his attempt to impress in instructional league cut short by Hurricane Irma. Boston made sure he knew the decision to limit him was made with his long-term health and success in mind. Everything preached to him about slowing down at his new training facility back home had been carried with him to Florida.
"With every drafted pitcher coming in, we try to put together a plan after evaluating their amateur workload that season," Crockett said. "The number of innings he had thrown in high school, wanting to get him acclimated to the professional environment, those were all factors. He finished really strong in simulated outings. We're looking forward to seeing him getting more exposure."
That should come quickly this year. Scherff seems like a good candidate to start the season in the Class A Greenville rotation, and he's said his goal is to start there and end at Class A Advanced Salem. (If he ends up even higher, that'd be OK by him.) Crockett said that although the organization hasn't made a decision, Greenville is definitely an option, adding that the club could continue to monitor his innings with skipped starts and shorter outings in order to get Scherff healthy from April through September.
There will be other goals along the way. Scherff will have to maintain that velocity over a long season. He'll have to get used to throwing every fifth or sixth day rather than once a week. Both the pitcher and organization are making the development of a curveball a priority, and a slider could be returned to the mix, should all go well with the other breaking pitch. There will be times when Scherff's Minor League ERA will look nothing like his high school stat.
That's all fine. Scherff is just happy that soon enough he'll be judged as an actual Minor League pitcher who can perform and grow -- not a guy charting behind the plate and most certainly not as a fallen Draft pick.
"Having some good competition is what I'm looking forward to," he said. "Senior year was a joke. There was no one that was competitive. It was just going through the motions. Blowing it past people isn't challenging. Throwing in intrasquads here [in the spring], it's made me think and compete. It's put the fun back in baseball. Last year, it was fun. But blowing guys away with fastballs, throwing 80 percent fastballs, that's not challenging. But now I'm thinking about what I'm throwing in certain counts and learning to read swings, picking guys' brains on stuff, I'm getting an unquenchable thirst for knowledge since minicamp.
"Now I can put it into action."
Sam Dykstra is a reporter for MiLB.com. Follow and interact with him on Twitter, @SamDykstraMiLB.